Last Updated on September 21, 2023
Seoul, South Korea's dynamic capital city, is an excellent choice for families wishing to experience a unique blend of ancient traditions and modern innovation. Choosing proper lodging for your family holiday is critical to making it memorable and pleasant. In this post, we will introduce you to the best 10 family hotels in Seoul that cater to the needs and tastes of families, promising a memorable stay for everyone.
Read also:
Lotte Hotel World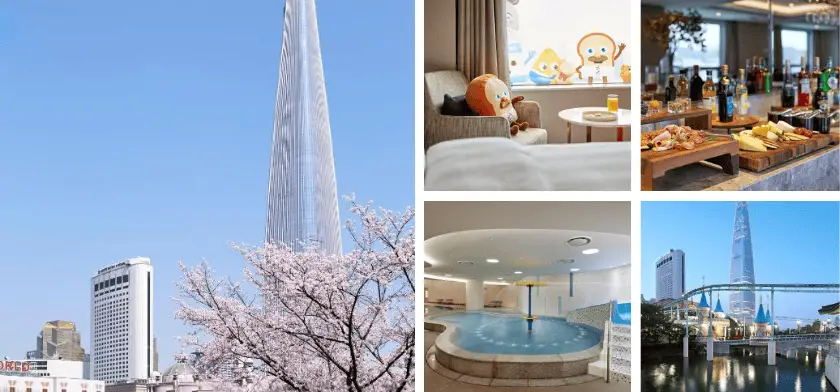 Lotte Hotel World is a great choice for Seoul's families seeking luxury and convenience. Strategically situated in the heart of the bustling Jamsil district, this hotel offers easy access to some of the city's most popular attractions. One of the major draws for families is its proximity to Lotte World Theme Park, an expansive entertainment complex that promises hours of fun for all ages. Additionally, the nearby Lotte World Mall offers many shopping and dining options.
The hotel features spacious, well-appointed rooms and suites with beautiful city views. If you're traveling with a fairly young child, you can choose a character-themed room. They have options like the Bread Barbershop, Lotty & Lorry, and Kakao Friend feature rooms. Your kids will surely like it. 
Regarding dining options, they offer a Chinese restaurant, Tom Lim, and a buffet restaurant, La Seine. There's also a deli on-site. Your family can savor afternoon tea, enjoy happy-hour service with live cooking stations, and partake in a breakfast buffet at the club lounge.
Grand Hyatt Seoul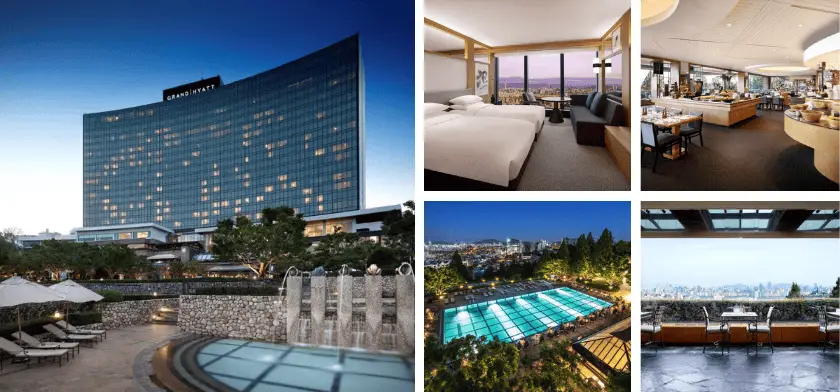 Nestled amidst the tranquility of Mount Namsan, the Grand Hyatt Seoul offers families a serene escape while remaining close to downtown attractions. The hotel is within a 10-minute drive from Seoul Station and Myeongdong, a popular shopping area. With stunning panoramic views of the city and the mountain, Grand Hyatt offers a unique backdrop for your family vacation photos.
The Grand Hyatt Seoul provides spacious rooms, a dedicated kids' club, and a kid's pool. Children can engage in fun activities while parents enjoy some downtime. Dining options vary. You can try steak, Korean, Japanese cuisine, and pastries. They also offer a recreation complex called The Club Olympus, which has three tennis courts, two squash courts, a fitness center, and a sauna. You and your family are spoiled with options.
The Shilla Seoul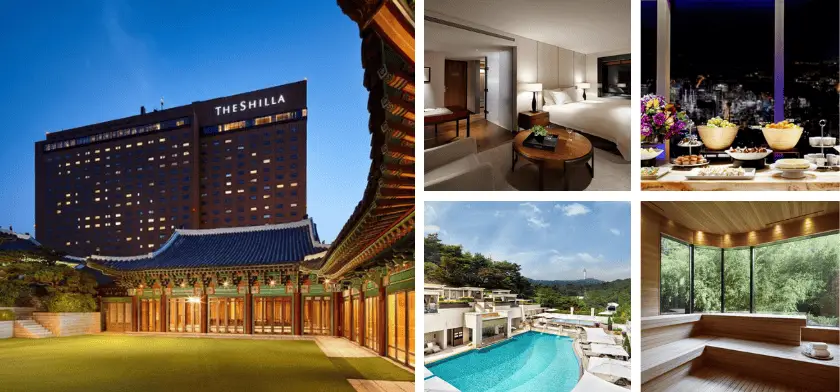 The Shilla Seoul is a top pick for families seeking an elegant and comfortable stay in Seoul. Located amid the lush greenery of Namsan Mountain, the hotel exudes luxury and sophistication. Families can stroll in the hotel's beautiful garden and enjoy world-class amenities.
The hotel has six dining options and a full-service spa. It provides a free shuttle service to Shilla Duty-Free Shop and Dongguk University Station (Line 3). So your family can easily get to the city's famous attractions. The Shilla Seoul also offers a dedicated family package, which includes special amenities for children, making it an ideal choice for families traveling with young ones.
Four Seasons Hotel Seoul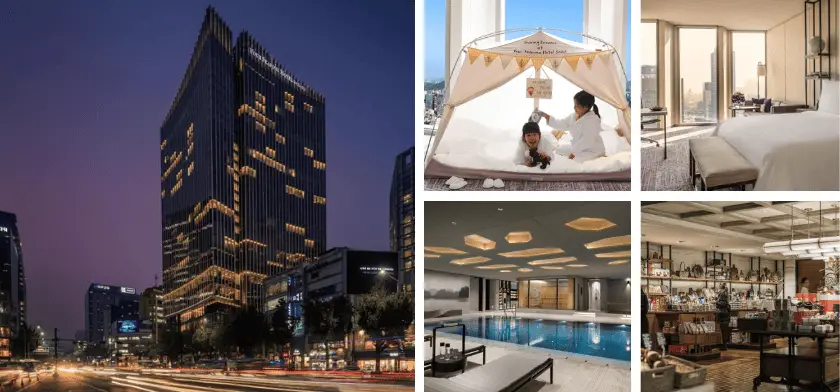 The Four Seasons Hotel Seoul is a luxury oasis in the heart of Seoul's bustling business and shopping district. That means you can have easy access to a lot of attractions. Within a 10-minute walk, you can access Gyeongbokgung Palace, Sejong Art Center, and Cheonggyecheon Stream. The hotel has five restaurants, a state-of-the-art fitness center, traditional Korean saunas, a barbershop, nail art, and even a flower shop. 
You can choose the Dream-on package if your child is still a kid. It will contain a limited-edition carry-on bag, an in-room glamping setup, and a whimsical kids' bath set complete with a bathrobe, slippers, and more. Furthermore, they offer a Kids For All Seasons Lounge every weekend, which includes various games and seasonal activities. Your kids will love this place.
Park Hyatt Seoul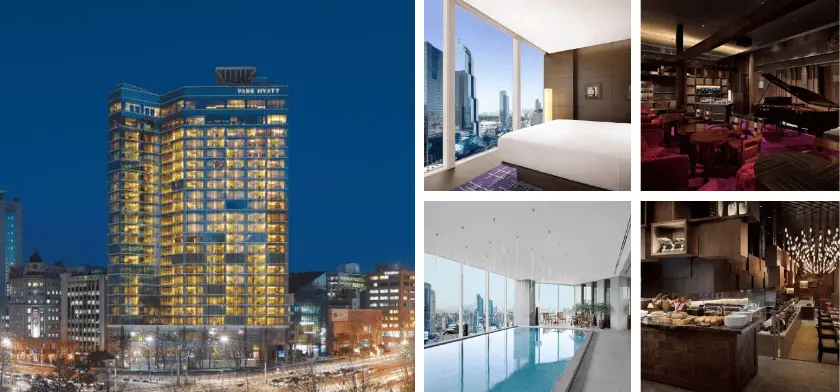 The Park Hyatt Seoul is conveniently located in Gangnam, near cultural attractions and shopping centers, making it an ideal base for family explorations. The hotel provides spacious rooms with breathtaking city views, an indoor heated pool, and a tranquil spa. Parents can relax while children enjoy the pool and in-room amenities designed just for them.
In particular, they offer a program called VIB (Very Important Baby) for little ones under three. This program offers babysitting, a Hartan stroller rental service, and a range of homemade baby foods created from the healthiest, freshest organic ingredients upon request.
Mayfield Seoul Hotel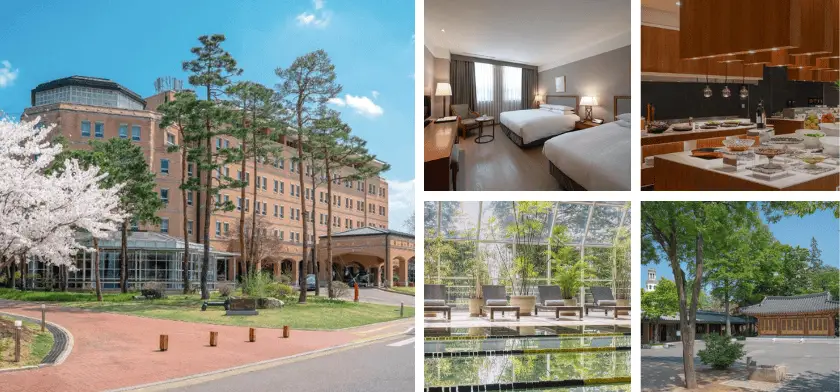 Mayfield Seoul is a hidden gem located near Gimpo International Airport. While it may not be in the heart of Seoul, it offers a unique opportunity for families to explore the city and nearby attractions easily.
The hotel boasts spacious rooms, a picturesque garden, a pool complex, and a kid's club that children will love. They also feature traditional Korean, Italian, Chinese, and buffet-style restaurants, all providing delicious cuisine from the hotel's farm.
Nine Tree Premier Hotel Myeongdong II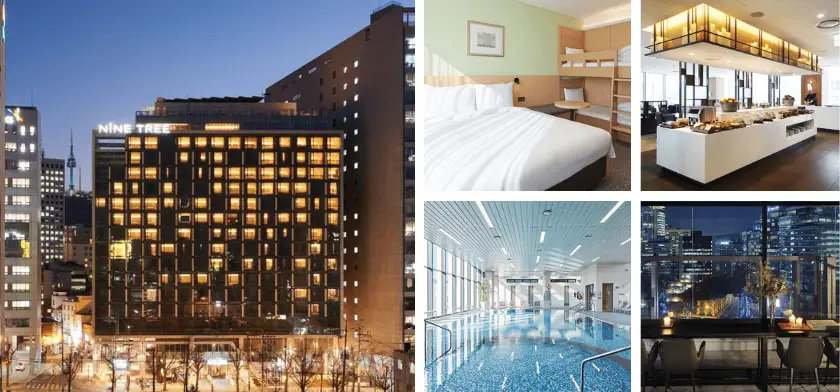 Located in the bustling Myeongdong shopping district, Nine Tree Premier Hotel Myeongdong II is perfect for families who love to shop and explore. This hotel offers clean and comfortable rooms and is ideally situated for families interested in shopping and sampling the city's famous street food.
Furthermore, the hotel's proximity to public transportation facilitates your family's exploration of Seoul's many areas and attractions. The hotel staff is happy to provide transportation information, guided tours, and ideas for family-friendly activities.
Shilla Stay Gwanghwamun
Shilla Stay Gwanghwamun is an excellent choice for families looking for a central location in Seoul. It's within walking distance of the iconic Gyeongbokgung Palace and the culturally rich Insadong district, making it easy to explore Seoul's heritage.
The hotel offers modern amenities, comfortable family rooms, and a complimentary breakfast. Its central location ensures that families can easily immerse themselves in Seoul's history and culture while enjoying a comfortable stay.
Lotte City Hotel Mapo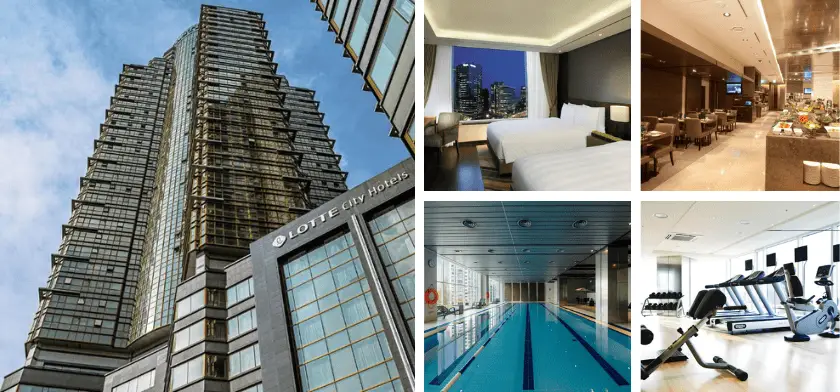 For families seeking a comfortable yet budget-friendly option, Lotte City Hotel Mapo fits the bill. Conveniently located near Mapo-Gu Office Station, this hotel offers spacious rooms and a range of amenities to ensure a pleasant stay. Mapo Lotte Hotel's restaurant Naru has a buffet of Western foods and daily breakfast. You can also get to Lotte Supermarket, which is located on the lower levels of the building.
The hotel's fitness center and rooftop bar with panoramic city views provide additional entertainment for guests. Families can explore Seoul without breaking the bank while enjoying the comfort of Lotte City Hotel Mapo.
GLAD Mapo
Another budget-friendly option in the Mapo district is GLAD Mapo. This trendy hotel appeals to families looking for a stylish and cost-effective stay in Seoul. The hotel's modern, comfortable rooms and friendly staff create a welcoming atmosphere for guests.
GLAD Mapo's affordability doesn't compromise on quality, making it an excellent choice for families seeking value for money. You can take advantage of convenient amenities such as a fitness center, an in-house restaurant, and a bar. There is also free WiFi and a 24-hour front desk service. The receptionists can assist you in both English and Japanese.
Whether you're seeking luxury or affordability, these top 10 family hotels in Seoul provide comfort, convenience, and a memorable experience for your family vacation in this vibrant city. So, pack your bags and get ready to explore the beauty and culture of Seoul with your loved ones!