Last Updated on September 16, 2020
Whereas Seoul is known for more cultural and recreational reasons, Suwon is a city that is known for its strong connections to Korea's history. Of course, there are various historical sites all over the greater Seoul area. However, it's in Suwon that the biggest and most palpable connection to history can be seen straight off the bat. Because of this, Suwon has some of the best day trips to Suwon from Seoul. No matter if you're starting from Seoul or another city in Korea, Suwon is an easy city to get to. In my earlier post, I listed the best day trips to Seoul. In this list, we will explore some of the best day trips to Suwon from Seoul that you can make.
Best Day Trips to Suwon From Seoul
Suwon Hwaseong Fortress (수원화성)
Built in the late 1700s by Joseon King Jeongjo, Suwon Hwaseong Fortress is a fortified wall that goes around most of the city. During the Joseon Dynasty era, people used the wall as lookouts for possible attacks and invasions.
Today, Suwon Hwaseong Fortress is a popular place to visit for Koreans and non-Koreans. Visitors are amazed at the length of the wall.
Immediately surrounding the wall are yards and yards of green fields and a stream that join together to make up a landscape that shows the pure and beautiful nature of the place. In addition to viewing the wall, people enjoy recreational activities here. Flying kites and archery are two of the many activities that people enjoy when in the area. You can also walk along the whole wall and view the different buildings that have been built over the years.
Being a UNESCO site, Suwon Fortress is a good place to learn about and observe the Korean culture. Every year in October, Suwon Hwaseong Fortress is home to the annual Suwon Fortress Cultural Festival. During the cultural festival, the fortress holds events such as the Nighttime Martial Art Performance, the Suwon Lantern Festival, and World's Traditional Costume Festival. Koreans also celebrate the birthday of King Jeonjo's birth mother with the Feast for Hyegeonggung Hong. By participating in these events, Koreans and non-Koreans can peek into what the Korean culture is like.
Whenever you have an afternoon or a whole day off, the area around the Suwon Hwaseong Fortress definitely makes for one of the best day trips in Suwon for Seoul.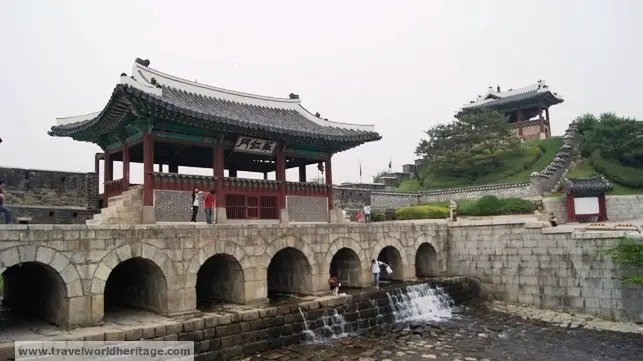 Paldalmun Gate (팔달문)
There are many beautiful sites near Suwon Hwaseong Fortress. Paldalmun Gate stands out as an extraordinary feat of architecture. Paldalmun Gate is Suwon Hwaseong Fortress' southernmost gate with a two-story pavilion. The wall is shaped in a circle.
As you travel around Suwon and around Korea in general, you will see more of the country's stunning architecture.
Other notable gates are Janganmun Gate (장안문), Hwahongmun (화홍문), Banghwasuryujeong Pavilion (방화수류정), and Hwahongmun Gate (화홍문)
Hwaseong Haeggung (화성행궁)
Close to the fortress stands the Hwaseong Haeggung. During the Joseon Dynasty era, the royal family used this palace as one of their lodgings. You can peek into the lives of the royal and nobility who used to live here!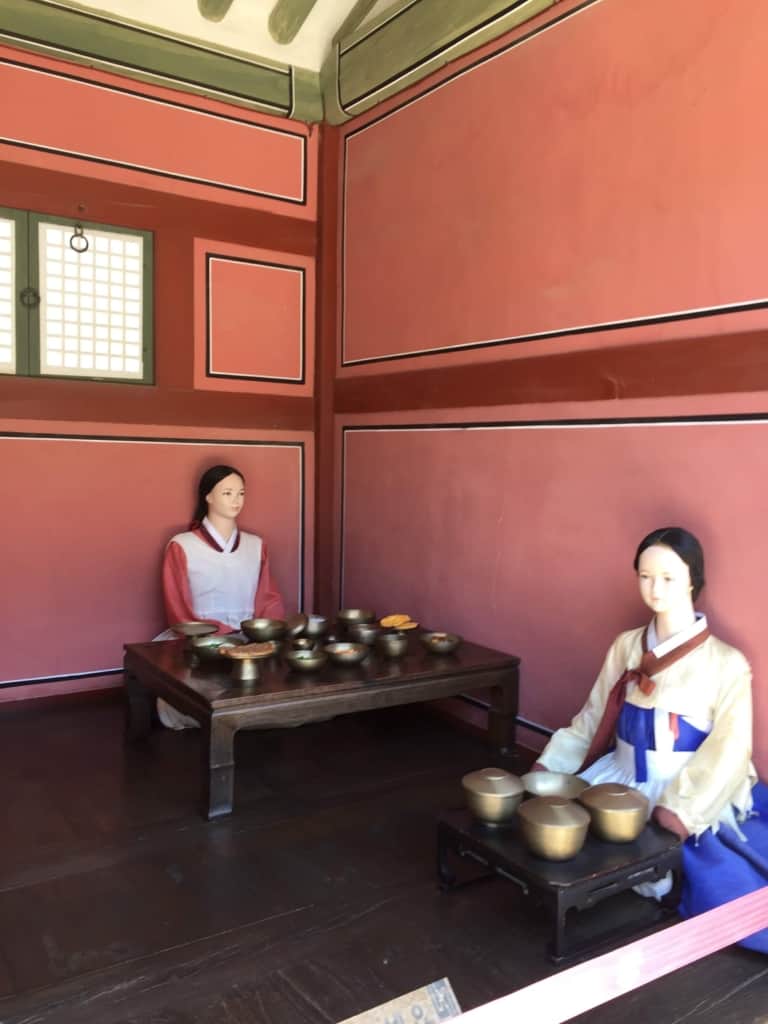 Like many other historical sites all over Korea, you have the opportunity to wear the traditional dress of Korea. While wearing the hanbok, you are free to take photos in front of the numerous sites. For many people, this is what makes Suwon Hwaseong Fortress one of the best day trips to Suwon from Seoul.
Korean Folk Village (한국민속촌)
Located close to Suwon Hwaseong Fortress is one of Korea's many folk villages. You can travel to Yongin-si to this Korean folk village where locals and international visitors learn more about life during the later part of the Joseon Dynasty, including the cultural and religious aspects. Korea used to be a shamanistic country, and here, there is a lot of evidence of that. One particular site is a tree that has had colored paper strewn all over. This used to be what people of the Joseon era did in order to appease the spirits.
There are regularly scheduled performances and events that visitors to the folk village can watch and learn from. One thing I did when I went there was play yut, a traditional Korean game usually played during the Lunar New Year. However, instead of a small sheet of paper like in a normal game, there were circles drawn on the ground, and the sticks were massive.
For your interest, I'll leave a video on how to play yut.
Like in Suwon Hwaseong Fortress, visitors to the folk village are allowed, and sometimes encouraged, to wear their hanbok and take photos at various points throughout the village. Many international visitors relish in the chance to take part in Korean culture, and all over the Internet, pictures can be found of both local and international visitors at this Korean folk village.
Manseok Park (만석공원)
The City of Suwon, as well as being so historically connecting, also has beautiful natural phenomena. Manseok Park is one such phenomenon. An amazing place to spend the day, Manseok Park offers large footage of greenery and at the center of the whole park, there is a man-made reservoir with places alongside it for picnics. There is also a 1,200-meter track around the reservoir, perfect for walking, running, bicycling, or rollerblading. For professional or recreational sports players, Manseok Park is the perfect place for you, as there is a soccer field and 12 clay tennis courts that belong to the North Suwon Tennis Team and the Suwon Arts Center. In addition to all this, the Suwon World Cup Stadium is nearby!
There are also many offerings in the food and drink department. All along the perimeter of the park are restaurants, cafes, and bars.
Manseok Park is located around 40 minutes by bus from Suwon Station, and 25 minutes from Hwaseo Station.
Gwanggyo Lake Park (광교호수공원)
Much like Manseok Park, Gwanggyo Lake Park, which is located around 20 minutes by bus from Sangheyon Station on the Shinbundang subway line, is a park with its main feature being a large lake, Gwanggyo Lake. And like Manseok Park, Gwanngyo Lake Park offers a long track around the lake that is optimal for walking, running, or bicycling. There are also restaurants, cafes, and bars aligning the perimeter of Gwanggyo Lake Park.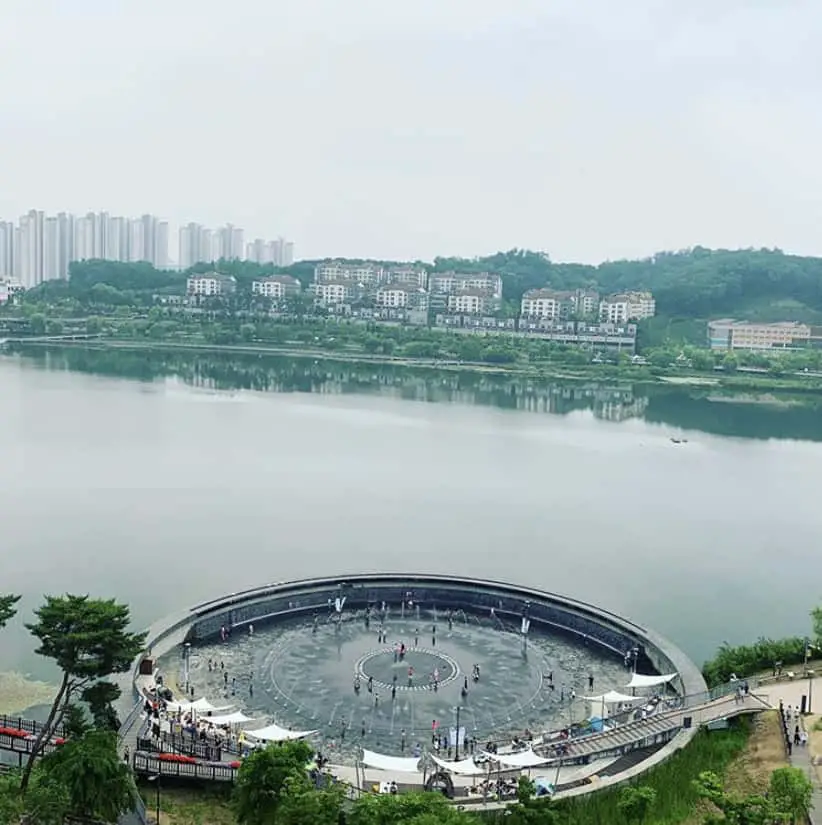 Something that's different about Gwanggyo Lake Park is that it's near the area of Gwanggyo, which is pretty urbanized; if you ever feel like you need to get back to society, it's only a 5-minute walk from Gwanggyo Lake Park. There are two big department stores close to Gwanggyo Lake Park, Galleria, which opened very recently, and Korea's megastore Lotte Department Store. Both Manseok Park and Gwanggyo Lake Park serve as two of the biggest sites of recreation, and because of this, they are a couple of the best day trips to Suwon from Seoul.
South Korea, as are many other nations, is a country made of different facets, and many of the sites and tourist attractions demonstrates how deep the history and entertainment runs into the culture of Korea and the people of Korea over the years.
You may also like:
IVK's Top Picks – Day Tours, Tickets, and Travel Activities
Seasonal Picks!😍