Hit by Korean fever, and have Korea on top of your travel list?
Namsangol Hanok Village is exactly the place to visit.
Before we go further, if you have to carry your luggage during your visit to Namsangol Hanok Village, I recommend you use the official subway luggage storage in Myeongdong or City Hall station. Or you can find many other options HERE.
How to get to Namsangol Hanok Village
Located in the Pil-dong neighborhood in Jung-gu district. This Korean village in Seoul takes the cake as one of the most fascinating places for history buffs to explore. It's just a 1 minute walk from Chungmuro Station(Line 3 and Line 4) exit 3 or 4. It is opened on Tuesday-Sunday as well. A visit here would mean taking a glance into Korean heritage. Also, it's an opportunity to brush up on your Joseon dynasty knowledge.  The entry is free and you do not have to worry about bringing a wheelchair or baby stroller, as both are available during your visit.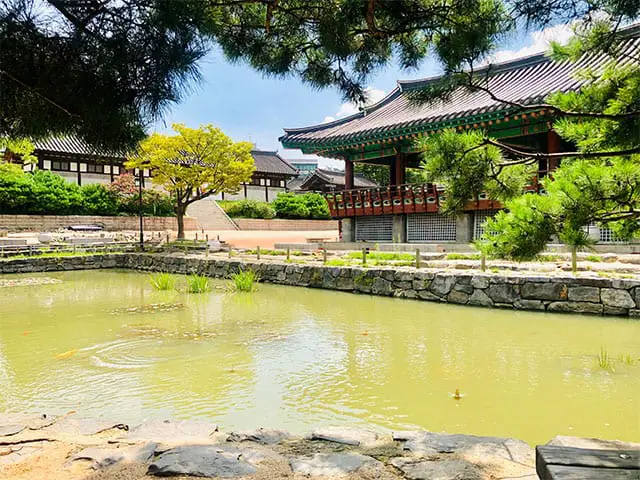 What to expect in Namsangol Hanok Village
Namsangol Hanok Village lies on the northern side of the Namsan Valley, exhibiting the enchanting history of the Joseon period. It's famous for it's preservation of Hanoks. These are traditional Korean houses, five of which were located in separate villages. And then later brought back together to form– the Namsangol. The purpose behind this was to develop the Namsangol Hanok Village as a cultural garden park. It would display the lifestyles of Koreans of earlier times belonging to all strata of society – peasantry and nobility alike.
The traditional Korean houses are a source of fascination for all tourists who visit. With their wooden construction, floor-based heating system, historic furniture, and beautiful chimney construction. They are vastly different from the sort of houses we see today.
Pavilion
These well-preserved Hanoks aren't only what the village has to offer. There is a pavilion restored from ancient days, a performance arts stage to show small plays about everyday living, a pond for the nature-lovers, and a time capsule. Yes, a time capsule! Out of the many options, the Namsangol Hanok Village was chosen as the site for the capsule. It contains 600 items of current life and cultural history of Seoul, as a way to mark Seoul's 600th anniversary. The Seoul Millennium Time Capsule is expected to open on November 29th, 2,394. Who knows what changes would occur in Seoul by then, and how the items buried would seem like a breath of fresh (or ancient) air.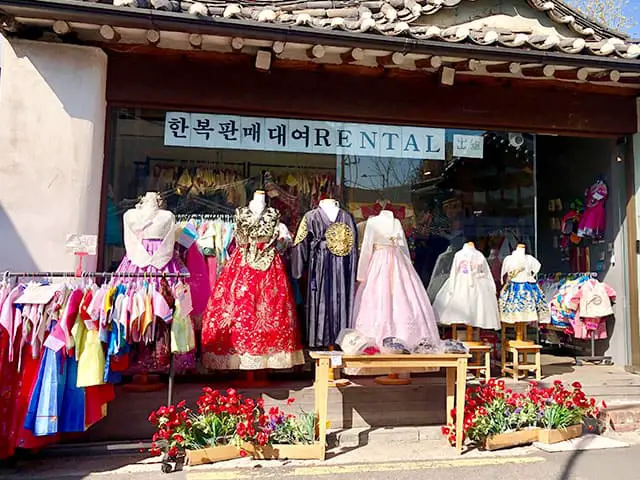 Hanbok (Traditional Korean Dress)
The Namsangol Hanok Village entails a variety of programs, all giving visitors a glimpse into the past and current Korean culture. For instance, for those who love fashion, especially vintage fashion, Hanbok-wearing is a must. Hanbok is the traditional attire of Koreans. Usually, it consists of a short jacket known as a Jeogori and a long, floor-touching skirt called a Chima. Moreover, the culturally rich aspects of this clothing has led to its' fame across the globe, with many designers also incorporating Hanbok motifs in their work. The program includes wearing Hanboks and taking pictures, courtesy of the photo-op area, serving as memories of this Korean costume endeavor.
Hanji
Using Hanji, the traditional paper of the Koreans, is also a fun activity at the Namsangol Hanok Village. Taking Origami to another level, this paper has superpowers of flexibility. Thus being able to be crafted and folded into various shapes and sizes, resulting in smiles on the faces of all watching, especially children. Furthermore, the tourists are also taught how to fold Hanji's into dolls, lamps, or really anything of their liking. You can also practice Korean writing on the Hanji. Lastly, for those searching for an active, exciting and uplifting activity, we suggest playing Yutnori, a traditional Korean board game as well.
Interesting Programs
A large variety of interactive workshops is a massive plus for those visiting the Namsangol Hanok Village. There is something for everyone. For instance, learning traditional martial arts, viewing Taekwondo performances, mastering the skill of archery, or drawing folk paintings in color pencils. Besides, you probably won't find attractions like being part of the traditional tea ceremony, learning traditional etiquette manners, and herbal medicine programs any where else.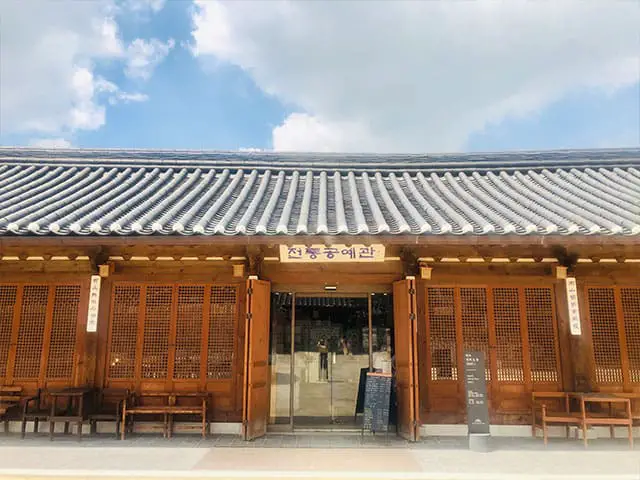 Attractions Nearby
3D Black Art Museum
If you want to catch two birds with one stone, make sure you visit the 3D Black Art Museum after the Namsangol Hanok Village. Within a mile's radius of the Namsangol Hanok Village, you will find attractions bound to let your heart pound. The 3D Black Art Museum is half a miles radius from the village and a modern addition to this historical trip. Moreover, this museum plays on lights and illusions, allowing the visitors to view the exhibitions in two different ways. With various colorful lighting, along with 3D installations, this place is a trendy attraction for all ages, especially for kids in search of a magical experience.
N Seoul Tower
At a distance of 0.6 miles from the Namsangol Hanok Village is another Seoul attraction – the N Seoul Tower. With a safe and sound cable car ride going up the Namsan mountain, visitors are given the opportunity to glance Seoul and see in all its beauty. It's a mesmerizing experience, particularly the night view. As you glance down from the deck, time stops for a moment, while you take in the sight of the city of Seoul. It's absolutely breathtaking. Please get a discount by buying tickets online here!
Myeongdong Street
How could any vacation be complete without a shopping spree? Myeongdong Street is the place to be. It is 0.6 miles from the village, and heaven for shopaholics, offering products from an array of niches. Wish to be updated with the latest Korean fashion items, buy the world-famous Korean masks and cosmetics, or hope to devour street food delicacies? Ask and you shall find, here at Myeongdong Street. Plus, check this page for Myeongdong Shopping and Korean Street Food and discover the best Korean face masks here before you go shopping and how to get tax refunds in stores at Myeongdong. 
Bukchon Hanok Village
Another famous nearby site is the Bukchon Hanok Village. Although the Namsangol Hanok Village is a recreated Hanok site, the Bukchon Village is a residential area where people currently live in Hanoks. Thus the attractions it offers are more of a modern take on Korean culture, instead of the historic vibes and rich heritage Namsangol Village exhibits. Tourists visiting Bukchon Village usually only stroll down streets, seldom getting the opportunity to examine the Hanoks in all their glory. Because the Bukchon Village aren't museum sites, but rather households for residents. Nearby cafes, wine bars, and a few Hanok guesthouses are the main attractions that can be visited. For more information about Bukchon Hanok Village, click here to see our post.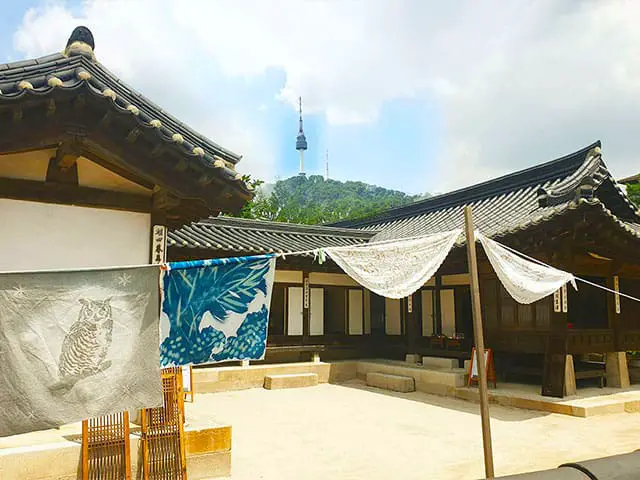 So what are you waiting for? A historic and culturally enchanting experience awaits your arrival at Namsangol Hanok Village. Who knows, maybe you will catch a local wedding on the weekend, and get an up-close and personal affiliation with Korean heritage.
You may also like