Last Updated on August 17, 2023
Welcome to the vibrant city of Seoul, where modern skyscrapers stand tall alongside ancient palaces and bustling markets. Whether planning a vacation or a business trip, finding the perfect accommodation is critical to creating an unforgettable experience. This article takes you on a virtual tour of Seoul's finest luxury Airbnbs. From stunning penthouses with panoramic city views to traditional hanok houses with charm, we've curated a list of the best luxury Airbnbs in Seoul. Prepare to be captivated by these exceptional properties that offer comfort, style, and an authentic taste of Korean hospitality!
You may also love:
Live Like Royalty: Luxurious Hanoks in Seoul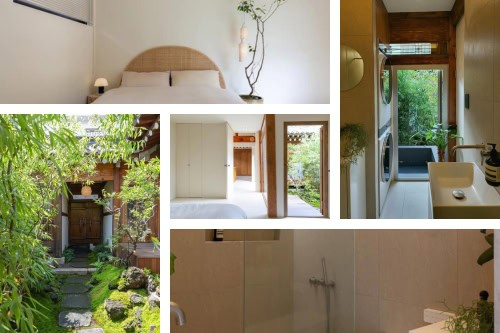 Healing Hanok
📍Address: Jongno-gu, Seoul, South Korea 
Entire vacation home
Modern Hanok style
Highlights
CCTV cameras
The bamboo moss garden
High-end designer furniture, artist-made dishes, and delicate lighting and accessories.
Welcome to modern Hanok, one of the best luxury Airbnb in Seoul, a haven of tranquility in the city's heart. As you step into this beautiful space, you'll be captivated by the seamless blend of contemporary design and natural beauty. Afterward, you'll discover a beautiful bamboo moss garden within the confines of their enchanting abode. Immerse yourself in its ethereal beauty as the interplay of light throughout the day creates many colors and moods. Then, watch the bamboo gracefully dance in the wind, accompanied by the soothing sounds of water cascading in the pond. The garden is a sanctuary for vibrant avian visitors, offering you the chance to witness their active presence.
Every inch of this space has been meticulously crafted to envelop you in comfort and the aesthetics of nature. Drawing inspiration from the healing properties of the environment, their design is centered around creating a harmonious atmosphere. The lighting, specifically designed to emulate nature, adapts to the weather conditions, casting a gentle glow during the day and transforming into an atmospheric haven at night, predominantly illuminated by indirect lights. Even the minutest details, such as the doorknobs, have been meticulously chosen to harmonize with the space's overall aesthetic.
Embrace Luxury Living: Stay in Seoul's Premier Airbnbs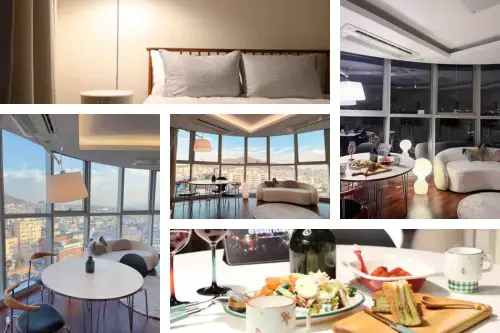 Premier Seoul Airbnb
📍Address: Yongsan-gu, Seoul, South Korea
Seoul Station 5min
Hotel Bedding
High Floor
Namsan Tower View
Great for Proposals, Anniversaries 
Highlights
Daily views of the Han River and Namsan Mountain. 
The charming alleys of Huam-dong, visit pretty cafes.
The small bookstores with a scenic view of Namsan Mountain.
Eco-friendly memory foam mattresses, goose pillows, a multi-charger, and a portable LG TV with cable and Netflix.
Wander through the charming alleys of Huam-dong, where you'll find cafes and bookstores with beautiful views of Namsan Mountain, a great way to start a fun adventure. As one of the best luxury Airbnb in Seoul, this rental unit is a peaceful place to relax and recharge in the middle of the busyness of Seoul. It's a nice break from the city's dynamic energy.
In the cozy bedroom, a memory foam mattress is good for the environment, and plush goose pillows will give you the most comfort possible. Stay charged with the multi-charger, which can charge many devices. The living room is comfortable and has a portable 43-inch LG TV that you can use to watch cable channels and Netflix. The high-quality Wello Bluetooth speakers create a relaxing atmosphere where you can lose yourself. Then you can sink into the soft, inviting round sofa arrangement and gather around the four-seat dining table.
For people who like to cook, the kitchen is fully stocked and ready for your ideas. Enjoy the smell of freshly brewed Nespresso coffee and make quick and easy meals in the microwave oven. Basic seasonings like soy sauce, cooking oil, sugar, pepper, parsley, and salt are thoughtfully provided. Also, their accommodations have an easy way to eliminate food waste, which is good for the environment.
Chic and Classy: Experience Luxury in Seoul's Top Airbnbs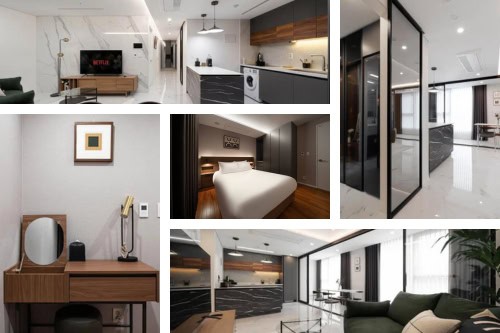 Entire serviced apartment
📍Address: Seocho, Seoul, South Korea 
10 minutes from Seoul University Station on Line 2 or 3
5 minutes from Nambu Terminal Station on Line 3
2 rooms, 4 people standard
Highlights
An "Untact Check-in" system, providing a seamless and contactless check-in process for guests, ensuring convenience and safety. 
Pest control solutions by CESCO ensure a comfortable and hygienic environment for guests.
Convenient access to various attractions and facilities in Seoul. 
We welcome you to BEYOND STAY – Le Collective, a genuinely outstanding luxury Airbnb experience in Seoul. Because they are a premium stay brand that Urban Stay founded, they have painstakingly chosen every component of this place to make sure that you and your loved ones enjoy an experience that is genuinely extraordinary and memorable.
As your comfort and well-being are a top priority at Le Collective, the establishment has collaborated with CESCO Pest Control Solution Management. You can relax knowing that the painstaking attention to cleaning and pest control they pay throughout your stay will give you a worry-free and hygienic atmosphere, to spend.
As one of the best luxury Airbnb in Seoul, it is in an ideal location, right in the middle of Seoul, and puts guests within walking distance of many of the city's most famous landmarks. You can immerse yourself in the intriguing concerts and exhibitions that can be found at the Seoul Arts Center, which is only a six-minute drive away from where you are currently located. Discover the city's marvels at your own pace, secure in the knowledge that you will have no trouble navigating Seoul's lively streets and districts.
Exclusive Haven: Unwind in Seoul's Luxurious Private Villas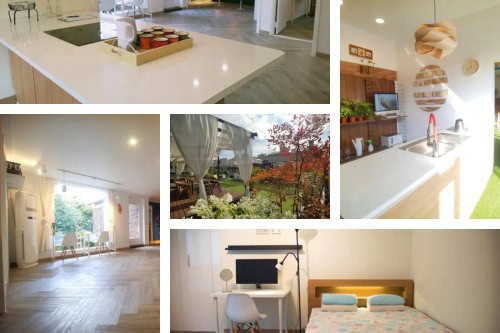 Entire villa
📍Address: Seodaemun-gu, Seoul, South Korea
Located close to Shinchon, Hongdae, & D.M.C.
Luxury House with 3 Floors
Highlights
1 F = Event and Party Hall, designed only with top-class trees
2F = Indoor space with a beautiful garden view
3F = The most famous rooftop terrace in Seoul
High-end equipment includes a beam projector, speakers, PlayStation 4 Pro, Nintendo Switch, premium coffee machine, and more. 
Nestled in the heart of downtown Seoul, this remarkable villa spans three magnificent floors, each offering a unique and enchanting experience. From the event and party hall on the first floor, designed with top-class trees, to the indoor space with a captivating garden view on the second floor, and the renowned rooftop terrace on the third floor, every inch of this mansion exudes elegance and charm.
As a guest, you can access a world-class space created by the finest wood and space designers. The first-floor event hall sets the stage for various activities such as workshops, small performances, gaming, movie screenings, parties, and photo shoots. Equipped with a beam projector, high-end wireless microphones, seating for 30 people, a PlayStation 4 Pro, and a Nintendo Switch, this space ensures endless entertainment possibilities.
The second floor offers a spacious and stunning two-story interior space, including uniquely designed rooms with distinct personalities. Additionally, the living room provides picturesque views of the garden. In contrast, a modern living area with blue furniture and sofa beds offers a contemporary touch. And the kitchen space boasts a large Irish table perfect for group gatherings. It is fully equipped with all the necessary utensils for culinary adventures.
The roof patio on the third floor is magnificent, and you should be prepared to awaken by it. The rooftop bar has a quick fridge, washbasin, and a business shelf, making it perfect for gatherings, meetings, and banquets. Plus, the gazebo location is picture-perfect, with abundant persimmon, trees, and birds chirping. Pergolas in the European style host small stage performances, elevating the terrace to the level of a refined and memorable gathering spot.
Modern Marvels: Stay in Seoul's Contemporary Luxury Airbnbs
Entire home
📍Address: Jongno-gu , Seoul, South Korea
ALL-IN-ONE Serviced Residence
Highlights
Home Concierge & Relocation Service
Weekly Housekeeping
All-Inclusive Amenities
Spacious Accommodation
Well-Equipped Spaces
Family and Muslim-Friendly
We would like to warmly welcome you to one of the best luxury Airbnbs in Seoul. Here, not only do they give the most comfortable accommodations possible, but they also provide a fantastic ALL-IN-ONE Serviced Residence. While they attend to your every requirement and wish, you should get ready to be submerged in the grandeur and convenience they have created only for you.
Now, let's delve into the exquisite features of this incredible space. Perfect for those seeking a seven-day stay, their weekly package offers a generous 15% discount from the current price. Immerse yourself in the luxurious experience from the moment you arrive with their complimentary airport pick-up and sending service in a van reserved exclusively for your convenience.
Your access to the house is divided into three floors, each offering unique amenities and features. The first floor presents a cozy living room, two bathrooms, two spacious bedrooms (one with a family bed and one with a queen bed), a garden, and a sun bedding terrace. The second floor boasts a spacious dining room, a laundry room, a king-size bedroom, and a dressing room. Finally, the third floor features a generous bedroom with two single beds and one queen bed, a terrace, a BBQ kitchen, and a BBQ garden.
Every room is thoughtfully appointed to provide ultimate comfort and convenience. Luxuriate in the comfort of their hotel-quality bedding, including queen, single, king, and low-level family beds made with top-notch latex materials. Enjoy the controlled air conditioning and hot water systems, IOT technology for room and light control, and the daily room cleaning provided by their robot vacuum. Discover the true meaning of opulence as you immerse yourself in the world of their incredible Seoul mansion!
Where Luxury Meets Heritage: Indulge in Hanok Airbnbs in Seoul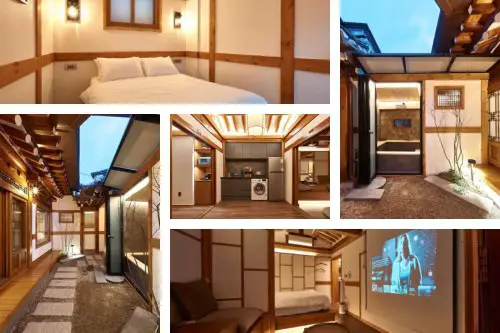 Entire home
📍Address: Jongno-gu, Seoul, South Korea
Luxury Hanok with private bathtub
Highlights
Luxurious Hanok Stays
Complete Privacy
Self-Check-In
Well-Equipped Spaces
Regular Disinfection and Maintenance
Indulge in this genuine Hanok experience as one of the best luxury Airbnb in Seoul. BUTLER.LEE is a renowned brand offering a collection of around 30 exquisite Hanok stays in the city's heart. Immerse yourself in the charm of traditional Korean architecture and culture while relishing the comforts of a lavish retreat.
Each of their Hanoks is a private sanctuary, ensuring utmost privacy and tranquility for every guest. Step inside and discover a world where history meets modernity, where heritage is seamlessly blended with contemporary amenities. To explore the range of their Hanok branches, you should visit their Airbnb profile and prepare to be captivated.
The main space of your Hanok, as depicted in the floor plan provided in the photo listing, offers a truly indulgent experience. Immerse yourself in a private bathtub available 24/7, allowing you to unwind and rejuvenate. Relax and indulge in the ambiance created by their beam projector, equipped with Netflix and YouTube for your entertainment pleasure.
Furthermore, you can enjoy the minor touches that will make your stay more memorable. The in-room coffee machine and four Nespresso capsules are provided for your convenience to savor the flavors of a freshly prepared cup of Nespresso coffee. You are welcome to use their cooking tools, spices, and dinnerware if you are interested in designing your meals or if you prefer the convenience of having your eating alternatives. Raise a drink to beautiful times spent with those you love using their wine glass and wine opener.
A Taste of Elegance: Exclusive Hanok for a Luxe Stay in Seoul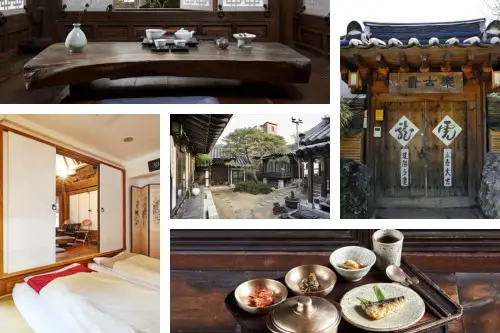 Rakkojae Seoul Main Hanok
📍Address: Jongno-gu, Seoul, South Korea 
A place to stay in a bed and breakfast
Highlights
Rich Cultural Heritage
Serene Ambiance
Revival of Traditional Elegance
Authentic Cultural Experiences
Discover the first premier luxury traditional hanok hotel nestled within the enchanting Bukchon Hanok Village. Among the exquisite rooms offered, Rakkojae Seoul Main Hanok stands out as the most sought-after choice, where you can truly experience the harmony of nature and the style of ancient scholars.
Step into a world where Korean traditions and history come alive at Rakkojae Seoul. With a remarkable heritage of 130 years, this Korean traditional culture space underwent a meticulous renovation by Human National Treasure-Master Carpenter Young Jin Chung in 2003, earning international acclaim ever since. The seamless blend of traditional Korean architecture and the surrounding natural beauty creates an enchanting setting for the true essence of Hanok to shine.
Rakkojae, one of the best luxury Airbnb in Seoul, stands proudly in a square formation around a peaceful courtyard, exuding the elegance of ancient noblemen in every crevice. The carefully restored pavilion, lotus pond, and patio allow you to indulge in the beautiful grace of traditional Korean architecture. The Patio, in particular, enhances the Hanok's refreshing and open spaces. Like old scholars, time seems to slow down as you sit on the Patio. Every gentle sound and the cool breeze become precious moments. Gazing upwards, you'll be captivated by the endless blue sky and drifting clouds, making the complexities of modern life feel insignificant.
Unwind and Rejuvenate: Luxurious Hanok in Seoul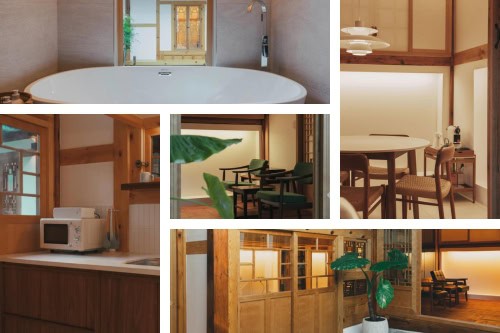 Entire place
📍Address: Jongno-gu, Seoul, South Korea
Highlights
A unique collection of objects that span different eras
A captivating blend of various wood colors, ranging from dark, aged timber
Step into the enchanting world of SAJEOGIN, a hanok built in 1929 that embodies the essence of traditional Korean architecture. Recently designated as an excellent hanok in Seoul in 2022, SAJEOGIN is nestled in a back alley where the captivating neighborhoods of Samcheong-dong and Insa-dong converge, offering a unique blend of Korea's rich past and vibrant present.
From the deep, dark tones of the original wood that bears witness to over 90 years of history to the delicately reinforced pale wood that exudes a contemporary allure, "SAJEOGIN" is a testament to the ever-changing hues of time. Every corner of the space tells a story, adorned with a captivating mix of objects from different eras, including vintage Danish chairs and furniture from the 1960s, reprinted retro chairs, and the latest appliances and furnishings. The seamless blend of old and new creates a harmonious tapestry of design and functionality.
As its name suggests, SAJEOGIN, one of the best luxury Airbnb's in Seoul, is a haven of privacy and personal reflection. It is meticulously curated to become a sanctuary where you can rediscover your sense of time and reconnect with your inner self, transcending the hustle and bustle of everyday life. The hanok's interiors feature a stunning array of woodwork, ranging from the aged, dark timbers that speak of its storied past to the rejuvenated light-colored woods that symbolize its vitality. Amidst this captivating environment, you'll find an eclectic mix of objects that spans generations, inviting you to contemplate and appreciate the passage of time.
Beyond Imagination: Jaw-Dropping Luxury Airbnbs in Seoul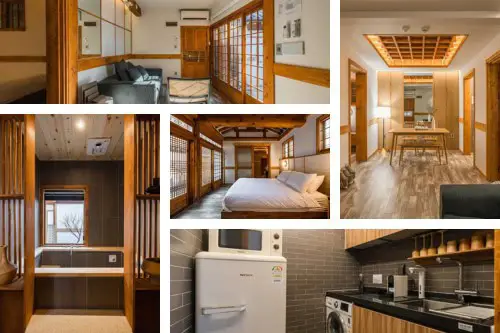 Entire home
📍Address: Jongno-gu, Seoul, South Korea 
Luxury Hanok with private bathtub  
Highlights
Self-check-in services
Private bathtub available 24/7
Peaceful atmosphere
Indulge your senses as you step into the world of BUTLER.LEE, our favorite super host renowned for redefining luxury in Hanok accommodations. Their commitment to exclusivity ensures that each guest experiences the utmost privacy, immersing themselves in a sanctuary that transcends time and transports them to a world where sophistication meets heritage. Prepare for an unforgettable vacation experience that will leave an indelible mark on your soul.
Discover the range of their exceptional Hanok branches by visiting their Airbnb profile, where a selection of enchanting options awaits your exploration. From intimate retreats perfect for romantic getaways to spacious abodes designed for families and groups, each Hanok is thoughtfully curated to cater to your unique preferences and desires. Unveil the ideal haven that resonates with your discerning taste, setting the stage for an unforgettable stay.
At BUTLER.LEE's stays, as one of the best luxury Airbnb's in Seoul, prioritize your convenience and comfort. Experience the seamless elegance of their self-check-in services, with all relevant information sent directly to you via Airbnb message on the day of your arrival. As you step through the doors of your chosen Hanok, a world of refined beauty and tranquility unfolds, inviting you to unwind and create cherished memories.
Iconic Residences: Luxury Airbnbs in Seoul's Landmark Locations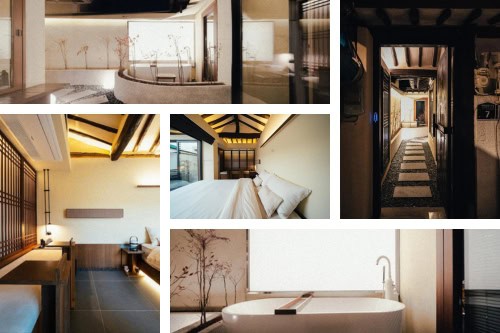 Uhui Yuhui
📍Address: Jongno-gu, Seoul, South Korea
Highlights
3 guests · 1 bedroom · 1 bed · 1 bath
Self-check-in
Trinity is a Superhost
Hop in a world where the timeless charm of the hanok is woven with the cutting-edge aesthetic of today's interior design to create a hideaway perfect for relaxation and revitalization. Choose a location that is above and beyond the ordinary, providing a break from the routine of life and engulfing you in the ideal combination of peace and luxury. We are pleased to welcome you to this spectacular Hanok retreat in Seoul, widely regarded as one of Seoul's most desirable luxury Airbnbs.
Get ready to be completely submerged in an experience that will whisk you away to a world in which the modern and the traditional coexist perfectly. Their hanok, built with painstaking attention to detail, welcomes you to break away from the mundane and provides a haven that refreshes the mind, the body, and the spirit. You are about to go on a magnificent journey. It would help if you were prepared to experience the height of both luxury and tranquility along the way.
Plus, get peace and relief from the pressures of everyday life within the confines of their hanok getaway. Enjoy the calming atmosphere created when traditional Korean architecture and contemporary interior design combine to create a room that oozes elegance and comfort in equal measure. Revel in the opulence of your surroundings, as every element has been meticulously selected to provide you with an experience that goes above and beyond anything you could imagine.
Ultimate Comfort and Style: Luxurious Airbnbs to Elevate Your Seoul Stay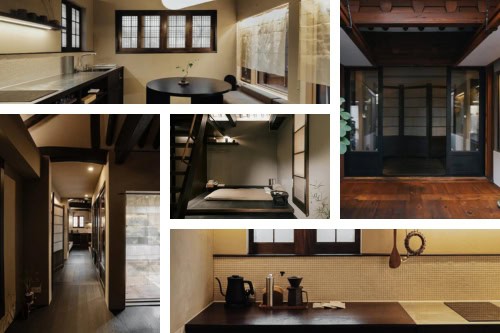 Dalro Dalro
📍Address: Jongno, Seoul, South Korea
Highlights
Self-check-in
The depth of the old-fashioned hanok and the modern interior harmonize.
A place to get away from everyday life, rest, and relaxation.
You are about to uncover a well-kept secret: a place where the traditional charm of a hanok harmoniously converges with the most up-to-date interior design. Be ready to be swept away to a paradise of unsurpassed luxury, where the stresses of everyday life take a back seat to unadulterated serenity and where you can truly unwind in peace. We are pleased to welcome you to their lovely sanctuary. This hanok can be rented through Airbnb and promises an escape as one of the best luxury Airbnb in Seoul.
The time-honored customs of the hanok and the cutting-edge aesthetics of the modern world come together perfectly in this entrancing refuge, producing a reassuring and alluring atmosphere. When you go inside, you can leave the mundane world outside, as every element has been painstakingly crafted to give you an oasis of solace and relaxation. Be ready for an unforgettable adventure that will blow your mind and exceed your wildest expectations.
You are invited to rediscover the beauty of simplicity during your stay at our Airbnb Hanok, which provides a sanctuary in which you can truly rest and refresh. As you bask in the calming ambiance that surrounds this beautiful retreat, you may forget about the pressures of your typical routine and enjoy some much-needed R&R. You will be able to disconnect from the outside world, reestablish a connection with your true self, and take pleasure in the exquisite luxury that is all around you here.
Indulge in Opulence: Luxurious Airbnbs in the Heart of Seoul
Coco Gallery House
📍Address: Seocho-gu, Seoul, South Korea 
Highlights
A lovely and cozy feeling in a luxury gallery
Free parking for up to 2 cars
As one of the best luxury Airbnb in Seoul, let's indulge in an unforgettable stay where every moment feels like a delightful journey through a luxury gallery. Welcome to their exceptional Airbnb, a haven that seamlessly blends the cozy comforts of home with the captivating ambiance of an artful sanctuary. Prepare to embark on an extraordinary experience as they invite you to discover one of the finest luxury accommodations in Seoul.
Unwind and relax in this extraordinary sanctuary, where the fusion of luxury and artistry creates an inviting and invigorating atmosphere. Find solace in the cozy corners and delightful nooks, each thoughtfully designed to provide a haven of comfort and tranquility. From the carefully selected furnishings to the captivating artwork adorning the walls, every element has been chosen to evoke a sense of wonder and delight.
In addition to the stunning interiors, Airbnb offers convenient amenities for your comfort. Parking is free of charge in the designated location on the ground floor outdoor parking lot, accommodating up to two cars. This ensures that your stay is luxurious but also convenient and hassle-free, allowing you to focus on immersing yourself in the gallery-like ambiance and enjoying every moment of your experience.
A Symphony of Luxury and Charm: Stay in Seoul's Elegant Airbnbs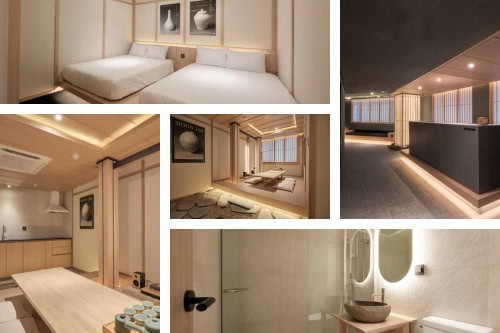 Central Seoul
📍Address: Seoul, South Korea
Highlights
Spacious suite for 6-8 people
3 bedrooms, 2 toilets
4 queen size beds
Kitchen furnishings
After spending the day adventuring through the lively metropolis of Seoul, you'll be ready for a good night's sleep thanks to the vast resting space offered by the suite's four queen-size beds. This spacious suite is ideal for hosting parties of 6 to 8 people, as it features three bedrooms and two bathrooms to ensure the utmost level of comfort for all guests during their stay.
Because the kitchen is so well-appointed, you can easily prepare meals and snacks whenever the mood strikes you, giving you the feeling that you are staying in a home away from home. Furthermore, cable television puts a wide variety of programming at your disposal. If you have Netflix, you may relax during downtime between tasks by watching some of your favorite TV shows or movies on demand.
When you go a little further, you'll find that the neighborhoods of Euljiro and Cheonggyecheon are all bustling with activity, and it'll only take you around five minutes to do so. Plunge into the local culture by trying out the delectable street food, perusing the one-of-a-kind boutiques, and immersing yourself in the vibrant atmosphere.
Serenity and Style: Luxurious Airbnbs in Seoul's Tranquil Enclaves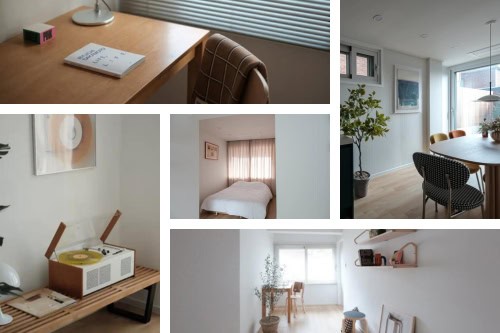 201 blikstille
📍Address: Yongsan-gu, Seoul, South Korea
Highlights
The space features various floors and a rooftop
Enjoy a spacious dining area
Conveniently located
[blikstille], meaning "tranquil" in Danish, is nestled in a serene residential area in Yongsan-gu, Seoul. Just steps away from the bustling city streets, this hidden gem, one of the best luxury Airbnb in Seoul, offers a peaceful haven to unwind. As you ascend each half staircase, a new space unfolds before your eyes. The expansive dining area, outdoor terrace, and a 120-inch beam projector screen await your enjoyment. Immerse yourself in the charm of vintage furniture and props carefully curated throughout the property. With two, three, and four floors and a rooftop available for individual use, [blikstille] provides a range of options to suit your needs.
Conveniently located, you can easily reach popular destinations such as Hongik University, Myeongdong, Gwanghwamun, and Yeouido within 15 minutes by car. Moreover, guests staying for three nights or more are treated to a complimentary taxi service to their desired locations (once a day, up to seven times for seven-day bookings). Parking is available in front of the accommodation, providing convenient access for guests with vehicles. The highlight of the space includes a 120-inch beam projector screen and a spacious dining area, perfect for relaxing and enjoying quality time.
Exclusivity Personified: Stay at Seoul's Most Sought-after Luxury Airbnbs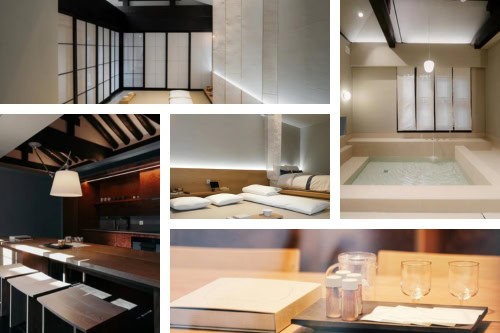 Haudo Howdo
📍Address: Jongno-gu, Seoul, South Korea 
Highlights
5-star rating from 93% of recent guests
A premium accommodation 
As you step inside the domain of this Hanok Premium, one of the best luxury Airbnb in Seoul, you'll appreciate the seamless fusion of modern conveniences and age-old customs. Your stay will be more personal and comfortable in one of their private Hanoks, designed to accommodate up to 8 guests. They strongly recommend that you consult the photo listing to have an in-depth understanding of the floor plan, the available rooms, and the amenities.
You will find many services and conveniences within the entrancing Hanok environment, all designed to meet your requirements. Get the utmost in relaxation with a private bathtub around the clock and invite you to unwind and revitalize whenever it is most convenient. For refined indulgence evenings, you can enjoy the fully equipped kitchen with cooking equipment, spices, dinnerware, wine glasses, and a wine opener.
With the host's portfolio of unique Hanok retreats, you can live the ultimate luxury life while immersing yourself in Korean culture. Let the timeless allure of ancient Korean architecture surround you in a world of peace and elegance as it transports you back in time. Prepare to be delighted by an experience that far exceeds any and all of your expectations the moment you set foot in their opulent Hanok lodgings.
The Pinnacle of Elegance: Discover Luxury Airbnbs in Seoul's Prestigious Neighborhoods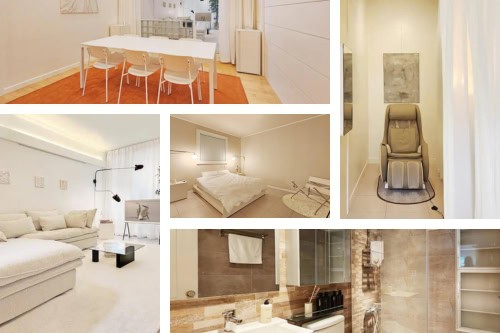 Modern House
📍Address: Yeongdeungpo-gu, Seoul, South Korea
Highlights
A spacious layout with a mid-century modern design, a terrace, and a massage chair.
4 bedrooms, a dining room, a study, and brand-new appliances such as a washing machine, dryer, and dishwasher.
The location is conveniently near Dangsan and Seonyudo Stations, Hangang Park, Hapjeong and Hongdae Stations, supermarkets, and convenience stores.
Are you searching for a stylish and spacious urban oasis in the heart of the city? Look no further than this rental unit as one of the best luxury Airbnb in Seoul! This remarkable duplex boasts a mid-century modern design that will take your breath away. With a stunning terrace and a massage chair to unwind in, this is the ultimate haven for relaxation and comfort.
Convenience is key, and this duplex is perfectly situated near Dangsan and Seonyudo Stations, making transportation a breeze. Take in the breathtaking sights of nature at Hangang Park, which is just a few minutes away and is accessible by stroll. Need to stock up on groceries? Supermarkets are within a five-minute walk, and convenience stores are practically at your doorstep. The first floor also hosts two bedrooms, including the main bedroom, with a serene atmosphere and a separate air conditioner for optimal comfort. It is finished with a utility room with a refrigerator, washing machine, dryer, and a fully equipped bathroom with a bidet.
Head upstairs to the second floor, where you'll find two more cozy bedrooms and an additional bathroom. Each bedroom is thoughtfully designed with bedside tables and indirect lighting to create a comfortable and inviting ambiance. Hence, don't miss the chance to experience this stunning duplex's perfect blend of luxury and convenience. Book your stay today and immerse yourself in the city's vibrant energy while enjoying the comfort and tranquility of a true urban retreat.
Luxury Redefined: Unforgettable Airbnbs in Seoul's Finest Accommodations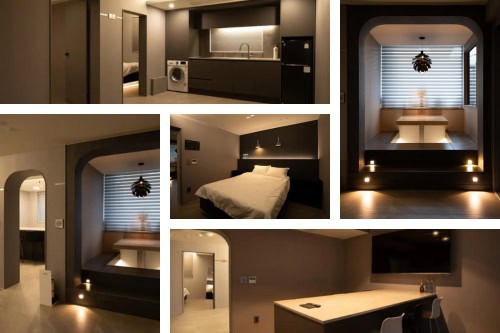 Shuri House (슈리하우스)
📍Address: Songpa-gu, Seoul, South Korea
Great location
Entire home 
Highlights
The space is 25 sqm with luxurious grey decor.
2 rooms with Queen size beds, accommodating up to 6 people with extra bedding.
A shared living room, a cozy bench, a luxurious toilet with provided amenities, and a jacuzzi (caution advised).
Shuri House is one of the best Airbnb in Seoul, where every detail has been meticulously curated to exude luxury. The 25 square meters oasis boasts a sophisticated grey decor, creating an atmosphere of refined elegance. Located just a 5-minute walk from Seokchon Station (Line 8/9) and Songpanaru Station (Line 9), this prime location ensures seamless access to the city's most coveted attractions. 
As you step inside Jiyoung's Oasis (the host), you'll find two elegantly appointed rooms, each featuring a comfortable queen-size bed. The total number of visitors that can be accommodated is 4. Still, additional beds can be available if necessary to accommodate up to 6 guests. Please note that the mattress on the floor is thin, so they do not recommend it for those who prefer a more elevated sleeping experience.
Indulge in the shared living room, an entertaining space perfect for relaxing and socializing. Cozy up on the inviting bench and unwind after a day of exploration. The luxurious toilet provides a pampering experience with complimentary shampoo and body wash. For those seeking ultimate relaxation, a jacuzzi awaits, although they kindly advise caution as the surface may become slippery when using bathing pills. If you require an iron, please don't hesitate to contact them in advance, and they will be more than happy to assist you.
Embrace the Extraordinary: Unique Luxury Airbnbs in Seoul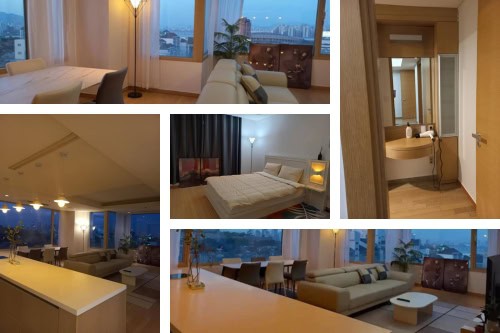 Adele House
📍Address: Gangnam-gu, Seoul, South Korea
Highlights
Convenient location
Situated on the main street
Stunning view
Spacious accommodation
Situated in the center of Seoul, Adele House immerses guests in the heart of the city's cultural and entertainment hub. With many things to see and eat, you'll be captivated by the endless possibilities at your doorstep. As you step outside, be greeted by the iconic view of Lotte World Tower and the stunning Han River, providing a picturesque backdrop for your stay.
Furthermore, Adele House boasts a spacious environment that comfortably accommodates families of various sizes. Designed with hygiene, cleanliness, and management in mind, this charming space ensures a worry-free and enjoyable stay for all guests as one of the best luxury Airbnb in Seoul. Whether you're lounging indoors or gazing at the enchanting night view of the entire city, Adele House provides the perfect atmosphere for relaxation and rejuvenation.
With its prime location, Adele House offers unparalleled convenience and accessibility to some of Seoul's most popular destinations. You can easily reach Bongeunsa Station, COEX, Hyundai Department Store, City Airport Terminal, and SM town in just one minute, allowing you to explore the city's wonders. Additionally, many attractions, such as Garosu-gil, Cheongdam-dong, Gangnam Station, Itaewon, Lotte World, and Jamsil, are only a 15-minute drive away, ensuring you make the most of your time in Seoul.
Elevated Comfort: Experience Seoul's Exclusive Luxury Airbnbs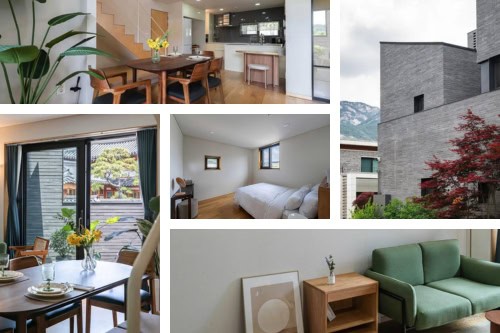 Frame In
📍Address: Seoul, South Korea
Eunnyeon Ok Village
Private House
Hanok View
Highlights
A view of the silver-rook village and Bukhansan.
Two-story detached house with a mini garden and two-story terrace.
Looking for a serene escape from the ordinary? Look no further than "Frame In" – a hidden gem where tranquility and breathtaking views come together in perfect harmony. Nestled within the vibrant neighborhoods of Itaewon, Haebangchon, and Gyeongnidan-gil, "Frame In," as one of the best luxury Airbnb in Seoul, offers both a quiet retreat and easy access to the best of Seoul. Explore the local attractions, savor delectable cuisines, and immerse yourself in the stylish vibes of these dynamic districts.
Discover your dream escape within "Frame In's" spacious two rooms and two beautifully designed bathrooms. Each room is thoughtfully adorned with cozy beds, providing ultimate comfort and relaxation. Experience the epitome of tranquility and wake up rejuvenated, ready to seize the day. Unveiling the Splendors of "Frame In," such as the living room: immerse yourself in cinematic magic with the beam projector, transforming any evening into a captivating movie night. Then come to the kitchen: prepare delightful meals in the well-equipped kitchen, complete with a Nescafe coffee machine, coffee pot, microwave, wine glasses, and all the essentials to awaken your inner chef.
Step into a world where the silver-rook village and majestic Bukhansan mountain unfold before your eyes. At "Frame In," the meaning behind the name becomes a reality as you enter a space that feels like stepping into a screen. Experience the awe-inspiring beauty that surrounds you, leaving you captivated and refreshed!
Lavish Retreats: Unveiling Seoul's Most Luxurious Airbnbs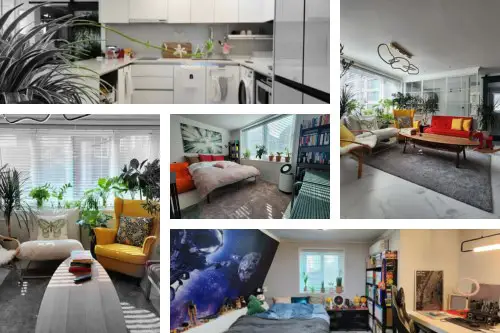 Maison de Peperoni PH 2
📍Address: Gangnam-gu, Seoul, South Korea 
Highlights
A quiet, upscale villa village
The most accessible area in Gangnam, Seoul
At Maison de Peperoni, unwind in a unique penthouse adorned with air purification plants, boasting a fresh and airy atmosphere. Let the calming ambiance revive your senses, offering a truly rejuvenating experience. Your body and mind will thank you as you immerse yourself in the tranquility of this urban retreat. 
Step into a beautifully designed 115-square-meter space, meticulously crafted for your comfort. Maison de Peperoni, one of the best luxury Airbnb in Seoul, offers a clean and stylish bathroom, a fully equipped kitchen, a cozy and luxurious bedroom, and a charming book café-style salon. Indulge in the spacious queen-sized bed with a weightless Tempurpedic topper, ensuring a restful sleep after a day of exploration. Watch your favorite shows on the 65-inch large TV, featuring free Netflix and over-the-air channels. Maison de Peperoni Planter PH is a haven for travelers seeking comfort and convenience. 
Conveniently located next to Apgujeong Rodeo Station Exit 2, Maison de Peperoni provides easy access to K-pop Street and the prestigious avenues of Cheongdam-dong. The dedicated global host, fluent in English, French, and Korean, ensures a seamless stay and offers their international guests an exclusive K-Culture Workshop (4H).
Final thoughts
We've reached the end of their virtual tour of the 20 best luxury Airbnbs in Seoul, and they hope you've been inspired by the exceptional accommodations this vibrant city has to offer. Whether you're seeking a modern retreat with panoramic views or a traditional hanok experience, our list of the best luxury Airbnb in Seoul provides diverse options to suit every traveler's taste.
By choosing one of these carefully curated properties, you'll not only enjoy the comforts of a luxurious stay but also immerse yourself in the unique charm of Seoul. From the bustling streets of Gangnam to the tranquil riverside havens, each Airbnb on this list has its distinctive character and promises an unforgettable experience.
Seoul's luxury Airbnbs go beyond mere accommodation; they offer a gateway to Korean culture, history, and hospitality. Whether you're an architecture enthusiast, a food lover, or simply seeking a rejuvenating retreat, these exceptional properties will exceed your expectations.
So, why settle for the ordinary when you can elevate your stay in Seoul with luxury? Indulge in the finest amenities, breathtaking views, and personalized service these Airbnbs offer. Immerse yourself in the enchanting blend of modernity and tradition that defines Seoul, and create memories that will last a lifetime.
Book your dream luxury Airbnb in Seoul today and embark on a remarkable journey through this captivating city. Prepare to be pampered, inspired, and enchanted as you explore the best of Seoul's luxury accommodations. Your extraordinary Seoul experience awaits! 
IVK's Top Picks – Day Tours, Tickets, and Travel Activities
Seasonal Picks!😍