People usually traveling to new countries will be looking for restaurants or historical places. But there is a lot more to a city than its restaurants and historical spots. We should celebrate the city as a whole. Some places that don't get the recognition they deserve are libraries and bookstores. With the internet's development, many people now find it easier to read on their phones. To me, this makes you lose the beauty of reading! You can only enjoy and experience reading when you have a physical book in your hands, and you can feel the texture of its papers as you flip through it. So while on your trip to Seoul, check out the top tourist attractions and the five best libraries and bookstores in Seoul.
Read also: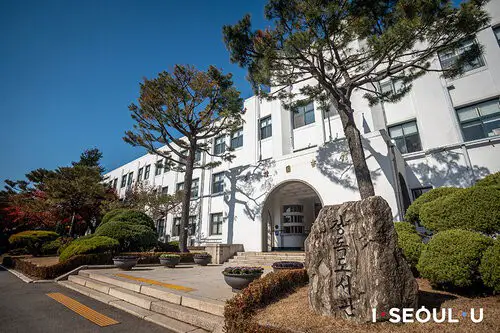 The Difference Between A Library and A Bookstore
Before I start telling you about the best libraries and bookstores in Seoul, I must tell you the difference between them. Many people can get confused and think that a library and a bookstore are the same things with no differences; this is far from the truth. Libraries and bookstores have many differences between them.
First, you can only read, study, research in a library, and borrow books. On the other hand, you can only buy books in a bookstore. Another difference is that most libraries require you to use a card or ticket to enter, but bookstores don't need any of that. Also, if you enjoy wide spaces, a library suits you more. This is because, most of the time, we would find that libraries are bigger than bookstores. Of course, there could be some examples where a bookstore is the bigger one.
The two places even hire different staff. Anyone can work there in a bookstore to help people and sell books. While libraries hire trained librarians who understand how libraries work and what system they follow.
Now that you know the major differences between libraries and bookstores, I can start telling you about Seoul's best five libraries and bookstores.
Arc N Book (아크앤북)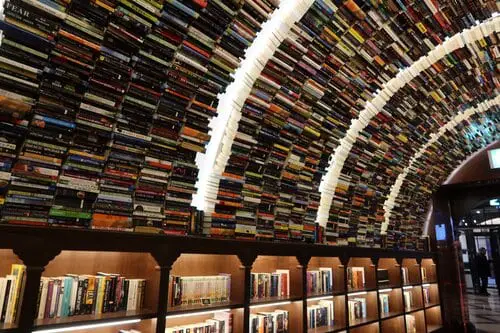 Our first suggestion is a bookstore called Arc N Book. If you are looking for a hidden place with few visitors, then Arc N Book isn't there. The bookstore is famous mostly because of its architecture, which makes people eager to go there and take pictures for Instagram and read. It keeps getting better! You also have the option to sit and read, which is a nice thing for sure.
I mentioned earlier how libraries and bookstores always try to introduce new things to attract readers, like having a café or a restaurant. Arc N Book is no different! You can enjoy your time there by reading a book and drinking coffee. Book lovers who also love coffee are lucky ones.
The beauty of Arc N Book never ends. Another thing to love about the bookstore is that we can call it a themed bookstore. To make things easier for its visitors, Arc N Book has four themes that you can pick books from.
There's the Daily section which includes books on family and everyday living. Then we have the Weekend section with sports and hobbies books. The third section is the Style one; you can easily guess from its name that it offers art and fashion books. The last section is the Inspiration section which has philosophy and history books.
Many people would want more than to visit Arc N Book to take pictures and then leave. Sometimes the language barrier can be frustrating, but luckily we won't have to experience that in Arc N Book. While most of the bookstore's books are written in Korean, they still have many English books. So between the aesthetics and the diverse books, you will have the time of your life at Arc N Book.
Location: 4th floor of Lotte World Mall, 300 Olympic-ro, Songpa-gu, Seoul
Opening hours: The entire week from 10 am – 10 pm.
Ticket prices: Free entry.
Social media: Official website. Official Instagram.
Best Activities in Korea
Seoul Book Repository (서울책보고)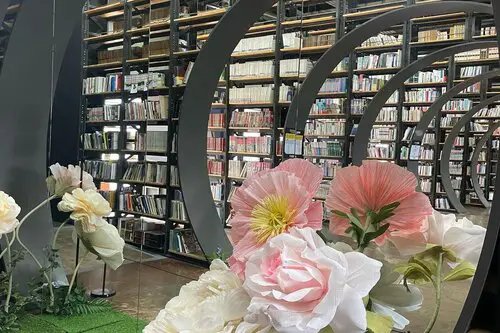 Our second suggestion for Seoul's best libraries and bookstores is Seoul Book Repository. The Seoul Book Repository is categorized as a library rather than a bookstore. All libraries and bookstores must have a background story for what they looked like in the past. Seoul Book Repository is not different. The now-library was an old warehouse, and it covers 1,400 square meters.
After turning from a warehouse to a library, Seoul Book Repository became Seoul's first public secondhand library; impressive, right? You will find over 120,000 books in the library, which should make you want to go there as soon as possible. If you wonder where Seoul Book Repository gets its books, it is easy. All the secondhand books in the library are taken from several secondhand bookstores around the city. This benefits Seoul Book Repository because they take 10% of sales.
The only downside is that, unlike Arc N Book, Seoul Book Repository is disorganized. So searching for a certain book won't be easy. But this is only because each secondhand bookstore, where the library took some books from, organizes their books in whatever way they like. Yet, that doesn't cancel the beauty of the Seoul Book Repository; it is still a must-visit for book lovers.
Location: 1 Ogeum-ro, Songpa-gu, Seoul, South Korea.
Opening hours: the entire week from 10 am – 8 pm. Closed on Monday. Closed on New Year's Day, Lunar New Year, and Chuseok.
Social media: Official website. Official Instagram.
Seasonal Picks!
Starfield Library (별마당도서관)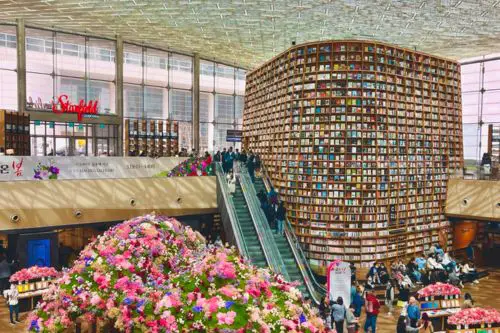 If you asked anyone what is the most famous library in South Korea, not just in Seoul, they would say Starfield Library. You will understand why it won this title as you learn more about it. The Starfield Library is located inside Seoul's Starfield COEX Mall, so you can see where it takes its name from. Some people even refer to the library as the Starfield Coex Library.
Many reasons made us recommend Starfield Library in our list of best libraries and bookstores. One of them is the size of its bookcase and the library's size too. Its bookcase is 13 meters tall and jaw-dropping, while the Starfield Library is 2,800 square meters.
The many activities you can do there are almost never-ending. For example, you can pick a book and choose any available seat to read; you can also have a drink. Or you can check if any lectures are being held since Starfield Library is famous for this.
More reasons to love Starfield Library is that they have over 50,000 books and several sections for magazines. While we don't recommend going there only to use the internet rather than enjoy the moment, you can read through your phone. Starfield Library allows you to read e-books on an iPad while sitting in the library.
Like Arc N Book, Starfield Library is perfect for Instagram pictures too! You can look at the different art pieces and projects in Starfield Library to decide which one is perfect. So it has everything that you might need!
Location: B1, 513 Yeongdong-daero, Gangnam-gu, Seoul (COEX Mall)
Opening hours: The entire week from 10:30 am – 10 pm.
Ticket prices: Free entry.
Social media: Official website. Official Instagram.
Book Park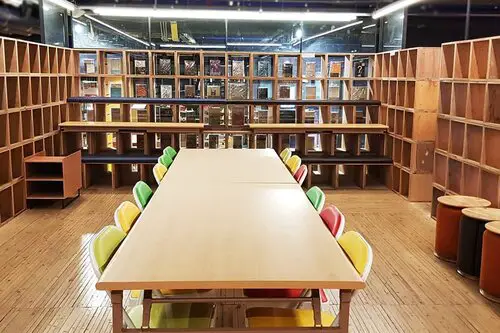 Our next spot is a mixture of several places all in one! I'm talking about Book Park, a bookstore, a café, and an art gallery. Since we are talking about art then, you should know that Book Park is inside Blue Square, a performing arts center in Itaewon, Seoul.
Your jaw will drop when you know Book Park has over 100,000 books. If you wonder how the place holds this amount of books, it's because Book Park occupies the second and third floor in Blue Square, a big space. Even the shelves are tall, as they are about 88 feet high. I know that you can try to imagine what it would look like in real life, but why not go there and witness all its glory?
If you wonder why it's name Book Park, then it's because it was built to be a space that will be "as breezy & tranquil as reading at a park." We can guarantee that they managed to achieve that! You will find about 200 seats to choose from. Book Park even allows you to borrow a book and sit in any of the cafes there; this is an example of the exceptions I mentioned when discussing the difference between libraries and bookstores.
The last thing you must know about Book Park is that your kids, or any kids in your family, will love it! With all the scientific and artistic books there, you won't be surprised when people from different age groups visit Book Park. Adults can also enjoy the lectures and seminars held by Book Park. So Book Park is perfect for almost everyone. The only downside is that international readers won't find many foreign books. The good part is that if you can't read the books at Book Park, you can at least enjoy the beauty of the place.
Location: 294 Itaewon-ro, Yongsan-gu, Seoul, South Korea
Opening hours: 11 am – 10 pm.
Social media: Official Instagram.
Kyobo Bookstore (교보문고 광화문점)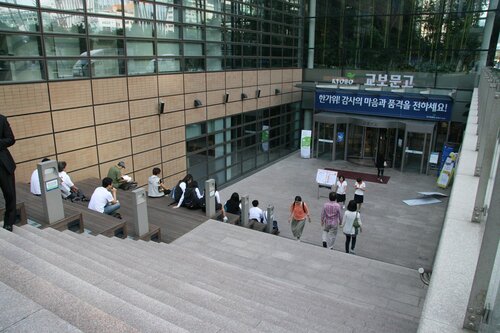 The last recommendation for the best libraries and bookstores is Kyobo Bookstore. You probably noticed now that most places I mentioned have something special about them. Or they have their own achievement or record-breaking title. Here, we find Kyobo Bookstore the same since it is the largest bookstore chain in Korea.
While Kyobo Bookstore has many branches, we recommend visiting their main store, the Gwanghwamun branch in Seoul. Another good thing about Kyobo Bookstore is that it is organized. The electric system there allows you to search the entire store for whatever books you are looking for, making life easier.
Also, like most of the libraries and bookstores I mentioned, Kyobo Bookstore does not only offer you books. You will find there a stationery store that will make the child in you happy. Then you have a music store, and you will feel inside a movie while listening to new albums.
Even foreigners will find no problem with loving Kyobo Bookstore. The bookstore chain has a foreign book corner with books from around the world; you will find a book for you. With all that I mentioned, how can anyone ignore the beauty of Kyobo Bookstore?
Location: 1, Jong-ro, Jongno-gu, Seoul, South Korea.
Opening hours: Open every day from 9:30 am – 10 pm. Closed on Lunar New Year and Chuseok.
Social media: Official website.
Now that I have told you about Seoul's five best libraries and bookstores, you should know which one you love. Next time you are in Seoul, try to visit all of them! One can't read too many books. The qualities of these libraries and bookstores in Seoul are like no other. They are continually advancing to meet the demands of the high-tech world. Let us know which libraries and bookstores in Seoul you visited.