Last Updated on June 5, 2022
K-beauty is undeniably a staple in the world of skincare, and millions of people have been enjoying its benefits for the past few years. Sun care is one of the top categories in Korean beauty products, there was always one small drawback throwing shade (no pun intended), on the K-beauty mania. If you had a tanned to deep skin tone, sunscreen would be a gamble at every stage: would it leave a white, grey, or even blue cast on your face?
Within the past few months, brands have been increasingly turning to their audience, especially on social media, to inquire about what they wished for next. As a result, it seems like they have heard the requests to offer more inclusive formulas for sunscreens. The results were quick: sunscreens with a proven reduction in the white cast and a more transparent finish started popping up here and there, and some of them proved their worth, as we can see through social media reviews!
Largely produced by Korean brands, physical sunscreens were available in the majority. While they do provide full broad-spectrum protection, these sun blocks are prone to leaving this white, ghost-like finish on your skin, especially in richer skin tones. As chemical sunscreens have been taking up more space, we are able to find multiple options, more suited to varied skin tones.
Top 5 "no white cast" Korean sunscreens
After researching reviews from Korean and International consumers, the rise of stick sunscreen became evident. These new formulas of sunscreens roll on the skin, leaving a transparent layer of gel-like SPF protection. Here are the best stick sunscreens and liquid sunscreens this year!
COSRX Aloe Soothing Sun Cream (SPF50 PA+++)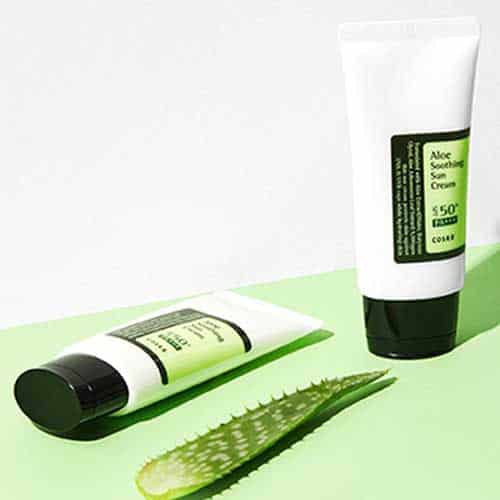 Similar in texture to a moisturizer, this sunscreen sports ingredients such as Aloe Leaf Extract to help soothe and hydrate the skin. Its lightweight texture seems to not leave any cast after application, even generous. Reviews showing the before-after of this product seem to confirm the hype: no white cast glides on skin and can be reapplied without worries of a greasy film. This particular sunscreen does leave a slight glow film, which you should consider when applying it over face cream.
ShareASale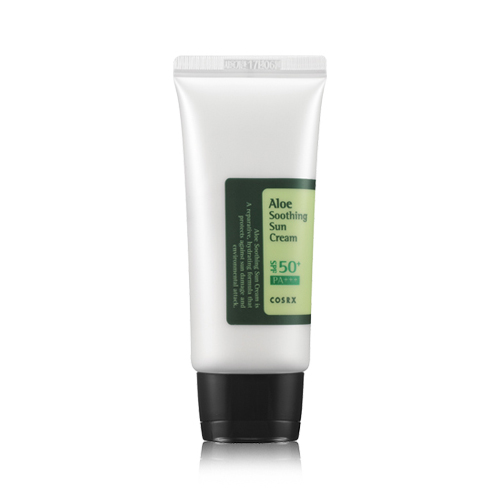 IT'S SKIN UV Layer Sun Stick CLEAR (SPF50+ PA++++)
This sun stick has a chemical formula with strong UV protection. It also aims at soothing the skin with a cooling effect, as well as built-in moisturizing agents. Although it is best suited for dry skin, it does not, however, leave an oily film.
The It's Skin sun stick leaves a completely transparent film of protection, without the shine that usually goes with it. Reapplying does not feel like slathering on more products as the layers are very thin. This product's size and application make it ideal on the go and on vacation.
ebay
A.H.C Natural Perfection Double Shield Sun Stick Blue (SPF50+ PA++++)
This is another sun stick that is known for providing strong UV protection, while also being multi-functional: it aims at reducing fine lines in all skin types and tones and helps soothe the skin from harsh environments. I should mention that this product contains whitening effects, which should be considered before applying it.
DR. 505 A+ Sun Cream VELVET (SPF50 PA++++)
This sun cream is one of the latest releases by the Korean brand Dr. 505. Applied like a lotion, it starts from a white streak and melts into the skin, leaving a transparent, slightly shiny protection film. For people with melanin-rich, deep skin tones, it takes around 10 to 20 seconds of massaging into the skin for the perfect finish with just a hint of glow, which is a significant improvement for a cream formula. It is worth the try, especially if you seek a moisturizing formula. This sun cream is also SPF 50 with a protection of PA++++.
How to Reduce the White Cast with Other Sunscreens
It is possible – and understandable – that you have physical sunscreens that you would prefer to finish before moving on to new and improved formulas. There are ways to reduce the white cast in your current products:
1. Try patting the Korean sunscreen on instead of rubbing: certain sunscreens leave more of a white film when rubbed into the skin. You can start with your usual application, then start patting as you would for a foundation before the sunscreen starts to dry. This will allow it to rest on the skin without making streaks.
2. Use tinted Korean sunscreens: the tints can be slightly off (compared to your skin tone), but once they penetrate the skin, they will tend to disappear into it rather than stay visible, as they are closer in color than plain white cream. You can also add a touch of BB cream or foundation right after application.
3. Use your current Korean sunscreen only under makeup: you can still use your current formulas by keeping them for occasions where you have to do your makeup anyway. That way, you will be able to color-correct and make the white cast disappear with foundation. Keep your new formulas for the no-makeup / vacation days!
K-beauty is constantly changing and improving. Thanks to social media, it has also started to consider the opinions of its users all around the world. There are many Korean sunscreens that are suitable for all skin tones on the market, and this number will only grow in the years to come. In the meantime, there are ways to make our favorite products work for us, so stay tuned for our tips and tricks!
You may also like:
IVK's Top Picks – Day Tours, Tickets, and Travel Activities
Seasonal Picks!😍