Last Updated on July 20, 2023
Songdo, located in Incheon, South Korea, is an innovative city renowned for its smart technology and sustainable urban planning. This futuristic destination offers a range of attractions and activities that blend modernity, nature, and cultural experiences. Whether you're interested in exploring parks, indulging in delicious cuisine, or marveling at impressive architecture, Songdo has something for everyone. Join us as we uncover this smart city's 12 best things to do. Let's go!
Reads also:
About Songdo
Songdo City is a modern, innovative urban development in Incheon, South Korea. It is often called "South Korea's Smartest City" due to its cutting-edge technology, sustainability practices, and emphasis on creating a high-quality living environment. With a vast expanse spanning 1,500 acres, this remarkable cityscape was meticulously designed as a haven away from the bustling streets of Seoul.
Designed as a sustainable and eco-friendly city, Songdo incorporates smart infrastructure, green spaces, and advanced technologies to enhance the quality of life for its residents. The city is known for its meticulously planned urban design, featuring wide boulevards, pedestrian-friendly streets, and efficient public transportation systems. As an extension of Incheon, a major international transportation hub, its strategic location ensures convenient access for domestic and international travelers.
Songdo offers a vibrant mix of residential, commercial, and recreational areas. It boasts modern high-rise buildings, state-of-the-art office complexes, shopping centers, and cultural and recreational facilities. The city is also home to several international organizations and institutions, making it a global hub for business, education, and innovation.
In addition to its urban amenities, Songdo is surrounded by natural beauty, including parks, lakes, and waterfront areas. With its picturesque landscapes and Moon Boat ride, Songdo Central Park is a popular attraction for locals and visitors. Let's see what the best things to do in Songdo are.
Explore Songdo Central Park and take a Moon Boat at night
Kick off your Songdo adventure at Songdo Central Park, an enchanting green oasis inspired by New York City's Central Park. Spanning approximately 41 hectares, Songdo Central Park is a charming destination that holds its allure day and night. Whether you're exploring with friends, family, children, or even on a solo adventure, this park in Incheon offers a cozy ambiance for all.
At Songdo Central Park, you can enjoy various water activities such as water boats, kayaks, and water taxis available at the boat houses. The West Boat House offers water taxi rides, while the East Boat House is perfect for water leisure activities. And when night falls, don't miss the enchanting Moon boat ride, shaped like a moon and illuminated for a romantic experience. You can connect your phone to the boat via Bluetooth, listen to music, and enjoy the beautiful night view of Songdo. Also, don't miss the beautiful Rose Garden and the mesmerizing Moonlight Garden.
Admire the city view from IFEZ G-Tower Incheon
Ensure to include a visit to the IFEZ G-Tower during your exploration of Songdo. This 33-floor architectural masterpiece serves as both an iconic landmark and the administrative center for the Incheon Free Economic Zone. You'll discover various amenities and services catering to various needs within the G-Tower. This dynamic structure houses international organizations, restaurants offering diverse cuisines, banks to meet financial needs, and even a convenient mail-to-person post office.
One of the highlights of the G-Tower is its 33rd floor, which is open to the public. Here, you can relish the opportunity to behold the panoramic view of the city. From this elevated perch, you can marvel at the sprawling landscape and take in the mesmerizing sights of the surrounding area.
Open hours: 10:00 – 21:00 from Tue to Fri | 10:00 – 16:00 on weekends | Closed on Mondays
Phone: +82 32-453-7882
Website: ifez.go.kr
Drive on the Incheon Bridge
A sight to behold, the Incheon Bridge gracefully spans across the water, connecting Incheon to Yeongjong Island. This is the longest bridge in Korea, spanning an impressive length of 21.39 kilometers. Once on the bridge, immerse yourself in the stunning coastal vistas that unfold before you. Whether you take a leisurely stroll or embark on a delightful bike ride along the pedestrian path, you'll be treated to breathtaking views of the surrounding landscape.
For a truly magical experience, time your visit to coincide with the sunset. As the sun dips below the horizon, the Incheon Bridge transforms into a picturesque scene adorned with warm hues that paint the sky and reflect on the water. It's an enchanting moment that will leave you in awe.
Wander around Songdo Hanok Village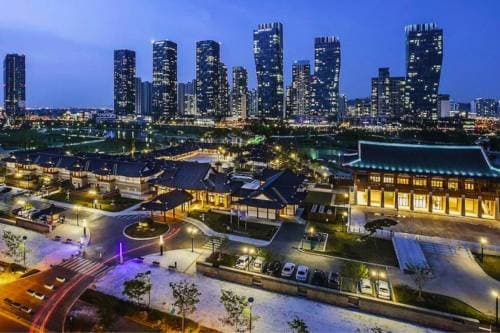 To taste traditional Korean architecture and culture, visit the Songdo Hanok Village. This is a unique hanok complex that was newly built in 2013. Unlike traditional hanok villages composed of old houses, this village is a modern interpretation where the East and West converge. Its location amidst the towering high-rise buildings of Songdo International City creates a captivating contrast.
Originally intended for experiencing traditional culture, the village now houses commercial facilities such as hotels, restaurants, and cafes in hanok-style buildings. It has gained popularity as a drama filming location, attracting many visitors. Despite the transformation, Songdo Hanok Village offers a captivating blend of traditional and contemporary elements. You can wander through its picturesque streets, savor delicious cuisine, and experience the vibrant atmosphere where old and new converge.
Phone: +82 32-453-7872
Open hours: 24hr, all year round
Treat your taste buds with Korean cuisine at Woojeong Sogalbi Restaurant – 영삼이네 우정 소갈비
This renowned restaurant is known for its mouthwatering grilled beef ribs (galbi). The tender and flavorful meat, accompanied by an array of banchan (side dishes), will leave you craving more.
They also serve some different dishes besides the galbi. You can try their refreshing cold noodles, perfect for those seeking a light and refreshing option. The noodles are expertly cooked to perfection, complemented by a flavorful sauce and a medley of fresh toppings that create a harmonious combination of flavors and textures. If you are craving something heartier, their stewed tofu is a must-try. Made with care and precision, the tofu is cooked to a silky texture and immersed in a rich and aromatic broth. Come and enjoy it yourself!
Relax at Forest Outings (Brunch Cafe)
Looking for a forest escape right in the city? Look no further than Forest Outings, a spacious and enchanting brunch café. This three-story haven is like stepping into a peaceful forest retreat, with lush trees surrounding you in every corner.
Forest Outings offers a menu with refreshing drinks and delicious food, from sweet pies to mouthwatering pizzas and comforting noodles. Bring your friends and enjoy a leisurely brunch or sip coffee in this tranquil setting. The café's cozy atmosphere, delectable food, and natural surroundings make it a perfect spot for relaxation.
Open hours: 10:00 – 22:00 daily
Shop til you drop at Songdo Triple Street
For a vibrant shopping and entertainment experience, head to Songdo Triple Street. This bustling district boasts diverse shops, boutiques, and international brands to cater to every shopper's desires. It's a multicultural complex and a vibrant playground for people of all ages to enjoy many experiences and sights. 
This building complex boasts four interconnected structures (A, B, C, and D) uniquely connected at the basement level. After an exciting shopping spree, treat yourself to a culinary adventure at one of the many restaurants in the area. From local delights to international cuisines, there's something to please every palate. Indulge in delectable dishes and savor the flavors of Songdo's culinary offerings. For an unforgettable experience, visit the rooftop of Building D. From this elevated vantage point, you'll be rewarded with a breathtaking night view of the city.
Open hours: 10:30 – 22:00 daily
Stroll along Songdo Canal Walk
Located within the dynamic International Business District of Songdo, Incheon, Canal Walk is a unique outdoor shopping court. Stretching 2,625 feet along a man-made canal running from north to south, this vibrant destination consists of four sections, each representing a different season. With over 150 shops, restaurants, and cafes, this bustling destination offers an exciting shopping and dining experience.
As you explore, take a moment to unwind at the waterfront park, a serene oasis where you can bask in the beauty of the surroundings. Relax on a bench, watch the gentle ripples of the canal, and enjoy the breathtaking views that unfold before you. It's the perfect spot to take a break, recharge, and soak up the peaceful ambiance. Whether seeking the latest fashion trends, a unique dining experience, or a place to unwind, the Songdo Canal Walk has it all. 
Visit Michuhol Park
This is a cherished destination that brings to life the rich heritage of the Michuhol Kingdom and its birth myth of Biryu. Right in the city center, this park combines nature with traditional structures like pavilions, prevention houses, and sculptures of the 12 gods, providing a unique space where our culture comes to life.
As you step into Michuhol Park, you'll find a stunning lake and expansive lawns. You can take a leisurely stroll, spread out a picnic blanket, or hop on a bike to explore the scenic surroundings. And that's not all—this park boasts an array of facilities, including a children's playground, sports amenities, a swimming pool, and tennis courts, guaranteeing endless fun for everyone. So, gather your family or friends, pack a picnic basket, and spend a delightful day in Michuhol Park. 
Shopping at Hyundai Premium Outlet, Songdo
Retail therapy enthusiasts will find their haven at the Hyundai Premium Outlet. This vast shopping complex offers an extensive selection of international and domestic brands at discounted prices. Located just a stone's throw away from the subway station, you don't need to travel long distances to fulfill your shopping desires.
When you get tired, just take a break from the shopping extravaganza. There are a lot more things to do than shopping. You can recharge at the delightful cafes and tantalize your taste buds with various restaurants. So, get ready for a day filled with shopping, good food, and endless fun – conveniently located under one roof. 
Open hours: 10:30 – 21:00 daily
Phone: +82 32-727-2233
Website: ehyundai.com
Take a history lesson at the Incheon Urban History Museum
The Incheon Urban History Museum is a must-visit destination if you are a history buff. The museum vividly showcases the city's evolution through various simulations, models, and exhibits.
Beyond its informative displays, the museum offers a range of educational programs and events designed to promote and celebrate the city's heritage. Dive deeper into Incheon's history through engaging workshops, informative lectures, and interactive experiences.
While visiting the museum, visit the café on the ground floor. Grab a drink, chill out, and peek at the cool artworks and souvenirs you can snag as mementos of your visit while you're at it.
Visit Tri-bowl
A must-visit architectural gem, the Tri-bowl is a marvel in Songdo. With its distinctive architectural design of three bowl-shaped buildings seemingly floating on water, Tri-Bowl symbolizes the harmonious relationship between Incheon, the sky, the ocean, and the earth. This unique structure offers an observation deck with stunning panoramic city views. 
The iconic structure is a versatile multi-purpose complex, encompassing a concert hall, exhibition hall, and library under one roof. You can register and participate in various exhibitions and shows hosted within the complex. Once immersed in the cultural offerings, explore nearby shopping hubs like Songdo Hyundai Premium Outlet and Triple Street. These vibrant destinations offer a plethora of shopping options to satisfy your desires.
In conclusion, Songdo offers an array of exciting experiences and attractions for visitors to enjoy. So, don't miss the opportunity to visit this dynamic city and embark on an unforgettable adventure. Plan your trip to Songdo today and discover why it has earned its reputation as one of South Korea's smartest and most captivating destinations. Have a fantastic time and enjoy every moment of your visit. Bon voyage!