From enjoying the fireflies, bullfighting, bodypainting, ice fishing, and a lot of other fun activities, you will not find any shortage in the festivals happening in South Korea. You would discover the Boryeong mud festival a must-go-to place with the international presence of people, government spending, and a healthy way to get yourself dirty. The cultural trip will fill you in with its joy and the muddiest celebrations.
Read also:
2023 Boryeong Mud Festival in South Korea
Festival Duration: July 16 – August 15
Location: 897-15 Daehae-ro Boryeong-si, Chungcheongnam-do
Compare Prices of Boryeong Mud Festival!
What is Boryeong Mud Festival?
The Boryeong mud festival continues to happen for two weeks every year in July when thousands of Koreans join in celebrating the festival. Boryeong is a small, sleepy sort of town located on Korea's western coast. The Boryeong mud festival is a place of attraction for not only Koreans. Still, a lot of foreigners fly in from different parts of the world to enjoy fun activities such as mud wrestling, mud swimming, and mud sliding.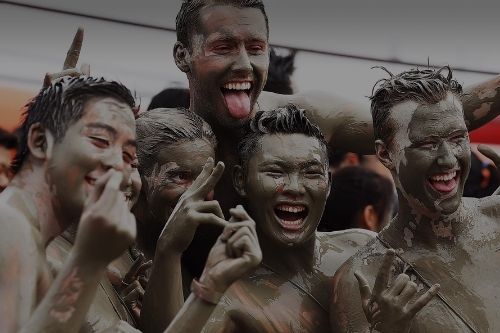 In addition, various other kinds of fun activities are a high point of attraction for a lot of people. Boryeong mud festival was first established in the year 1999, its prime purpose was to promote the cosmetics that were being made from regional mud. According to the beauty gurus, the Boryeong mud contains a high content of rich minerals bentonite and individual infrared rays that help rejuvenate the skin.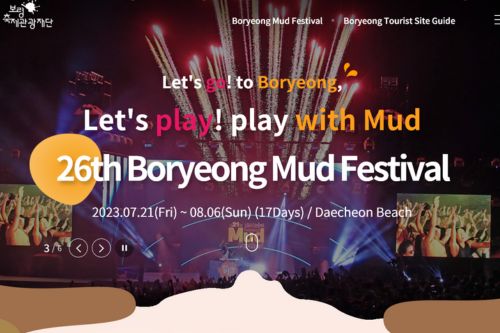 Compare Top Activities in Seoul!
How to get there?
If you want to join the Boryeong mud festival, all you need to do is to book your seats from the nearest accessible airport and take the flight to reach the festival. Boryeong city port is located 141 kilometers away from Seoul. You will be glad to know that Boryeong which you see today, serves as the merger between Boryeong-gun and Daecheon City. 
From Incheon International Airport
The Seoul-Incheon is the nearest airport which is easily accessible to most foreign tourists. You will find various options regarding airline services and cheap rates that are linked with Seoul city. If you are planning to go straight to the Boryeong station from Incheon airport, you will need to go to the Yongsan station through the airport's railway train.
To get to the Yongsan station, take the railway train to arrive at the Gongdeok Station to alight yourself. Then you will have to bind for Yongmun after transferring to the Geyongui Jungyang line. At the Yongsan Station, boarding a Korail train would be your choice to arrive at a Daecheon Station. 
The total time of your traveling from Incheon Airport to the Yongsan Station will be 63 minutes, and it will not cost you more than 4,450 won, which is approximately equal to 3.7 US Dollars. From the station of Yongsan to Daecheon, it will take you about 2 hours and 40 minutes of travel time with a fare of 11,800 won, which equals 10.5 US Dollars.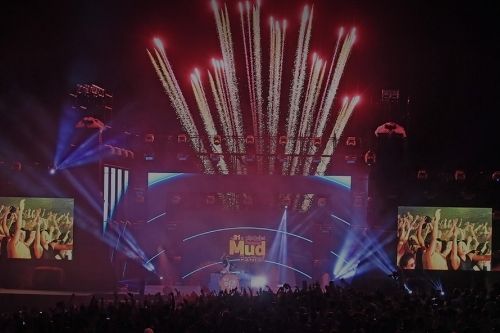 From Seoul City Center
If you are traveling from the Center of Seoul city to Boryeong to attend the mud festival at Daecheon beach, you have plenty of options regarding traveling and getting to the festival.
If you prefer a train for your traveling, you need to board the Korail train, which will drop you at Daecheon station. It will take you around 2 hours and 30 minutes to reach there. However, this travel time can vary depending on the location of your departure. 
When you choose to travel by bus, the time and fare will be quite different from that of the train. It again depends on the bus terminal where you start your journey from. To get to Boryeong by express bus, you need to take a start from the Dong Seoul or central bus terminal to catch the bus. It will take around 2.5 hours in case of a central city terminal and 3.5 hours in case of Dong Seoul bus terminal. The traveling fare would be no more than 15000 won.
Going from the bus terminal of Boryeong to Daecheon Beach will take you around 35 minutes of travel time.
If you have a driver's license and you visit the festival with your friends, renting a car will be another good choice. In case you don't have any experience renting a car in Korea, read the article, How To Rent A Car in Korea.
Any other way, you can book Boryeong Mud Festival 1 Day Tour from Seoul that includes round-trip transportation, English-speaking tour staff, Boryeong Mud Festival entrance fee, and locker rental. Head here for more details.
Seasonal Picks!
Fun activities at the Boryeong mud festival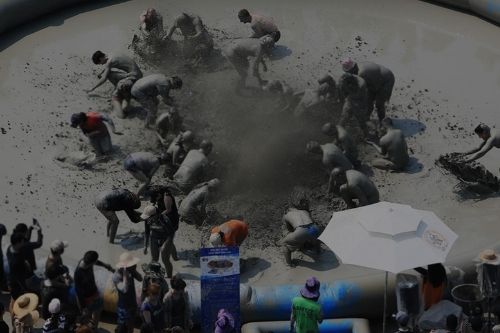 The seafront of Boryeong is completely decked out during the themed festival with a lot of people gathered to enjoy mud baths, mud prisons, mudslides to wallow splash, and swim in the mineral-rich mud of Boryeong. Music, dance completions, and other events are also held to enhance the charm of the mud festival.
Other competitions such as mud skiing, sliding, and obstacle crossing are also organized. Boryeong mud festival has a lot of fun activities that are unique and pleasurable in their way. The major purpose of all the activities is to get extremely dirty in the mud fountains, mud pits, mudslides, and the mud prison. 
Kids Mud Land
Kids and adults both can enjoy the activity of kids' mud land in which you can roll yourself up in mud pits and mudslides. It is specially designed for the families to mingle up with each other and have some fun time.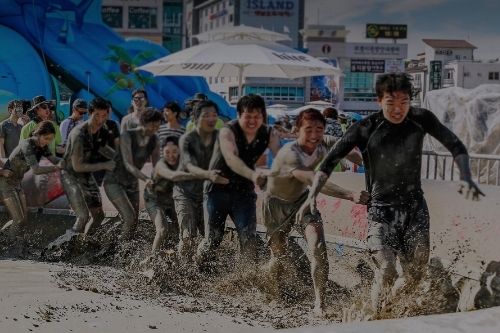 Giant mud bath
You will find various mud activities spread all around the beach. For some activities, you will be charged nothing while, for some, you will have to pay an admission fee. The admission fee for kids will be around 10,000 won, and for elders, 12,000 won. After getting admission to the giant mud bath, you can enjoy getting dirty in a pool of mud. Make a long train-like line and have an opponent team and play a chord stretching game. 
Mud massage zone
The self-mud massage zone is the perfect point to start celebrating your festival. As stated earlier, the Boryeong mud is highly rich in minerals that are beneficial for the skin. This mud makes the skin radiant and clearer. If you are beauty conscious and want to enjoy the festival as well, you need to spread the mud slowly and gradually all over your face and body. Wait for 10 to 15 minutes until the mud is dry and then wash it off along with your stress. 
Mud Slides
You might have seen water slides or simple slides for children. The Mudslides will give you a dirty yet relaxing massage while you slide down to a pool full of mud. To attain maximum speed and have more fun, don't forget to cover yourself with mud before going to slide.
Bodypaint with colored mud
Get yourself tattoos or paint your face and body with colored mud. A unique way to show your creativity and amaze everyone out there in the mud. 
Mud run
Most Importantly the mud run activity allows you to test your skills in running and facing the turbulence caused by mud. In this activity, you will have to make your way through various obstacles, all full of muddy water and slippery surfaces. 
Moreover, there are some other fun activities apart from the festival's fun activities, such as 
Opening and closing ceremony
Street Parade
Black eagle show of Korean Air force
Foam Parties
Character mud mine show
What is different in 2023?
Boryeong City announced that they will introduce 'Smart Mud Map', a unique map that has not been seen before, at the 2022 Boryeong Mud Festival. 'Smart Mud Map' is a web-based digital festival map that provides real-time notifications and festival information on festival sites such as facilities and booths at Boryeong Mud Festival.
Also, between Daecheon Beach, Mud Square, and the Mud Exhibition Facilities, an art tunnel and cooling fog are provided for the convenience of visitors during the hot summer.
What to eat at the Boryeong mud festival
Since you are enjoying the festival on the beach, you can expect the seafood to be the prime content of your dishes. Definitely, You will find various seafood restaurants near the beach. And the event location will not cost you more than 15000 won for a satisfactory meal. Along with seafood, you will also get a variety of fast food options at Lotteria, Popeyes, Chimaek, etc.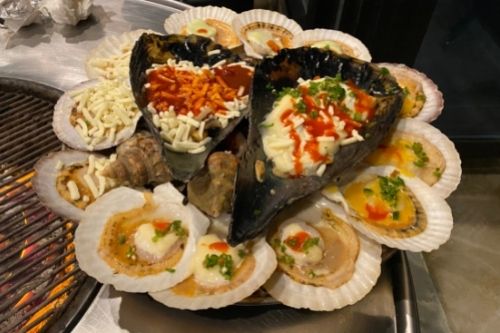 You can visit the following restaurants to know their offerings and get yourself served the desired food.
Daecheon Gaja Grilled Clams
Sashimi Restaurant
Seomagwa Seomsai Jogaegui
Samseon Grilled Clams
Mt. Cheong E Jo Dog Grill
Wellbeing Grilled Clams
Meodeu Square Sashimi Restaurant
Deonhil Coffee Shop
Oven E Bbajin Chicken
Meodeu Sashimi Grilled Clams
Baunseu Grilled Clams
Rice House
Other attractions nearby mud festival at Daecheon beach
Along with the Boryeong mud festival, you will get to enjoy various nearby local attractions that will enhance your pleasure and charm. You will find Seongjusan National forest which is the nearest location to the Boryeong mud festival. Because you can visit to enjoy the mother nature. You can access the forest by car or bus from Boryeong station. The visitors and tourists can hike the mountains along the hiking trail. That starts from the parking lot and goes all the way to the top of Mt. Seongjusan.
Most importantly a lot of Korean temples will also be there for you to visit and have a deep insight into the history and the culture of Korea regarding traditions and religious beliefs. Besides you can also visit several islands that can be accessed by riding the boats from Dae Cheong beach. Therefore you can feel the beauty and calm environment of natural places.
Most Importantly please Subscribe to our News Feed to get updates and help about the upcoming festivals in Korea at IVISITKOREA.COM. Therefore you can enjoy a better vacation in Korea.
IVK's Top Picks – Day Tours, Tickets, and Travel Activities
Seasonal Picks!😍