Imagine yourself walking along the glistening shores of a breathtaking coastal city in South Korea, where the captivating beauty of nature collides with an array of exciting experiences. That's exactly what Boryeong offers, a mesmerizing destination with something for every traveler. From its stunning beaches and picturesque views to its thrilling activities, Boryeong lures visitors worldwide. We'll dive into 15 of the most sensational things to do in Boryeong, guaranteed to leave you spellbound and with an insatiable desire to return for more.
Read also:
Take part in the Boryeong Mud Festival
If you happen to be traveling to South Korea during the summer months, visiting the Boryeong Mud Festival is an absolute must! This annual event is held every July on the Daecheon beach and attracts thousands of visitors worldwide.
The festival's main attraction is, of course, the mud! One of the highlights of the Boryeong Mud Festival is the Mud Pool, filled with natural mud from the Boryeong mud flats. The mud is said to have therapeutic properties and offers numerous health benefits for the skin. By joining the festival, you can soak in the mud pool, apply mud all over your body, and participate in mud-related activities such as mud wrestling, mud sliding, and mud obstacle courses.
In addition to mud-related activities, the festival features live music performances, food stalls, and cultural exhibitions. You can indulge in traditional Korean cuisines, such as grilled meat and seafood, and purchase souvenirs and handicrafts at the market stalls. Plus, you'll have the chance to meet people from all over the world who have come to experience the unique festival.
Make sure you pack a change of clothes and plenty of sunscreens for the festival, as the mud can be difficult to wash off. Don't worry about getting your clothes dirty, though – it's all part of the fun! And be sure to book your accommodations early, as the festival attracts a huge crowd.
Address: Areas of Boryeong Mud Theme Park Sinheuk-dong, Boryeong-si, Chungcheongnam-do
Operating hours: 07/21/2023 – 08/06/2023 from 9:39 AM – 6PM, 7.25(Thu)~26(Fri) open from 1:30 PM – 9 PM
Ticket information: Adults 9 USD / Teenagers 6.5 USD / Children 4.5 USD
Compare Prices of Boryeong Mud Festival!
Visit Daecheon beach
Daecheon Beach is a popular beach in Boryeong, Chungcheongnam-do, South Korea. It stretches for 3.5 kilometers and is famous for its fine sand and clear blue water. The beach is especially crowded during the summer, attracting tourists from all over the country.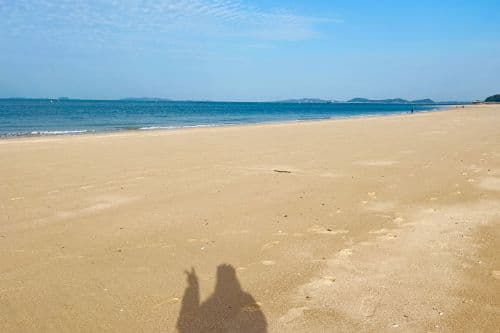 This is not just a place for swimming and sunbathing but also a hub for various water sports such as jet skiing, banana boating, and parasailing. It is also a great spot for fishing and catching crabs. In addition to these activities, visitors can enjoy various cultural events and festivals held throughout the year, such as the Boryeong Mud Festival and the Daecheon Beach Festival.
Besides its natural beauty, Daecheon Beach is known for its vibrant and bustling atmosphere. The beach has restaurants, cafes, and souvenir shops, making it easy to grab a bite to eat or a cold drink while you soak up the sun.
Have fun at Daecheon Zipline & Sky Bike
If you're looking for an unforgettable adventure that will take you soaring high above the stunning landscapes of Boryeong, look no further than Daecheon Zipline & Sky Bike. This thrilling attraction offers a unique way to experience the city from a new perspective. 
The zipline course offers four lines ranging from 150 to 300 meters, each with a unique view of the surrounding landscape. You'll feel the adrenaline rush as you fly through the air at up to 40 kilometers per hour! The sensation of flying through the air with the stunning coastal scenery stretching out before you is simply breathtaking.
The sky bike is the perfect option for those who prefer a more relaxed pace. The Sky Bike is a tandem bike that is suspended on a cable and can be pedaled along a track high above the ground, providing a bird's-eye view of the beautiful scenery below. The tranquil atmosphere and breathtaking scenery create a perfect peaceful reflection and relaxation. If you visit during autumn, you're in for a treat – the higher tides bring bigger waves that make you feel like you're gliding over them!
Open hours: 10 AM – 6 PM daily
Phone: +82 41-931-1180
Ticket for Sky Bike: 16.5 USD/2 seated-bike, 19.5 USD/3 seated-bike, 22.5 USD/4 seated-bike
Top Things To Do in Korea!
Explore Seongjusan mountain
Seongjusan Mountain is a must-visit destination for nature enthusiasts and adventurers looking to experience the beauty of the Korean wilderness. This is a part of the Daecheon Mountain Range, renowned for its outstanding natural beauty and unique flora and fauna. Here, you can explore the lush forests and picturesque streams that flow through the mountain and observe the diverse wildlife that inhabits the area.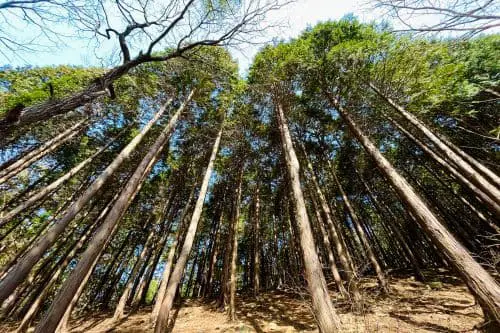 The hiking trail to the summit of Seongjusan Mountain is well-maintained and offers a range of difficulty levels suitable for novice and experienced hikers. Hikers will encounter several historical relics, including Seongjujeon, a shrine built during the Goryeo Dynasty. The summit offers a spectacular view of the ocean and the surrounding mountains, making it a perfect spot for taking memorable photographs.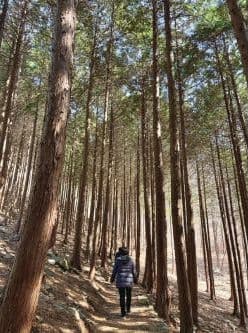 In addition to hiking and sightseeing, Seongjusan Mountain also offers various recreational activities such as camping, picnicking, and fishing. The mountain's crystal-clear streams and lush greenery provide a perfect backdrop for outdoor activities.
How to get to Seongjusan Mountain: At Daecheon Station or Boryeong Bus Terminal, take a bus or a taxi, and get off at Seongju(Meokbang). (Bus: one-hour journey; taxi: thirty minutes)
Seasonal Picks!
Take a stroll at Muchangpo Beach
Are you searching for a dreamy beach destination that offers more than just sand and sun? Muchangpo Beach is the place to be. This captivating beach is a true gem, known for its stunning sunsets, silky white sands, and natural phenomena that will awaken you!
Once a month, for one to two days, Muchangpo Beach offers an extraordinary natural spectacle known as "Moses' Miracle." This incredible phenomenon opens up a 1.5-kilometer-long road in the sea, allowing visitors to walk on a strip of land that was once submerged underwater. It's a once-in-a-lifetime experience that you won't want to miss.
But don't worry if you can't make it during Moses' Miracle. Muchangpo Beach is a stunning destination year-round, with its silky white sands and clear blue waters that beckon visitors to dive in. Whether you want to sunbathe, stroll along the boardwalk, or indulge in water sports, this beach has it all.
When hunger strikes, you can refuel at one of the many local restaurants and cafes, where you can savor a range of fresh seafood dishes and other Korean delicacies. And if you're looking for souvenirs, plenty of local shops offer handmade crafts and unique trinkets.
Visit Gaehwa Art Park
Located in the heart of Boryeong, Gaehwa Art Park is a sprawling theme park with a diverse range of attractions and parks. From Mosan Fine Arts Museum, Birim Park, Yukpilsi Park, and Hwain Music Hall to Herb Land, visitors can expect many fun activities and sights.
The unique orange roof of Mosan Fine Arts Museum is a striking feature, crafted from locally sourced stones that add to the park's natural allure. Yukpilsi Park is a must-visit spot for art lovers, featuring over 1,500 sculptures, statues, and monuments, including large stones inscribed with famous Korean poetry. 
Meanwhile, Herb Land is a vast greenhouse filled with various plants, freshwater fish, and many insects and animals. One of the highlights of Herb Land is the chance to learn about the many different herbs and their medicinal properties. You can sample different herbs, learn about their uses, and even purchase some to take home.
While exploring Gaehwa Art Park in Boryeong, take a break at the coffee shop and browse the souvenir shop. With the beauty of the park's natural surroundings, you can enjoy your drink while soaking up the serene atmosphere. Once you've recharged, make your way to the souvenir shop, and pick up unique and locally-made gifts as a memento of your trip. 
Open hours: 9 AM – 8 PM daily
Phone: +82 41-931-6789
Admission fee: 3.75 USD for adults, 2.25 USD for children
Unwind at Boryeong Mugunghwa Arboretum
Located in Boryeong, the Mugunghwa Arboretum is the area's "lungs" due to its clean and fresh air provided by the nearby Mount Seongjusan and diverse plant life. It's the greatest spot to unwind and rejuvenate.
As you wander through the arboretum's well-manicured gardens and tranquil forest trails, you can breathe in the crisp, fresh mountain air and appreciate the natural beauty of your surroundings. One of the highlights of the Mugunghwa Arboretum is its collection of over 1,000 plant species, including rare and endangered species. You can witness the beauty of various plants, such as magnolias, azaleas, camellias, and mugunghwa, the national flower of South Korea. The name "mugunghwa" means "hibiscus" in Korean.
In addition to the stunning flora, the Mugunghwa Arboretum has various facilities catering to visitors' needs. There are picnic areas, benches, and restrooms scattered throughout the park. There is also a greenhouse that showcases tropical plants and an exhibition hall that displays educational materials on botany and the environment. The center especially offers a range of educational programs and workshops for people of all ages interested in discovering more about the natural world.
Open hours: 9 AM – 6 PM daily in Summer, 9 AM – 5 PM daily in Winter, closed every Monday
Phone: +82 41-931-6092
Website: mugunghwapark.com
Admission fee: Free
Discover Seongjusan Recreational Forest
If you're up for some physical activity and a chance to immerse yourself in nature, Seongjusan Recreational Forest is the perfect place to visit. This beautiful forest is especially popular in spring when the cherry blossoms and wildflowers are in full bloom, creating a picturesque and colorful scenery that will take your breath away.
However, the Seongjusan Recreational Forest is a year-round destination offering visitors spectacular views and hiking trails. One of the highlights of this forest is the observatory located 100 meters below the mountain peak, which stands at an elevation of 680 meters. From the observatory, visitors can enjoy a panoramic view of Seongju-myeon and Oesan-myeon that is nothing short of spectacular. It's the perfect spot to capture breathtaking photos and create unforgettable memories with your loved ones.
For those who love hiking, hiking to the peak is an adventure worth undertaking, taking roughly 2-3 hours for a roundtrip. During the hike, you'll be surrounded by lush greenery and serenity, with the chirping of birds and the rustling of leaves as your background music. Along the way, you'll come across clear streams and waterfalls, adding to the magical experience of being in nature. The journey is challenging, but the magnificent scenery and the refreshing mountain air make it all worth it. 
Wander around Sanghwawon Garden
Sanghwawon is a picturesque traditional Korean garden located on Jukdo Island, off the east coast of South Korea. The garden is a natural oasis, preserving the island's untouched beauty with its stunning scenery of cliffs, rocks, and lush greenery.
Visit Sanghwawon, and stroll through the garden's themed areas, each carefully designed to highlight different aspects of nature. These themes include a bamboo forest, a bonsai garden, a medicinal herb garden, and a greenhouse filled with exotic tropical plants. The garden is also great for enjoying the scenic islands and ocean views. You can take a gentle hike up to the hilltop observatory, which offers breathtaking panoramic views of the sea and the distant coastline.
Another main attraction of Sanghwawon is the Hanok Village, which consists of traditional Korean houses that have been restored to their original beauty. In addition, you can learn about the art of tea-making and participate in a tea ceremony in the garden's tea house. There is also a traditional Korean restaurant where you can savor the flavors of authentic Korean cuisine.
Open hours: 9 AM – 5 PM on Fri, Sat, Sun
Phone: +82 41-933-4750
Website: sanghwawon.com
Try seafood along Daecheon Beach
The food street in Daecheon Beach is a seafood lover's paradise, offering fresh and delectable dishes and a unique dining experience with a scenic view of the beach. After a stroll along the scenic Daecheon Beach, there's no way you can pass up the chance to savor some mouth-watering seafood delicacies.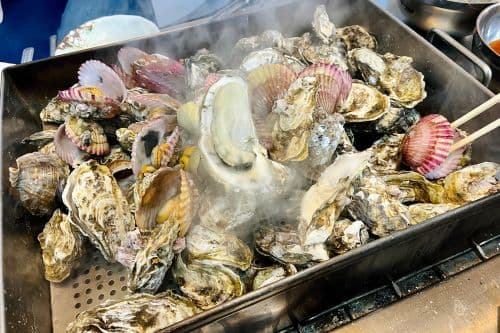 From grilled shellfish and raw fish sashimi to steaming hot seafood stews and noodle dishes, there's no shortage of options to satisfy your seafood cravings. You can even choose your live seafood from the tanks in some restaurants, ensuring the freshest and most flavorful experience.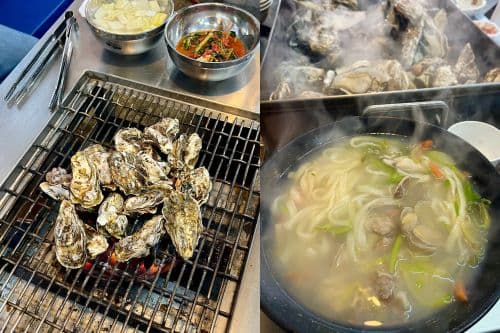 Pair your seafood feast with local beer or makgeolli (Korean rice wine) for the perfect combination. And don't forget to indulge in street food snacks like fried squid or octopus skewers, rice cakes, and spicy tteokbokki (stir-fried rice cakes).
Enjoy ocean view cafe
Coral Coffee in Daecheon Beach, Boryeong
Coral Coffee is the perfect spot for those looking to enjoy coffee or a bite while taking in breathtaking views of Daecheon Beach. Situated along the shoreline, this cafe offers a prime location for enjoying the beach's scenic beauty.
Their menu features an array of coffee beverages, including lattes, cappuccinos, and Americanos, as well as tea, smoothies, and a variety of snacks and desserts to accompany your drink. Pair your drink with a sweet or savory pastry, or try one of their burgers or salads for a light lunch. Additionally, they offer both beer and cocktails.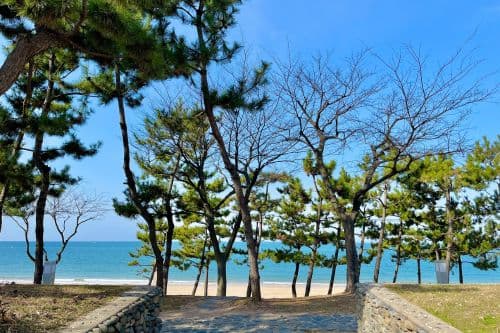 One of the main attractions of Coral Coffee is its spacious outdoor terrace, which provides an unobstructed view of the ocean. The terrace has comfortable seating arrangements, allowing customers to relax and soak in the breathtaking scenery. The atmosphere is perfect for a romantic date, a family outing, or a hangout with friends.
Open hours: 11 AM – 10 PM from Mon to Fri, 10 AM – 1 PM on weekends
Phone: +82 41-934-7011
Bakery Cafe, Ppangmyeongjang 빵명장 in Daecheon Beach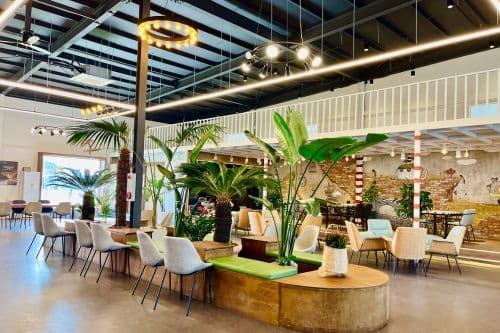 Calling all bread lovers! You won't want to miss out on the mouth-watering baked goods at 빵명장 bakery in Daecheon Beach, Boryeong. Not only do they have a wide variety of bread and pastries, but they also have some incredible best-sellers, 육쪽마늘빵 cream cheese filling garlic bread. Trust us, your taste buds will thank you. And the cozy atmosphere and friendly staff make it a great spot to sit and enjoy your treats. Don't miss out on this hidden gem!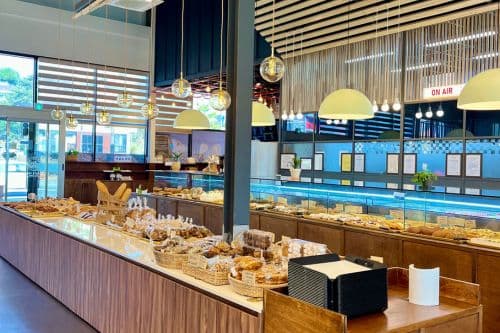 Open hours: 8 AM – 9 PM
Phone: +82 41-931-0575
Explore Oeyeondo Island
If you're looking for a place shrouded in mystery and enchantment, go for Oeyeondo Island. The name evokes a sense of wonder, meaning "far-distant island hidden in the fog." Located a staggering 53 kilometers from the mainland, the only way to reach this magical place is to embark on a two-and-a-half-hour boat ride from Daecheonhang Port.
Once you arrive, you'll find yourself surrounded by lush greenery and the peacefulness of the island's main village. One of the island's main attractions is the evergreen forest behind the village, designated Natural Monument No. 136. But perhaps the most enchanting attraction in the forest is the Love Trees, two camellia trees that have grown entwined. It is believed that if a young couple passes between the two tree trunks, they will have eternal love. So why don't you try it and come here with your loved ones?
Besides the Love Trees, there is much more to discover on Oeyeondo Island. Go for a hike and explore the stunning scenery, or try your hand at fishing and catch a fresh seafood meal. As the day draws close, witness the breathtaking sunset over the horizon. The sky transforms into a kaleidoscope of colors, creating one of the most beautiful scenes you'll ever see. So stunning is this sight that it has been classified as one of the Eight Scenic Views of Boryeong.
For more information about the location and how to get to the island, read here
Visit Boryeong Chungcheong Suyeongseong Fortress
Boryeong Chungcheong Suyeongseong Fortress, located in Boryeong City, is a historic site that has withstood the test of time. This fortress was built during the Joseon Dynasty and has a rich history that dates back to the 16th century. It served as a strategic point for the defense of the western part of the country and was also used as a trading post.
Coming here, you can explore the fortress and witness the impressive architecture and defensive features, such as the massive stone walls and gates that still stand today. The fortress has also been restored, and you can see replicas of cannons and other historical artifacts.
One of the most impressive features of the fortress is the sweeping view of the surrounding landscape. You can see the expansive countryside and the nearby sea from the fortress walls, providing a stunning vista that will take your breath away.
Relax at Supsogae Bichui Garden 숲속애빛의정원
The "Forest of Light Garden" or "Subsokae Bitui Jeongwon" is a must-visit attraction in Sselogtown, a beautiful nature reserve in Boryeong, South Korea. This enchanting garden features stunning light displays and mesmerizing music, creating an atmosphere of magic and wonder. The Forest of Light Garden is a popular spot for visitors to stroll and admire the beautiful scenery. It is particularly breathtaking in the evening when the lights are illuminated.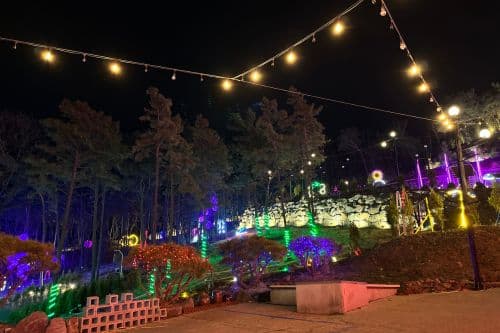 "Subsokae Bitui Jeongwon" translates to "Forest of Light Garden" in English, perfectly capturing this beautiful attraction's essence. The garden has various plants and trees, including cherry blossoms, pine, and maple trees. Moreover, these trees are illuminated with colorful LED lights at night, creating a dreamlike landscape that is truly awe-inspiring.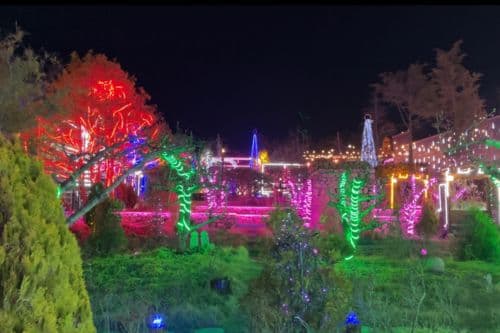 Aside from the light exhibit, Logtown is also a great place for a day trip or a weekend getaway. Visitors can stroll through the village and explore the traditional Korean houses or "hanok," which are well-preserved and offer a glimpse into the country's rich cultural heritage. Several cafes and restaurants in the area also serve local delicacies, such as "tteokgalbi," a Korean beef patty.
Open hours: 10 AM – 10 PM daily
Phone: +82 41-931-1503
Website: sselogtown.kr
Take a hike at Oseosan Mountain
If you're an avid hiker, Oseosan Mountain is a must-visit destination. As the highest mountain on the western coast of Korea, it stands tall at 790.7 meters and offers an exhilarating hiking experience.
About hiking, the hiking trails at Oseosan Mountain vary in difficulty, ranging from beginner-friendly to advanced-level hikes. The trail caters to hikers of all levels. The trails are well-maintained and well-marked. They make it easy for hikers to navigate through the mountain's lush forests, crystal-clear streams, and breathtaking vistas.
The panoramic views from the top of Oseosan Mountain are simply stunning, offering a bird's eye view of the surrounding landscape. Moreover, the mountain is popular in autumn, when the leaves turn into vibrant red, orange, and yellow hues, creating a spectacular natural canvas.
To sum it up, Boryeong is a place that will leave you breathless with its stunning landscapes, exciting activities, and unforgettable moments. Whether you're looking to unwind on the beach or seeking an adventure, you'll find it all in this enchanting coastal city. With so many things to do in Boryeong, you'll never run out of options to explore and indulge in. So don't hesitate to start planning your trip to Boryeong today and prepare to embark on a journey filled with endless wonders!