Being in a K-Pop concert can be an unforgettable experience for fans of this popular music genre. With high-energy performances, fan interactions, and special effects, K-Pop concerts are often exciting and unique events that fans eagerly look forward to. However, preparing and planning all the K-Pop concert necessities is vital to ensure a safe and enjoyable concert experience. Read on to see what you need and what you need to leave behind.
Read also:
K-pop Concert Necessities to bring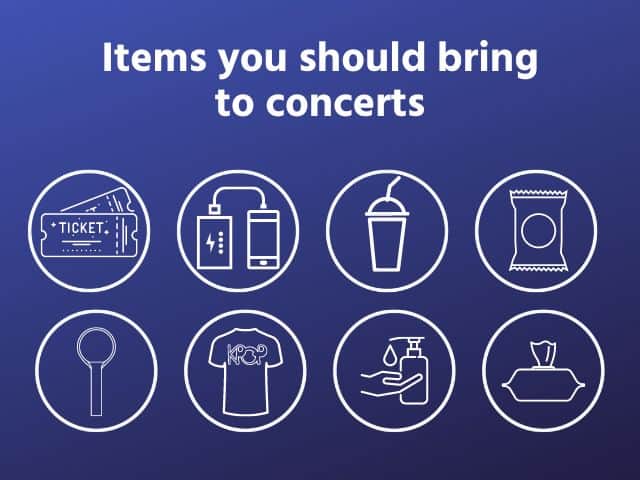 Ticket-Ensure you have your ticket(s) or confirmation email ready for entry.
Credit cards– Bringing a credit card will be better for faster merchandise transactions, food, drinks, and other purchases.
Portable charger– Keep your phone charged for photos, videos, and social media updates. Also, if you need to contact someone, you won't have to worry about being out of battery.
Tumbler– Stay hydrated throughout the concert. It is to avoid an itchy throat or feeling dizzy.
Snacks– Bring some light snacks to energize you if you want to save money. However, you must eat it outside the concert location and before it starts since some venues don't allow snacks inside.
Lightstick– Many K-Pop groups have official lightsticks, and bringing one can add to the concert experience.
Fan merchandise– Wear your favorite artist's merchandise, or bring a light-up banner to show your support.
Hand sanitizer– Keep your hands clean to avoid getting sick and sticky.
Tissue or wipes- You may need them to clean up sweat, spills, and hygiene. The restrooms might run out of these.
Items you should NOT bring to concerts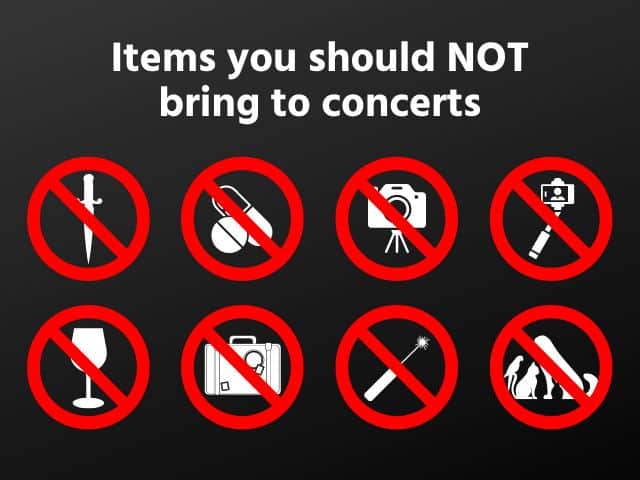 Weapons- Any weapon, including firearms, knives, pepper spray, etc., is prohibited at concerts.
Illegal drugs- Bringing illegal drugs to concerts are not only against the law but can also put you and others in danger.
Outside food and drinks- Most concert venues have options for purchase, and outside food and drinks are usually not allowed.
Professional cameras with detachable lenses may not be allowed, and you may be asked to leave them outside.
Selfie sticks can be hazardous in crowded environments, and many venues prohibit them.
Glass containers can easily break and pose a safety hazard, so they are usually not allowed at concerts.
Large bags can be cumbersome and obstructive in crowded environments, so avoid bringing them, or you can use subway luggage storage services.
Laser pointers can distract performers and other concertgoers, so they are usually not allowed.
Pets are generally not allowed at concerts except for service animals.
Reasons why K-Pop concerts are enjoyable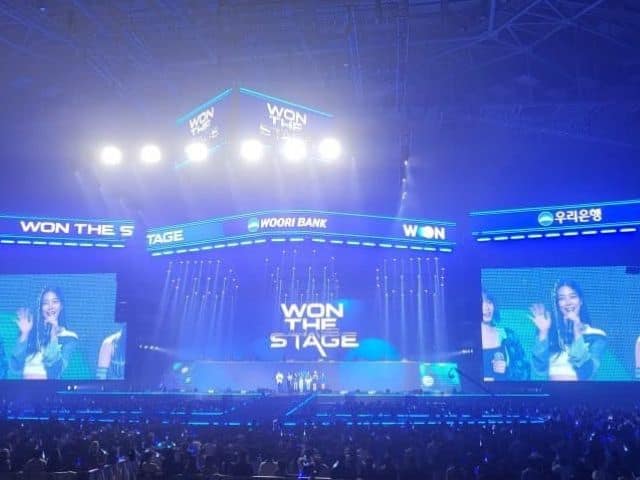 High-energy performances- K-Pop concerts are known for their high-energy performances, often featuring synchronized dance routines, flashy costumes, and elaborate stage sets.
Fan interactions– K-Pop artists are known for their close relationship with their fans, and concerts often provide fan interactions, such as fan chants, hi-touch events, and fan signs.
Special effects– Many K-Pop concerts feature special effects like confetti, lasers, and pyrotechnics, which add to the overall excitement and spectacle of the concert.
Multi-lingual performances– K-Pop artists often perform in multiple languages, including Korean, English, and sometimes other languages, which makes their music accessible to a global audience.
Fan culture– K-Pop has a strong and dedicated fan culture, and attending a concert can be a fun way to connect with other fans and share a common interest.
Overall, K-Pop concerts offer a unique and exciting experience combining music, dance, and fan culture, making them fun and interesting events. Remember to check the venue's rules and regulations regarding the items in the concert.
Things to bring based on the weather
The items you may need to bring to a concert can vary depending on the season or climate. Here are some suggestions for things to bring based on the weather.
Summer
Sunscreen
Hat or cap to protect your face from the sun
Sunglasses
Light and breathable clothing to stay cool
Handheld fan or misting fan to keep cool
Small towel or bandana to wipe the sweat
Water bottle to stay hydrated
JISULIFE Handheld Mini Fan, 3 IN 1 Hand Fan, Portable USB Rechargeable Small Pocket Fan, Battery Operated Fan [14-21 Working Hours] with Power Bank, Flashlight Feature for Women,Travel,Outdoor-Pink, 1 Count (Pack of 1)
5 used from $15.99
Free shipping
as of September 23, 2023 10:55 pm
Fall or Spring
Light jacket or hoodie to stay warm in the cooler temperatures
Comfortable shoes to keep your feet warm and dry
Small umbrella or raincoat in case of rain
Tissues or allergy medicine if you're prone to allergies during the changing seasons
Coach UV Signature Mini Umbrella, Graphite
2 new from $49.95

as of September 23, 2023 10:55 pm
Winter
Warm coat or jacket
Scarf, gloves, and hat to stay warm
Thermal underwear or layers to stay warm
Comfortable boots to keep your feet warm and dry
Hand and feet warmers to keep you warm
Lip balm and moisturizer to prevent dry skin
Calvin Klein Women's Pashmina Scarf, eggshell solid, One Size
as of September 23, 2023 10:55 pm
Note: Remember to check the weather forecast for the concert day to ensure you're adequately prepared for the weather conditions.
What to wear to a K-pop concert?
Attractive fishnet stockings and tights are fantastic clothing pieces to create stylish Korean-inspired outfits for a K-pop concert. They add an original and sexy touch to any casual look. Choose high-quality, affordable, comfortable, and sustainable stockings to look attractive. Also, wear simple accessories that match your outfit for the day to spice up your concert look.
Try replicating an outfit from your favorite music video, dressing like your favorite K-pop idol, showing your softer side, color-coding your outfit, and thinking outside the box. You can avoid anything too revealing or uncomfortable and bring a small bag to hold your essentials. On the other hand, you can also show off your everyday style.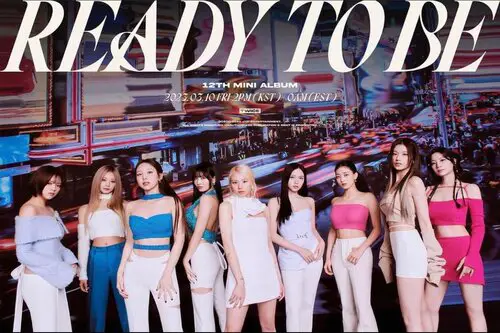 K-pop style takes inspiration from the 90s and Y2K fashion eras, so comfy, wide-leg pants, mini skirts, and cropped tops are perfect for a K-pop concert. Try jeans with a cropped jacket, chunky loafers, wide-legged pants, and a corset top.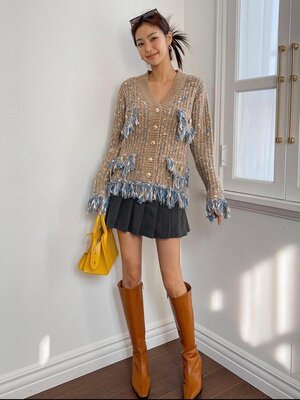 High-waist trendy jogger slacks, cargo pants, denim pants, short pants for women, printed Hawaiian shirts, oversized denim jackets, and ripped jeans for men.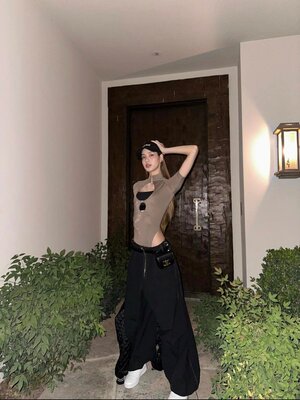 Nonetheless, when choosing what to wear to a K-pop concert, it's essential to be comfortable, confident, and stylish. You can draw inspiration from your favorite K-pop idols, music videos, or concepts, and remember to bring a small bag to hold your essentials. You'll likely be standing and dancing for several hours, so wear comfortable shoes. Also, the concert venue may get cold, so bring a jacket or hoodie to stay warm.
Tips to make it the best concert experience
Arrive early to help you get a good spot in line, locate your seat, and settle in before the concert begins.
Staying hydrated during the concert is essential. Refill your water bottle at water stations or concession stands.
Follow the rules and regulations regarding prohibited items, photography, and behavior during the concert.
Charge your phone– Ensure your phone is fully charged before the concert to take pictures and videos of your favorite performances.
Bring a power bank– Even before the start of the concert, you might be using your phone often for communication, updates, or photo taking. Bring a portable charger or power bank to ensure you don't run out of battery.
Dress comfortably– Wear comfortable shoes and clothing you can move and dance in. You may be standing and dancing for several hours.
Prepare for the weather- Depending on the season and location, you may need sunscreen, a hat, a jacket, or an umbrella.
Respect others– Be respectful of other concertgoers and their personal space. Avoid pushing others to get closer to the stage.
Enjoy the moment- Take the time to enjoy the concert and soak in the experience. Sing your favorite songs, wave your light stick, and have fun!
Be safe– Ensure you know the venue's emergency procedures and the location of first-aid stations. Remember to stay calm and follow the instructions of the venue staff if an emergency happens. We all hope nothing unnecessary happens, but it's best to be knowledgeable.
Things you should not do when in a concert
Concerts are fun and exciting events that bring music fans together to experience live performances. Thus, there are actions that you should avoid doing when attending a concert to ensure that you and everyone around you have a good time. Here are some things that you should not do when in a concert:
Don't push others– Concerts can get crowded, but respecting other people's space is necessary. Avoid pushing or shoving others, which can lead to accidents or injuries.
Don't block the view if you're standing or dancing. Ensure you're not blocking the view of people behind you. Be considerate of others and avoid standing on chairs or holding up signs obstructing someone's view.
Avoid talking loudly– Concerts are meant to be enjoyed by everyone. Keep your conversations to a minimum, and remember that people around you are also there to listen to the music.
Don't use your phone excessively– While taking a few pictures or videos is okay, using your phone excessively can distract others. Avoid recording the entire concert or using flash photography, as it can annoy people around you.
No throwing objects-Throwing objects like bottles or cans can be dangerous and cause harm to others. Avoid throwing things at the stage or other people.
No smoking or vaping– Many concert venues have strict rules against smoking or vaping, so adhere to these rules. Smoking or vaping can harm others and ruin their concert experience.
Don't arrive late- Arriving late to a concert can be disruptive to the performer and other concertgoers. Make sure to arrive on time or a little early to avoid missing any part of the performance.
Final thoughts
Note: Concerts are enjoyable events meant to be enjoyed by everyone. To ensure that you and everyone around you have a good time, avoid doing unnecessary actions.
Attending a K-Pop concert can be an exhilarating experience for fans of this music genre. Don't forget to bring your K-pop concert necessities! Also, by following the venue's rules and regulations, staying hydrated, dressing comfortably, and respecting others, you can make the most of your concert experience. Remember to stay safe and prepared for the weather, and above all, have fun and enjoy the moment!