Last Updated on November 7, 2023
Travelers regularly visit Seoul for its distinctive architecture, historical sites, and well-liked attractions. But if you're a first-time visitor seeking a less crowded experience or a returning traveler wanting to unearth Seoul's hidden treasures, you're in for a treat. This city is full of off-the-beaten-path gems that offer one-of-a-kind and remarkable experiences. We'll highlight the top ten hidden places in Seoul in this post to add some intrigue to your next journey. 
Read also:
Yongma Land Abandoned Theme Park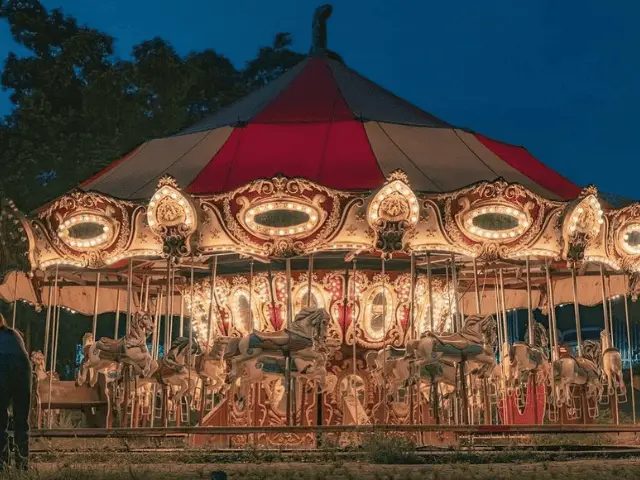 If you're a K-pop fan, you probably have spotted the iconic carousel of Yongma Land in some MVs such as Crayon Pop's Bar Bar Bar, BEAST's Ribbon, and TWICE's LIKE OOH-AHH… But there are more exciting things to do in this park than that.
Yongma Land is an abandoned theme park, closed since 2011. This is a popular photo destination among Korean youth. Take a chance to take Instagram-worthy pictures with the spinning disco ride, a disassembled roller coaster, "flying" automobiles, a Viking ship, and even an abandoned shopping cart. You will get excellent and unique photos here. Plus, you can even pay to have the park's iconic feature, the carousel, lit up and running for better shots and videos.
Although this place is abandoned, it still has functional amenities like restrooms, vending machines, stores, and more. Tickets are available at the ticket counter near the park's entrance for KRW10,000 (USD9.07) for adults and KRW5,000 (USD4.31) for children.
Open hours: 10:00 – 18:00 daily
Phone: +8224365800
How to get there: Take the subway line 7 to go to Mangu Station, then take exit one and walk for about 15 minutes. The road is confusing, so you can take a taxi from Mangu Station if you do not like walking.
Eunpyeong Hanok Village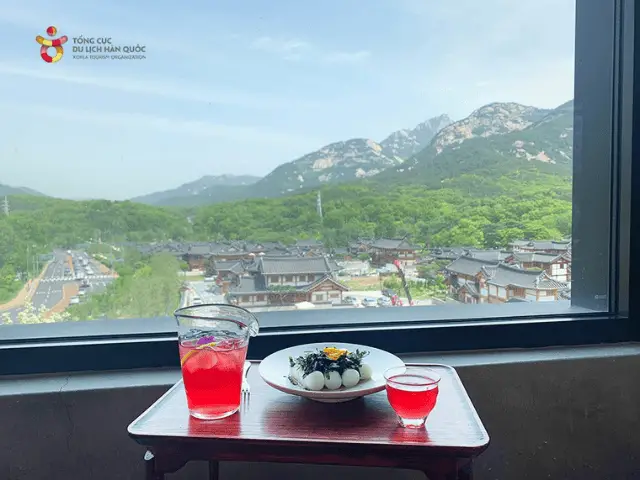 Everyone thinks about Bukchon Hanok Village when they think of Hanok House. Still, few people realize that Seoul has another Hanok village that is equally lovely but less crowded: Eunpyeong Hanok Village.
The village was built at the base of Bukhansan Mountain in December 2014. Instead of restoring hanok houses like other villages, this place was created completely new. There are many attractions around this area, and you can spend a whole day exploring.
Jingwansa Temple is one of the must-see attractions just on the outskirts of the Hanok Village and one of Seoul's major temples. With temple-stay experiences, temple cuisine, and traditional culture experience rooms, the temple is a perfect site for anyone interested in learning about Buddhist culture. You may also stop by the Eunpyeong Hanok History Museum to learn more about the Hanok history and culture of Eunpyeong-gu. This location offers a variety of interesting exhibitions, lectures, and interactive programs.
One of the unique features of Eunpyeong Hanok Village is the teahouse and restaurant with a panoramic view of the village. Some restaurants and cafes provide floor-to-ceiling transparent glass doors with a great view of the tiled roofs hidden among the Bukhansan mountains and forests. The must-visit cafes with the best view over the village are 1in 1jian (1인 1잔) and Starbucks The Bukhasan. 
How to get there: From Seoul Station, take the bus 701 at the bus stop number 02006 (in front of exit 9-1) and disembark at the bus stop number 12437 (Hanago.Samcheonsa.Jinwansa Temple Entrance). It takes around 45 – 50 minutes.
Seodaemun Prison History Hall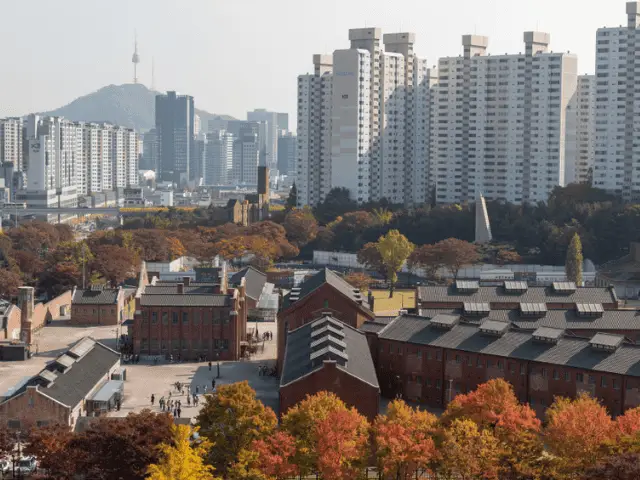 A prison might not be on your list of must-visit places in Seoul. Still, The Seodaemun Prison History Hall is a historical and educational museum that sheds light on Korea's struggle for independence from Japanese colonial rule. It was constructed in 1907 and opened on October 21, 1908, under Gyeongseong Gamok. During the Japanese colonial period, the prison was used to imprison Korean independence activists and other political prisoners. You can explore the prison cells, courtyards, and various structures within the complex, gaining a deeper understanding of what life was like for those imprisoned here.
Additionally, especially in the fall, this is a very lovely location for pictures. The scenery is reminiscent of Europe thanks to the red bricks used in the buildings and the surrounding color of the maple leaves.
Address: 251 Tongil-ro, Seodaemun-gu, Seoul
Open hours: 9:30 – 18:00 daily | Closed on Mondays
Phone: +8223639750
Entrance fee: 3,000 Won (2.3 USD) for adults, 1,500 Won (1.1 USD) for teenagers, 1,000 Won (0.7 USD) for children
Website: sphh.sscmc.or.kr
Mangusan Mountain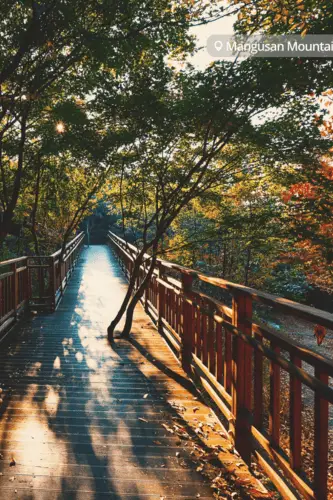 Known for its lush forests, pristine streams, and stunning waterfalls, Mangusan Mountain is a paradise for nature enthusiasts and hikers. Its diverse range of hiking trails caters to all experience levels, offering opportunities to explore the local wildlife and flora. 
The park not only boasts its natural and cultural attractions but also holds some hidden treasures. Among these is the Sin Gyeong-jin Sindobi, a cultural masterpiece designated as Seoul Tangible Cultural Property No. 95. This monument pays homage to Sin Gyeong-jin, a respected official scholar during the Joseon dynasty, adding a historical dimension to the park's appeal.
At the mountain's peak, you are rewarded with awe-inspiring panoramic views, especially striking during the vibrant colors of autumn. Mangusan Mountain welcomes picnickers, campers, and anyone seeking a tranquil escape, so if you need a peaceful getaway, head to this mountain.
Chungwoon Literature Library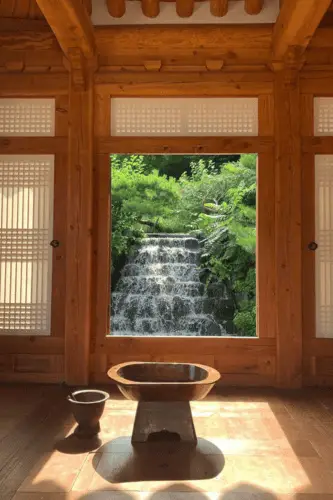 This is a hidden gem, ideal for escaping the stresses of everyday life. Chungwoon Literature Library is a Hanok library located a few meters above the foot of Inwangsan Mountain. The first level, like any other library, contains general circulating book stacks and a juvenile collection. The second floor, however, is where the library's hanok-style features shine, with its reading and seminar spaces. You can borrow the book from the first-floor reference desk and then take it to the second floor to read.
There are two types of hanok: Bonchae and Nujeong. Through the window of Nujeong, you can see a little pond with a tiered waterfall. This is the most Instagrammable site at Chungwoon Literature Library, with the waterfall as the perfect backdrop. Reading while sitting in Nujeong amid the aroma of flowers, the sound of the breeze, and the music of birds is highly therapeutic. In addition, there are numerous famous hiking trails, a park, and a literature museum behind the hanok. So remember to take a look after spending time reading. 
Open hours: 10:00 – 21:00 Tue – Fri | 10:00 – 19:00 on weekends | closed on Mondays
Free Entrance
Phone: +827046804032
Website: (Korean only) lib.jongno.go.kr
Mokin Museum 목인 박물관 목석원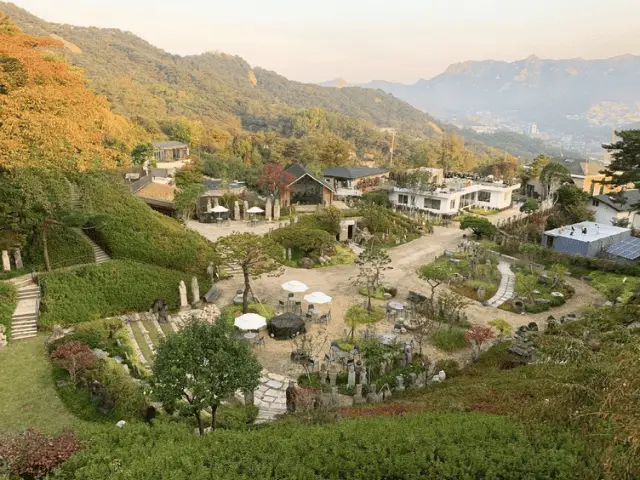 Even if you have been to Korea, you probably have not heard of the Mokin Museum. This place is a must-visit for those fans of wooden art and its history. Mokin Museum is a museum specializing in traditional wooden carvings and woodwork. They've got seven fantastic exhibition halls, each filled with intriguing wooden figures from worldwide. "Mokin" refers to traditional wooden sculptures carved in the shapes of human figures and animals. 
The museum has an impressive collection of around 12,000 wooden folk sculptures, some used to decorate funeral carriages and temples. These artworks span from the Joseon dynasty to modern times. Moreover, they've set up an outdoor exhibition hall where these sculptures blend in with nature. It's a beautiful fusion of art and the great outdoors. Witness the harmony of culture surrounded by Mt. Inwang and Bukhan and experience a time of healing.
Open hours: 10:30 – 18:00 daily | closed on Mondays
Entrance fee: Adults 12,000 won (9.2 USD) | Teenagers 7,000 won (5.4 USD) | Children 5,000 won (3.8 USD)
Website: www.mokinmuseum.com
Cafe Pokpo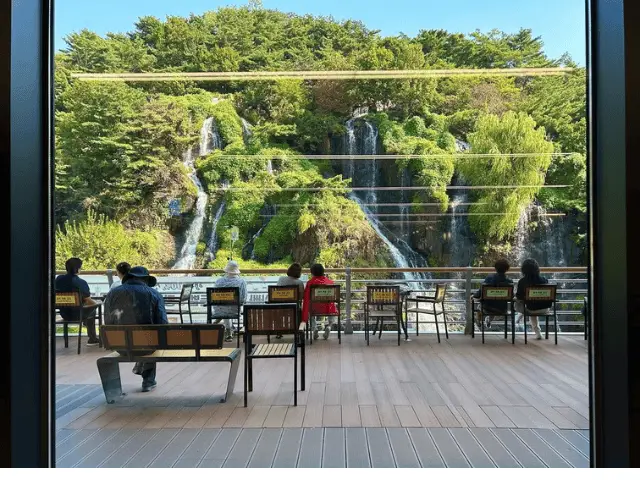 You won't be able to find a more refreshing getaway amid Seoul's concrete jungle. Cafe Pokpo, often known as "Cafe Waterfall," opened its doors in late 2022 and has since become a popular destination for coffee lovers in the Seodaemun neighborhood. Thanks to its excellent location and stunning view, the cafe deserves all the recognition.
Cafe Pokpo is strategically located on the banks of Hongjecheon, the Han River's first tributary. The cafe is built on higher ground along the Seodaemun walking trails, right before the Hongjecheon Waterfall. While the waterfall is artificial, its ambiance is completely calming and peaceful. There are plenty of outside seats at Cafe Pokpo so you can take in the breathtaking views and the captivating beauty of the waterfall up close. 
They serve beverages and coffee ranging from latte, caramel macchiato, and mocha. The prices range from 3,000 to 5,000 won (2.3 – 3.8 USD) on average, which is pretty reasonable.
Open hours: 11:00 – 22:00 daily | closed on Mondays
How to get there: From Hongje Station, take bus number 7738 and get off at stop number 13200. You will spot a bridge there, cross the bridge, and keep walking southwest until you spot Cafe Pokpo. From Hongik University station, take the bus 110A, then get off at stop number 13159. You will see the stream from the stop, just walking toward the stream.
Mullae Art Village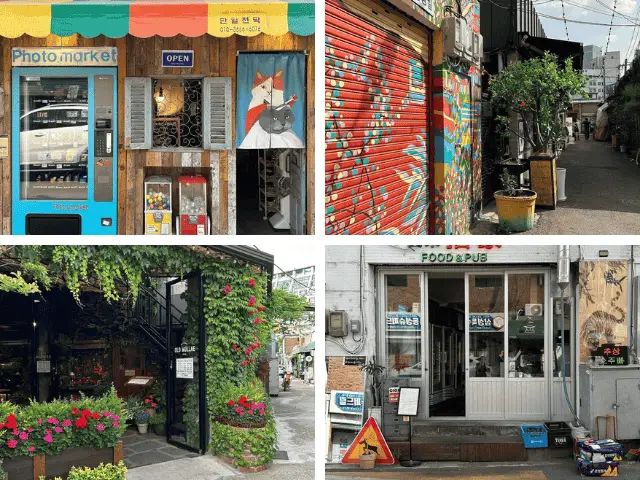 Mullae Art Village is a good option if you think Ihwa Art Village is too crowded. After the workers in this once-bustling industry left, young artists and small ironworkers took over, transforming the region into the art village it is today.
Losing yourself in the labyrinth streets is the ideal approach to discovering Mullae Art Village. You might discover street art or stumble upon hidden bars if you venture a short distance down narrow alleys. Don't be afraid to explore. Stop by some galleries if you're genuinely into art; there are numerous galleries. 
And, of course, no famous location in Seoul would be complete without trendy cafes and restaurants, which are plenty in this area. Some popular instances include Old Mullae, Rust Bakery, Beervana, and Hotel 707.
National Folk Museum Memory Road 국립민속박물관 추억의 거리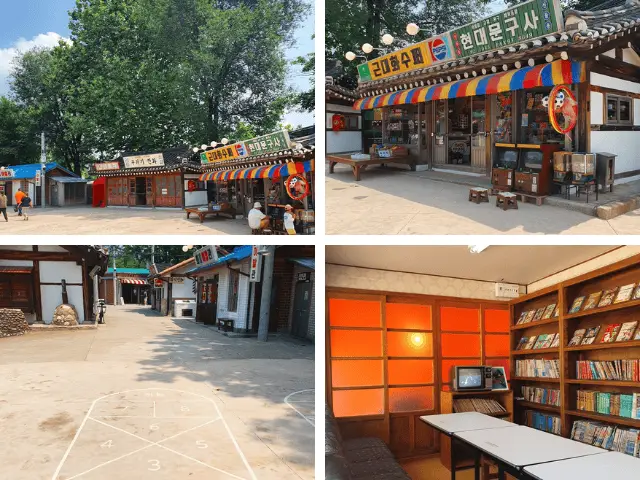 This is truly a hidden place in Seoul that not many people know. If you've ever watched vintage Korean films and want to see those scenes in person, this is the place to go. This street recreates scenes common in Korea during the 1960s and 1980s. In addition to vintage cafes, barbershops, and comic book stores, you will also find classic wooden power poles and briquette storage.
There are a lot of fun things to do in the street. In the cafe, you can request that the DJ play music from the 1970s and 80s and enjoy the vintage ambiance. In the photo studio, you can check out the wedding, graduation, and family photos from the 1970s; you can even put on uniforms and shoot photos based on that concept. Furthermore, you can engage in traditional games like rubber rope leaping and hopscotch.
Hwarangdae Railroad Park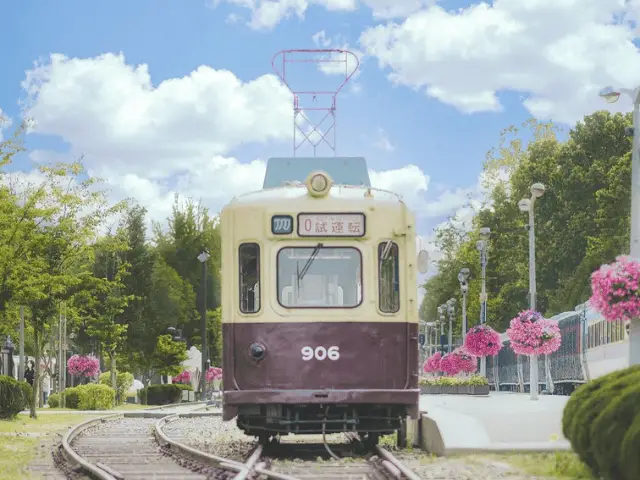 Hwarangdae Railroad Park is a hidden gem in Seoul that offers a unique blend of history, nature, and recreation. Built on the site of a former railroad, this charming park provides an excellent setting for outdoor activities.
There is a museum dedicated to trains in South Korea inside the station's building, and one of the old trains has been renovated into a small library for children. Also, you'll find gardens, including various types of flowers and plants that change with the seasons, adding to the park's charm. 
You can relax, picnic, or stroll and enjoy the green surroundings. Hwarangdae Railroad Park showcases the beauty of each season, but most beautiful with cherry blossoms in spring and colorful foliage in autumn.
In conclusion, from vibrant street art in the Ihwa Mural Village to the tranquil reading haven of the Chungwoon Literature Library, these lesser-known spots are your ticket to a Seoul that goes beyond the expected. Therefore, while you are making plans for your next trip, make a note of some of these hidden places in Seoul. You won't regret it.
IVK's Top Picks – Day Tours, Tickets, and Travel Activities
Seasonal Picks!😍