Last Updated on November 9, 2023
While Nami Island is best known for its idyllic scenery and relaxing atmosphere, it also offers visitors a delightful array of dining options. From casual cafe snacks to sit-down meals with panoramic views, you'll find no shortage of places to eat well on this picturesque man-made island.
In this guide, we'll explore some of the top restaurants on Nami Island and highlight can't-miss local specialties and desserts you'll want to taste. Let's dive in and discover some appetizing additions to your island adventure!
📍 강원 춘천시 남산면 남이섬길 1 | 1, Namiseom-gil, Namsan-myeon, Chuncheon-si, Gangwon-do, Republic of Korea
🕒 8:00 – 21:00
₩ Adult 16,000KRW | Teenager 13,000KRW | Child 10,000KRW
🌐 www.namisum.com
🚏Recommended Route:
Direct Shuttle Bus (Everyday) / Round trip only
Seoul > Nami island
| Hongik University Station | Myengdong Station | DDP Station | Nami Island |
| --- | --- | --- | --- |
| 8:20 | 9:00 | 9:10 | 10:40 |
Nami Island > Seoul
| Nami Island | DDP Station | Myeongdong Station | Hongik University Station |
| --- | --- | --- | --- |
| 16:30 | 18:00 | 18:10 | 18:50 |
Gyeongchun Line
| Station | Time |
| --- | --- |
| Sangbong → Gapyeong Station | About 50minutes |
| Chuncheon → Gapyeong Station | About 28minutes |
ITX-Cheongchun Line
| Station | Time |
| --- | --- |
| Yongsan → Gapyeong Station | About 60minutes |
| Cheongnyangni → Gapyeong Station | About 42minutes |
| Chuncheon → Gapyeong Station | About 20minutes |
Address Search : 1024 Bukhangangbyeon-ro, Gapyeong-eup, Gapyeong-gun, Gyeonggi-do, Korea
Name Search : Nami Island Ticket Office / Nami Island Gapyeong Wharf
Parking Fee: Small cars ₩6,000 / Large cars ₩10,000 for 12hours | Additional charge of ₩1,000 per hour after the first 12 hours 
What to eat & Must-Try Desserts in Nami Island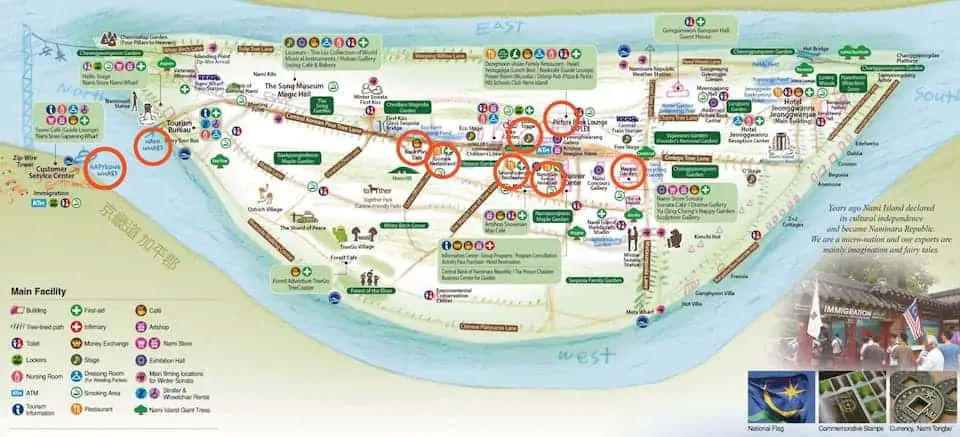 Though we explained How to Get to Nami Island from Seoul and 10 Unique Things to do on Nami Island, no trip to Nami Island is complete without experiencing its food. Nami Island is the perfect place to heal your mind and body. Come with us to experience the restaurants on Nami Island, the cafes on Nami Island, and the must-try snacks on this enchanting fairyland.
Restaurants on Nami Island
Nammoon Korean Restaurant 남문한식당
Nammoon Korean restaurant is large, clean, and the perfect place to experience traditional Korean food like Seafood Spicy Soft Tofu Stew, bulgogi, bibimbap, Korean pancake, makgeolli, and more. There are seats for guests with pets on the outdoor terrace area, as one of the best restaurants on Nami Island, . The most popular dish is the seafood spicy soft tofu stew and the Nammoon special, with bulgogi, soybean stew (doenjang jjigae), and vegetables. Come and taste traditional, authentic Korean food here; it'll give you the strength to walk about the island.
Highlights of Nammoon Korean restaurant:
Authentic Korean Foods & Drinks
Pet Friendly
Next to the MICE Center
Seomhyanggi 섬향기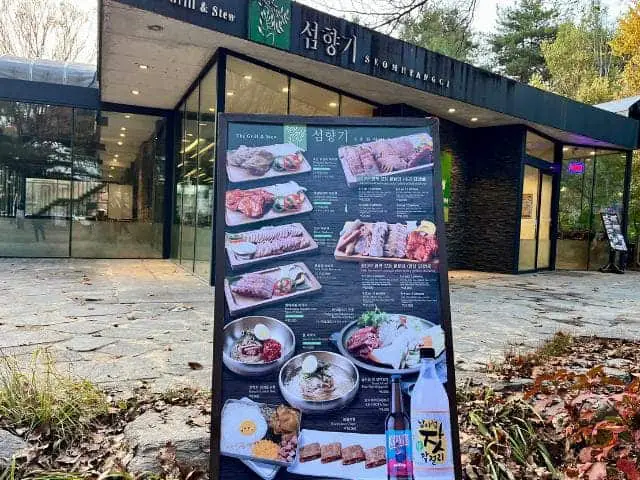 The Chuncheon region is famous for its dak-galbi, spicy grilled chicken and vegetables, as one of the best restaurants on Nami Island, . Come and enjoy dak-galbi and other Korean-style meats at Seomhyanggi. The most popular dish is the all-in-one menu with pork, duck, sausage meats, and vegetables. You can also order the traditional pastime lunch boxes and cold noodles. Of course, you want to try the local Nami Island Pine nut makgeolli here.
Highlights of Seomhyanggi Restaurant:
Local specialty food from Chuncheon, named Dak-galbi & Local drinks
Pet Friendly
Across from Unchi Garden
Gomok Restaurant 고목식당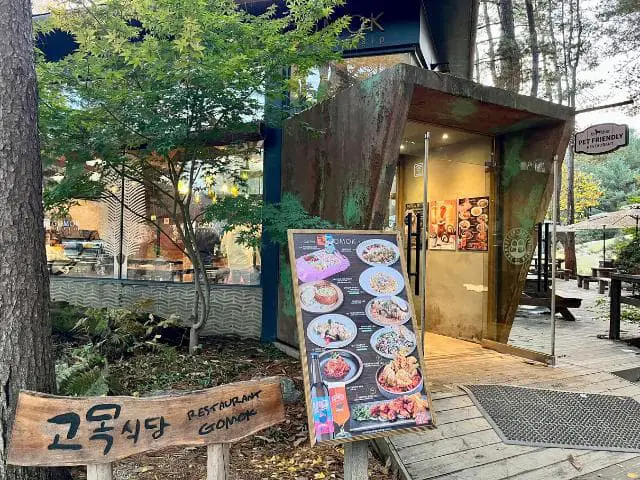 If you are craving Western food, check out Gomok restaurant. They mainly serve pasta, salads, desserts, and sides like buffalo wings and french fries. The great thing about Gomok is you can have a meal with coffee and dessert all in one place with your furry friends. They are pet-friendly and conveniently located in the Pine Tree Lane. You can have the total experience by eating outside and viewing the natural landscape.
Highlights of Gomok Restaurant:
Italian & Western Foods & Beer
Pet Friendly
Central Korean Pine Tree Lane
Dongmoon Asian Family Restaurant 동문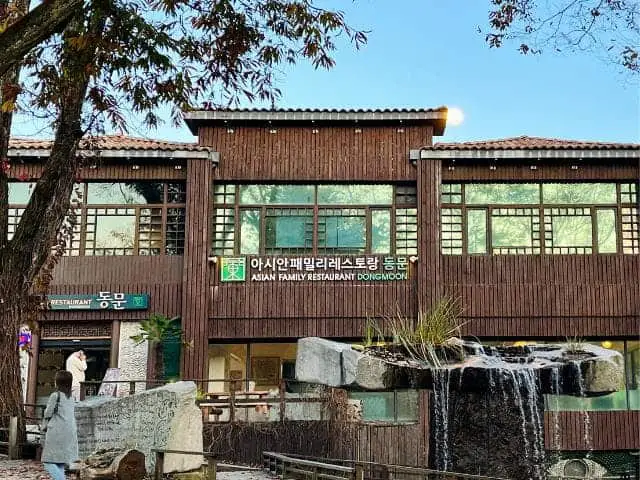 Asian Family Restaurant Dongmoon, as one of the best restaurants on Nami Island, is a fusion restaurant where you can try Black soy bean noodles with bulgogi topping, Spicy Octopus Jjampoong noodles, Nasi Goreng, fried chicken, and more. The portions and the restaurant are big; it is Muslim and Halal-friendly. There is something to eat for the entire family. Afterward, if you have children, you can go to the Hei's School Club, next to Dongmoon. They have a big slide and playground for kids.
Highlights of Asian Family Restaurant Dongmoon:
Asian-inspired foods & Korean dishes
Muslim Friendly / Halal
BAPLEX 1F
Ddanji Pub 딴지펍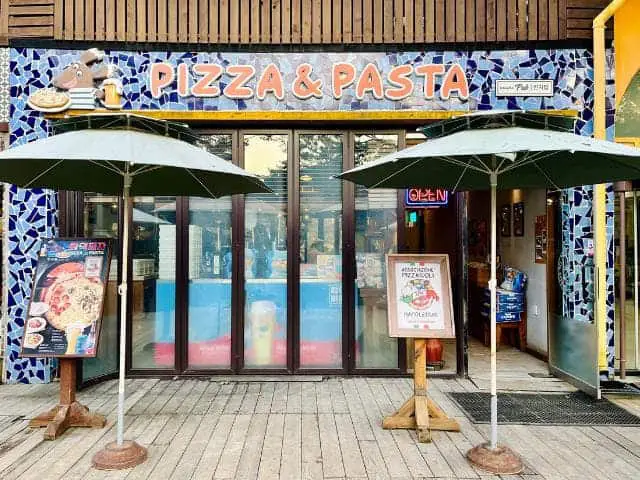 Ddanji Pub restaurant, as one of the best restaurants on Nami Island, has a variety of foods like pizza, pasta, and hamburgers. The oven-baked pizzas are available in four different toppings: mushroom, cheese, margarita, and pepperoni. They have take-out boxes just in case you can't finish them, and they also provide extra hot sauce and parmesan cheese. They have a specialty Nami Island beer called KKangta to complement your meal. Another great thing about Ddanji Pub is their special pizza cooking classes for children, as one of the best restaurants on Nami Island. Your children will love experiencing making pizza and trying it.
Highlights of Ddanji Pub:
European Oven Pizza & Pasta
Certificated by the Associazione Pizzaiuoli Napoletani (APN)
BAPLEX 1F
Nami Island Snacks
Nami Sausage & Churros 남이 소세지&츄로스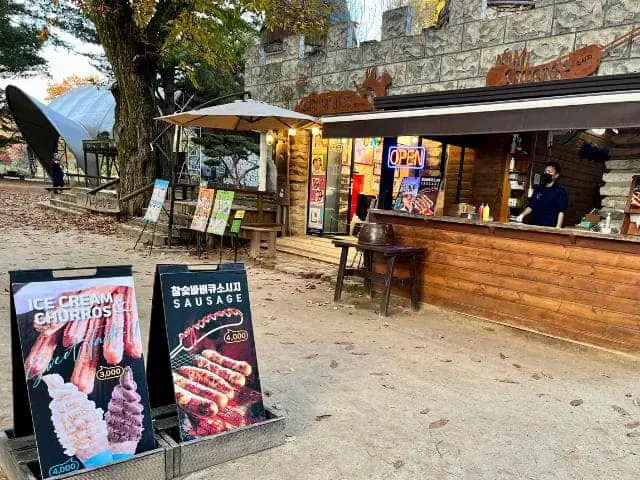 The line for the sausage will be understood once you try it. The sausage has been cooked with charcoal, and the juice bursts in your mouth. It is seasoned well and tastes great with ketchup, mustard, and non-alcoholic beer. It is one of the best-tasting snacks on Nami Island. If you are looking for something sweet, taste the churros! The warm and sweet churros are a great snack to eat with the beautiful landscape.
Highlights of Nami Sausage and Churros:
Sausage tastes good even though it's not hot.
Churros are perfectly sweet and long.
Ice cream is also available.
Near Unchi garden.
Sottumak Steamed Bun 솥뚜막 찐빵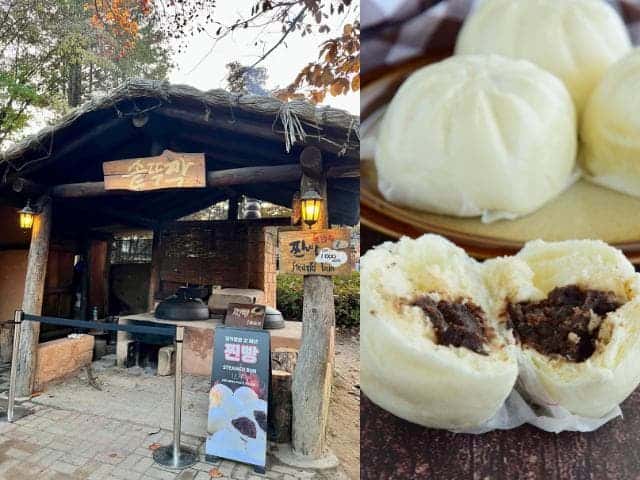 Steamed buns are the perfect dessert during winter but also all year round. The steamed buns are cooked with firewood and come in three different bun flavors: original, black rice, and sweet pumpkin. The filling is the same for all three buns, and the price is low, about $1, but the portion is relatively small, so you might opt for more. Be careful when you try it because it is hot! The sweet red bean filling is not too sweet.
Highlights of Sottumak Steamed buns:
It comes in 3 different bun flavors.
About $1
Representative Korean winter street food, Jjin-Bbang, Steamed bun filling with red bean paste
Snowman Pancake(Hotteok) 눈사람 호떡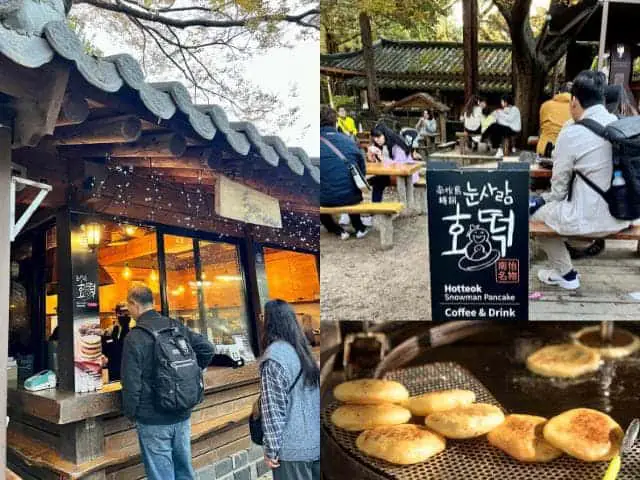 One of the longest lines will be for the hotteok, especially during winter. Once you try the hotteok with coffee, you will want to stand in line again. The sweet dessert is fried in hot oil with melting brown sugar and nuts with cinnamon. It is one of the most popular winter street foods in Korea, but also year-round on Nami Island.
Highlights of Snowman Pancake (Hotteok):
Representative Korean winter street food, Hotteok 호떡, pancake filling with brown sugar
In front of Metasequoia Lane
Chicken Skewer & Grilled Buttered Corn 닭꼬치&옥수수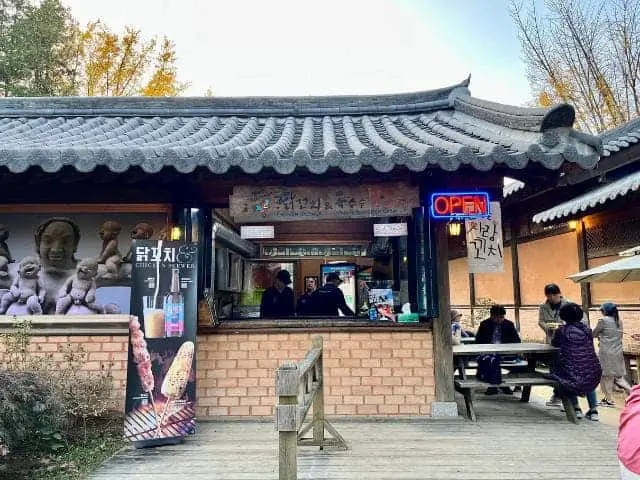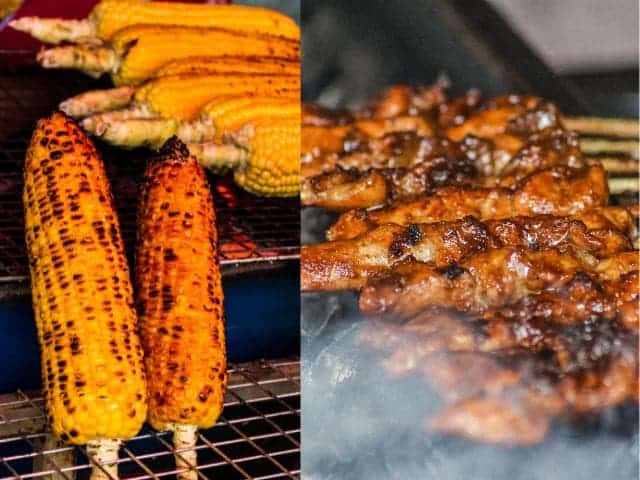 The grilled corn and chicken skewers at Nami Island are great street foods if you want something sweet and savory. The buttered corn is a little more popular. It tastes sweet, and the butter flavor complements the whole food experience. The chicken skewers are cooked on charcoal for a plump and chewier texture. The skewer is wrapped with aluminum foil and spread with sweet sauce. The sauce was not smothered enough for me, but it tasted good.
Nami Store Nami Wharf 마트 & 아이스크림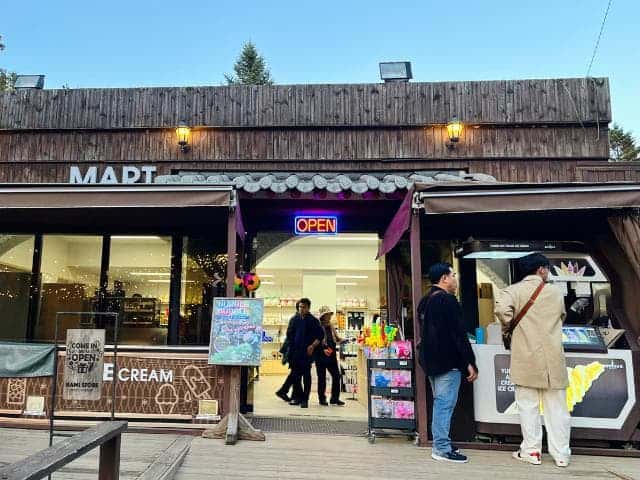 If there is something you are looking for but are not sure about, check out the small market in front of Nami Wharf. You can find everything from everyday needs to drinks. They also serve ice cream in various flavors.
Highlights of Nami Store:
Mart & Strawberry / Vanilla / Chocolate flavored and more Ice Cream
In front of Nami Wharf
Ice Cream & Drink 아이스크림 & 음료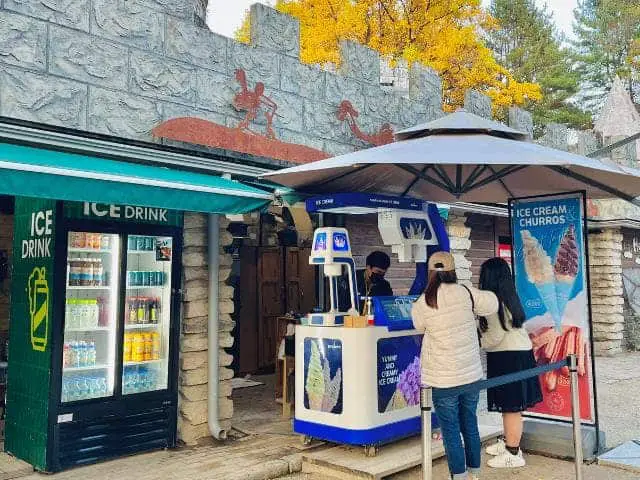 Another place to enjoy ice cream is near the MICE center. Here, you can buy a drink, churros, and ice cream in various flavors. There is something for everyone and in various locations.
Strawberry / Vanilla / Chocolate flavored Ice Cream & Drinks
Near MICE center
Cafes in Nami Island
Book Pond Cafe 서담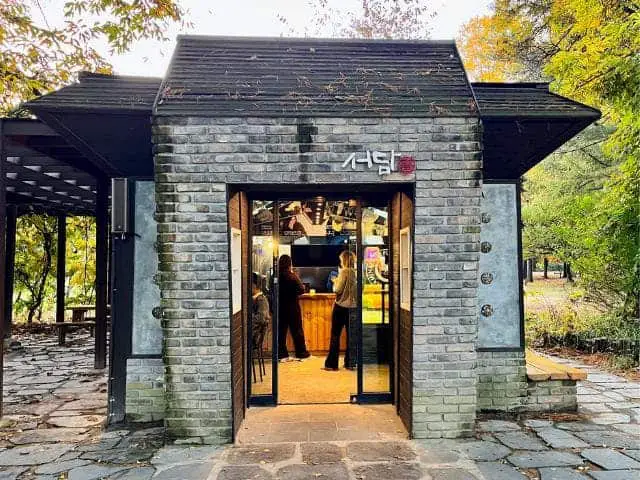 Book Pond Cafe is a relaxing cafe that can be enjoyed inside and outside. Inside and outside, you can enjoy quiet time reading books displayed there. Inside the cafe, it feels like you are in a small house from a story, and outside, it feels like you are in the middle of a forest. Breathe in the fresh air as you read through your favorite books. The books there seem to be storybooks mostly. During the weekend on Nami Island, there might be special musical events. I recommend grabbing a coffee here and finding a seat outside to hear the music. It'll be a healing time for you.
Highlights of Book Pond Cafe:
Taste good coffee & dessert
Quiet atmosphere
Books are available to read
Central Korean Pine Tree Lane
Book Cafe 북카페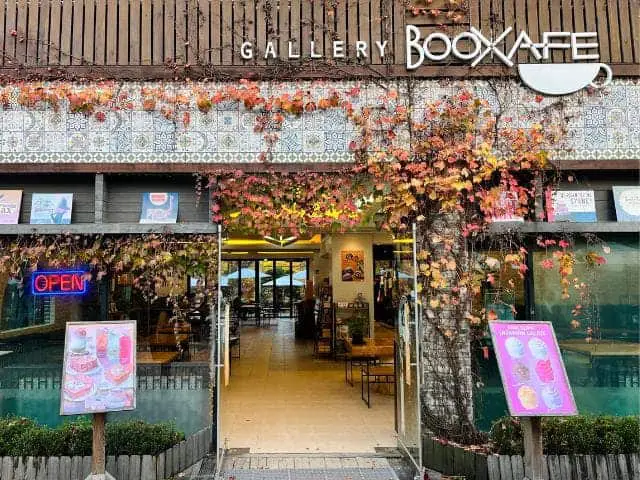 The Book Cafe on Nami Island is a great place to rest along the walking path and also a great place to watch the raindrops when it is raining on Nami Island. They have various dessert menus, and their specialty is the Green tea latte. The cafe has seats inside and outside with a large open window to view the green scenery. The desserts range from small cakes to ice cream to drinks and breads. It is not as quiet as you may picture a book cafe to be. It felt like a regular cafe, but I liked the atmosphere and food.
Highlights of Book Cafe:
Various desserts and drinks
Books along the side to read
BAPLEX 1F
Cafe Nami Wharf 카페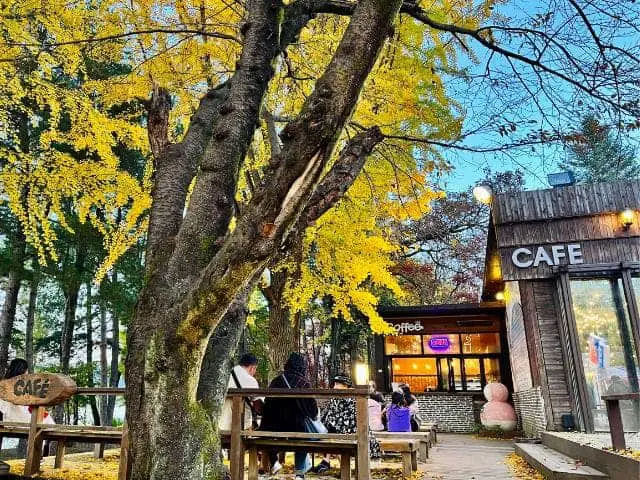 The cafe at Nami Island Wharf is a great place to relax and get an energy pick-up before exploring more. It is perfectly located in the front of the island and a great place for the whole family to find a quick snack and drink.
Snow Cafe Near the Gapyeong Wharf 스노우 카페
In front of Nami Island, before you board the ferry, there is an art cafe that serves pine nut gelato and pine nut latte. These desserts are only in Gapyeong, so I couldn't resist. The pine nut gelato was only one scoop; the taste was deep and delicious. I wanted to eat the entire gallon. The creamy texture of the latte and milk was a perfect combination. The drink was warm and hearty. I definitely want to go here again.
Highlights of Snow Cafe:
An art shop cafe with gelato and coffee
In front of Gapyeong wharf
Nami Island Ticket Prices (Round-trip ferry tickets)
Types
Price
Adult
₩16,000 ( $12)
Seniors (70+)
Middle to High School Students
₩13,000 ($10)
from 36 months to Elementary School Students
₩10,000 ($8)
Don't miss the ticket deals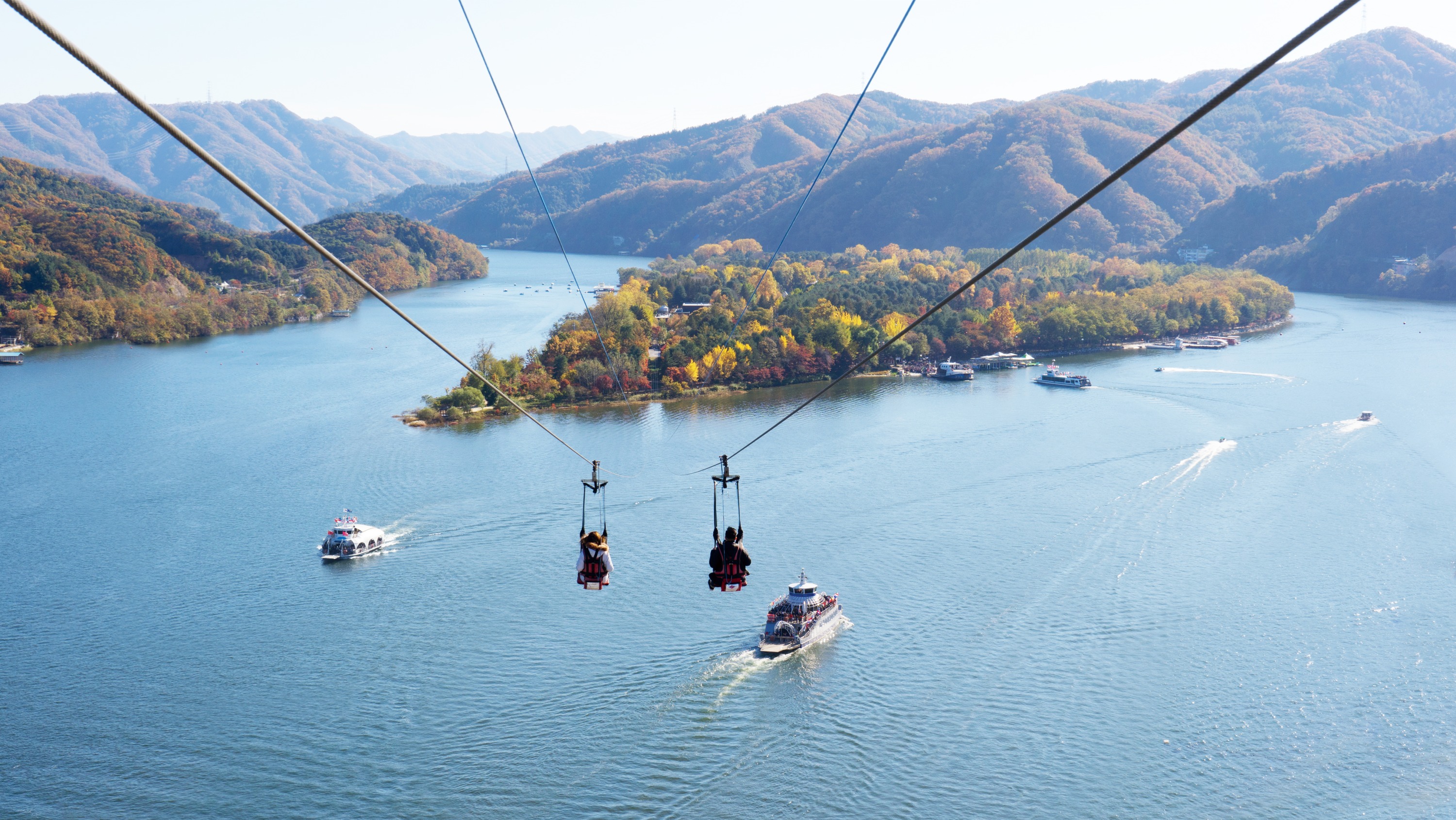 The ferry boat to Nami Island schedule
| | |
| --- | --- |
| 07:30 ~ 09:00 | Every 30 minutes |
| 09:00 ~ 18:00 | Every 10~20 minute |
| 18:00 ~ 21:30 | Every 30 minute |
Compare Nami Island Round-Trip Shuttle Buses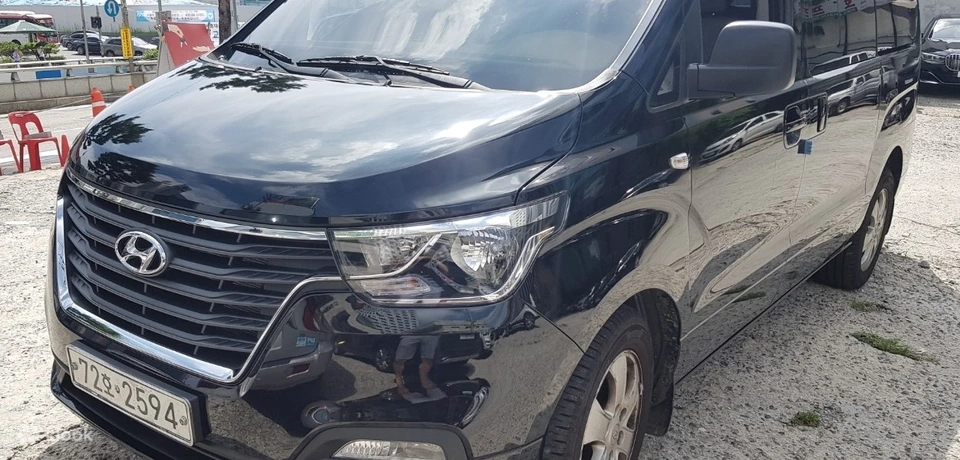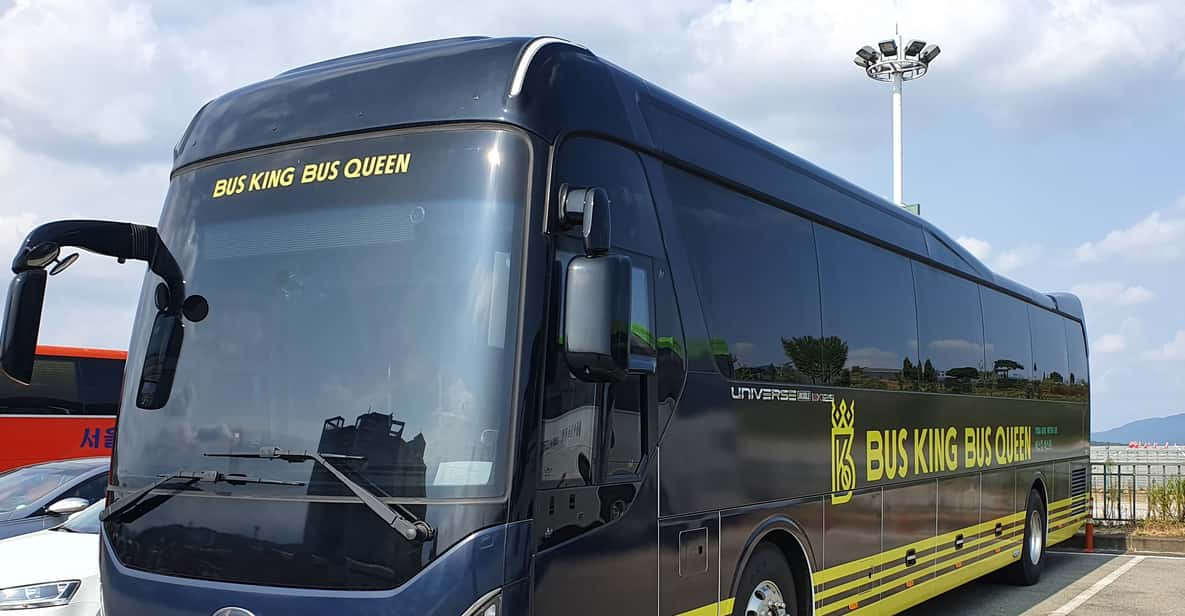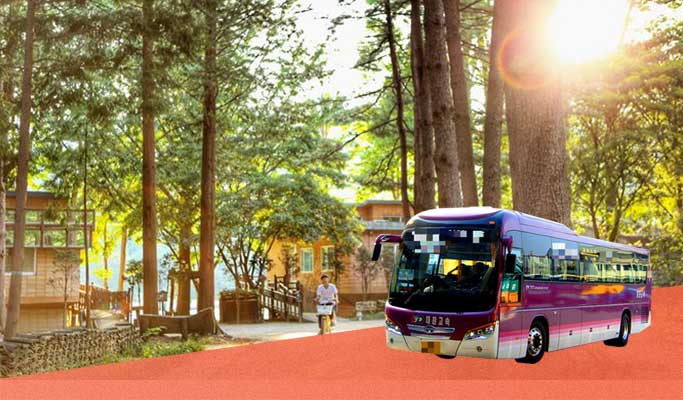 IVK's Top Picks – Day Tours, Tickets, and Travel Activities
Seasonal Picks!😍