Ikseondong: The heart of Seoul
Ikseondong is a large neighborhood, home to the most romantic alleyways filled with cafes, concept stores, and Instagram-worthy restaurants. Walking between the traditional Hanoks covered in lights is a magical experience that I believe is a must-do, so I thought I would offer some tips.
Before moving to the fun part, here is how to get to Ikseondong. The easiest way to the hip neighborhood is through Jongno-gu, accessible by subway or bus. Once you get off at the Jongno 3-ga station or the Anguk station, use the Naver map to guide you towards the charming little streets.
Once you have arrived, here is how you can spend a meaningful day and load up your camera with beautiful memories. Here are the top five things to see, do or visit in Ikseondong!
Ikseondong: Visiting on rainy days
Although most people would avoid going out on days of heavy rain, I would recommend visiting Ikseondong on rainy days precisely for that reason. Indeed, there will be fewer people out and about, which means more or less undisturbed photo sessions and a secured seat at some of the beautiful cafes. But more importantly, Ikseondong is – in my humble opinion – most beautiful when it rains. The colorful walls and lights contrasting with the wet pavement give it a unique charm, which is why it is a must-see! The same goes for snow.
Delicious meals with beautiful architecture
Ikseondong has a range of delicious and varied cuisines you can try, but the restaurants below have a specific charm because of how they were built. By preserving the Korean traditional Hanok style, they provide an experience you cannot find anywhere else.
Oncheonjip
This restaurant specializes in Shabu-Shabu and has a beautiful Hanok-style layout that allows you to dine surrounded by vegetation and traditional Korean roofs. The mix of fresh meat and healthy vegetables makes for a comforting meal, especially during the winter or on a rainy day. Oncheonjip is one of the most-searched restaurants by Koreans as of July 2022, according to Naver.
Hohosikdang 
This famous chain has four other locations, with Ikseondong being the latest to open. Specialized in Japanese home-style dishes, Hohosikdang offers authentic Japanese home cooking in a Korean traditional Hanok atmosphere.
Having visited this restaurant myself, I recommend it for small friend groups or couples, thanks to its soft lighting and delicate interior. I also recommend going there early, as the waiting time grows rapidly after 6 PM.
Instagram-worthy cafes
One cannot visit Ikseondong without stopping by its most famous cafes. Thanks to the mix between Hanok and modern architecture, the cafe culture climbs to another level in this part of town.
Cheongsudang 
This cafe is easily one of the most visited establishments in the area. Cheongsudang is a dessert cafe with a front yard that made its way all over Instagram for its beauty.
They specialize in made-to-order soufflé and other desserts and are known for offering a forest-like atmosphere in the heart of the bustling city. According to the official website, it aims to provide some relaxation and comfort to busy and tired people who live in the city through the concept called "the Aesthetics of Slowness."
Its road of stones surrounded by trees and lampions makes for the perfect snap. This cozy cafe is a dream for a romantic dessert break or a photo session with your travel buddies.
Seoul Coffee
This Hanok-style coffee shop was born from the owner's memories of his grandmother's home. It was launched in the 80s to offer visitors old-school treats such as twisted bread sticks, Dalgona, and Sikhye (a sweet, refreshing rice drink). Read more about the top Traditional Korean Foods you must eat.
Nowadays, the cafe offers a more modern menu but keeps the spirit of old Seoul in its architecture.
Ruska
This Hanok-style cafe doubles as a tableware shop. It offers an impressive selection of traditional teas and other beverages, along with Korean tea sets and other tableware, perfect for gifting your friends and family back home.
The interior combines modern furniture with a traditional Korean roof and Korean-style decoration. It also sports greenery all around, offering a calm and relaxing atmosphere.
Instagram: https://www.instagram.com/ruska_cafe_shop/
Shopping trendy or Vintage
Many shops in Ikseondong can satisfy your desire for trendy, fashionable clothing or vintage, thrift store pieces. Although new stores pop up now and then, some of the most notable places are below.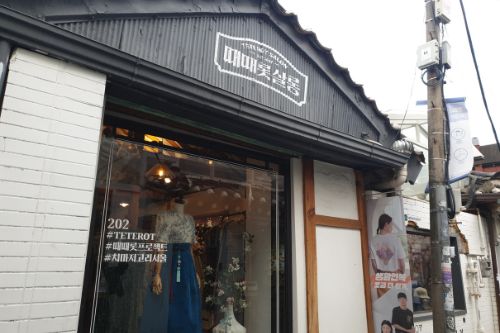 Only to name a few, Obless, Ikseondong Vintage, and Ruda are some of the popular places to find cute and trendy fashion items. Although they have online shopping available, shopping in-store has a different atmosphere. From accessories to ready-to-wear, there is something for all tastes and wallets.
Flea Market (경성상점) is for some unique finds. In flea markets, you can pay with cash or a card, although using a card will cost you a 10% charge. It is, therefore, better to plan by bringing some cash with you for stress-free shopping.
Walking around Ikseondong
After enjoying food and dessert, it's time to digest everything. What better way than to walk around the beautiful Hanok Village? It is one thing to visit places one by one, but it's another to see the neighborhood in all its glory. The paved streets are full of decorations and store windows worth admiring, and you can continue your walk to City Hall to conclude the visit.
Many reviews on platforms such as Trip Advisor mention something similar to my experience: walking through the streets often ends up being the most memorable part of the entire visit. Dozens of alleys that cross each other feel like a maze, except every corner reveals something new and fun to see. Even after eating to your heart's content, the cute shops and beautiful cafes are lovely to visit during your walk, with a blend of modern and traditional architecture that never becomes boring.
Seoul is full of secrets, and the Ikseondong neighborhood feels like one, hidden in the middle of modern buildings. Besides the establishments mentioned in this article, there is so much more that you will discover for yourself.
One last tip that I love to offer is: don't hesitate to ditch the map once you have arrived in one of the alleyways and just walk around. I highly recommend getting "lost" to truly feel the magic of this colorful maze. On rainy, snowy, or sunny days, the charm that emanates from Ikseondong is undeniable. We hope you have fun exploring!
You may also like: