Last Updated on November 24, 2023
There is almost no such city as Seoul since it contains everything that a visitor would crave. It has various technological centers and it is a hub of science and technology. It has many natural places for recreation such as Seoul Forest. Also, There're many parks such as Seoul Grand Park or Children's Grand Park and other adventurous places. Its malls are well-constructed and hundreds of kinds of malls with diverse things are found here. With COEX aquarium, Common Ground, and different other malls, the country constitutes many special things for you. It has art centers and amazing, dramatic and different museums too. No city can be so diverse and this diversity is also offered in your indoor life too. If you are looking for indoor activities in Seoul on a rainy day, here is the perfect place to find what suits your personality best.
Indoor activity in Seoul
Seoul's weather is very distinct. All four seasons are experienced here. In summer, there is a 'monsoon season where it rains constantly for days. But not to worry as the city still has many options for you to enjoy your stay. There is something for everyone. The Seoul Indoor activities are different ways that can be employed during rain or winter and would help you enjoy even indoors.
Lotte World, Seoul Sky, and Aquarium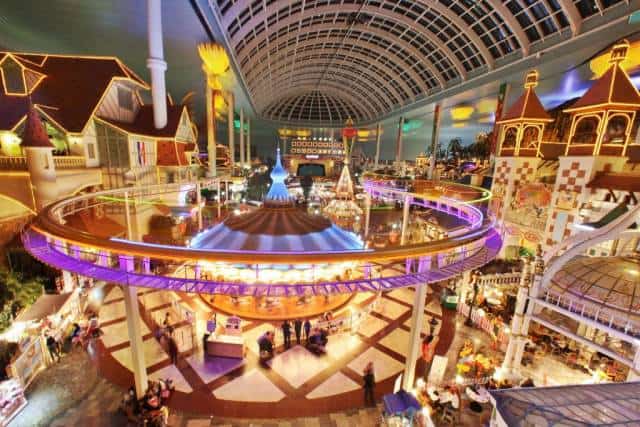 This area and complex are famous worldwide due to its structure and it's the world's largest indoor theme park. Due to its high reputation, it is, of course, a place of various functions and weekly performances. A Magic theatre is also a part of this grand avenue and international hub. During the days of extreme rain, you can spend your time indoor theme park here seeing the functions that occur. Furthermore, there are Aquarium, Ice link, and Seoul Sky Observatory in the complex that you can enjoy all of them in a day! Head here to compare the option and ticket price and get a best-fit one for you.
Lotte World Related Tours & Tickets
VR Room
Going to parks and enjoying different outdoor experiences are not necessary for entertainment in Seoul. To comfort yourself, there are many Virtual Reality (VR) rooms for you to enjoy. Dongdaemun Fanta, Hongdae, Gangnam Bad Café, and some other V.R Arcades are present in the city. You can enjoy virtually without getting bored and you will find a diverse range of VR rooms here. A creative mind will always like these Seoul Indoor Activities. 
PC Bang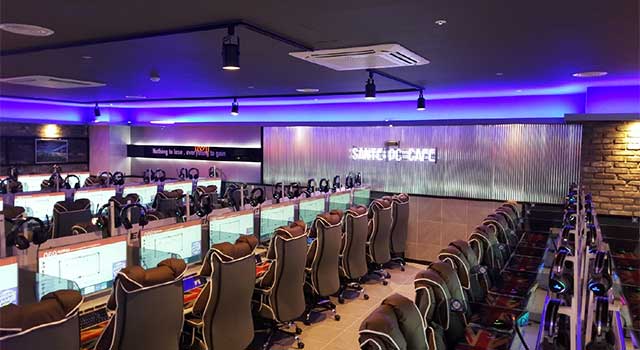 In case you are a big fan of PC games and want to experience Korean game culture, PC bang (bang means room in Korean) with a wide variety of computer games is the right place. Korean children are inclined towards games and many prominent gamers belong to Korea. Even you can order food and drinks by one mouse click. Then the staff will bring them to your seat. Enjoy it!
Coex Aquarium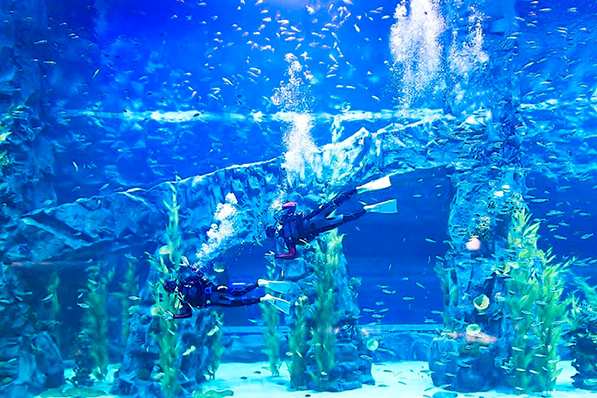 Now, this is a very interesting part of Seoul Indoor Activities. It is a delight to see the COEX aquarium. You'll be in awe by the beautiful array of fish. A photo anywhere here is also beautiful. And It lies within the premises of the large COEX and many people come here and visit it. On those rainy days, there is water everywhere and water is everywhere here too. But the fact is that you are separated. You'll see that this is one of the best pieces of Korean architecture.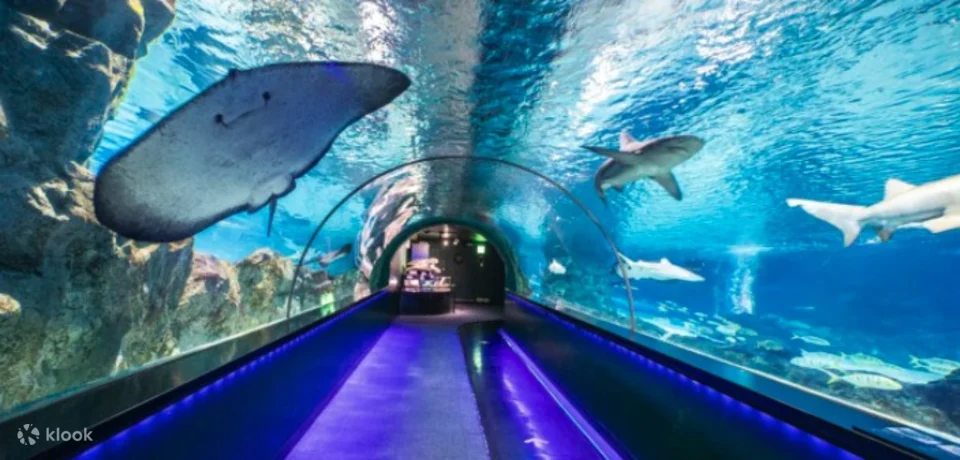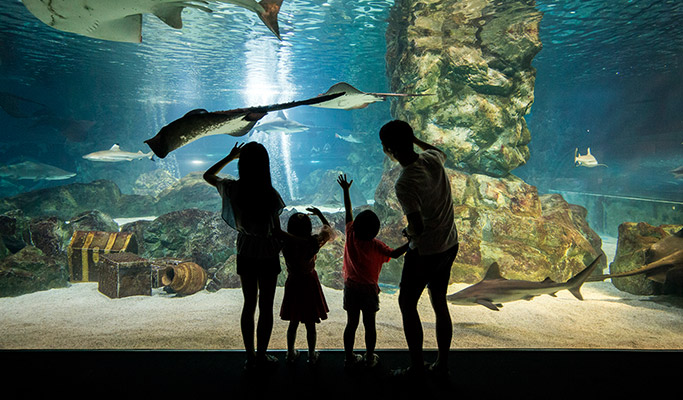 Alive Museum
Unlike many other museums, this one is entirely different due to this quality of being 'alive'. Its pictures and representations of art are very dramatically different and you might see as if someone is killed here and still alive. It's a kind of ghostly experience but it appears like an interesting art from all points of view.
Seoul Alive Museum & Dynamic Maze Admission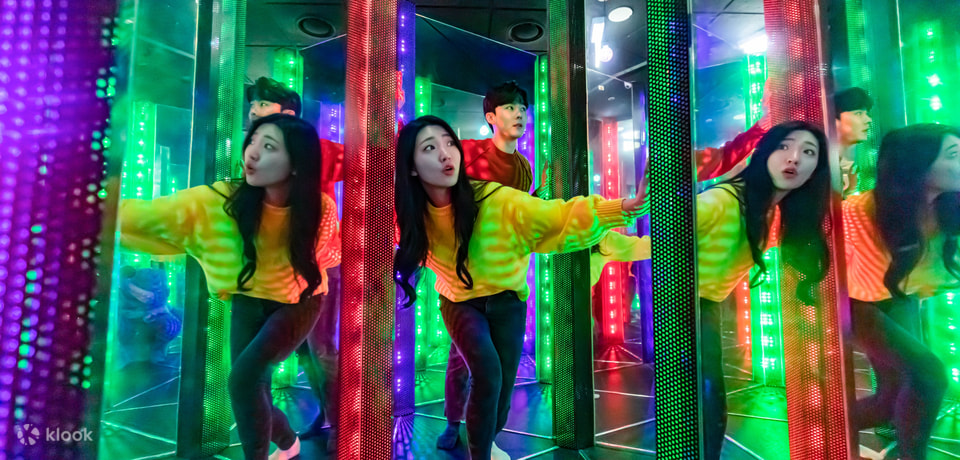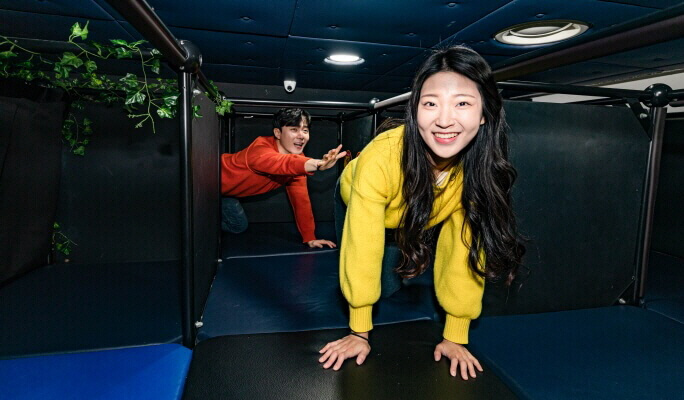 Trick Eye Museum
Heads up! – Trick Eye Museum Seoul is under renovation at the moment, 2022.
This is a place where you can take weird and extraordinary pictures like being backward or in the mouth of a shark. It seems weird but it can be extremely exciting! Some awkward and embarrassing museums are there with animations. It is so independent and an exciting way to engage in Seoul Indoor Activities in the days of rain.
Noraebang (Karaoke room)
To be silly is a good experience sometimes and we all have been silly at some moments of our lives. These rooms are musical rooms where you can hear other popular music and even sing yourself in the private room. They are part of the Asian tradition to make you feel so good and elegant. 
Multi Rooms
These multi-bangs or multi-rooms in Seoul include everything from computer games and Wii to other entertainment alternatives like DVD, Karaoke(Norae-bang). Moreover, there are snacks to enjoy in your private space. An average human being just likes to feel very independent and these rooms provide a method for them to do so. You are not stopped for anything and you can enjoy things in any way.
Sports Rooms
There are many sports complexes of various kinds in the city. They are not always outdoor but some indoor things to do in Seoul which are sporty can be found within the city. Strike-Pang Arcade is a place for you if you want to do sports. As air pollution in Seoul has been heavily populated for the last couple of years, many people choose to do sports indoors. Otherwise, you can find indoor swimming pools, tennis, soccer, and more.
Cafes
There are many cafes in the city to enjoy indoors. If you would ask a local about the different kinds of cafes present there, you would learn about many new experiences that you probably had not experienced before. In Seoul, there is a cafe in every corner and specialty cafes like Racoon cafe, Bird cafe, Hello Kitty Cafe, and so much more. For more detail, check this post about the best unique cafes in Seoul.
Live Performances
If you are in your home sitting back in your country, you might watch a movie or film on a rainy day in Seoul. But when you are traveling, you would want more entertainment and pleasure. If you are in Seoul, you don't need to worry about shows since many shows happen almost everywhere throughout the year. These expressions of various kinds of arts are the jewel of this city. These Seoul Rainy Day Activities provide a proud moment for many tourists to experience the culture, modernism, and expression of life at their full. 
Nanta
Nanta is a famous show of South Korea that is originally a comedy show and is a part of the tradition of Korea. The show involves a storyline, cooking techniques, magical performances, and many other things combined with a single presentation. It is so cultural and so magical. It has been staged in 57 countries in the world and it would be much better if you see it in its most traditional form.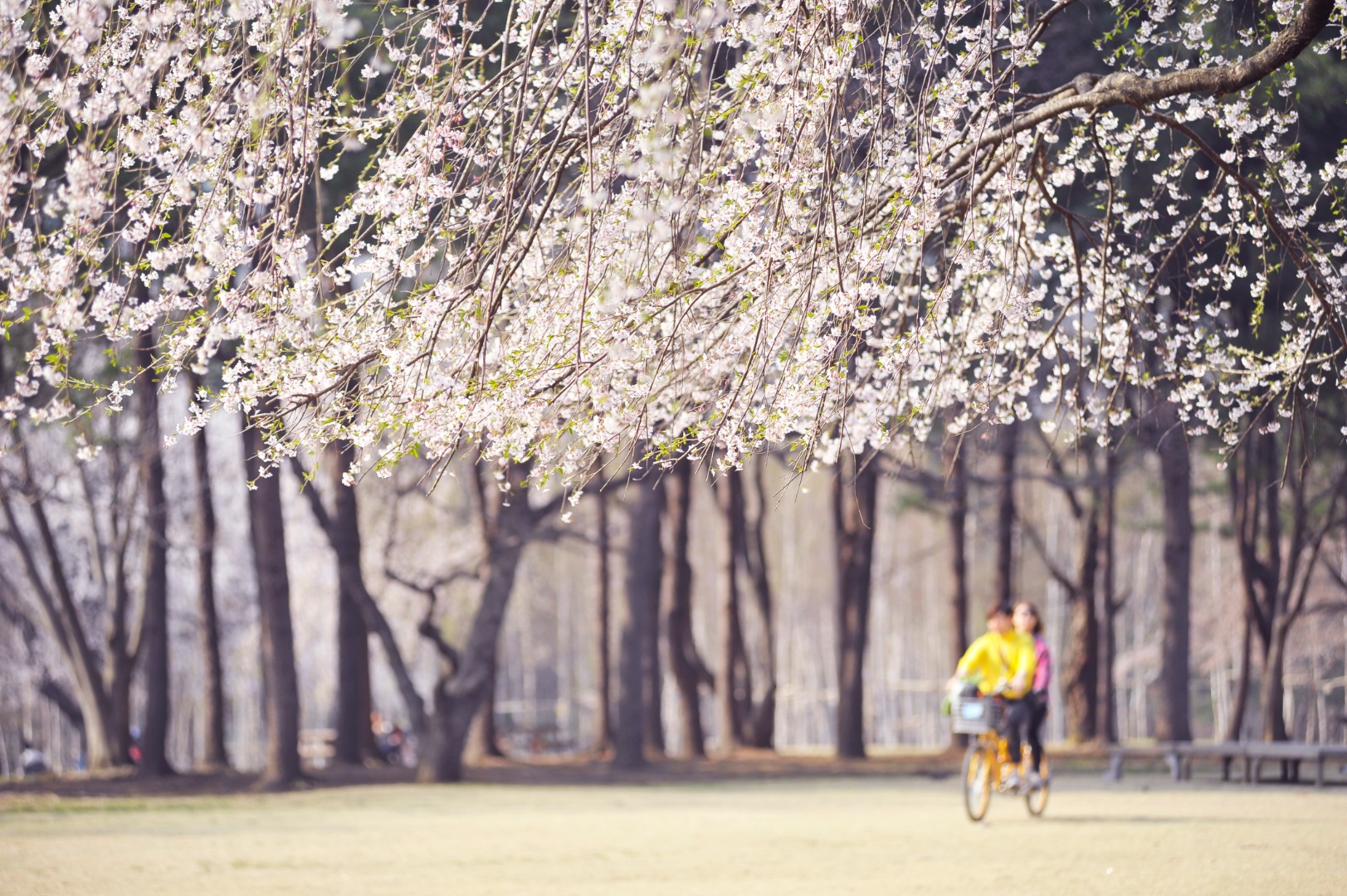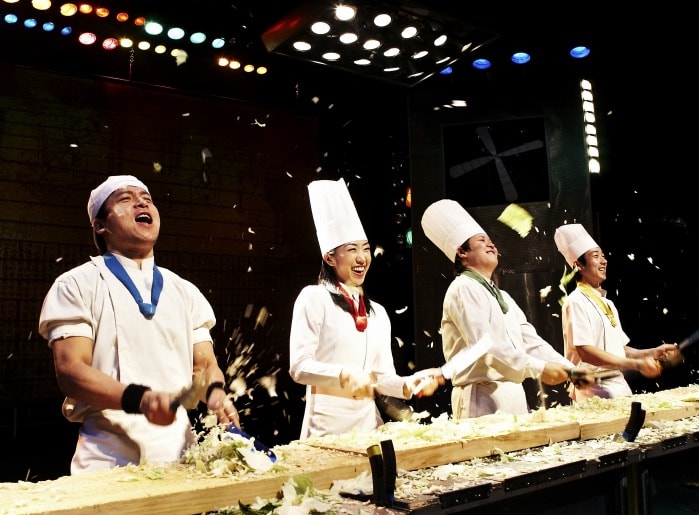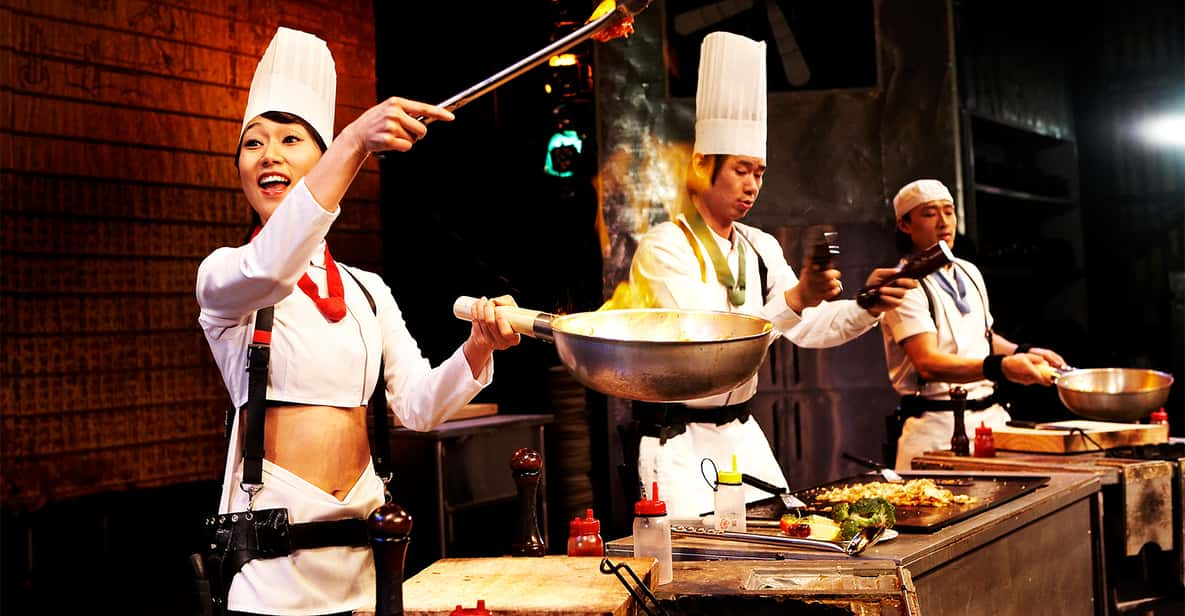 Indoor Markets and Malls
Some indoor things to do in Seoul may be your visit to some traditional and modern indoor markets and malls.
Gwangjang Market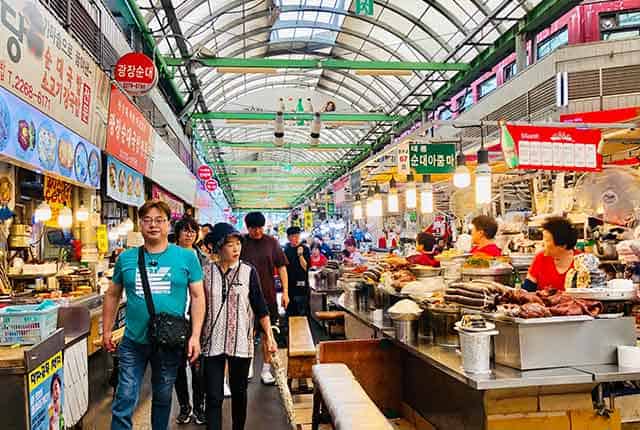 This market is one of the must-visit places and the nucleus of the cultural representations throughout South Korea. It is located in the middle of the city and it has more than 5000 shops with about 20,000 employees. If you love studying and wondering about the different cultures of the world, this place may give you a taste of the history of Korea. Of course, on these rainy days, this traditional market is an indoor place to spend your time effectively. Before you go, read this post, the best Korean street food you should try in the Gwangjang market.
Underground Shopping Malls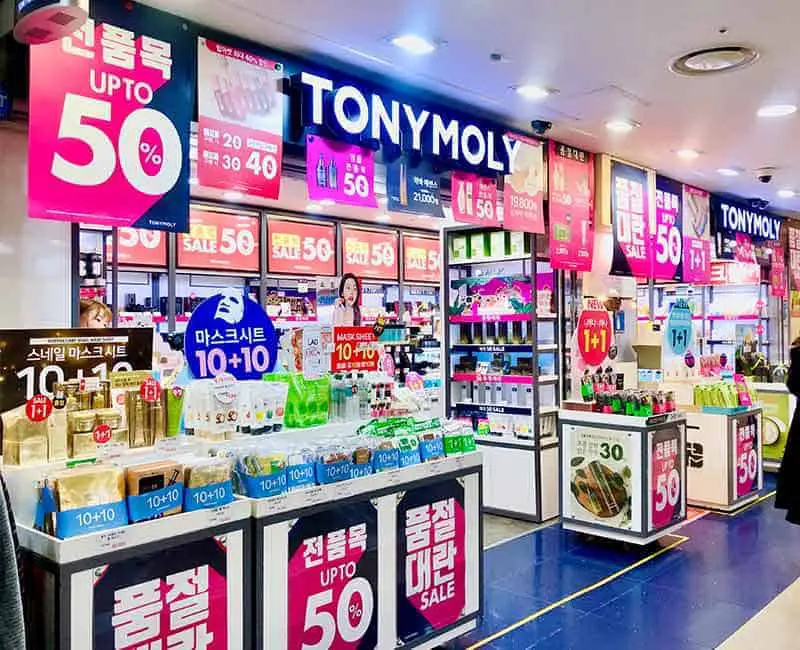 There are many underground shopping malls and you don't need to travel too much for them, you can just find them below the ground. Like everything else, they are also properly constructed and are fit to use for all locals and foreigners. You would not see such a massive representation of architecture in any other place except Korea. Here you can check the best underground shopping malls in Seoul for great value and deals!
What to eat on a rainy day?
Now, on a rainy day in Seoul, you can celebrate it traditionally by eating foods and beverages that have traditional or cultural importance in South Korea.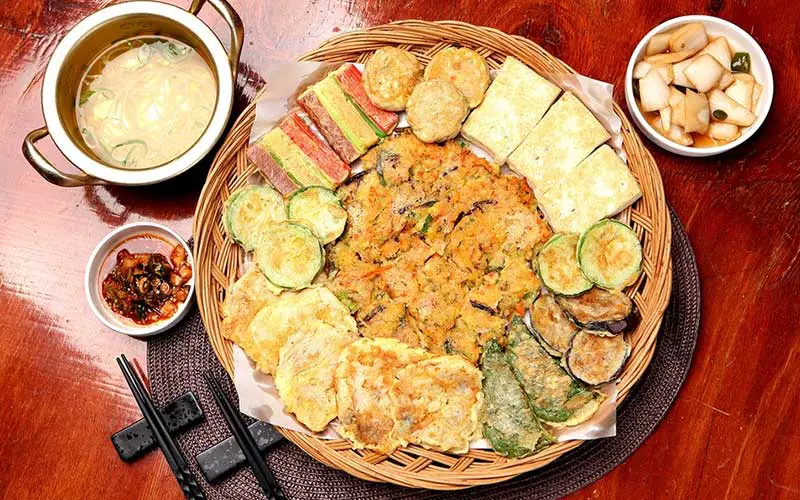 Bindaetteok
This is a traditional pancake found commonly in traditional markets along with pajeon. It is made from mung beans, sprouts, and other vegetables. It is fried in oily and served with soy sauce. Must try it if you come to Korea.
Makgeolli
To go with the pajeon and bindaetteok, many people drink Korean rice wine. The combination is heavenly and the perfect way to enjoy the rain. Here you can find the best Makgeolli bars in Seoul where are loved by locals.
Pajeon
It is a traditional pancake made in various ways. Normally involves seafood and vegetables mixed in a traditional way to serve the cravings during these rainy days. Also, it is served with a dip of different sauces, mainly soy sauce. It is said that Koreans can hear the sound of rain from pajeon. This makes them incline towards eating this Pajeon along with the traditional wine, Makgeolli.
Conclusion
A rainy day may destroy many feelings but only in other parts of the world. This doesn't happen in Seoul. Come to enjoy the moments in several recreation centers and places of indoor activities. Also, experience culture and art through different museums. Plus, you can just get silly in a large number of ways and make yourself enjoy it. Seoul Indoor Activities include a wide range of methods to enjoy yourself and no visitor can condemn Seoul after the different gracious moments it gives you even in moments of too much rain. Seoul Rainy Day Activities are yet to be discovered since options don't die in this city.
You may also like:
IVK's Top Picks – Day Tours, Tickets, and Travel Activities
Seasonal Picks!😍