Last Updated on November 24, 2023
Seoul and its surroundings are full of life, with restaurants, coffee shops, bars, and karaoke rooms for all tastes and all-night hours. And yet, there is a trend that comes back every time temperatures rise that we should not forget. Pool parties in Seoul are highly recommended to cool off, but most foreign tourists or residents have difficulty finding them.
End the Summer in Style
That is because pool parties are often marketed to the venues' original audience on the official Korean websites or Naver. I wanted to highlight the top ones happening every summer so that you can add this to your Seoul bucket list. You can also find great pool parties right outside of the city. Stay tuned!
Top Pool Parties in Korea
Paradise City, Incheon
The first pool party venue I have discovered is Paradise City's 2023 PURPOOL PARTY
Paradise City is a luxury hotel in the Incheon area. It contains CIMER, a Korean-style sauna with European aesthetics offering two large swimming pools and relaxation facilities that change themes every season.
[source: Paradise City]
From July 22th to 23th, you can enjoy a fun and fancy pool party from 3 p.m. to midnight.
Entry tickets are for 9 hours and cost 77,000 KRW for adults. It's included Pool Party Welcome Drink. You can also rent cabanas and tables (starting from 900,000 KRW for a table and 2,000,000 KRW for cabanas), which are sold on-site (first-come, first-served basis), complete with champagne and other drinks.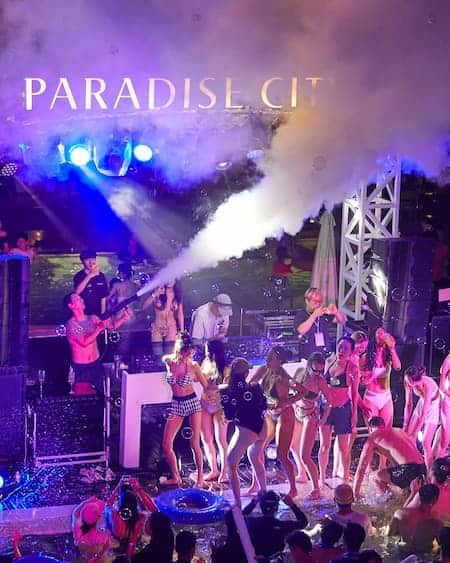 [source: Paradise City]
The pool is accompanied by a rotating DJ lineup for maximum resort fun and is quite popular among friend groups and couples! Find more ticket information here.
Experience the breathtaking scenery and romance as if facing the sky with famous artists at Paradise City, the hottest pool party destination of '23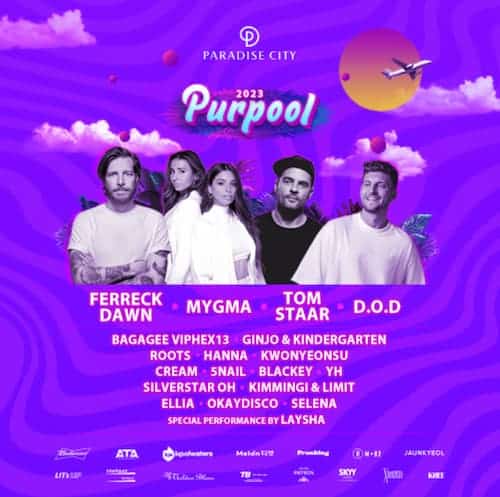 [source: Paradise City]
Enjoy nonstop dance vibes and various events through a diverse DJ lineup, both domestic and international. Paradise City Hotel is next to Incheon International Airport, accessible with an airport shuttle, by car, or by public transportation.
Click here for more details.
Banyan Tree Club & Spa Seoul, Oasis Pool
A pool party with a familiar name, "Wonder Pool Party," is also at the famous Banyan Tree Club & Spa. From June to September this year, the establishment has a themed pool party with performances by DJs and artists around the outdoor swimming pool, 'The Oasis.' The charm of Banyan Tree lies in the feeling of being away, although being in the middle of Seoul and overseeing Namsan Tower and its surroundings.
[source: Banyan Tree]
From July to August, you can enjoy a fun and fancy pool party every Saturday from 8 p.m. to 2 a.m.. Adult entry costs 77,000 KRW and cabanas and poolside beds are also available; you can check the ticket information here and complete the full list here.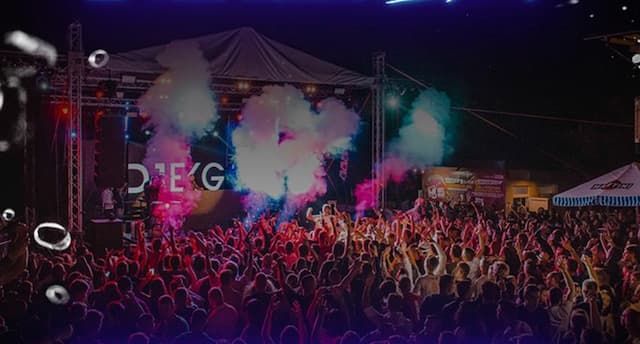 Whether you are looking for pool party excitement or a quiet break from the busy Seoul lifestyle, this club is highly recommended for the ultimate poolside experience.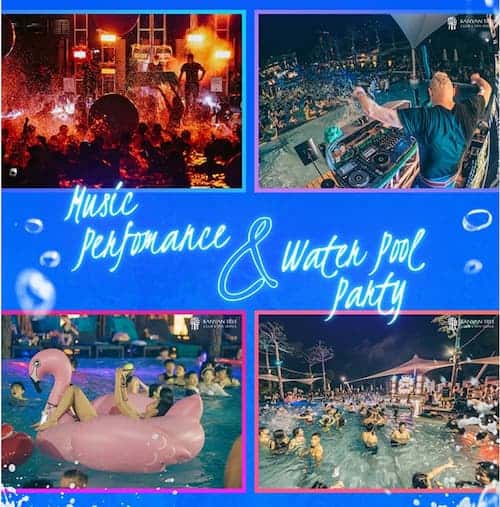 You can go to Banyan Tree by getting off the subway at various stations: Dongguk Univ. Station (동대입구) Station on Line 3, Chungmuro Station on Line 3 and 4, Dongdaemun History & Culture Park Station on Line 2, 4, and 5, or Hangangjin Station on Line 6.
Tann Beach in Yangyang
Seoul can have charming poolside activities to offer, but you can also enjoy them a bit further away, with the beach as a backdrop. Tann Beach is a club that provides pension rooms and holds pool parties on Friday and Saturday, with a rotation of DJs to play EDM or Hip-hop.
Tann Beach has 3 bars, including one on the water. It is a fun establishment, but besides chilling out poolside, you can also take surfing lessons, do floating Yoga, free dive, shop, and eat on the premises. The club/pension is close to the famous bar "Surfybeach," right on the beach, which is a great way to end the pool day. Having visited it, I would recommend it for a 2-day trip with friends.
[source: Tann Beach]
The prices are reasonable, weekdays 44,000KRW and weekends 55,000KRW, you can check the villa price here.
You can access the club from Seoul with their official shuttle (to reserve on the website) and take your car from the Seoul-Yangyang Expressway to the Donghae Expressway. Should you take the bus, leave the East Seoul Bus Terminal and get off at the "Hajodae" bus stop. You can take the 18-minute walk or take a short taxi ride.
Honorable mentions
A total of 7 parties with a different theme each time are at the Grand Walkerhill Seoul during the summer. For this season, parties will be held until August 26th (the closing party).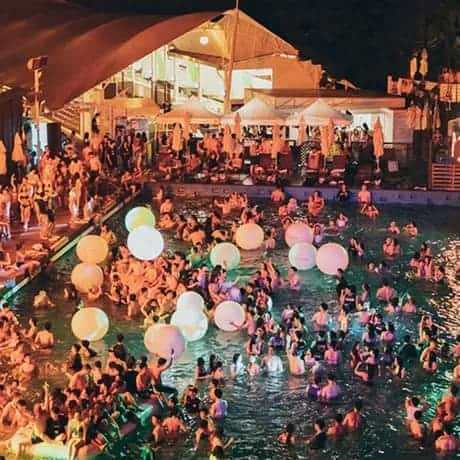 [source: Grand Walkerhill Seoul]
The Walkerhill hosts some of the biggest pool parties in the city, but the price of 110,000 KRW for a 1-day pass can spark some hesitation. A one-time trial, however, can be worth it. Here you can buy the ticket!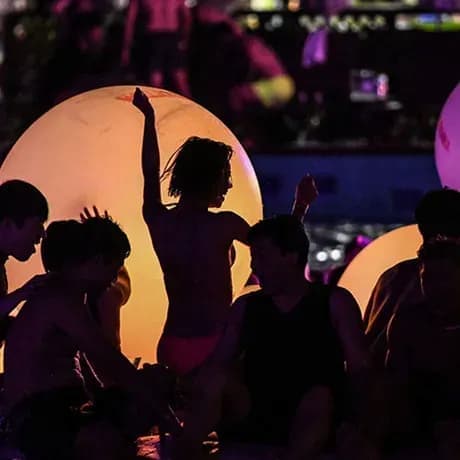 Hamilton Hotel Pool Festival in Itaewon
The last pool party of the summer at the Hamilton Hotel in Itaewon is on August 27th, 2022. You can enjoy handmade burgers and cocktails poolside while listening to house and electro music. Certain reviews mention the swimming pool being small and only staying open for a short period. Still, the hotel's popularity makes this event attractive to the young hip population of Seoul.
The entrance fee is 35,000 KRW for early birds and 50,000 KRW for general admissions, from 6:30 p.m. to 10:30 p.m.
You can access it right at Exit 1 of line 6, at Itaewon station.
There are many ways to have fun around Seoul besides these particular events, but I wanted to recommend the most popular pool parties in and near Seoul on social media. Pool parties in Seoul are a great way to cool down, dance the night away, and make friends for the summer. Hopefully, you get to enjoy them even more!
You may also like:
IVK's Top Picks – Day Tours, Tickets, and Travel Activities
Seasonal Picks!😍