Last Updated on July 2, 2023
Myeongdong Night Market is a bustling and vibrant destination in the heart of Seoul, South Korea. Known as a shopper's paradise, this market offers many shopping options, delectable street food, and a lively atmosphere that attracts locals and tourists. We will explore the location of Myeongdong Night Market, delve into what you can find within the market, and highlight its unique experiences.
Read also:
About Myeongdong Night Market
Location
Myeongdong Night Market is in the bustling Jung-gu district of Seoul, South Korea. It is positioned near Myeongdong Station, making it easily accessible for locals and tourists. The specific address of the market is 8-3-ga, Chungmuro 2(i)-ga, Jung-gu, Seoul.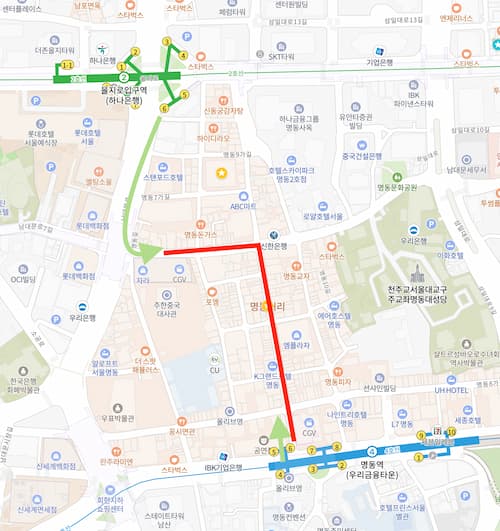 Opening times
Myeongdong Night Market operates primarily in the evening, starting from around 5 PM and extending into the late hours of the night. Some stores may begin to close around 11 PM. The opening time may vary slightly depending on the season and specific stalls.
It's important to note that arriving too early, around 5 PM, may mean encountering a limited number of open stalls. To fully experience the vibrant ambiance and enjoy a wide range of offerings, it is advisable to arrive a bit later. As the evening progresses, the market peaks, attracting many people seeking shopping delights and culinary treats. The later you come, the more vibrant and lively the atmosphere becomes as more visitors join in to explore the market's offerings. 
How to get to Myeongdong Night Market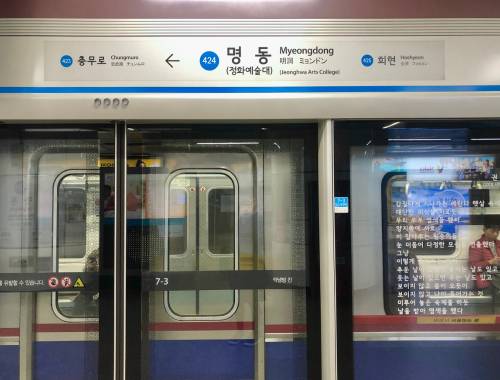 By Subway
The most popular option is to take the subway and disembark at Myeongdong Station. This station is well-connected and serviced by Line 4, making it easily accessible from various parts of Seoul. Take the metro line 4 to Euljiro 1-ga Station (Exits 5-7) or Myeongdong Station (Exits 5-8). It's just a short walk to the market from the station, and signs and directions are available to guide you along the way. 
By Bus
Numerous bus routes pass through Myeongdong, making it accessible from different parts of the city. You can check the local bus schedules and routes on the Kakao Map app to find the most convenient option based on location.
By Taxi
For those who prefer taxis, they are readily available throughout Seoul. Simply provide the address to the driver, and they will take you directly to Myeongdong Night Market. Taxis offer a convenient and comfortable mode of transportation, especially for those carrying heavy shopping bags or seeking a more direct journey.
What's in Myeongdong Night Market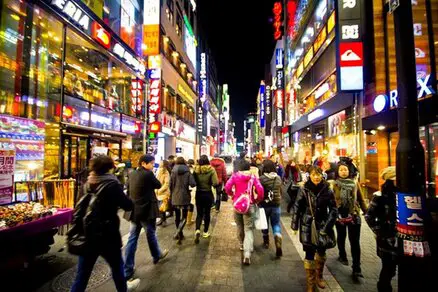 Myeongdong Night Market is a vibrant and bustling destination with many attractions and experiences. As a renowned shopping paradise, the market is home to popular international brands like Zara, H&M, Uniqlo, Forever 21, and Adidas, and local boutiques, allowing you to indulge in the latest fashion trends. K-beauty enthusiasts will be delighted by the presence of top-notch brands like Laneige, Innisfree, Etude House, The Same, Missha, and Skinfood, offering a wide range of skincare products and cosmetics. From trendy fashion finds, unique souvenirs, and accessories to K-pop merch, Myeongdong Night Market caters to all shopping desires.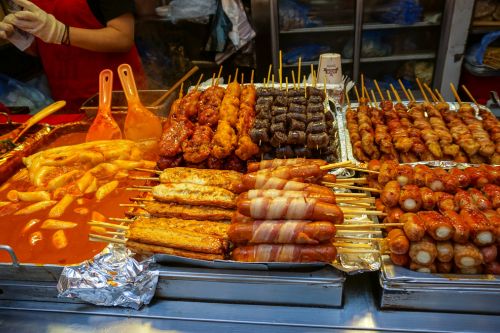 In addition to shopping, Myeongdong Night Market is renowned for its mouthwatering street food. Food stalls line the streets, offering a delightful culinary adventure. You can indulge in a ton of Korean favorites, such as spicy rice cakes (tteokbokki), Korean fried chicken, hotteok (sweet pancakes), and gimbap (seaweed rice rolls). International flavors are also available, with options like takoyaki (Japanese octopus balls) and Thai-style ice cream rolls, and so much more. It's truly a paradise for foodies.
Things to do at Myeongdong Night Market
Start a food tour
Myeongdong Night Market is a food lover's paradise, boasting over 200 vendors and stalls that will spoil you with choices. As you step into this bustling market, your senses will be instantly captivated by the enticing aromas and mouth-watering flavors wafting through the air. With prices ranging from 2000 to 15000 won (about 1.5 – 11 USD), you can indulge in a wide variety of mouth-watering street food. 
Grilled Skewers
Indulge in the mouthwatering grilled skewers! Vendors skillfully prepare a variety of skewers, from succulent marinated beef to juicy chicken with two types of sources, spicy and teriyaki(soy sauce-based). It's the perfect balance of smokiness, tenderness, and subtle spices.
Baked Cheese & Egg bun
Savor the delicious delight of Myeongdong's grilled cheese and egg bun — a warm, crusty bun filled with a perfectly cooked sunny-side-up egg. A heavenly combination of flavors and textures that will leave you craving for more.
Price: 2,000 KRW – 5,000 KRW
Fried Chicken Box
Experience the ultimate Korean fried chicken with a delectable box of crispy, golden-brown chicken pieces, perfectly seasoned and served with a tantalizing assortment of flavorful sauces. From spicy gochujang to tangy soy garlic, these sauces elevate the already addictive fried chicken to a whole new level!
Price: 10,000 KRW – 20,000 KRW
Bungebbang
Try the fusion of tradition and flavor with Bungeobbang, a classic Korean winter street food. This delectable treat features a fluffy fish-shaped pastry filled with a modern twist. Bite into the warm, golden-brown exterior to discover a delightful surprise inside—whether it's luscious chocolate, custard, cheese, or red bean paste.
Kimchi & Pork Belly Roll
This delectable creation brings together the tangy and spicy notes of kimchi, the creamy and melty goodness of cheese, and the savory succulence of pork belly. With each bite, you'll be treated to a harmonious blend of textures and flavors—a perfect balance of heat, richness, and a hint of smokiness. You can choose 3 sauces on it!
Hand-made Fish Cake
These exquisite fish cakes are crafted with precision and care, enveloping a diverse range of delectable fillings within their tender and flavorful exterior. From succulent crab to savory sausage, each bite presents a unique combination of textures and flavors that will keep you coming back for more.
Price: 4,000 KRW – 5,000 KRW
Tornado Potato
These culinary wonders take the humble potato to new heights by transforming it into a spiral-cut masterpiece on a stick. Crispy on the outside and fluffy on the inside, these spiral potatoes are a perfect canvas for an array of tantalizing seasonings and toppings from onion, honey butter, barbecue, and cheese!
Souffle Cake
Each delicate bite of this fluffy, melt-in-your-mouth cake unveils a burst of irresistible sweetness. The rich and creamy Nutella variant envelops your taste buds in a velvety embrace, while the blueberry offers a delightful tanginess that perfectly complements the airy texture.
Price: 10,000 KRW – 15,000 KRW
You can find more Korean specialties and international cuisine from Thailand, Japan, etc. Don't miss the chance to try famous dishes like Grilled Lobsters, Tornado Potato, Roasted Sweet Potatoes, Burgers, Fried Chicken, Tteokbokki, Hotteok, Takoyaki, and Mochi with Strawberry and Red Bean. Let your taste buds lead the way as you explore this culinary haven.
Dive into the world of K-beauty and Skincare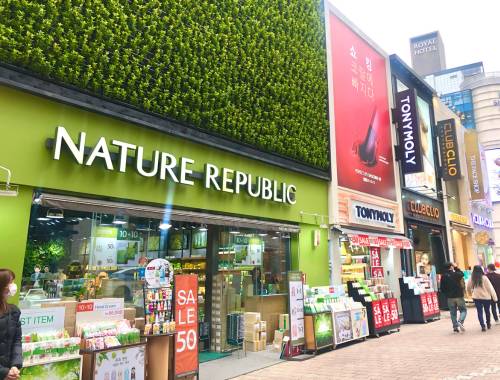 Myeongdong is renowned for its abundance of cosmetic shops and beauty boutiques, making it a paradise for beauty enthusiasts. As you venture through Myeongdong, you'll have the opportunity to visit famous beauty brands like Innisfree, Nature Republic, the SAEM, Skinfood, Missha, Olive Young, Holika Holika, and Etude House. These well-known brands offer an extensive range of high-quality products that cater to various skincare needs.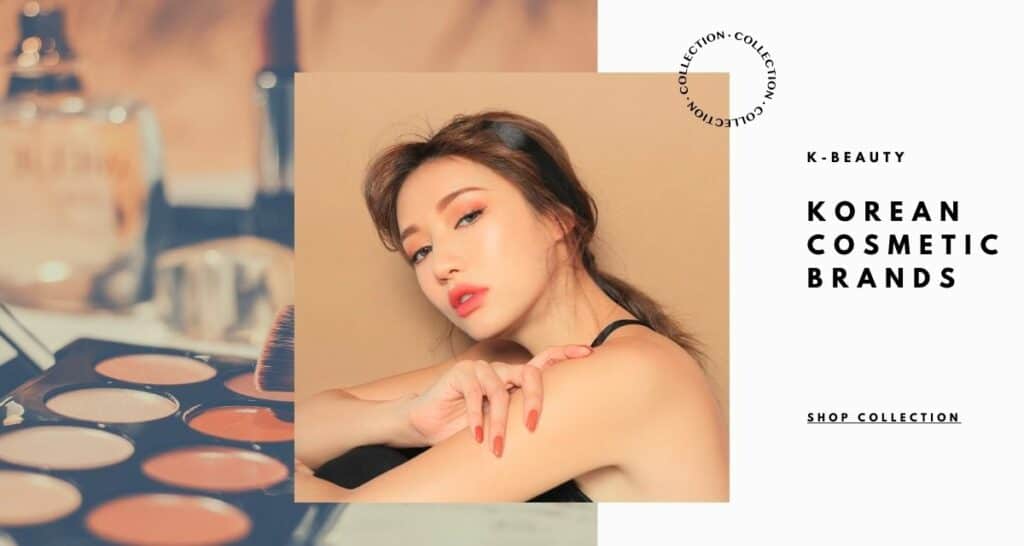 Take your time to browse the shelves filled with cleansers, moisturizers, serums, lotions, and a wide array of beauty essentials. From traditional Korean ingredients to innovative formulations, you'll find products that cater to every skin type and concern. The knowledgeable staff at these stores can provide recommendations and advice to help you create a personalized skincare routine.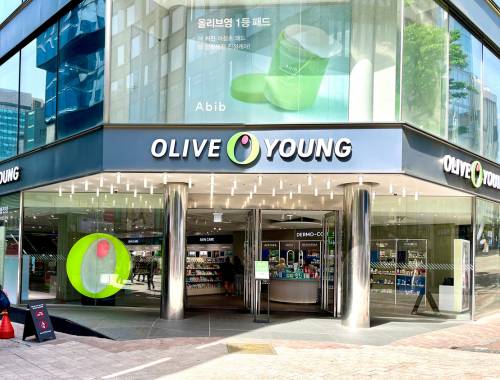 One of the highlights of shopping for beauty products in Myeongdong is the opportunity to enjoy discounts and promotional offers. Many stores offer attractive discounts, bundled sets, and special promotions that allow you to get more value for your money. Additionally, when you make a purchase, you may receive small gifts like sheet masks or samples, adding excitement to your shopping experience.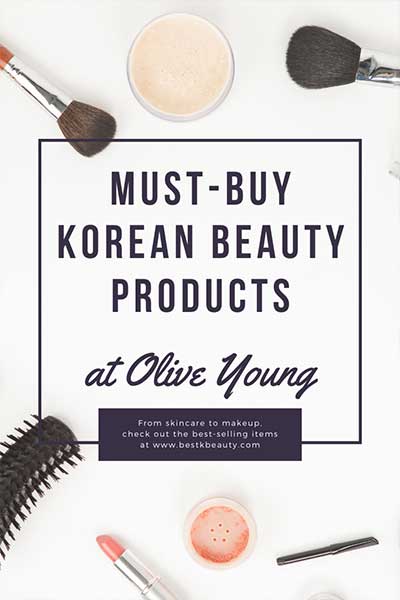 Explore Trendy Fashion
Myeongdong is also a bustling fashion hub renowned for its trendy and stylish clothing. Here, you can find the most recently trendy clothes Korean people love. Choose from many fashion boutiques that line the streets, offering the latest Korean fashion trends. Myeongdong caters to various styles and preferences, from streetwear to high-end brands, showcasing what's currently in vogue among locals.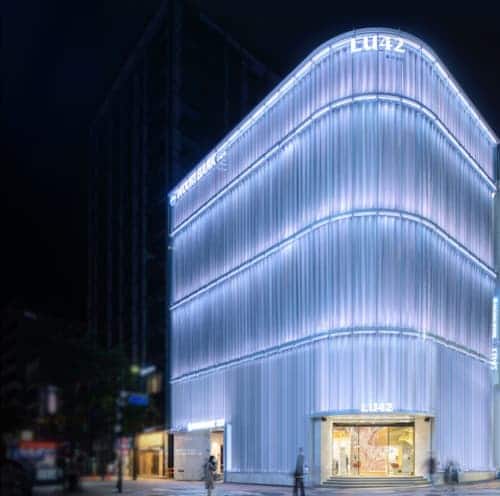 Hunt for Stylish Accessories
Complete your look with fabulous accessories found in Myeongdong. From cute keychains and stylish bags to fashionable jewelry, hats, scarves, and more, you'll find everything you need to enhance your style. Let your creativity shine as you mix and match the perfect accessories to express your unique personality. Myeongdong's stores are a treasure trove of fashionable goodies, so prepare to hunt for the perfect finishing touches!
Get Some Unique Souvenirs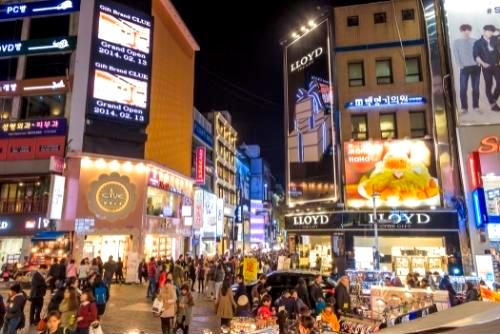 This is a great place to find unique souvenirs and gifts. Many local shops and street vendors sell traditional Korean crafts, keychains, stationery, hanboks (traditional Korean clothing), and other charming mementos that you can bring back home to remember your trip to Seoul. These souvenirs also make great gifts for your loved ones, so go ahead and spread the joy of Myeongdong!
Grab Some K-pop Merchandise
If you're a fan of K-pop, Myeongdong is a must-visit destination. You'll find a treasure trove of goodies featuring your favorite K-pop idols, from albums and posters to trendy clothing and accessories. Don't miss the chance to flaunt your fandom and snag some exclusive collectibles to show your love for your beloved artists.
Enjoy a Nighttime Stroll
When the sun goes down, Myeongdong comes alive with a vibrant energy. Take a chill nighttime stroll through the bustling streets and soak in the electric atmosphere. The colorful lights and lively signs will create an unforgettable experience. You might even catch some street performances, live music, and the buzz of fellow shoppers getting their late-night retail therapy fix.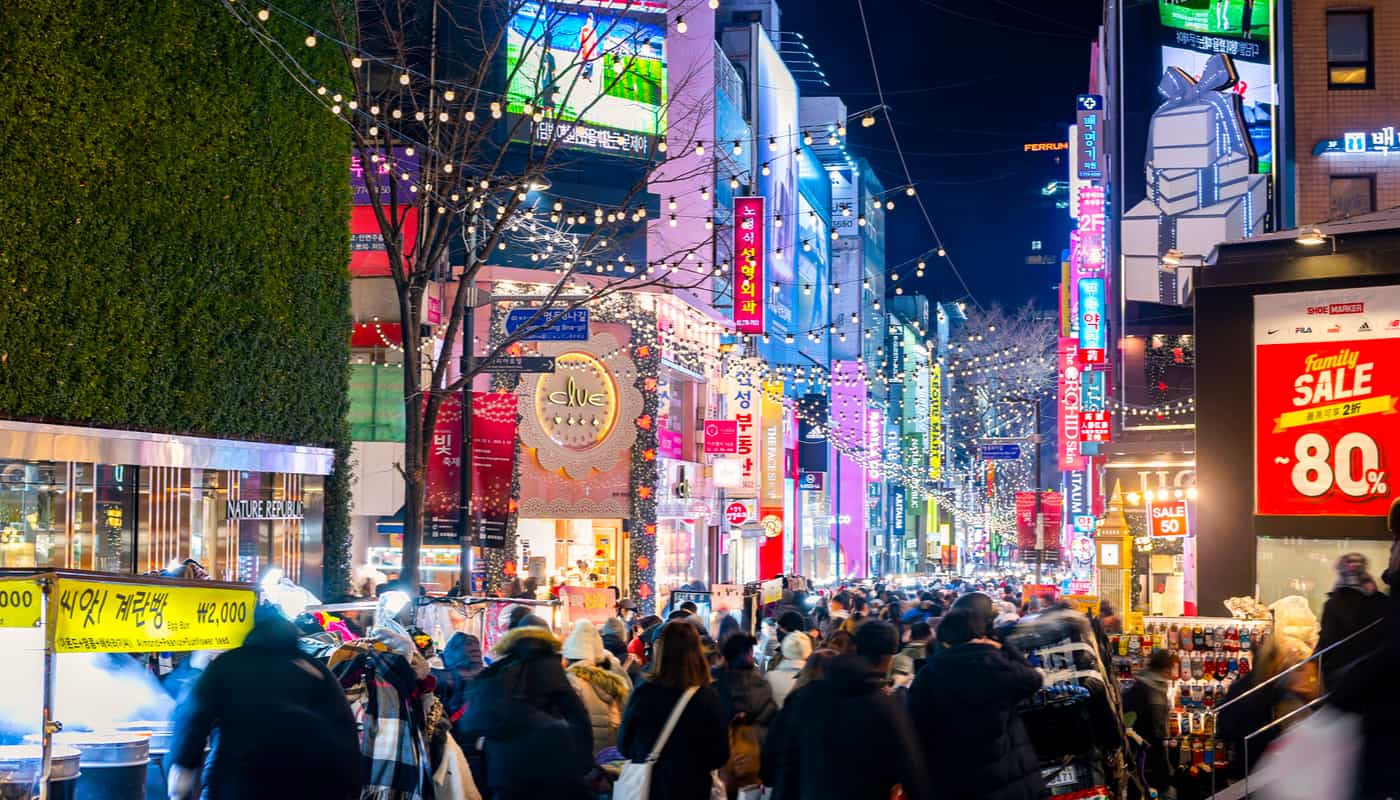 Capture Insta-Worthy Moments
Get your camera ready because Myeongdong is a paradise for Instagram lovers. Snap pics of the mouthwatering street food, the lively streets, and the cool storefronts that scream "Korea." Show off the vibrant essence of Myeongdong and create envy-inducing posts to share with your friends and followers. Trust us; you won't want to miss out on those insta-worthy moments!
Things to do nearby Myeongdong Night Market
Explore Myeongdong Cathedral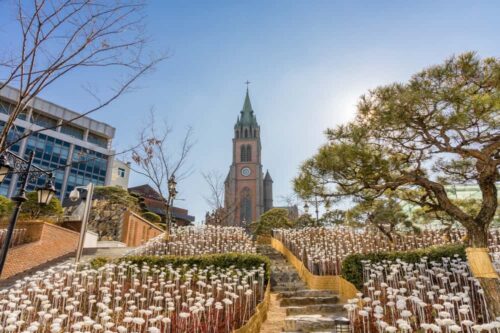 Stroll to Myeongdong Cathedral, a stunning Catholic church with a lot of history. It's an impressive sight with its beautiful architecture and colorful stained glass windows. Whether religious or not, it's a peaceful place to appreciate art and tranquility.
Beneath the cathedral, you'll stumble upon an impressive underground shopping center that offers much more than just retail therapy. It's a hidden gem with delightful surprises, including cozy cafes, charming bookstores, mouthwatering restaurants, a convenient subway outlet, and even one of Seoul's largest 7-Elevens.
Visit The Stylenanda Pink Hotel and Cafe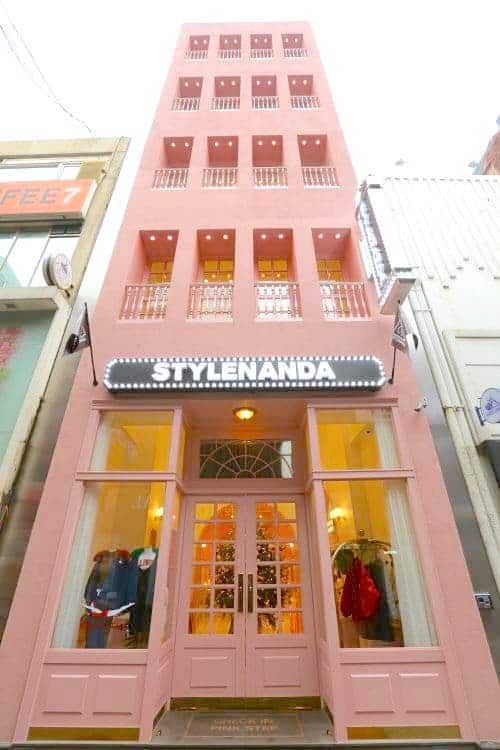 The Stylenanda Pink Hotel and Cafe is a haven for Korean fashion and beauty enthusiasts, a flagship store like no other. The store is designed like a hotel, with each floor showcasing different areas such as the lobby, bedrooms, and spa. With its funky and modern style, Stylenanda offers a unique shopping experience that showcases its cosmetic brand, 3CE.
The 1st and 2nd floors are filled with 3CE cosmetics, while the other floors are filled with trendy clothing and fashion accessories. When you visit, check out the Pink Pool Cafe on the fifth floor for a delightful culinary experience. And don't forget to head to the rooftop for breathtaking views and Instagram-worthy photos.
Shopping at Lotte Department Stores Myeongdong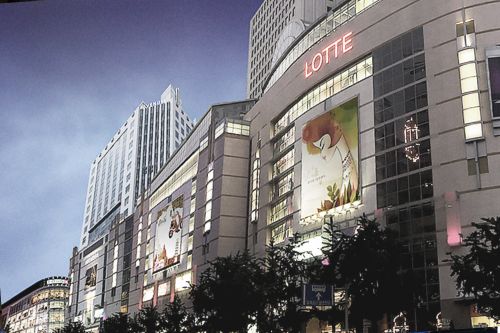 There are three Lotte malls in Myeongdong to choose from! Lotte Young Plaza is a six-level shopping haven featuring awesome stores like Muji and Uniqlo and a basement dedicated to K-Pop and cartoon characters.
If you're into upscale shopping, check out the Lotte Department Store Avenue branch. They've got premium stores galore! And don't forget to swing by Lotte Department Store, where you'll find many fashion, electronics, homeware, and jewelry stores. Oh, their basement has an incredible food court and a luxury food store to make your taste buds dance.
Enjoy a Show at NANTA Theatre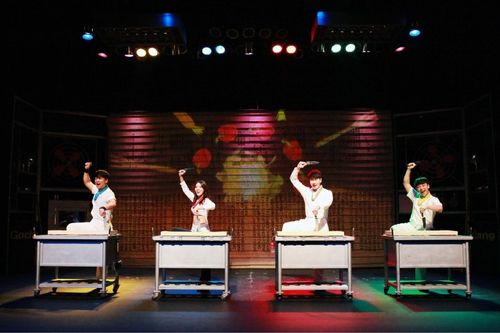 Get ready to be entertained at NANTA Theatre! Don't worry if you don't speak Korean. It's a non-verbal show that combines music, comedy, and cooking. You'll be amazed by the talented performers who turn kitchen utensils into musical instruments. It's a high-energy and hilarious performance that will leave you with a big smile.
Experience Mud Spa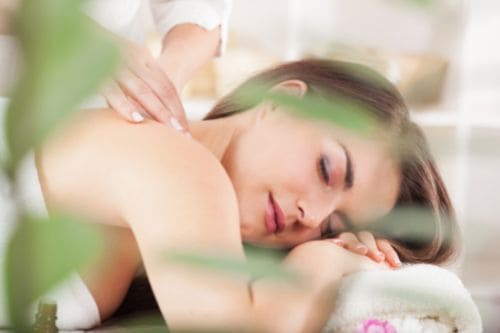 Treat yourself to a unique spa experience at a nearby mud spa. Dip into warm, mineral-rich mud and let it work its magic on your skin. It's a fun and relaxing way to unwind and rejuvenate. Don't worry. They'll provide everything you need to get messy and have a good time! You can find it on Klook.
Try Hanbok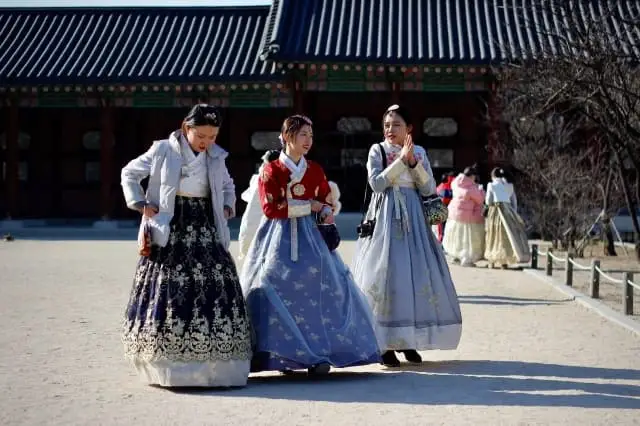 Dress in traditional Korean attire, known as Hanbok, and feel like royalty for a day. Rent a beautifully designed Hanbok, wander around Myeongdong, and turn heads with your elegant look. It's a fantastic opportunity to immerse yourself in Korean culture and capture some amazing photos. You can book it online for a reasonable price on Klook.
Hang out at a Themed Cat Cafe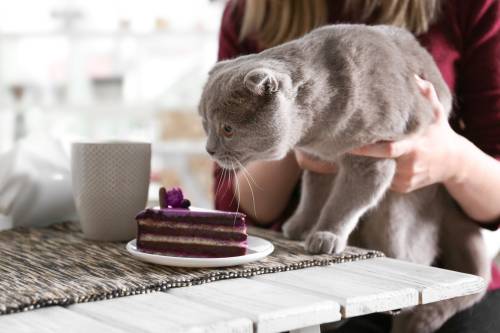 If you're a cat lover, this is the place for you. There is a lot of cat cafe in Myeongdong. Sip on your favorite beverage while cute and cuddly cats roam around you. It's a cozy, relaxing atmosphere where you can pet and play with these adorable furballs.
Some popular cat cafe
Skycat Cafe
Cat cafe Goyangi Noriteo
Opening hours: 12 PM – 11 PM daily
Change Your Style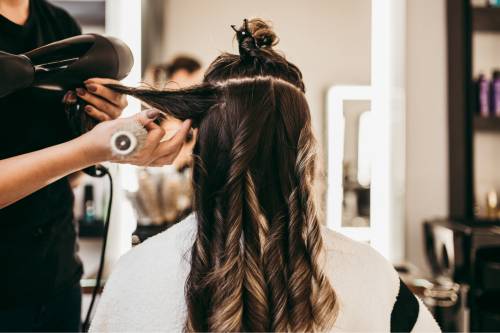 Embark on a transformative journey at a hair salon in Myeongdong, Korea, where cutting-edge style meets impeccable craftsmanship. Step into a haven of beauty and relaxation, where skilled hairstylists work their magic to create stunning looks that reflect your unique personality. From trendy cuts to vibrant colors, the salon offers a wide range of services tailored to your individual taste and preferences. This extraordinary salon experience will leave you with a fabulous new look and unforgettable memories of your time in Myeongdong!
Exchange money with the best rate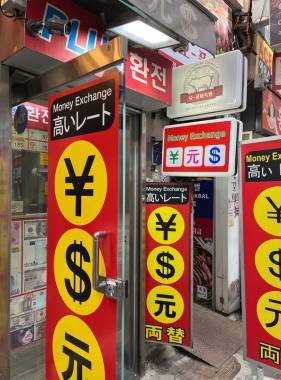 Regarding exchanging money in Seoul, the Myeongdong neighborhood is where to go for the best rates. Forget about doing it at the airport; head straight to Myeongdong to get the most out of your currency. The forex shops in this area are known for their reliable service and friendly English-speaking staff so you won't have any communication issues. The icing on the cake is that many of these shops operate 24 hours a day, ensuring you can exchange your money at any time that suits you. So, save yourself the hassle and get the best rates by visiting the forex shops in Myeongdong.
Best restaurants nearby Myeongdong Night Market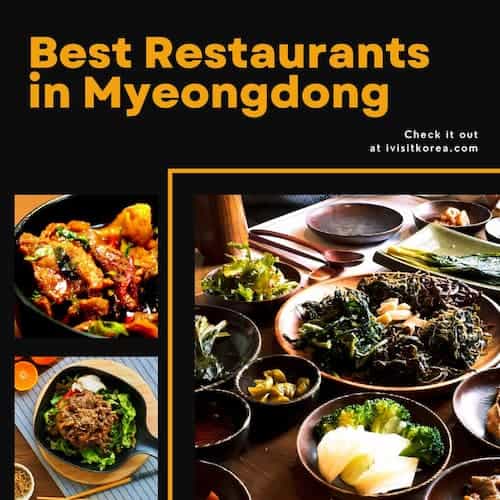 When you're in Myeongdong, don't just focus on shopping but also indulge in its culinary delights. While the street food alley is a must-visit, if you're looking for a more substantial meal, consider these popular restaurants:
Wangbijib Myeongdong Main store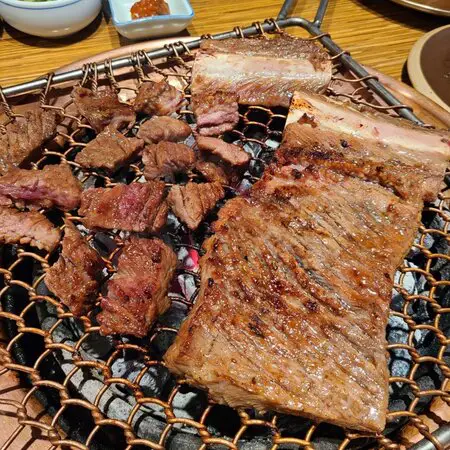 This place is a total BBQ hotspot; you don't want to miss out. They've got everything – juicy beef, succulent pork, and marinated cuts that will make your taste buds happy. There are multiple branches within the bustling streets of Myeongdong. If you've already been to the main store, why not try the Yukho Branch? It offers cozy window seats and is conveniently located across from the Embassy of China.
Opening hours: 10:00 – 22:00 (break time 14:00 – 17:00, last order 21:30)
Phone: +82237891945
Myeongdong Kyoja Main Store
Myeongdong Kyoja offers four main items, but each is a true delight. Don't miss their signature knife-cut, handmade Kalguksu noodle soup, a visitor favorite. The dumplings, or mandu, are also a must-try, with a perfect blend of flavors and textures.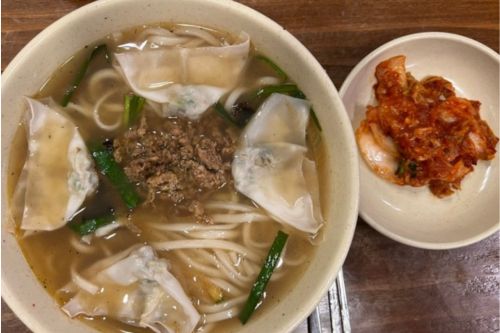 If you're in the mood for something spicy, go for the bibim guksu, a dish of spicy noodles that will leave your taste buds tingling. For a refreshing and unique option, try the kongguksu, which features noodles in cold soybean soup.
Address: 29 Myeongdong 10-gil, Jung-gu, Seoul
Opening hours: 10:30 am – 8:30 pm on weekdays  | 10:30 am – 9:30 pm on weekends 
Price: 7,000 KRW ~ 8,000 KRW (5 – 6 USD)
Phone: 02-776-5348
Yoogane Myeongdong Chicken Galbi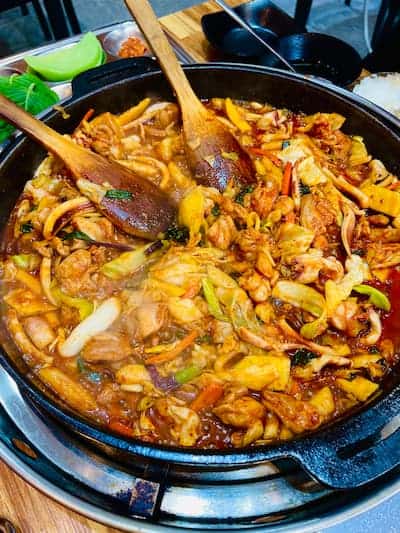 If you're in the mood for finger-licking spicy Korean fried chicken, go to Yoogane Myeongdong. They serve up delicious dakgalbi dishes packed with tender chicken, veggies, rice cakes, and their special gochujang sauce. With affordable prices and two branches right next to each other, Yoogane Myeongdong is the ultimate go-to spot for a satisfying and flavorful chicken feast.
Opening hours: 10 AM – 11 PM daily
Price range: ~10,000 to 20,000 won (7-16 USD)
Phone: +82237892492
Miseongok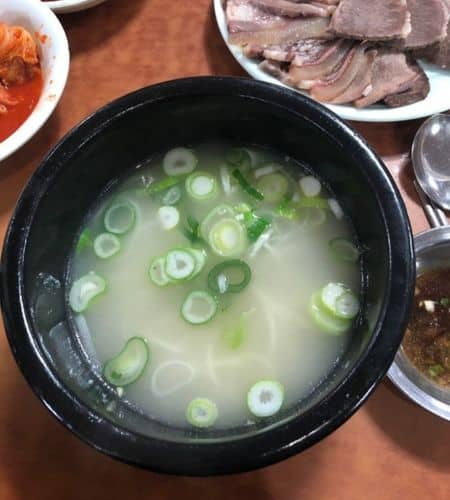 Tucked away in the quiet back alleys of Myeongdong, Miseongok is a hidden gem that has captured the hearts of local Korean workers. They have two items on the menu: Seolleongtang (Ox Bone Soup) and Suyuk (Boiled Beef Slices). Miseongok's Seolleongtang stands out with its clear and flavorful broth, and the quality of the meat is exceptional, featuring only tender lamb chops. It's the perfect spot to start your day with a hearty breakfast or a comforting lunch. For an unforgettable experience, pair the soup with the tantalizing Suyuk, and you'll be left with an indelible taste sensation.
For additional restaurant recommendations, refer to our comprehensive article on the best dining options in Myeongdong. It covers various establishments loved by locals and visitors, ensuring you'll find the perfect place to satisfy your culinary cravings.
Here are some useful tips for visiting Myeongdong Night Market
If you plan to go shopping, it's best to come early, around 4 PM. Few outdoor stalls are open now, making navigating the market easier. However, if you're specifically visiting for the food, it's better to come around 6 PM or later. This way, you'll find a wider variety of food stalls and enjoy the bustling food scene of Myeongdong Night Market.
Come hungry: Myeongdong Night Market is a food lover's paradise, so make sure to come with an empty stomach.
Dress comfortably: The market can get quite crowded, so wear comfortable shoes and clothing that allows you to move around freely. This will ensure a more enjoyable experience as you navigate the bustling streets.
Bring cash: While South Korea is becoming increasingly cashless, it's still a good idea to bring cash when visiting Myeongdong Night Market. While some vendors may accept credit cards, most still prefer cash.
Bargain wisely: Don't be afraid to negotiate prices, but do so respectfully. Remember that haggling is part of the experience, but don't push it too far.
Keep an eye on your belongings: Like any crowded market, it's important to be mindful of your belongings and keep them secure. Be cautious of pickpockets, and keep your valuables in a secure bag or wallet.
Bring your passport: Don't forget to bring your passport while shopping in Myeongdong. Many shops offer tax refunds for purchases over 30,000 won ($23).
In summary, Myeongdong Night Market is an absolute must-visit destination that offers a thrilling and diverse experience for all. With its bustling atmosphere, mouth-watering street food, trendy boutiques, and captivating attractions, it truly has something for everyone. So, come prepared to eat, shop, immerse yourself in Myeongdong Night Market's vibrant culture, and create unforgettable memories in the heart of Seoul.