Last Updated on September 6, 2023
Pohang's blend of natural beauty, cultural heritage, and modern attractions offers an enriching travel experience that caters to all interests. Whether you're an adventurer, a history buff, or a food lover, this coastal city has something special in store for you. Let's dive into some top activities and must-visit spots that make Pohang a true gem on the Korean Peninsula.
Read also:
Visit Homigot Sunrise Square to see the earliest sunrise in Korea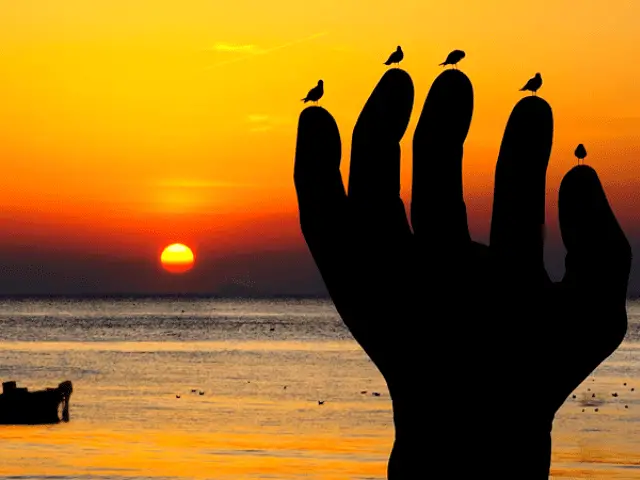 Start your Pohang journey with a captivating sunrise at Homigot Sunrise Square. It is known that Homigot's January 1st sunrise at 7:32 a.m. is Korea's earliest. This celestial event marks the start of a day and the birth of a new year as the sun's rays grace the horizon with an awe-inspiring play of colors.
Beyond its celestial allure, Homigot is on the brink of transformation, soon to become the sprawling Homigot Tourism Complex and Homigot Specialized Ocean Leisure Complex. Anticipated to be the eastern coast's largest tourism hub, it will host an ocean aquarium, an Ocean Ecological Park, youth training facilities, a beach dome, accommodations, and diverse stores. This complex is a nexus for forging deeper connections with nature and fellow travelers.
Central to this site is the iconic "Sangsaeng's Hand" sculpture. Representing unity, these two hands, one on land and the other in the ocean, embody the essence of coexistence. As the first rays of sunlight grace the two outstretched hands, they also touch the hearts of those who bear witness, igniting a sense of wonder, hope, and unity. In the quiet embrace of dawn, you are invited to reflect on the beauty of coexistence and the promise of a new day.
Open hours: 24/7
Phone: +82542705855
Explore Oeosa Temple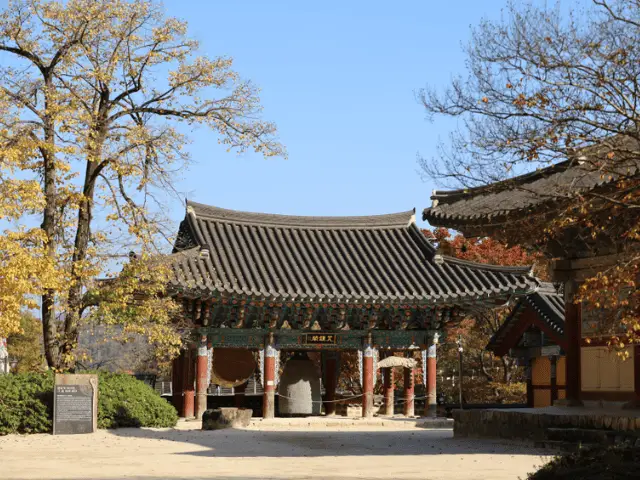 If tranquility and a deeper understanding of Korean culture are what you're after, then Oeosa Temple, nestled in the embrace of Unjesan Mountain, is your destination of choice. This hallowed sanctuary exudes the essence of Buddhism, set against a backdrop that seems to have sprung from the brushstrokes of an Oriental masterpiece.
The air carries a deep scent of Buddha, infusing a sense of calmness that envelops all who visit. A dragon-like lake wraps around the temple, while the uniquely shaped cliffs create a picturesque harmony reminiscent of traditional artwork. The breathtaking Unjesan Mountain and the azure waters of Oeoji further enhance the temple's allure, forming a backdrop of unparalleled natural beauty.
Visiting Oeosa Temple, you can tap into the essence of Korean spirituality and find solace in its teachings. As you walk the temple paths, engage in silent reflection, or sit and absorb the tranquil surroundings, you'll discover that Oeosa Temple is a place where time-honored traditions and modern aspirations harmoniously coexist.
Take a walk through Gyeongsangbuk-do Arboretum (경상북도수목원)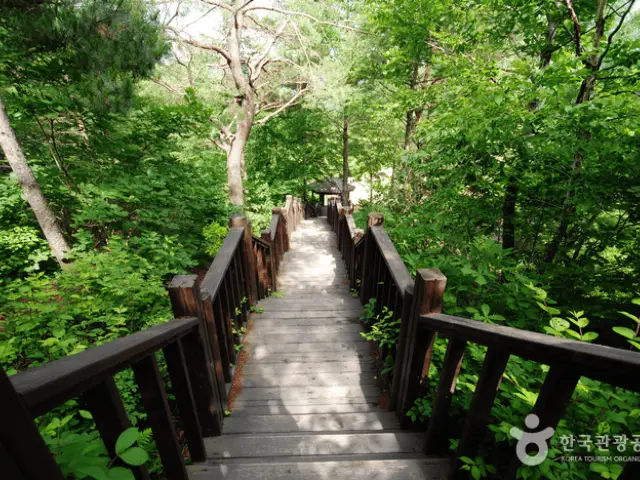 If you're all about soaking in natural beauty and exploring ecosystems, the Gyeongsangbuk-do Arboretum is your jam. This massive park, spreading over 1,200 acres, is like a playground for plant enthusiasts, offering an up-close look at plant life from around the globe.
The arboretum is a living tapestry of botanical diversity, thoughtfully organized into various zones that showcase plants from different continents and climates. They have the Alpine Botanical Garden, Ulleungdo Native Plant Garden, Needle-leaf Tree Garden, etc. With over 6,000 types of plants to check out, every step feels like a discovery, a new shade of green, or a funky new texture to geek out over. 
So when you visit, take a stroll, forget about your phone, and soak up the vibes. If you're feeling peckish, they have spots to chill and snack. Also, they have exhibitions so that you can learn more about those unique plants here. If you're traveling with family, embark on interactive scavenger hunts designed to educate and entertain visitors of all ages.
Open hours: 10:00 – 17:00 in Summer | 10:00 – 16:00 in Winter
Phone: +82-54-262-6100
Immerse in the seascape at Yeongildae Maritime Pavilion (Yeongildae haesangnugak)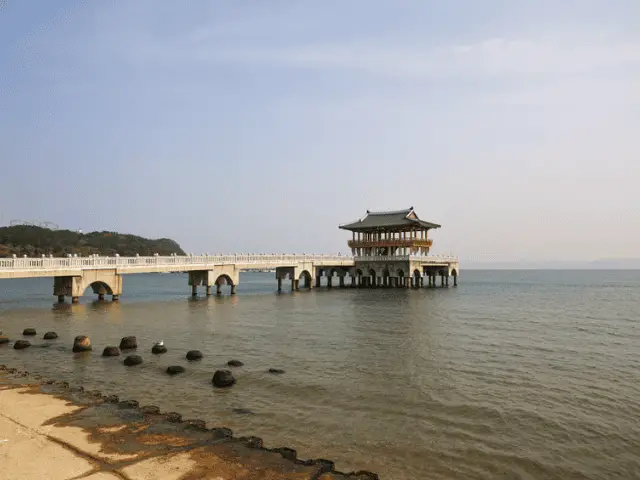 If you want to soak in seaside splendor, the Yeongildae Marine Pavilion has your back. This unique spot, perched at the end of a pier extending from Pohang Beach into the ocean, offers a front-row seat to the sea's beauty.
Stroll across a stone bridge from the beach and find yourself in front of a pavilion that reflects tradition. Climb the second floor and brace yourself for a view that'll steal your breath away. The panoramic sight of Yeongilman Bay and the iconic POSCO melting into the sun-kissed sea is something you won't forget in a hurry. When night falls, the pavilion transforms into a brilliant radiance. You can admire the city lights while listening to the waves. Keep your camera handy because you can get many fantastic photos on Instagram.
Take a boat ride on the Pohang Canal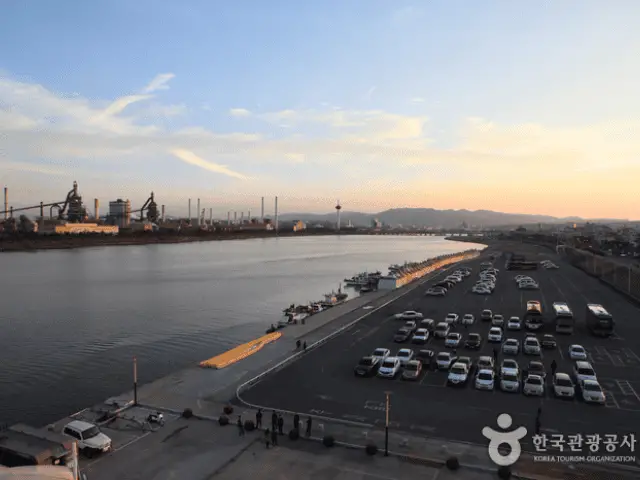 Hop on board for a cruise through the Pohang Canal, a unique passage that weaves through the city's heart. This canal, fully completed in January 2014, is like a liquid thread connecting Pohang's Songdo-dong and Jungdo 1-dong. It links the waters beneath Dongbin Daegyo Bridge with the scenic Hyeongsangang River to the south.
Here, you'll be taken on a chronological journey through history, witnessing Dongbin Inner Port's transformation and the canal's birth. As you explore, you'll also be treated to sweeping views of the canal's expanse, with the water shimmering in the sunlight. This is a fantastic way to explore the city.
See the charm of Guryongpo Japanese House Street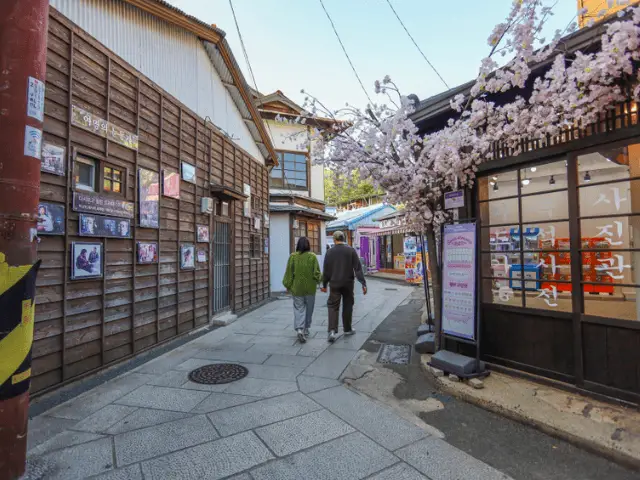 Guryongpo Japanese House Street is a significant chapter in history when Japanese settlers found their home in Joseon following the 'Joseon-Japan Trade Treaty' of 1883. Pohang-si has meticulously preserved this site, now known as 'Japanese House Street,' where a handful of original houses remain as living testaments to the past.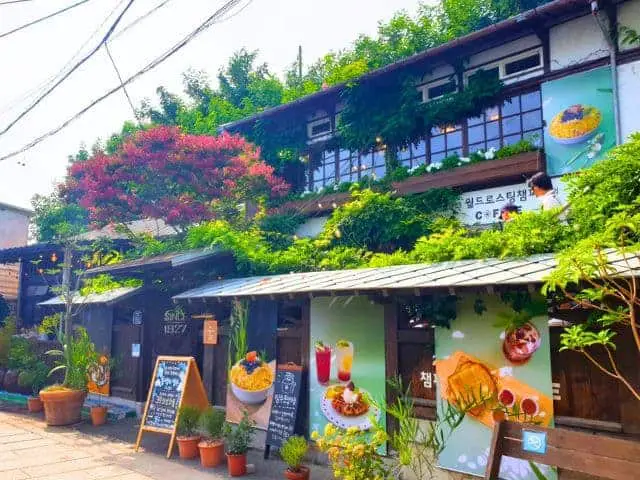 Among the historic structures is 'Hurusattoya,' once a bustling restaurant and now thoughtfully conserved as a teahouse. Here, you can savor a range of Japanese teas and even immerse yourself in yukata-clad elegance, experiencing a slice of history firsthand. There's also a 'model mailbox' from the 1900s that showcases the era's design aesthetic, offering a tangible connection to yesteryears, and a museum (Hashimoto's house) offers a glimpse of home features distinct elements of traditional Japanese architecture.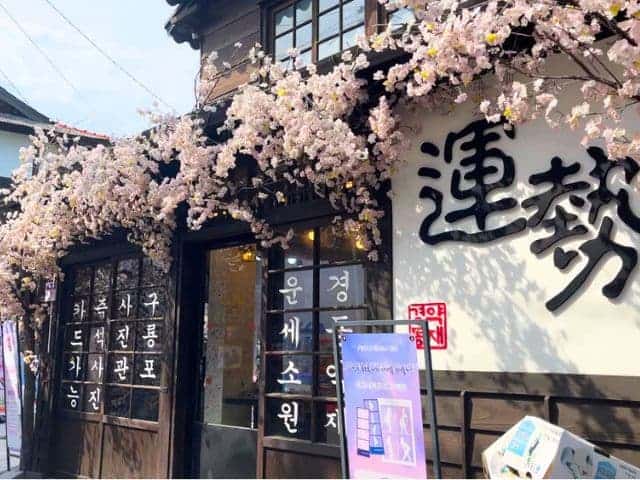 Also, don't miss the opportunity to ascend the park steps and take the captivating vista. This panoramic view, which earned a Korea Landscape Award, encapsulates the essence of the fishing village nearby, effortlessly depicting the community's daily life.
Open hours: 7:00 – 21:00 daily
Phone: +82542702275
Walk along the ocean at Boritdol Bridge (보릿돌교)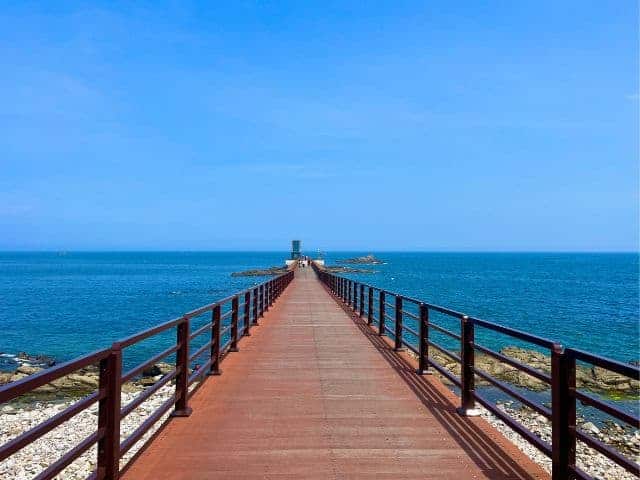 For those seeking a blend of tranquility and breathtaking vistas, a walk along Boritdol Bridge is an absolute must. Stretching 170 meters in length, this remarkable bridge acts as a conduit between the village hill and a seashore rock that seems to mimic the contours of barley.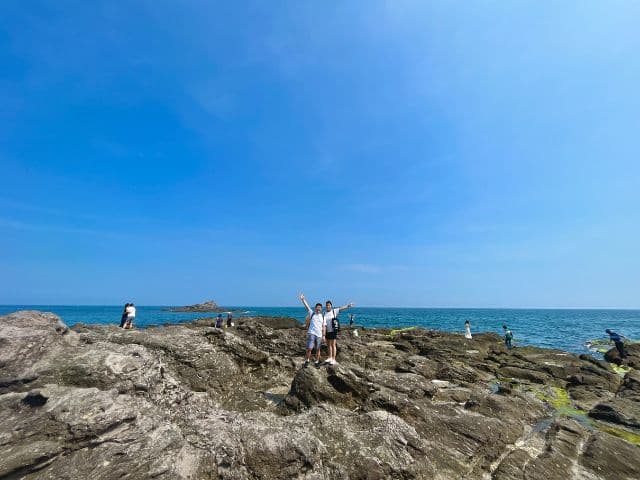 The bridge, adorned with a brown wooden deck, forms a striking contrast against the azure backdrop of the Pohang ocean, evoking a dreamlike ambiance. Walking upon the Boritdol Bridge is a sensory journey in itself. As you traverse the expanse, you'll be enveloped by the ocean wind's caress and the sea's soothing scent. This experience offers not only an opportunity to connect with nature but also a chance to step back in time and appreciate the resilience of the local community. 
Explore Janggi Eupseong Walled Town 포항 장기읍성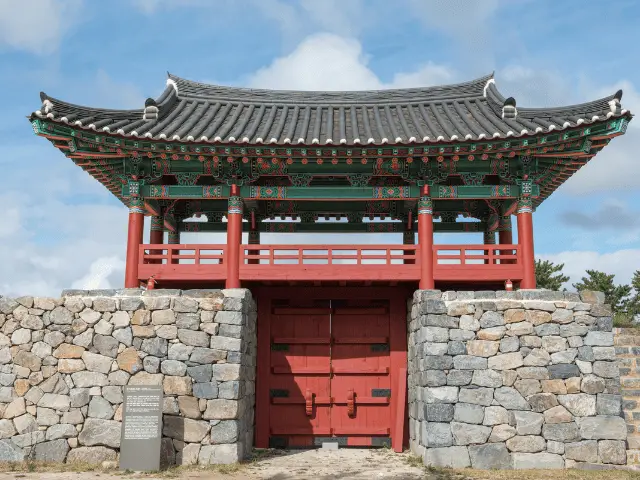 If you revel in history, Janggi Eupseong Walled Town is a destination that promises to captivate your senses. Situated in Pohang, this oval fortress encircling an area of 1440 meters boasts three main gates, each guarded by a vigilant Barbican. The town's historical significance is further enhanced by an attached rectangular fortress that bolsters its defensive features.
Stepping within the bounds of Janggi Eupseong, you'll encounter Eummaji, an area adorned with four wells and two serene ponds that enchant the town's ambiance. Delve into the past as you explore the remnants of the Janggihyanggyo Local Confucian School and the old government office site, providing a window into the educational and administrative aspects of the town's history.
When you visit here, you can feel the essence of traditional Korean living as you tour the town's lanes, alleys, and historical landmarks. It's also a fantastic place to go hiking and enjoy the serene atmosphere and fresh air.
Open hours: 24/7
Phone: +82542456062
Visit the Pohang Museum of Steel Art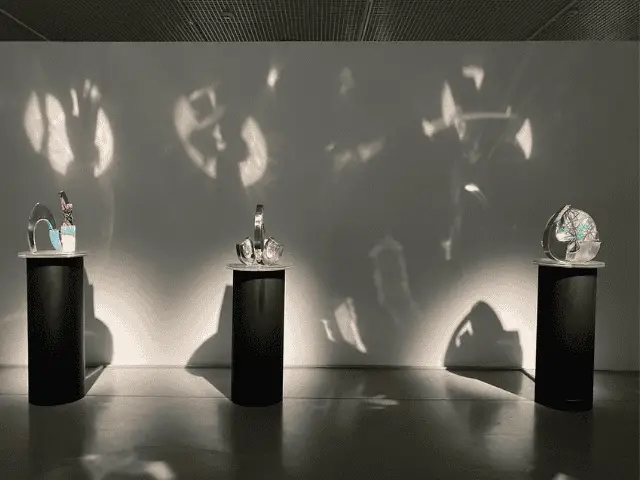 Art meets industrial heritage at the Pohang Museum of Steel Art, a must-visit destination for culture enthusiasts and history buffs. This museum is the world's sole steel art museum, with a sharp focus on curating and showcasing captivating steel art collections.
The museum complex boasts four galleries, including the Choheon Chang Doo-kun gallery, providing ample space to display artistic ingenuity. You can engage in exhibits that showcase the creative transformation of steel into intricate sculptures and captivating artworks, showcasing the city's innovation and artistic prowess.
The museum also features a shop, cafeteria, offices, archive room, and library, so you are not short of things to do. They also offer a variety of interesting programs, but you should attend the Pohang Steel Art Workshop. In this session, you will get hands-on experience creating your artwork, daily objects, jewelry, and metal pieces out of steel. 
Open hours: 10:00 to 19:00 daily | closed on Mondays
Phone: +82542704700
Website: poma.pohang.go.kr
Discover Bogyeongsa Temple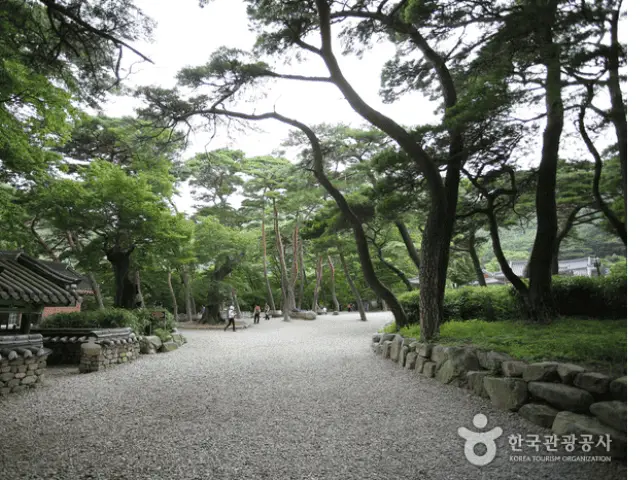 Set against the backdrop of Jungnamsan Mountain and embraced by the peaks of Naeyeonsan Mountain, Bogyeongsa Temple rests in harmony with its scenic surroundings. The temple's history dates back to 602 during the Silla period, marking its significance as a repository of Korea's cultural legacy.
One of the temple's captivating features is twelve mesmerizing waterfalls flowing from the heights of Naeyeonsan Mountain. As you explore the temple grounds, the soothing sound of water blends with the picturesque landscape, creating a truly immersive experience.
Amidst the temple's serene beauty, you'll encounter an array of architectural wonders, including five shrine halls and the notable Myeongbu-jeon Hall. Four smaller temples within its precincts enhance the temple's spiritual ambiance. This truly is a tranquil place to immerse oneself in nature, rediscover inner peace, and let go of all the worries in life.
Catch a performance at the Pohang Arts Center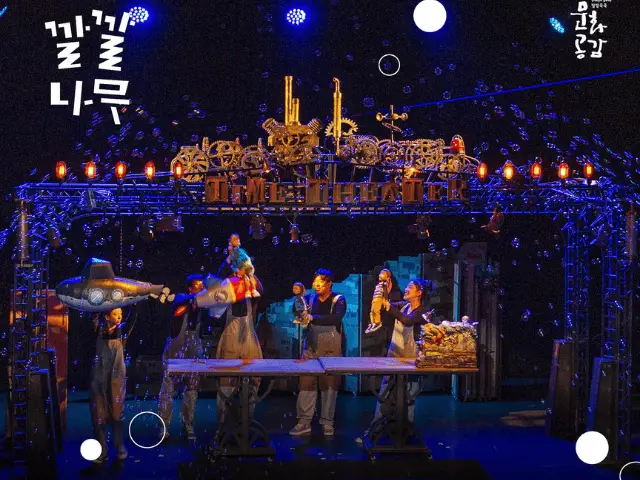 If your heart craves the thrill of artistic endeavors, the Pohang Arts Center stands ready to fulfill your desires. The Arts Center's calendar boasts many events celebrating the performing arts magic, from enchanting musical melodies to captivating theatrical productions. Each performance offers a unique journey into the world of creativity and expression.
You can learn more about the Pohang Arts Center's shows by visiting their website. Choose the best that meets your interests and time constraints. Then, buy your tickets and have a good time.
Visit Hwanho Sunrise Park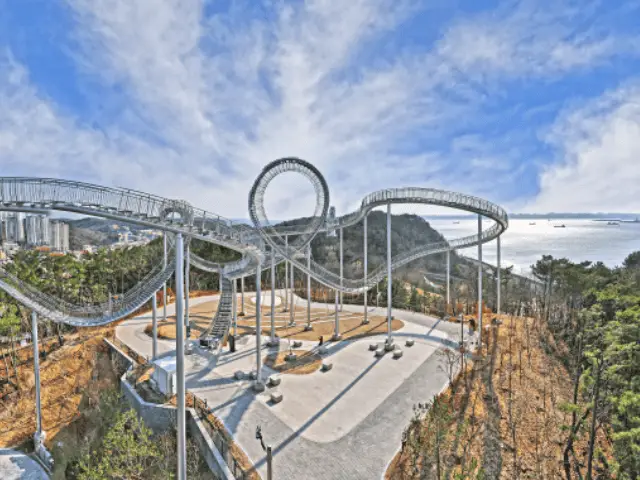 Hwanho Sunrise Park is the area's inaugural expansive Sunrise Park, where coastal cliffs blend harmoniously with lush trees and contemporary aesthetics. This versatile park offers an array of activities for a day of exploration, polished to perfection. The observatory's focal point offers an incredible panorama against the backdrop of natural terrain. Outdoor performances and hiking trails further enhance the experience.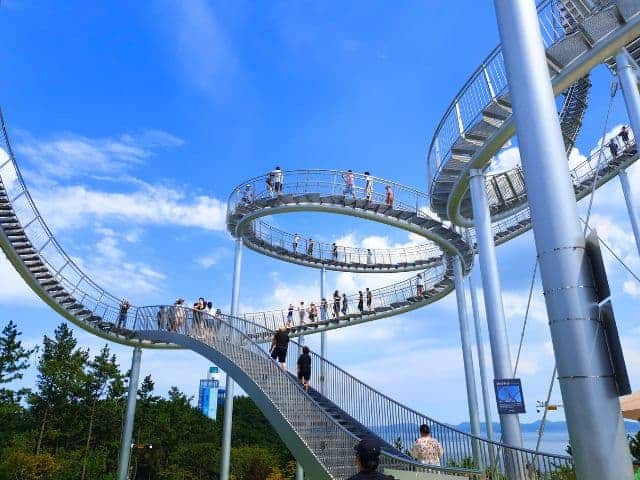 Early mornings at Hwanho Sunrise Park present the opportunity to witness the captivating sunrise over Yeongil Bay, making it a sought-after attraction that invites residents and visitors year-round for picnics and relaxation. 
An iconic and must-see feature of the park is the Space Walk, perched atop the hill that gazes over Yeongildae Beach. This multifaceted creation, funded and realized by POSCO, resembles a roller coaster and welcomes all. With 717 steps and rising to about 25 meters at its zenith, Pohang's Space Walk provides an enthralling adventure. Particularly enchanting during sunset, the attraction provides panoramic views of Pohang and the ocean. 
Spend a day at the beaches in Pohang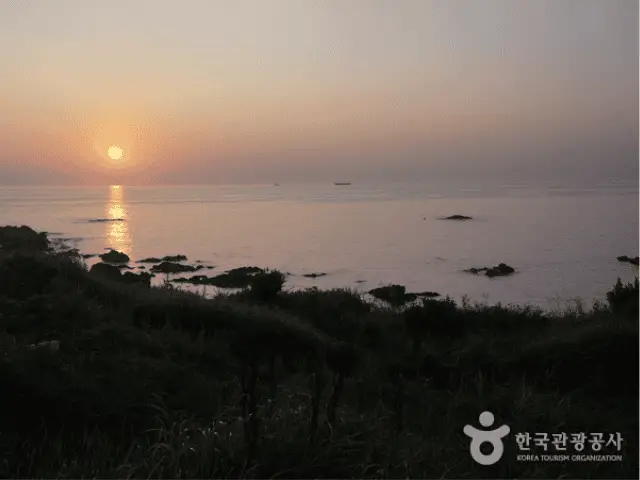 If you're seeking the ultimate beach day experience, Pohang's coastal gems are ready to welcome you with open arms. Among the must-visit spots are Yeongildae Beach and Guryongpo Beach, each offering a unique slice of paradise.
Yeongildae Beach boasts golden sands and clear waters that stretch as far as the eye can see. As you bask in the sun's warmth, the rhythmic sound of gentle waves lapping the shore creates a soothing melody. Take strolls, build sandcastles, or soak up the beach's serene ambiance.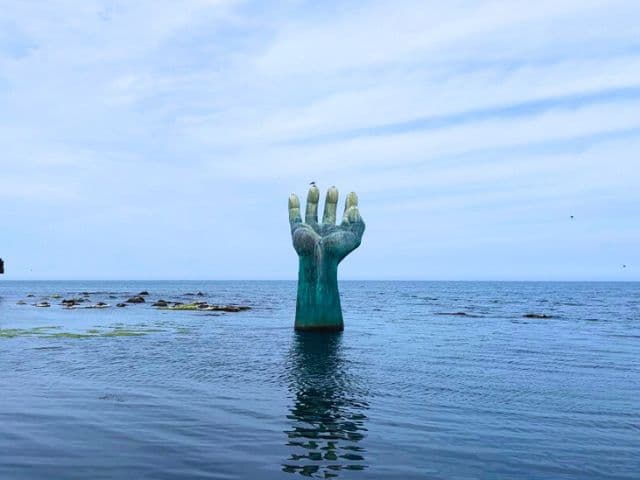 If you're seeking a more vibrant beach atmosphere, Guryongpo Beach has you covered. Its pristine sands and inviting waters make it the perfect spot to indulge in beach games, water sports, and lively beachfront activities. Whether swimming, playing beach volleyball, or enjoying the vibrant scene, Guryongpo Beach offers an energetic beach experience.
Sample Pohang's local cuisine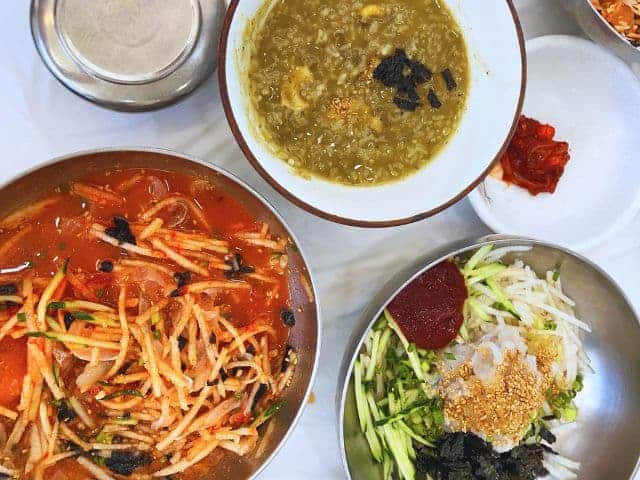 Pohang has a wide selection of meals to offer when it comes to dining, but as a coastal treasure, it shines with its seafood selections, especially the legendary mul-hoe (spicy raw fish in cold broth). We strongly advise visiting Hwanyeo Hoetjip for the best mulhoe. The Marado Hoe-Skidang is another excellent option for mul-hoe; they emphasize providing the freshest catches here. They also provide sashimi made from the day's fresh catch.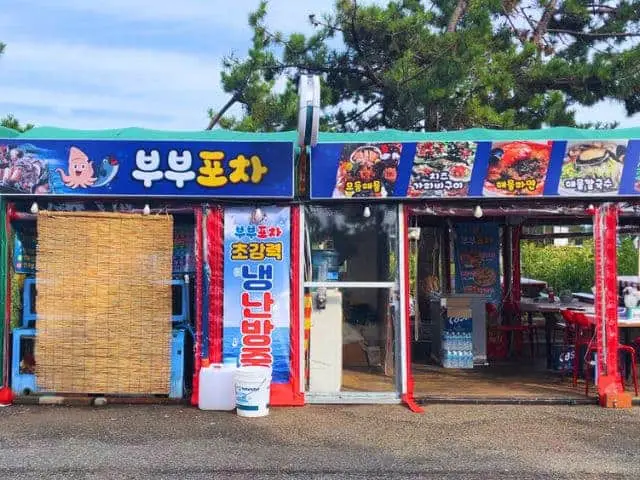 Additionally, a well-known dish is seafood noodles. We suggest dining at Busanjip – Pojangmacha Restaurant, close to Homigot Sunrise Square. It is well-known for its Hwangje Ramyeon (King's ramyeon), a savory noodle dish bursting with various seafood, making it a pleasant choice to tempt your taste buds.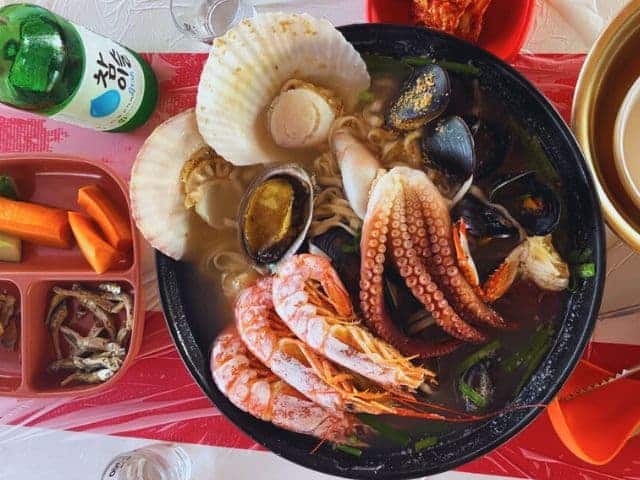 Visit Jukdo Market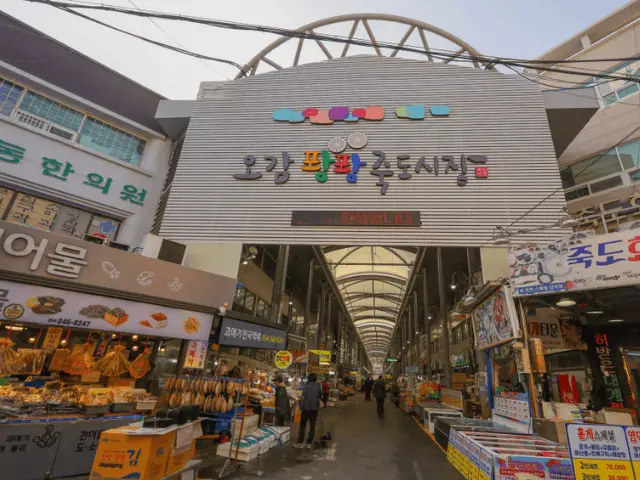 Jukdo Market (죽도시장) stands as a quintessential Korean traditional market. This is reminiscent of Seoul's iconic Namdaemun Market, albeit on a smaller scale. This bustling market is a hub of activity, offering many experiences that give visitors a genuine taste of local life and culture. You can shop a lot here, from clothing and kitchenware to an eclectic mix of household items.
A distinctive highlight is the traditional Jukdo fish market segment, thoughtfully positioned along the harbor to ensure unparalleled convenience for fishermen and patrons alike. Numerous stalls and eateries abound within the market premises and its vicinity, offering an impressive selection of top-quality hoe (sliced raw fish) dishes at exceptionally affordable prices. Pohang has earned nationwide acclaim for its specialty, mul-hoe (raw fish in cold broth), masterfully prepared using seasonal catches, alongside the cherished jeonbok juk (abalone rice porridge). You need to try this dish at least once.
Immerse in roses at Hyeongsangang Rosary 형산강 장미원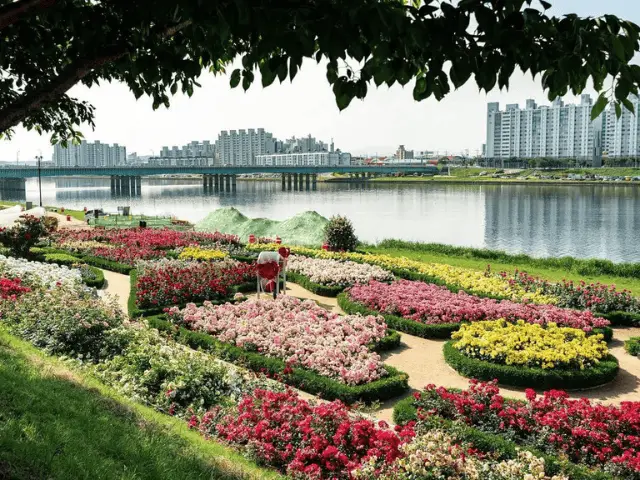 The Hyeongsan River Rosary in Pohang is a must-visit destination for those enchanted by roses. This hidden sanctuary spans an expansive 1,760 square meters and is a haven for rose aficionados. Here, a rich tapestry of rose varieties comes to life, each presenting a unique color palette ranging from deep, passionate reds to delicate, soft pinks and even sunny yellows.
The landscape is also adorned with the delicate charm of Cosmos flowers and the soft elegance of pink grass flowers, which elevate this picturesque retreat's aesthetics.
Don't forget your camera, as there will be ample opportunities for photography. Even capturing moments from unique angles can provide an ideal backdrop. You can enjoy a leisurely walk along paths adorned with magnificent blooms, surrounded by the delightful fragrance of roses. This spot is an idyllic choice for couples seeking a romantic setting to explore hand in hand.
Explore the 1538 Park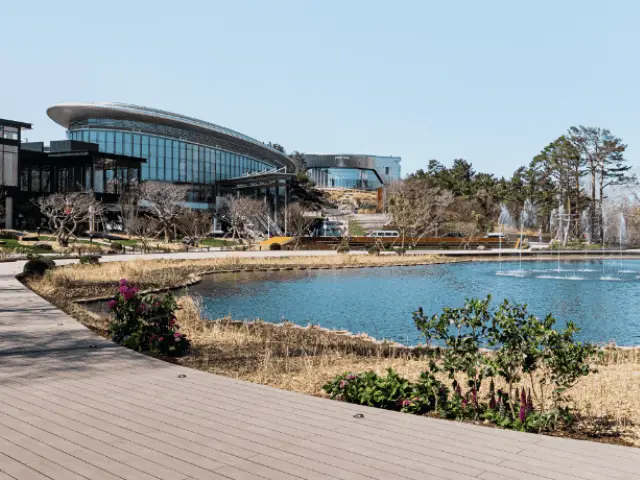 This sanctuary encapsulates the captivating odyssey of POSCO, the world's largest steel company. The name itself—1538℃—reflects the melting point of pure steel, symbolizing the fusion of history, present, and future that unfolds within its grounds. 
As you enter Park1538, you'll be greeted by the inviting embrace of the Waterside Park. The fountain, a centerpiece of this area, showcases an ever-changing landscape that dances with the seasons, complemented by the beauty of trees, flowers, and aquatic plants. Great for a stroll. 
Your adventure continues with the POSCO History Museum and POSCO Museum. Here, you may discover more about POSCO's founding in 1968, its rise into a global steel powerhouse, and the stunning stainless steel sculpture. The Sky Bridge, a 234-meter high-line trail that offers panoramic views of POSCO Steelworks and the natural scenery, is the most exciting aspect. This cleverly built route even conducts air for furnace ignition, combining purpose and aesthetics. The 14-meter observatory offers a stunning view with an exciting glass floor.
Open hours: 9:00 – 18:00 from Monday to Friday | 9:00 – 17:00 on Saturday | closed on Sunday
Website: park1538.posco.com
Check out the Igari Anchor Observatory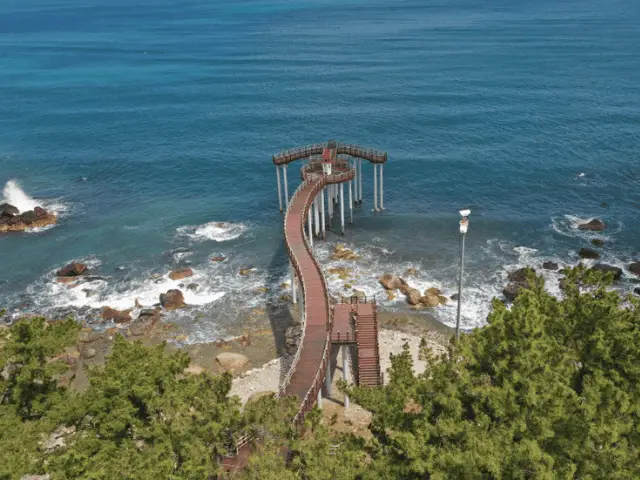 Situated as an anchor, the Igari Anchor Observatory is a unique landmark nestled by a beautiful beach and serene blue sea pines. Rising 10 meters high and spanning 102 meters in length, this observatory offers a captivating view of Pohang's vast open sea. Its popularity is further enhanced by its appearance as a key filming location in the well-loved drama "Run On (2020)," attracting a steady stream of tourists.
Whether exploring Pohang or simply passing through the city, the Igari Anchor Observatory beckons you for a visit. You can have a leisurely walk along the coast or opt for a quicker car ride, allowing you to save time and reach your destination without delay.
Open hours: 9:00 – 17:00 daily
Take a walk along Homi Peninsula Coastal Trail (포항 호미반도 해안둘레길)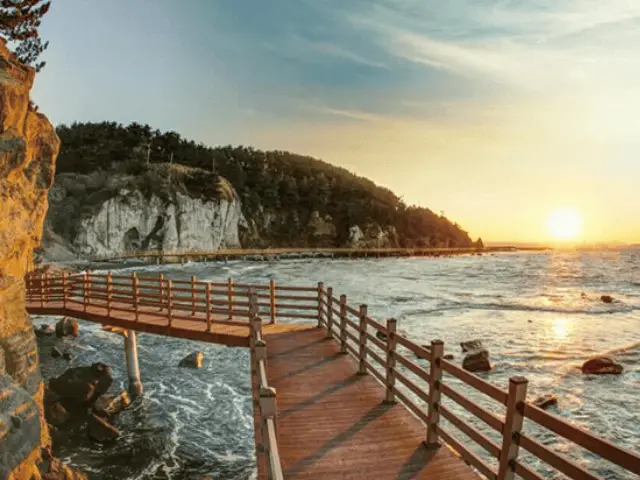 If you're up for some coastal adventure, the Homi Peninsula Coastal Trail is where it's at! Nestled in Pohang City's Donghae-myeon, Gyeongsangbuk-do, this trail offers four cool courses covering 25 kilometers. So, no worries if you're a bit crunched for time – pick a course that suits you.
Course 1 starts from Yeonorang Seonyeo Theme Park and winds up at Dogu Beach. The second one sets off from Dogu Beach and takes you to Guryongpo Port. Course 3 starts at Guryongpo Port and leads to Homigot Sunrise Plaza. And course 4 begins at Homigot Sunrise Plaza and wraps up at Duwon-ri, Jang-gu.
As you stroll along this shoreline gem, you'll soak in awesome coastal views and come across cool spots like the famous Homigot Square. It's the ultimate chill spot for enjoying the coastline vibes and checking out the local scene.
Visit Homigot Lighthouse and National Lighthouse Museum
If you want a unique maritime experience, visit Homigot Lighthouse and the National Lighthouse Museum. These two attractions are bound to shine a light on your visit to Pohang.
Homigot Lighthouse stands as a proud guardian of the coast, perched at the tip of Homigot Peninsula. Its architectural charm lies in its distinctive octagonal shape, standing tall at 26.4 meters without reinforcing bars, a design that remains a fascination even in the present era. It boasts six floors, and each ceiling is adorned with a delicate plum flower pattern, a nod to the symbolism of the Korean Empire. You can admire such a breathtaking sea view from the lighthouse.  
Right next door, you'll find the National Lighthouse Museum. This treasure trove is a haven for lighthouse enthusiasts and history buffs alike. It delves into the rich maritime heritage of South Korea and showcases a collection of lighthouse-related artifacts, documents, and exhibits. From learning about the evolution of lighthouse technology to discovering the tales of brave lighthouse keepers, the museum is a journey through time that's both educational and inspiring.
How to get Pohang From Seoul
There are several ways to go from Seoul to Pohang. The best way to travel from Seoul to Pohang depends on your budget and preferred mode of transportation. Here are a few options:
By train (KTX)
The KTX bullet train is the fastest way to travel between Seoul and Pohang. The KTX train departs from Seoul Station and arrives at Pohang Station. The journey takes about 2 hours and 26 minutes. Tickets can be purchased online or at the train station. The price ranges from 27 – 45 USD.
Here are some things to keep in mind when taking the KTX train from Seoul to Pohang:
The KTX train is a popular option, so booking your tickets in advance is advisable.
The KTX train has two classes: first class and standard class. First class is more expensive but offers more amenities, such as wider seats and legroom.
The KTX train has a luggage allowance of 20 kilograms per passenger.
The KTX train has a food and beverage service.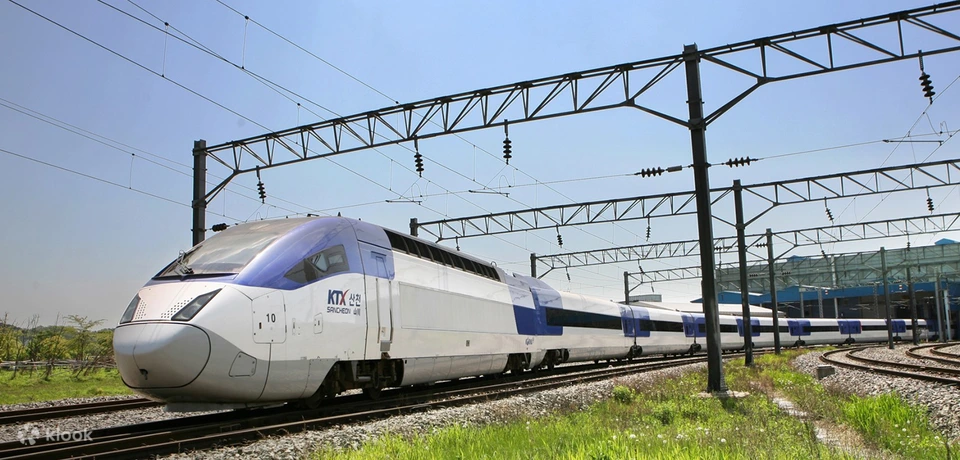 By bus
Several bus companies operate between Seoul and Pohang. The bus departs from Seoul Express Bus Terminal and arrives at Pohang Express Bus Terminal. The journey takes about 3 hours and 40 minutes. Tickets can be purchased online or at the bus terminal. The price ranges from 16 – 25 USD.
Here are some things to keep in mind when taking the bus from Seoul to Pohang:
The bus is a more affordable option than the KTX train.
The bus is not as fast as the KTX train.
The bus is not as comfortable as the KTX train.
By car
The drive from Seoul to Pohang takes about 3 hours and 50 minutes. The distance is 273 kilometers. The roads are generally good, but traffic congestion can occur, especially on weekends. The price ranges from 45 – 70 USD.
Here are some things to keep in mind when driving from Seoul to Pohang:
Ensure your car is in good condition and has a full gas tank.
Allow plenty of time for your journey.
Be aware of the traffic conditions.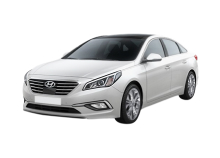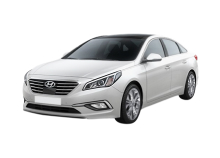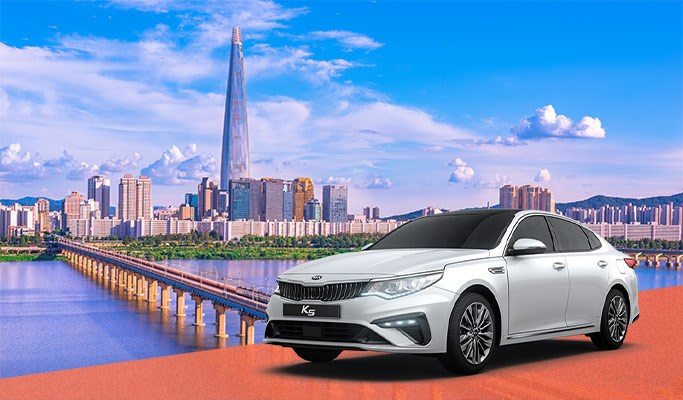 By plane
Several airlines offer direct flights from Incheon or Gimpo airports to Pohang Airport. The flight time is about 1 hour. The price ranges are around 100 USD.
If you fly from Incheon to Pohang, booking your flight in advance is important. You should also arrive at the airport early to have plenty of time to check in and go through security.
In conclusion, with its array of natural wonders and cultural riches, Pohang presents various experiences catering to those pursuing a rewarding voyage. Adventure awaits, so pack your bags and get ready to explore the hidden gems of Pohang!
IVK's Top Picks – Day Tours, Tickets, and Travel Activities
Seasonal Picks!😍