Last Updated on November 24, 2023
Are you a seafood enthusiast or a culinary adventurer visiting Seoul, South Korea? Then, a trip to Noryangjin Fish Market should be at the top of your must-visit list. Known as Seoul's largest and most vibrant fish market, Noryangjin promises an unforgettable experience for seafood lovers worldwide. In this ultimate guide, we'll take you through everything you need to know about Noryangjin Fish Market – from what to expect, how to get there, the must-try dishes, and more.
You may also love:
What is Noryangjin Fish Market?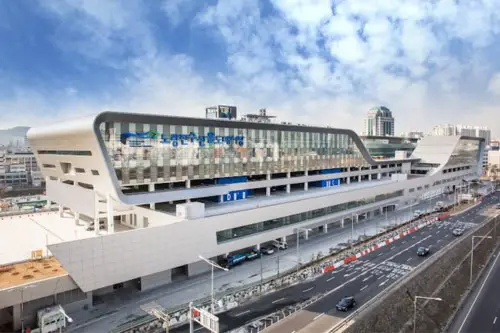 Let's whisk away to the enchanting world of Noryangjin Fish Market, the "granddaddy" of all seafood havens in Seoul, or the cornerstone of Seoul's culinary scene, strutting its stuff since way back in 1927. Talk about a timeless classic! 
Prepare your taste buds for a splash-tastic adventure because this place is a seafood lover's dream come true. Imagine a bustling bazaar where the ocean's finest bounty gathers to show off their aquatic awesomeness. We're talking about fish that practically winks at you, crabs with claws that could double as superhero weapons, prawns that make you wonder if they moonlight as models, clams that are just dying for a starring role in your next culinary masterpiece, and even octopi that are the true kings of multitasking.
Opening hours: 24/7, but the best time to visit is early morning (around 3 a.m.) to see the fish auctions.
Address: 674 Nodeul-ro, Dongjak-gu, Seoul, South Korea. (View on Google Maps)
Suppose you want to learn more about Noryangjin Market or find specific details such as operating hours, vendor information, or market events. In that case, we recommend you check Noryangjin Fisheries Wholesale Market daily. On their website, you can find information about the market's history, facilities, vendors, and other essential details for planning a visit.
Interesting Facts about Noryangjin Fish Market
Noryangjin Fish Market is a fascinating place with a rich history and unique characteristics that make it stand out among other fish markets in the world. Here are some interesting facts about Noryangjin Fish Market: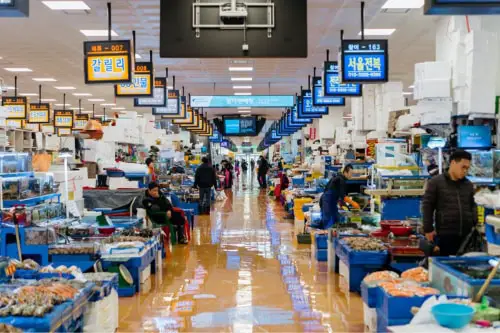 Historic Significance: Let's take a friendly stroll down memory lane to 1927 – when Noryangjin Fish Market debuted on the culinary stage. Yes, it's been dishing out seafood sensations longer than most of us have been alive, becoming a South Korean icon that's part of Seoul's cultural heartbeat.
Largest Fish Market in Seoul: With a size that could make even the hungriest shark blush, this market isn't just a place to pick up seafood; it's a full-blown oceanic adventure that attracts both locals and tourists with its siren call of freshness.
Real-time Auctions: Fishermen and sellers throw down in a bidding showdown that's more riveting than a reality TV finale. It's like the seafood version of "Who Wants to Be a Millionaire," but you've got prawns and crabs vying for your attention instead of lifelines. The buzz is so contagious you'll feel like you're in the front row of a seafood stadium.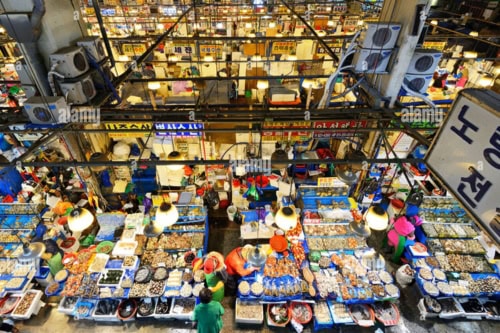 Seafood Selection: We're talking about a menu that reads like a maritime adventure novel – live octopus putting on a tentacled tango, king crabs that could be kings of any culinary castle, fish that'll swim straight into your heart, and oh, those exotic delicacies that make your taste buds do a happy dance. If you're craving seafood, trust me, this place is your genie in a bottle.
DIY Dining Experience: Have you ever heard of the "hoe-to-order" system? No, it's not a dance move; a genius dining strategy is the heart and soul of Noryangjin's charm. You snag some live seafood from the market's finest vendors, then whisk it away to nearby restaurants, where culinary magic transforms it into a masterpiece as fresh as an ocean breeze. It's like you're not just dining – you're conducting a seafood symphony.
Cultural Icon in K-Drama: Noryangjin Fish Market isn't just a culinary superstar; it's a bona fide celebrity in the entertainment world, too! Its vibrant ambiance and undeniable charm have made it a favorite location for Korean dramas and TV shows. So, if you're a fan of both seafood and binge-watching those addictive K-dramas, Noryangjin is your must-visit destination.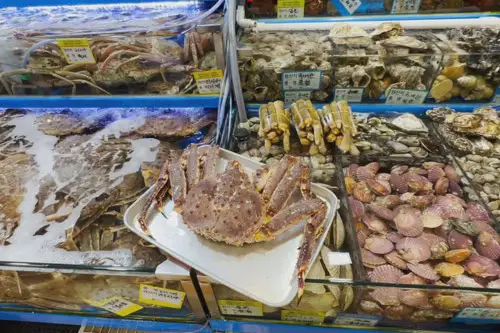 Massive King Crabs: Noryangjin is especially famous for its colossal king crabs. These aren't your run-of-the-mill crabs – we're talking about crustacean royalty that's so huge they practically have their zip code. If you're a seafood lover, these colossal kings are your ticket to flavor town.
Seafood Festival: Annually, Noryangjin Fish Market hosts a seafood festival, attracting even more visitors with special events, performances, and promotional deals. We're talking exceptional circumstances that could give any party planner a run for their money, performances that'll make your taste buds dance a jig, and deals that'll have you practically doing the cha-cha to the checkout counter. 
Noryangjin Fish Market's rich history, vibrant atmosphere, and incredible seafood selection make it a must-visit destination for anyone exploring the culinary wonders of Seoul. Whether you're a foodie on a mission, a culture vulture hungry for experiences, or just curious about what makes Seoul's culinary scene tick, this iconic fish market is the answer. Indeed, it won't just be a meal – it'll be a memory that sticks around longer than that catchy tune you can't stop humming.
How to Get There?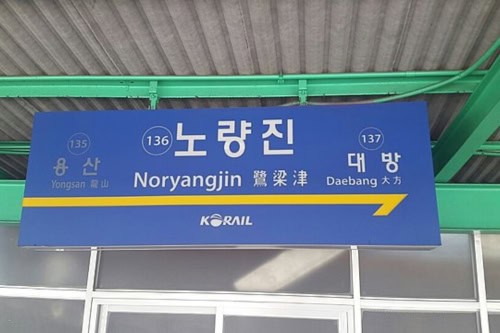 Getting to Noryangjin Fish Market is relatively easy, as it is well-connected by various transportation options in Seoul. Here are the primary methods of transportation you can use to reach the market:
Subway
Taking the subway is one of the most convenient ways to get to Noryangjin Fish Market. The nearest station to the market is Noryangjin Station, on Line 1 (Dark Blue Line) and Line 9 (Brown Line) of the Seoul Metro. Here's how to get there:
If you're coming from Seoul Station or City Hall, take Line 1 (Dark Blue Line) towards Sinchang and get off Noryangjin Station. Exit out of 9 and walk for 150 m.
If you're coming from Yeouido, take Line 9 (Brown Line) and get off at Noryangjin Station. Exit out of 7 and walk 70 m, passing the underground walkway.
Bus
Seoul has an extensive bus network, and several bus routes pass near Noryangjin Fish Market. You can check the local bus schedules and ways to find the most convenient option based on your location in the city. You want to get off the "Noryangjin Fisheries Wholesale Market, CTS (Christian Television System)" bus stop. 
Taxi
Taxis are widely available throughout Seoul and convenient if you prefer a direct and comfortable ride to Noryangjin Fish Market. Provide the name of the market, Noryangjin Fish Market (노량진수산시장), to the taxi driver, and they will take you there.
Private Car 
Suppose you have access to a private car or are using a ride-sharing service. In that case, you can input the market's name, Noryangjin Fisheries Wholesale Market (노량진수산시장), into your GPS or navigation app to reach your destination. Address: 674 Nodeul-ro, Dongjak-gu, Seoul
Walking or Cycling
If you stay relatively close to Noryangjin Fish Market, consider walking or cycling if the weather permits. It's an enjoyable way to experience the local surroundings and immerse yourself in the city's vibrant atmosphere.
Remember to check the operating hours of the transportation methods you plan to use, especially if you visit Noryangjin Fish Market late at night or early in the morning. Public transportation is often the best option, as traffic and parking around the market area can be challenging.
What to Eat at Noryangjin Fish Market?
At Noryangjin Fish Market, you'll find an extensive selection of fresh seafood and a wide range of delicious dishes to satisfy your culinary cravings. Here are some must-try foods at Noryangjin Fish Market:
First up, we've got the star of the show – Hoe (회), the raw fish sensation that's Korean sashimi's cool cousin. Take your pick from an oceanic cast of characters: salmon, tuna, flounder, octopus, and more. Picture this: expertly sliced fish, as fresh as a sea breeze, joined by the ever-dapper soy sauce and wasabi duo. It's like a tastebud tango that'll have your palate begging for an encore!
Are you feeling brave? Say hello to Sannakji (산낙지), the octopus with a flair for dramatic entrances. Imagine this: a live octopus, sliced up faster than you can say "foodie adventure," and served up fresh and squirming. Yep, you read that right – the tentacles might have a dance party on your plate. It's like dinner and a show all in one!
Now, let's get grillin'! Noryangjin's got your seafood cravings covered, from shrimp and scallops to whole fish, all kissed by that smoky goodness. It's like a barbecue party for your taste buds – where seafood reigns supreme and flavor fireworks light up the night sky.
But wait, there's royalty in the house – the King Crab (왕게)! This majestic marvel might make your wallet wince, but the taste is the ultimate crown jewel. Sweet, succulent, and worth every penny – it's the sea's way of treating you like a king.
If you're seeking regal flavor on a budget, say hello to Snow Crab (대게). Tender and bursting with deliciousness, this option proves that greatness comes in all sizes.
Gejang (게장) is the crab superstar that's been marinading in a soy-based sauce to bring you a flavor that's as bold as it is irresistible. Locals can't get enough, and neither will you!
For a taste of Korean comfort, dive into a Korean Seafood Pancake (해물파전). Shrimp, squid, green onions – it's a seafood symphony in pancake form.
Jjukkumi (쭈꾸미) is the spicy sweetheart of the seafood world. Grilled or stir-fried, these small octopuses pack a punch of flavor that'll make you return for more.
Are you feeling like a seafood hug? Seafood Hot Pot (해물찜) is the answer. Seafood, veggies, and a spicy broth join forces for a bowl of pure comfort.
And let's not forget the raw oysters (굴) – plump, briny, and as fresh as the salty breeze. Enjoy them solo or with their seafood companions for an oyster extravaganza!
A Simple Guide to Shop and Eat at this Market
Visiting Noryangjin Fish Market in Seoul, South Korea, is a truly unique experience that combines culinary exploration with vibrant cultural immersion. Here's your guide on how to eat at Noryangjin Fish Market:
Step 1: Purchase Your Seafood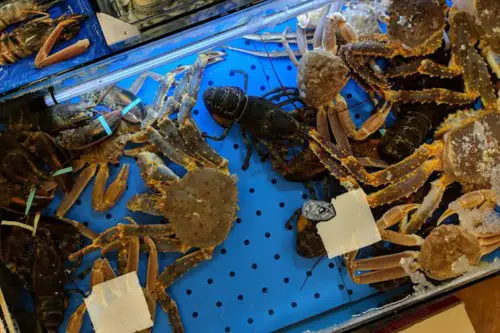 Don't be shy when strolling through Noryangjin Fish Market – the vendors are practically seafood enthusiasts' best friends. They're like those excellent tour guides dying to show you all the incredible sights.
These vendors are all smiles and information, ready to spill the beans (or should I say fish?) about what's on offer. If you're curious about what's swimming around, ask! They're like oceanic encyclopedias with a friendly twist.
Then, don't worry about haggling– it's not a battle to the death. Especially if you're not a local, the vendors understand that haggling can be a tad nerve-wracking. Sometimes, they've got prices that are already as friendly as a dolphin pod. But who knows if you've got the charm, wit (and maybe a sprinkle of negotiation magic)? You might snag a seafood deal as sweet as a sea breeze.
So, you've got your friendly vendor companions and mastered the art of haggling (or not – your call, superstar). Now, onto the fun part: picking your seafood treasure. Let your eyes wander, let your cravings take the lead, and let those taste buds do a happy dance! If you're feeling lost in the ocean of options, don't fret – the vendors are like culinary compasses, ready to guide you to the freshest and most finger-licking-good catches of the day.
Step 2: Preparation and Cooking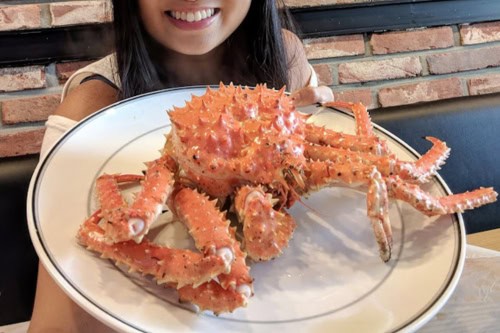 Once you've purchased your seafood, you have a few options. If you've bought shellfish, it can often be shucked and eaten at the stand, served with a spicy chili-pepper paste known as gochujang.
Alternatively, for a more formal meal, take your purchases to one of the many nearby restaurants that will prepare and cook your seafood for you. You can choose from several preparation methods, including grilling, boiling, frying, or turning the seafood into a spicy stew. Some items, like fish, can also be prepared as a hoe, the Korean version of sashimi.
These restaurants will usually charge a small fee for this service. Still, it's well worth it for the experience of enjoying your fresh seafood expertly cooked.
Step 3: Enjoy Your Meal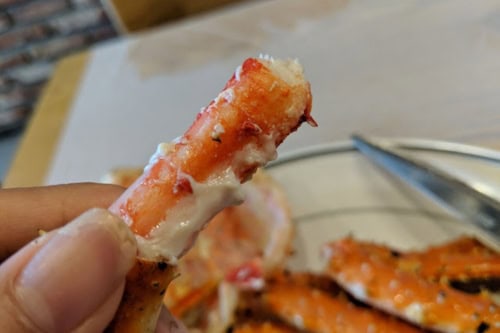 Your oceanic treasures won't be flying solo on that plate – they'll be accompanied by a lively gang of Korean side dishes called banchan. Picture this:
Kimchi with a tangy twist
Pickled radish like a burst of sunshine
Seaweed galore – a whole orchestra of flavors playing a symphony on your taste buds
But wait, there's more! Brace yourself for the beverage brigade, starring none other than traditional Korean drinks. Soju and makgeolli are like the supporting actors stealing the show, turning your meal into a cultural feast. It's like your taste buds are boarding a flavor rollercoaster – and you're in for one heck of a ride!
Let's cut to the chase – Noryangjin Fish Market isn't just a pit stop for your appetite. It's a full-blown immersion into a world of sights, sounds, and flavors that'll have your senses dancing the cha-cha. From the bustling stalls to grilled seafood wafting through the air, you've stumbled into a culinary carnival serving memories and meals.
Tips for dealing in Noryangjin Fish Market 
Dealing in Noryangjin Fish Market can be an exciting and rewarding experience. Still, being prepared and navigating the bustling market is essential. Here are some valuable tips to help you make the most of your visit and transactions at Noryangjin Fish Market: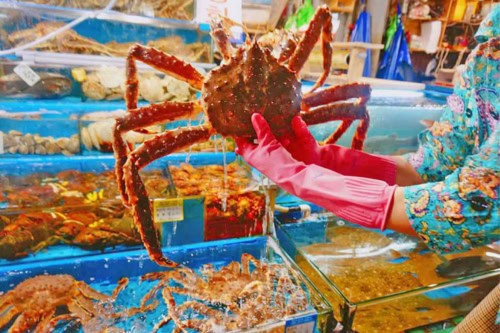 Arrive Early (or Late)
Ready for a round of timing tricks? If you aim for the freshest haul, make it an early bird or a night owl adventure. Early risers hit the jackpot with first dibs on the freshest catches – think fishermen and vendors putting on their auction hats at dawn. On the other hand, night owls get the bonus round of discounts as vendors clear out their stocks and roll out the red carpet for bargain hunters. It's like the market's saying, "Welcome to the seafood circus – day or night!"
Bring Cash
Cash is the name of the game! While credit cards might play along, cash is the real MVP here. It's like having the secret handshake that gets you the best deals and a front-row seat in the haggling arena. Consider it your golden ticket to bargaining glory, especially if you're planning a seafood shopping spree.
Polish Your Haggling Skills
Bargaining is a common practice in Noryangjin Fish Market. It's like a dance-off, only you've got words as your partners instead of moves. Vendors are waiting for you to bust your haggling mojo, so don't be shy. Polite haggling is like a sport here, and who knows – you might end up with seafood treasures that practically come with their spotlight.
Ask for Recommendations
Pro tip: when in doubt, ask the experts! Those vendors are like seafood wizards, ready to guide you toward the sea's finest. If you're puzzled by the parade of seafood options, ask for a helping hand. They're your flavor consultants, and they've got your back.
Try the "Hoe-to-Order" System
Here's a fun trick: try the "hoe-to-order" system. It's like a seafood surprise party! Grab live seafood from the vendors and take it to a nearby restaurant, where they'll transform it into a masterpiece. It's like a behind-the-scenes glimpse into the culinary magic that happens after you choose.
Be Respectful
Remember that Noryangjin Fish Market is a place of work for the vendors. Respect is the secret sauce that makes Noryangjin Fish Market tick. Remember, this is the vendors' turf, and they're the masters of their seafood domain. Touch the goods only if they give you the green light – it's like the seafood equivalent of a VIP pass.
Famous attractions near Noryangjin Fish Market
Noryangjin Fish Market is located in a vibrant area of Seoul, surrounded by several famous attractions and landmarks. Here are some popular places near Noryangjin Fish Market that you can explore.
Noryangjin Bridge (노량진대교)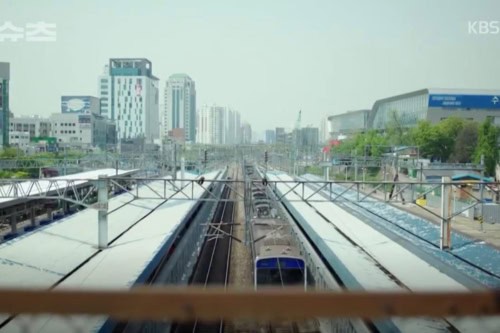 First up, we've got the Noryangjin Bridge (노량진대교), standing like a sentinel next to the fish market. This bridge isn't just about connecting two places – it's your gateway to breathtaking views of the Han River and Seoul's skyline. Perfect for a stroll or playing photographer, it's like a free pass to capture the city's beauty.
63 Building (63빌딩)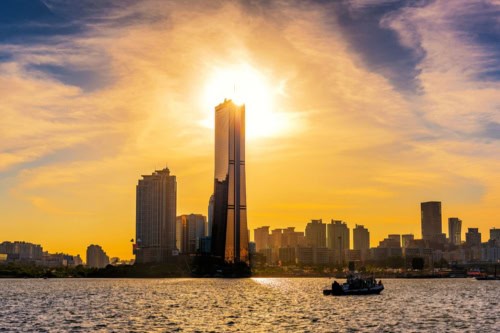 Next on the list is the grandeur of 63 Building (63빌딩), an architectural marvel like Seoul's high-rise superstar. With an observation deck with panoramic views that'll make your jaw drop, plus an aquarium, a wax museum, shopping spots, and dining delights, it's like an amusement park for your senses. And guess what? It's practically a hop, skip, and jump away from Noryangjin.
Yeouido Hangang Park (여의도한강공원)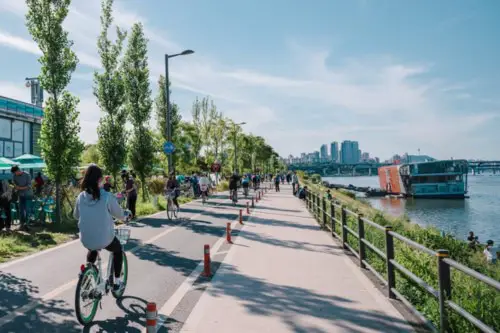 Get ready to park it at the Yeouido Hangang Park (여의도한강공원), a riverside oasis that's like a hug from nature. Think green spaces, winding paths perfect for strolls and cycling escapades, picnic spots that beg for blanket picnics, and more. It's so popular that even locals and tourists can't resist its charms, especially on weekends and evenings. It's like the ultimate chill-out zone.
National Museum of Korea (국립중앙박물관)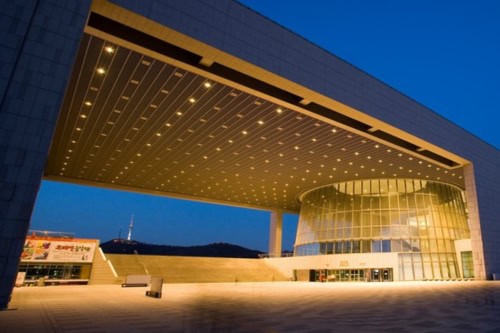 When it's time for a history and culture fix, look no further than the National Museum of Korea (국립중앙박물관). It's like a time-travel capsule showcasing Korea's rich past through an awe-inspiring collection of artifacts and artworks. And the best part? It's practically a neighbor to Noryangjin, making it a cultural pit stop that's a stone's throw away.
Seonyudo Park (선유도공원)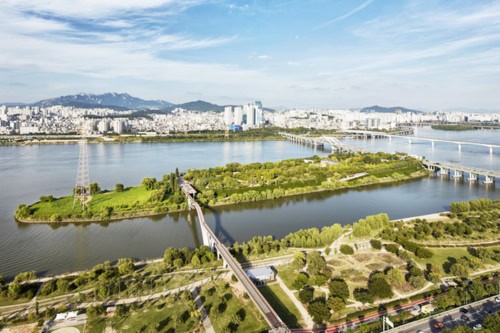 Now, prepare yourself for a unique experience at Seonyudo Park (선유도공원). Once a water purification plant, it's now an eco-friendly haven with whimsical structures, tranquil water features, and serene gardens. It's like stepping into a fairytale garden in the city's heart.
Gwangjang Market (광장시장)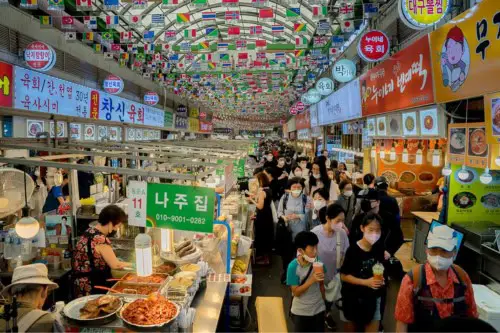 Time for a dash of market madness at Gwangjang Market (광장시장). While not precisely Noryangjin's next-door neighbor, it's a short journey away and worth every step. This historic market is a tapestry of sights, sounds, and tastes, with food stalls galore and traditional Korean textiles and clothing waiting to be discovered.
Mapo-gu Office Station Area (마포구청역)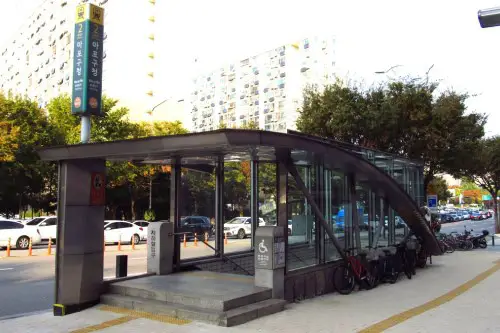 Let's shift gears to the Mapo-gu Office Station Area (마포구청역), a trendy district that's just a subway hop away from Noryangjin. Imagine a playground of cafes, restaurants, and shops with a modern Korean twist – it's like a treasure trove for the culturally curious.
Hongdae (홍대)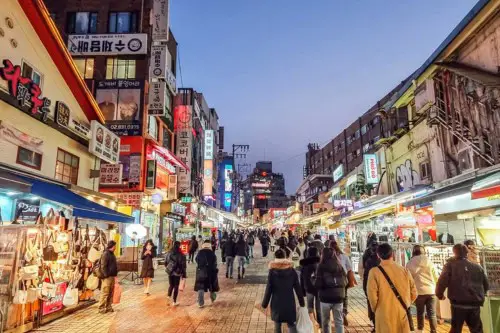 Lastly, we're venturing to the vibrant neighborhood of Hongdae (홍대), a bit further but still an easy subway jaunt. Known for its artsy, youthful vibe, it's a symphony of live music, street performances, shopping havens, and a nightlife scene that's practically an urban legend.
These attractions provide a well-rounded experience and a visit to Noryangjin Fish Market. Whether you are interested in cultural sites, nature, or modern entertainment, you'll find something to suit your interests near Noryangjin.
FAQs
Q: Is Noryangjin Fish Market worth visiting?
A: Absolutely! Noryangjin Fish Market is like a gateway to Seoul's oceanic soul. If you're a seafood "worshipper" or appreciate an excellent cultural dive, this place is your golden ticket. The lively buzz, the oceanic array, and the whole experience make it a destination that's as essential as that extra sprinkle of salt on your seafood.
Q: How much is the King Crab at Noryangjin?
A: The King Crab prices at Noryangjin Fish Market are like a seafood symphony, ranging from 80,000 to 150,000 Korean Won (about 70 to 130 USD) per kilogram, depending on the crab's size and weight. It might be a splurge, but the flavors are like a fireworks show for your taste buds. Trust us; your palate will be doing a happy dance.
Q: Is Noryangjin Fish Market open at night?
A: Yes, Noryangjin Fish Market is known for its late-night operations. While the party kicks off early in the morning, it's like the night owl's dream come true, staying lively well into the dark hours. So, if you've got those midnight munchies or just a hankering for some after-hours seafood spectacle, Noryangjin's got your back.
Q: What is the nearest station to Noryangjin Fish Market?
A: Get ready to ride the metro waves! The nearest station to Noryangjin Fish Market is none other than Noryangjin Station. It's the star of Line 1 (Dark Blue Line) on the Seoul Metro map. When you hop off, reach Exit 9, and voilà – you've hit the seafood motherlode! It's like the secret entrance to a world of oceanic wonders.
In conclusion, a visit to Noryangjin Fish Market is a delightful journey into Seoul's seafood culture. With its diverse offerings and lively ambiance, this culinary destination is a must-visit for anyone seeking an authentic and memorable dining experience in South Korea's capital city. So, gear up for an adventure of flavors and head to Noryangjin Fish Market for a gastronomic escapade like no other!
IVK's Top Picks – Day Tours, Tickets, and Travel Activities
Seasonal Picks!😍