Last Updated on June 19, 2023
Hongdae is one of the must-visit places in Seoul. This area near Hongik University is well known for contemporary art, entertainment, indie music, culture, numerous gourmet places, beautiful dessert cafes, pubs, and unique accessories & fashion stores, all of which will make your trip more fun! Let's dive into the best way from Incheon airport to Hongdae.
Read also:
Travel Tips about Hongdae
How far is Incheon Airport to Hongdae?
Incheon International Airport has located 55 km away from the Hongik University area (Hongdae Station). It takes approximately 50 minutes to drive in case of no traffics. To get to this hottest area in Seoul, you can take a train(AREX), airport bus, taxi, or rent a car. Let's see the details of 4 ways how to get Hongdae from Incheon International Airport (ICN).
4 ways from Incheon Airport to Hongdae
The best way to get to Hongik University Station from Incheon Airport is the AREX, the fastest and cheapest. It will take you to the Seoul city center directly. If you don't mind traffic and want totally stairs-free, a direct airport bus is also a good option. Let's dive into more details including the fare and timetable!
There are three ways to get to Hongdae from Incheon Airport by public transportation.
Check Out the Private Airport Transfer Services!
Find & Compare Things To Do in Korea!
Easiest Way From Incheon Airport to Hongdae
AREX (Airport Railroad)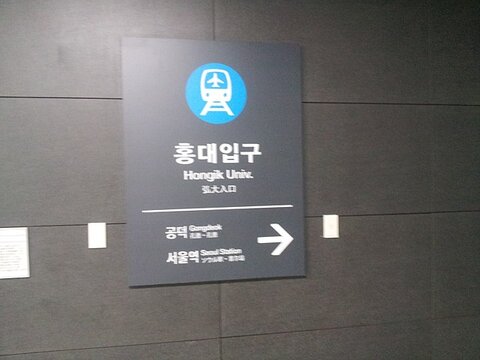 AREX is one of the fastest and easiest ways to get to Hongdae from Incheon International Airport (ICN) or Gimpo Airport (GMP). The best part of taking this train is that you don't need to worry about traffic jams and the fare is also very affordable.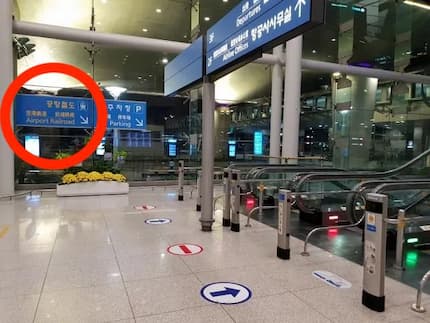 Easily you could find Airport Railroad (AREX) sign in Incheon Airport. To get to Hongdae, go downstairs and buy a ticket first at the ticket office or vending machines looks like below:
AREX Route Map

There're two types of trains; Express and All-stop train. However, the Express train operates only between Incheon Airport to Seoul station. So, if your destination is Hongdae, get an All-stop train.
Fare

All-stop train takes 49minuets from Incheon Airport Terminal 1 to Hongik Univ. station and costs 4,050KRW. From Incheon Airport Terminal 2, the train takes 58minutes and costs 4,650KRW.
AREX Timetable

If your flight schedule is early morning, you are curious what time is the first train. The first departure time from Incheon International Airport Terminal 1 is at 05:15am and last time is 10:40pm. From Seoul station, the first time is 06:10am. and the last time is 10:50pm.
You can get a discount ticket for AREX in a few travel sites and this is the cheapest one I found.
Airport Bus (The Limousine City Bus)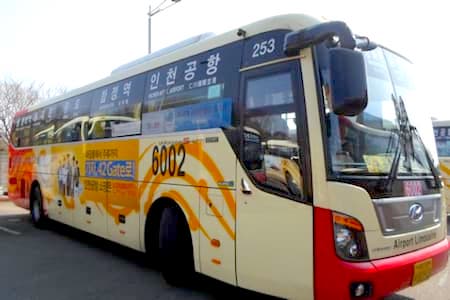 There's an airport bus from Incheon Airport to Hongdae (Hongik University) station, the bus number is 6002. It will take you to Hongik University Station directly. If you want to avoid stairs with your luggage (of course, there're esculrators and elevators in the train station) and meet Korea landscape as soon as possible, I recommend this airport bus! 🙂 However, it is relatively expensive compared to the train (AREX) and will sometimes get caught up in Seoul traffic.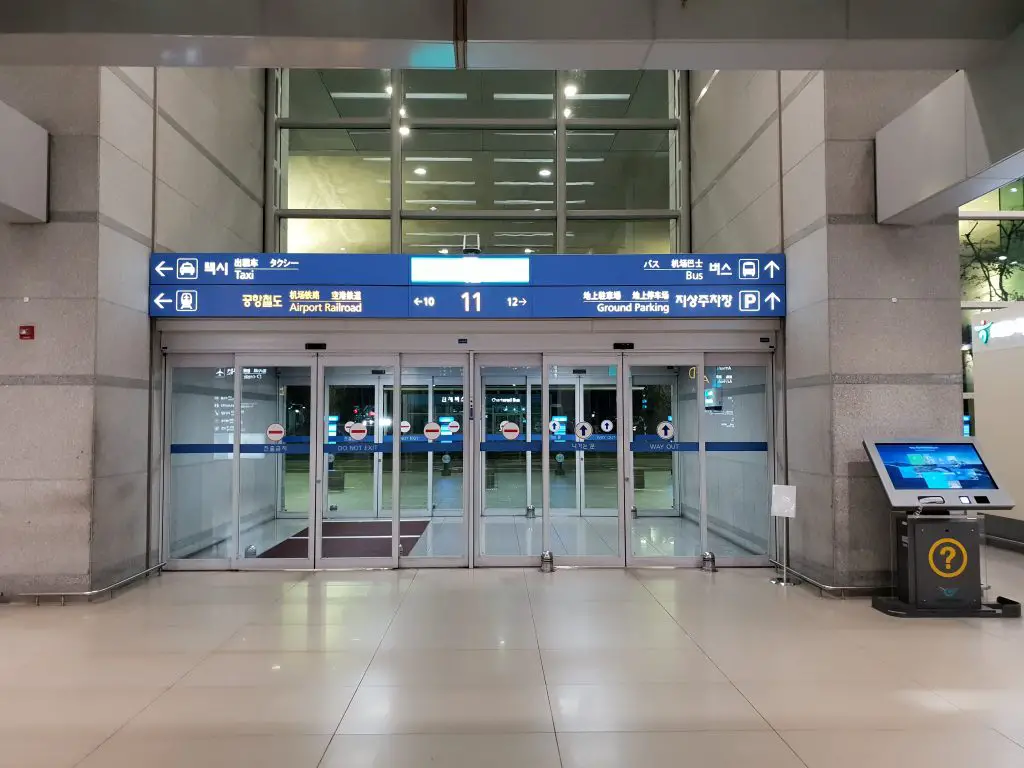 When you go outside from the arrival hall of Incheon Airport, you will see lots of buses bound for almost everywhere in South Korea. To make the journey to Seoul city centers such as Hongdae, Sinchon, and Jongno, take the Limousine City Bus 6002 at the platform, 5B or 11B on the 1st floor.
Bus Ticket Office & Fare
Purchase the bus ticket before you get on the bus. You can find ticket offices and vending machines inside and outside as in the below photos. The ticket fare is 17,000KRW.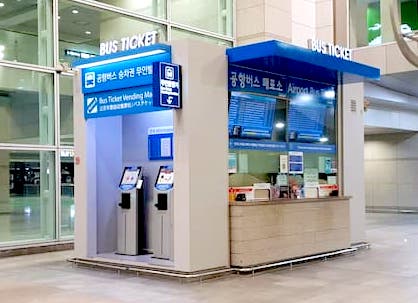 Here you can search your destination to find the RIGHT AIRPORT BUS!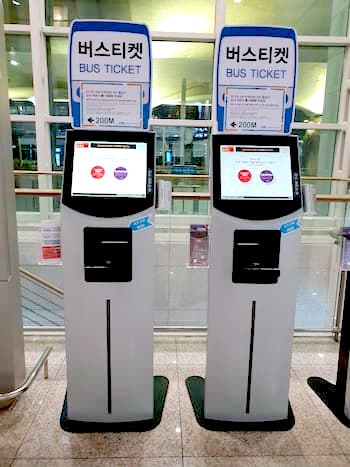 6002 Airport Bus Fare & Routes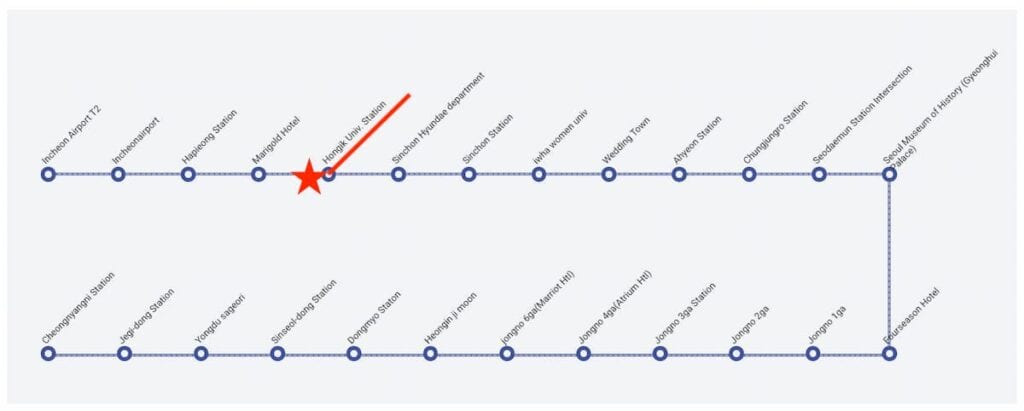 Airport Bus 6002 Timetable
The first bus from Incheon Airport Terminal 1 operates at 05:30am and the last bus is at 11:30pm. How good the bus interval is 15 minutes! Check the whole schedule below: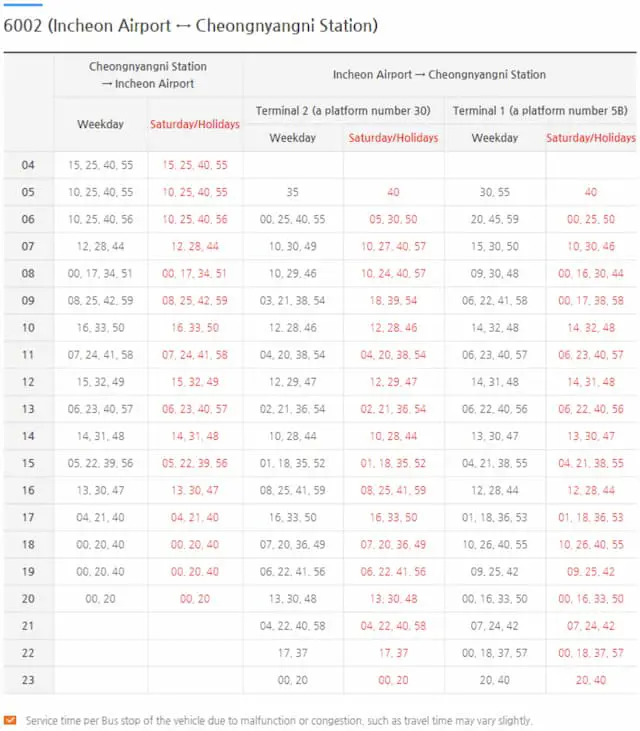 Airport Bus Platform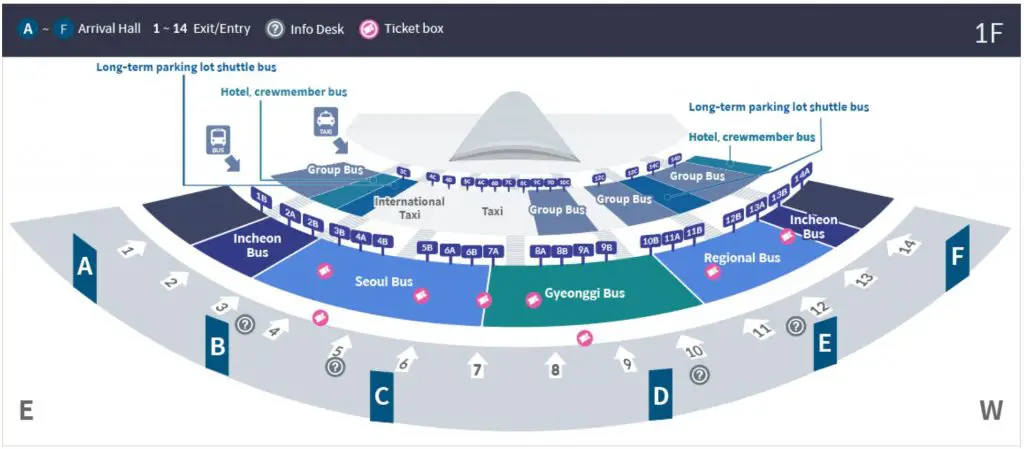 To take the 6002 Airport bus, go out to exit 6 and wait in line on platform 5B. The pink marks are the ticket boxes.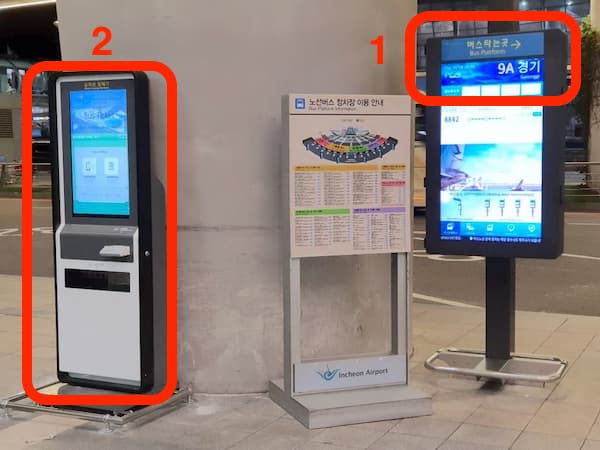 Late-Night Bus
There're two late-night airport buses bound for Seoul; N6001 bound for Seoul station and N6000 bound for the Gangnam area. The fare of late-night bus to Seoul is 9,000KRW for adult and 7,500KRW for child.

From Incheon Airport (ICN) to Seoul,
N6001 to Seoul station runs from 00:15 to 04:40, and N6000 is bound for the Gangnam Express Bus Terminal from 23:50 to 04:10.
From Seoul to the Airport,
Bus N6001 leaves Seoul station from 22:50 to 3:20, and N6000 leaves the Gangnam Express Bus Terminal from 22:30 to 2:50.
N6001 Bus Timetale
N6000 Bus Timetale
Taxi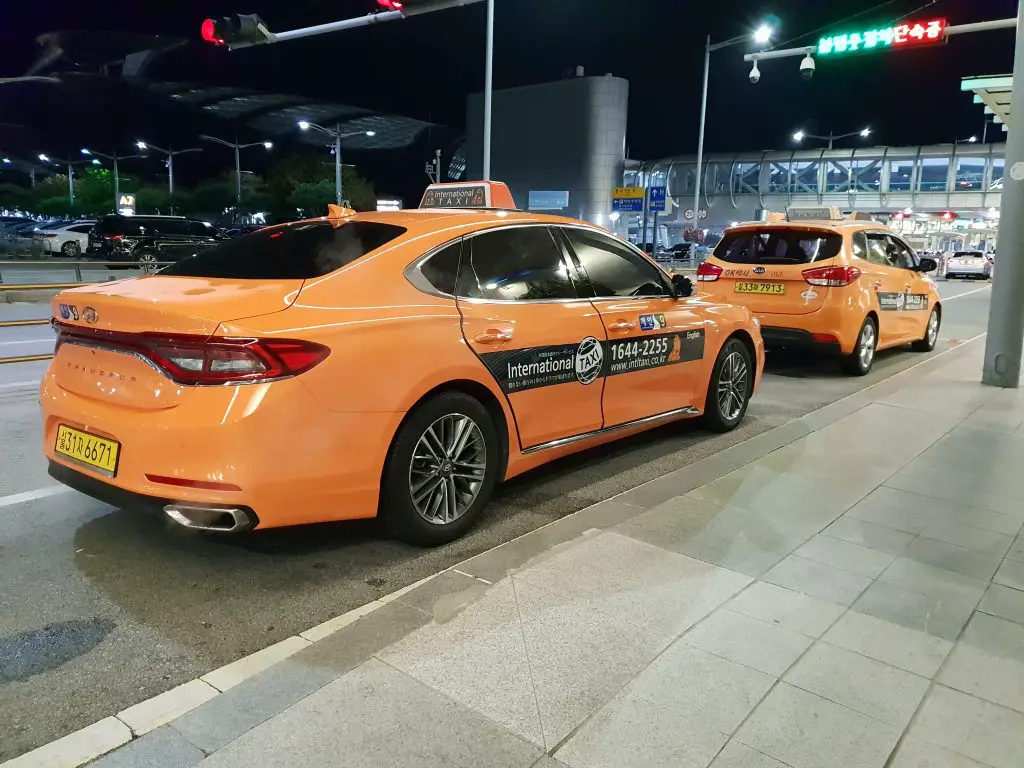 A taxi is the easiest way to get to your destination. If you want to book a taxi, this International Taxi Service website refers to Seoul City's official foreign-language taxi service here; http://www.intltaxi.co.kr/
Taxi Fare from Incheon Airport to Hongdae
If you take a regular taxi from the airport to Hongdae, the fare is around KRW 65,000 to 85,000, and it takes about 50 to 70 minutes. (The fare and time can vary because of traffic.)
Taxi Stand in Incheon Airport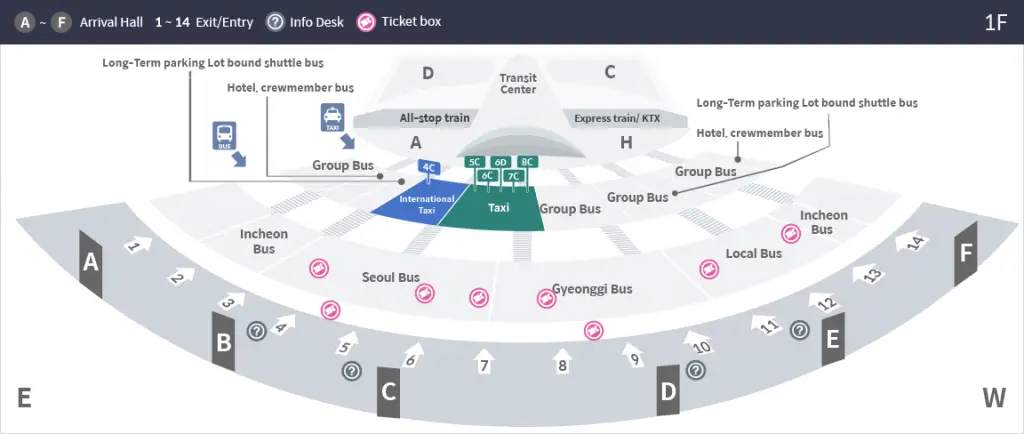 At platform 4C across the airport bus stops, you can get an international taxi from Terminal 1.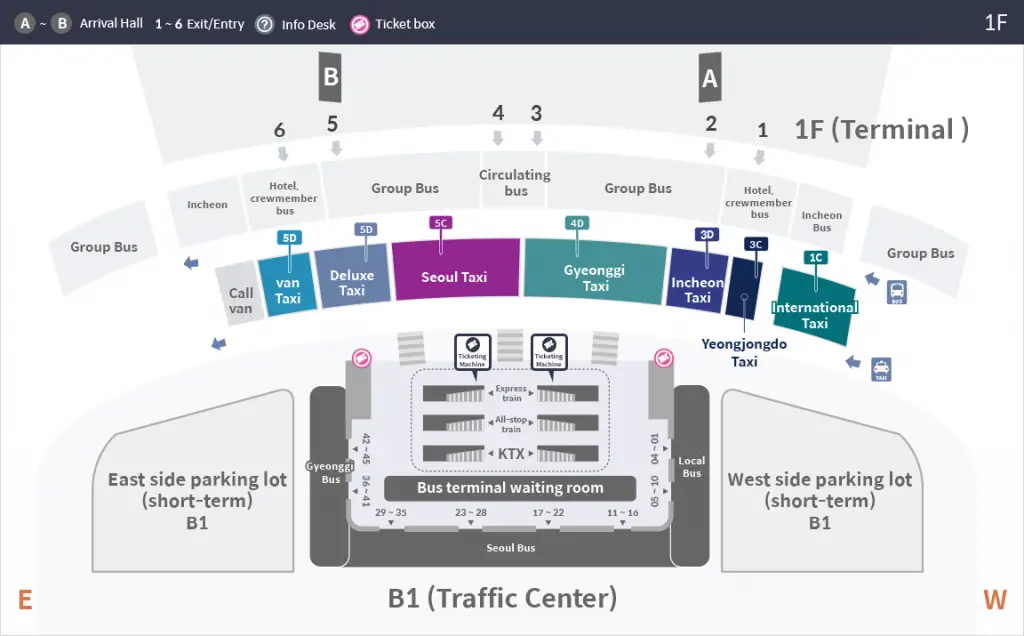 For International Taxi, you can go to platform 1C at Terminal 2.
Jumbo Taxi
If your group is bigger than three people, I recommend you check out this affordable private airport taxi service. The fare of jumbo taxi is around 90,000 – 120,000KRW. The price varies on the area in Seoul. Here you can check the price of a private van to popular destinations such as Myeongdong, Hongdae, and Gangnam.
Car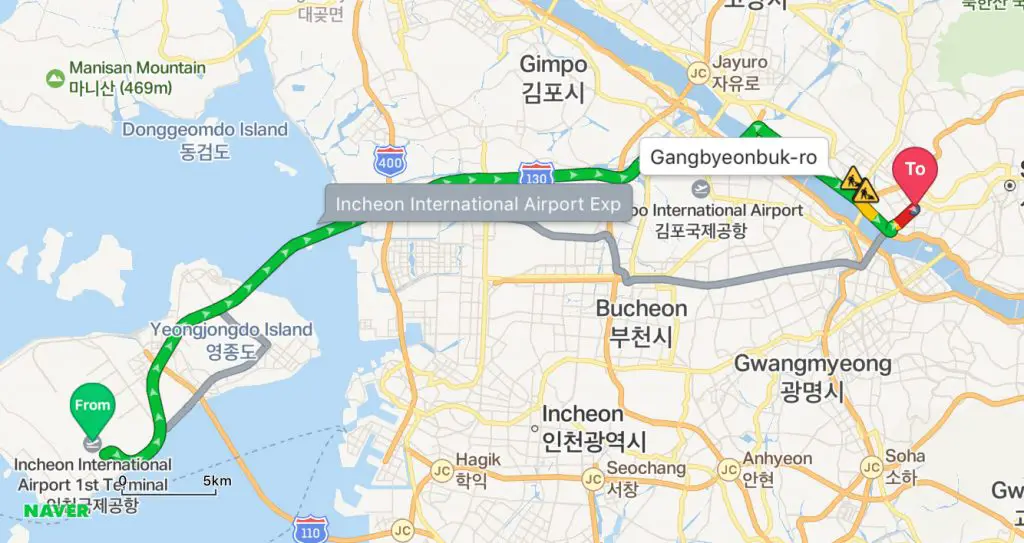 You can drive from Incheon Airport to Hongdae. It's 55km distance and takes approximately 50-70minutes via 'Incheon International Airprt Express'. The toll fee is 6,600KRW.
Rent A Car
If you are planning to go other cities from Seoul like Busan or Gangwondo, Car Rental is also good option. You can rent a car in Incheon Airport at the very affordable price from 60,000KRW per a day. For more details including what you need to rent a car in Korea, check this post and availability here.
We checked the route and public transportation to get to Hongdae from Incheon Airport.  You can pick one of the ways to take depending on your experience and taste. I hope you can arrive at the destination easily and without and complications.
Please also check the previous post, 'How to get to Seoul from Incheon International Airport', for more detail such as timetable, ticket price and where and how you can take the AREX, an airport bus, and a taxi at the airport.
One more thing, if you have a lot of luggage, the best recommendation from the Incheon airport to your hotel is through luggage delivery services between ICN/GMP airport to your hotel or Airbnb. Compare luggage services in Seoul.
Furthermore, if you have to carry your luggage or bags during the sightseeing, take a look at our post, "Luggage Storage Services in Seoul" to travel light. You can check all the detailed information about the subway storage near you HERE. For your luggage storage needs in Hongdae, check out the Luggage storage in Hongdae station, to make your trip light and easy.
Have a wonderful trip! We also welcome your comments and feedback on the best routes in the comments as well!
---