Discover the best ski resort for winter activities and snow in Korea
One of the most enjoyable winter activities is skiing in Korea. Ski resort Korea has a high number of locals and tourists coming in with their friends and family to enjoy the winters. Here's a fun fact for you to get more excited to visit Korea. A province by the name of Gangwon-do, located in the eastern part of the country is the very place that is highly recommended for best skiing trips.

Winter Weather, Snow in Korea
Snow in Korea is a wonderful site to witness. Although all four seasons in Korea are very enjoyable for different reasons for a tourist, winter in Korea is something special. If you're a person who loves winters and snow, then Korea should definitely be on your list of places to visit in the cold period.
The cold season hits different areas of Korea with various lower temperatures starting from late November and lasting till early March. The temperature remains from -3 to -6 but can even drop down to -10 at times. Winters in Korea are windy and dry but that shouldn't stop you from having a good time.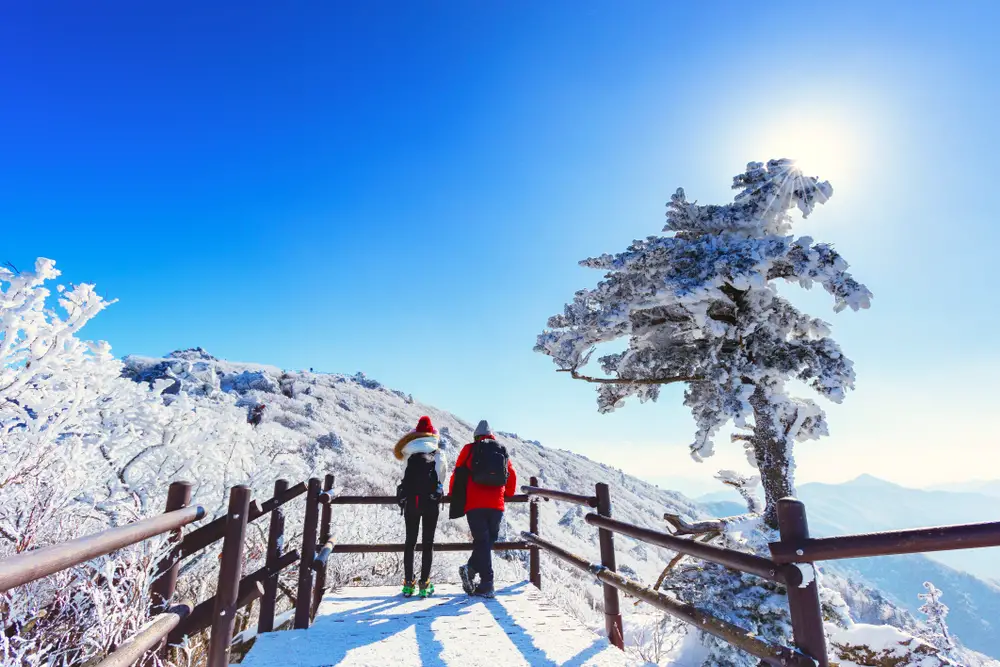 Best Ski Resort in Korea
Planning your winter holiday trip to Korea? Let us help you pick the perfect ski resort for skiing in Korea. The resorts mentioned here can all accommodate the needs. For instance, snow-boarding, skiing, and different fun outdoor winter activities you could enjoy. Also, many of the ski resorts were chosen in the Pyeongchang 2018 Winter Olympics Games. So visiting them can guarantee you the up to the bar services.
Daemyung Vivaldi Park
Daemyung Vivaldi Park can be considered as one of a ski resort near Seoul. It is an hour away from Seoul located in Hongcheon. And It is also known to be one of the best ski resorts in Korea. It has been the most visited ski resort in the country for more than 5 years in a row. The park also offers night skiing trips on the high and low mountain slopes for people who are looking to satisfy their inner thrill. You can always spot lots of teenagers and younger adults having a good time in this resort. The park also offers ski training classes.
Plus, you can visit Nami Island which is a popular attraction near Seoul when you are at Vivaldi resort.
Address: 262 Hangchigol-gil, Hongcheon-gun, Gangwond-do
Vivaldi Park Snowy Land (Jan 9, 2020)
Vivaldi Park Ski Package ( Shuttle bus, Ski, pole, boots, Lift Pass, and Clothing Rental, Jan 9, 2020 )
Yongpyong Resort
After a scene from Korean's famous TV serial "The Legend of the Blue Sea" was shot in Yongpyong Resort, the resort gained more popularity in the younger generations. Korea's largest ski resort was also one of the venues in the Pyeongchang 2018 Winter Olympics Games. It has a total of 28 slopes for every group to enjoy. And 14 ski lift chairs with different with affordable rates for families. Furthermore, you can stay at the resort long enough to enjoy the annual snowfall which is a wonderful sight to experience in the winter season from the cozy lodges of the area.
You can reach Yongpyong resort in Hoenggye from Seoul in 3-4 hours. The distance maybe a little much, but the winter experience of skiing with 28 slopes in the resort makes it all worth it. Also, give it a try to go to the Pyeongchang Trout Festival that is a representative winter festival of Korea. It takes just 20 minutes from Yongpyoung ski resort.
Address: 130 Daegwalnyeong-myeon, Pyeongchang-gun, Gangwond-do
Yongpyong Ski Package (Shuttle bus, Ski, pole, boots, Lift Pass, and Clothing Rental)
Alpensia ski resort
The Winter Olympics 2018 of Pyeongchang chose one of Alpensia as one of its main venues giving this ski resort a wider recognition in the country. It is a little far from Seoul at a total of 3 hours of distance. But it is definitely worth visiting for the entire family. The resort is famously named for the 6 slopes it has to offer for skiing with high standard 5 stars hoteling facilities.
Furthermore, you could visit Odaesan National Park to enjoy the beautiful Woljeongsa Fir Forest Trails. It gives you a magnificent white coverage with snowflakes. It's 18km far away from the ski resort taking 20minutes by car.
Address: 325 Solbong-ro, Daegwalnyeong-myeon, Pyeongchang-gun, Gangwond-do
Alpensia Ski Package (Shuttle bus, Ski, pole, boots, Lift Pass, and Clothing Rental, Basic Lesson)
High 1 ski resort
Located in Jeongseon, Gangwon province, it is two to three hours away from Seoul. It has 20 slopes for skiing and if you happen to be visiting from outside the country and are a foreign tourist in there, you will also get a discount of 40% along with free skiing rental accessories and helmet!
Address: 265-1 High1-gil, Jeongseon-gun, Gangwond-do
Seoul Ski Resorts ( Ski Resort near Seoul )
Visiting Korea in the winter is the ultimate opportunity to go skiing. If you land in Seoul, there are many ski resorts near Seoul that you can visit for an exciting ski trip.
Elysian Gangchon Ski Resort
Elysian Gangchon Ski Resort is located in Chuncheon and is only 1.5 hours away from Seoul. This means you can plan a weekend getaway to the resort and be back saving enough time to visit other places in the city. Especially, for people who are in search of  Ski resort Korea where they can learn skiing on lower slopes, this ski resort near Seoul is the right place to go to. While other ski resorts have multiple slopes and advanced level skiing activities, the Elysian Gangchon resort remains the perfect place for skiing beginners.
If you don't like skiing that's not a problem. Because Elysian Gangchon also offers a lot of sight-seeing options for you too. Being a fun-packed resort, it is a place with not a lot of tourists during the weekdays. So you can enjoy a quiet family ski trip any week without a large number of people standing in the line of ski supplies.
Address: 688 Bukhangangbyeon-gil, Chuncheon-si, Gangwond-do
Elysian Gangchon Ski Package (Shuttle bus, Ski, pole, boots, Lift Pass, and Clothing Rental, Basic Lesson)
Nami Island + Elysian Gangchon Ski Package without Lift Pass (Shuttle bus, Ski, pole, boots, and Clothing Rental, Basic Lesson)
Bears Town Ski Resort
Speaking of ski resorts near Seoul, Bears Town ski resort is worth mentioning. You can reach this resort in under 60 minutes which is located in Pocheon. As compared to any other ski resorts near Seoul, this is the closest one. You don't have to be an expert to ski in Bears Town because it has 11 slopes ranging from everyone to people learning how to ski to people who are masters in skiing. The rest of the lodging facilities are quite well maintained as well.
Address: 305-1 Sohak-ri, Pocheon-si, Gyeonggi-do
Bears Town Ski Package without Lift Pass (Shuttle bus, Ski, pole, boots, and Clothing Rental, Basic Lesson)
Jisan Forest ski resort
Jisan forest ski resort provides skiing services for learners to advanced level skiers. You can go to Jisan Forest by road from Seoul in Icheon in 2 hours. It was first opened back in 1996 and has been hosting a large number of tourists from all over the country and even outside the country. Along with skiing they also have snow-boarding to offer in the winters. If you want to go to Everland, the largest theme park in Korea, in the daytime and skiing at night, this day tour would be perfect for you!
Address: 267 Jisan-ro, Icheon-si, Gyeonggi-do
Jisan Ski Package without Lift Pass (Shuttle bus, Ski, pole, boots, and Clothing Rental, Basic Lesson)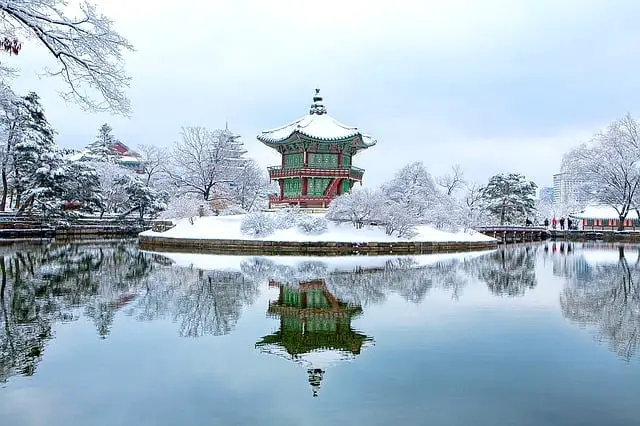 Snow in Seoul
The snowfall happens in Seoul in the month of December and January. If you plan your trip for the winters, try going in late November or December. Because that's when the city gets blessed with snowfalls and showers of a snowflake.
Seoul is one of those cities of the country which can get extremely bone-chilling cold with cold breezes blowing with a light ray of sunshine and cloudy sky. The water of the rivers also freezes when the temperature drops below the freezing point. But all of that shouldn't stop you from putting layers of clothes on and going out in the streets to enjoy the winter of Seoul. 
Visiting Seoul just in time to see it transformed into a wonderful winter land is going to take proper planning and booking your tickets earlier in the year. (Last minute tickets can get a little pricey.) Discover here for more interesting things to do in winter in Seoul.
Conclusion
Talking about these places and no matter how much we describe in winters will not do them justice. If you really want to feel the winter and snow in Korea, you have to visit the city and find out yourself.
Ski resort Korea also provide you cozy and comfortable cottages to spend your time enjoying the cold but pleasant winters of Korea with your loved ones and making memories you will cherish for the rest of your life.
You may also like