We make the list of the best 10 buying agent services to shop in Korean online shopping stores. South Korea is a hub of trends of all kinds. Renowned major shopping products in South Korea are K-Pop, K-beauty (Skincare and makeup), and K-fashion. People all over the world are in love with singers and actors in Korea. And they are obsessed with their Korean clothes, accessories, and makeup. Everyone wants to know where all the actors and the idols get their clothes from, and everyone around the world follows in their footsteps.
Moreover, most Korean products have great quality and a nice design. But the problem is that many online shopping stores in Korea only deliver products locally and not worldwide. Many IVisitKorea visitors ask us how they can buy Korean domestic products and how items can be shipped to their countries. And that is the reason why I decided to write about this "Top 10 Korean Buying Agent Services."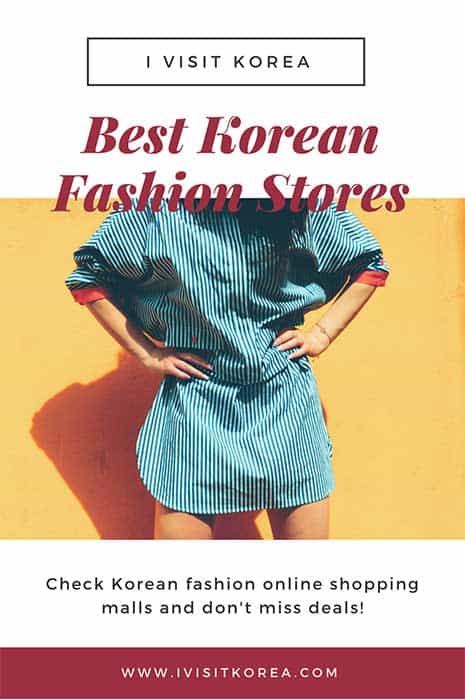 To solve this problem and keep up with Korean fashion, Kpop, skincare/makeup, and everything, there are Korean buying services that help the people who are huge Korean fanatics but sadly don't live there and do not have access to the local stores. These Korean buying services are friendly and care for you. They make sure you get the best products quality wise and they also compare prices so that you are not paying more, they find reasonable prices just for their customers and have the products shipped to their doorsteps no matter where they live. They have more than one paying method so you can choose the one that is easier for you.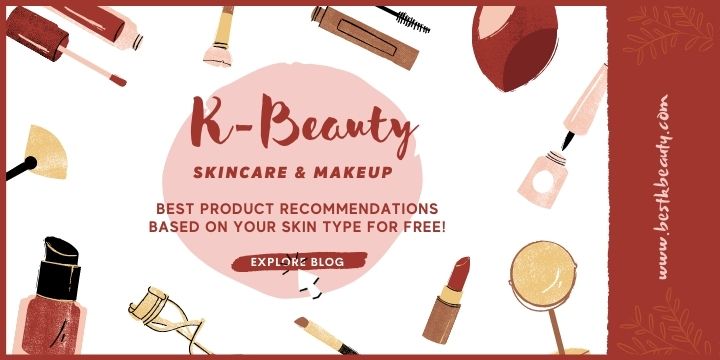 Best Buying Services For Korean Shopping
These Korean buying services will help you locate the items that you want to buy from the stores that offer the best prices. If you tell them that you want to buy something, then they will do the last part of the shopping process until you take it in front of your doorstep. Sounds like a plan, doesn't it? So let us dive into the details of the top 10 Korean buying services.
Korea Buying Agent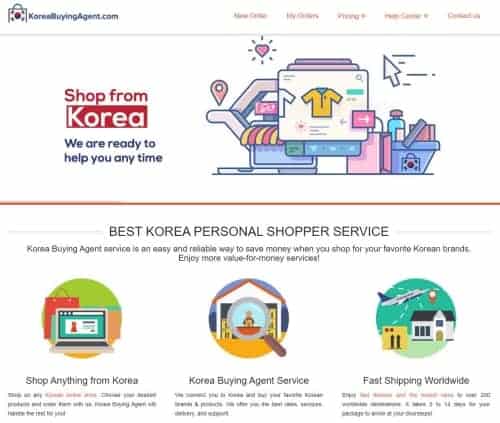 This KoreaBuyingAgent service connects you to the Korean online stores and brands where you select the things you want to buy at the best rates and prices and order them. They offer fast delivery. Upon delivery they get the items that you've ordered in the next 24 hours and the next business day that very same order gets shipped off to the address you have provided, it takes 10-14 days for the package to arrive. The payment can be made through Western Union, Bank telegraphic transfer, Bitcoins, and other methods that are mentioned on their website. They accept US dollars for almost all payment methods. They also provide 24/7 customer support.
KoreaBuyingAgent
Service Charge
10% of Total Purchase Cost, minimum 10 USD
Shipping Method
EMS / K-Packet
Others
Extra bubble wrap service fee: 2 USD
Free storage for up to 180 days
Payment
Bank transfer: South Korea
Local bank transfer: US, UK, Australia, EU
Transferwise, MoneyGram, Western Union, Alipay, WeChat Pay, Bitcoins
Payment service charge 4%
KoreaBuyandShip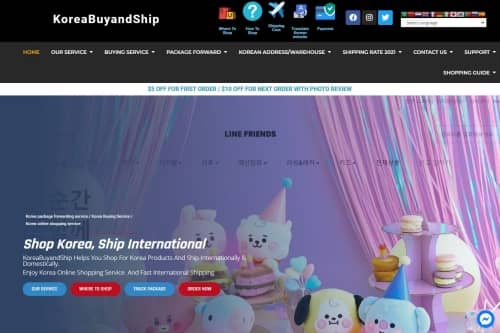 KoreaBuyandShip makes your online shopping easy and fast. They offer a Korean buying service, Korea package forwarding service. Their Korean buying service is simple. All you need to do is to send them the Korean website link you want to shop from, item description, size or color, and quantity you want to buy. After you submit the order form, you will receive an email with your order details with an invoice to pay. They will shop on your behalf from any Korean store. Once your items arrive at their warehouse, they examine all items if it is in good condition and correct items. You will receive photos of your requested items you can see and confirm. They offer many different shipping options from economy shipping options to expedited shipping options you like. Shipment will be sent to you along with the shipment tracking number with full customer service. Their buying service fee is 10% of the total item price and a minimum of $5USD. The package forwarding service fee is 10% of the shipping cost and a minimum of $9USD. The warehouse fee for one month is free.
KoreaBuyandShip
Service Charge
10% of total purchase cost, minimum 5 USD
Shipping Method
Surface mail, K-Packet, EMS, DHL, FEDEX, and more
Free warehouse fee for up to 1 month / 5USD per day after 1 month
Others
$5 Off for first order
Payment
Paypal, Wise, Payoneer, UnionPay, Americal Express, Visa, Master Card
Avecko
To place an order through this Korean buying service, AVECKO, first you have to make an account to manage your orders then you have to make a list of the things you want to order from local Korean stores that do not ship internationally, and then they purchase those items for you. Then you get a link for payment, local shipping fee, and the service fee for that same order, and if you pay them the first payment, then they will purchase the item. They complete packing all your items in a single package and e-mail you the second payment bill/link where you can check the products, the package weight, and shipping costs as well. When you pay the second bill, your package gets shipped out.
The handling fee is 10% of the purchase or a minimum of 5 USD on each order. They apply the exchange rate of Paypal and the Paypal fee, 4.9% is deducted from the exchange rate.
AVECKO
Service Charge
10% of Total Purchase Cost, minimum 5 USD
Shipping Method
EMS / K-Packet
Payment
Paypal, Credit card (Visa, Master)
the Paypal fee of 4.9% will be deducted from the exchange rate.
Delivered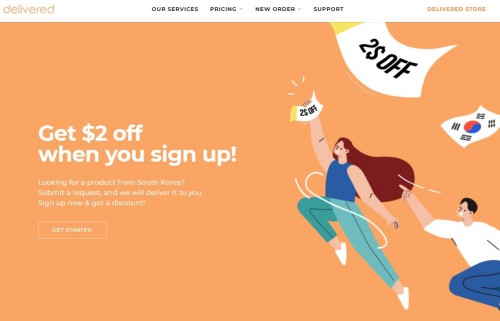 To place an order for this Korean buying service, Delivered, you have to describe the product as detailed as you can, search for a proper category of the product, copy and paste the URL of the product webpage and write about the number of products you want to purchase. If you are unsure about anything then you can also attach the screenshot of the webpage. Any additional information that will help them identify and purchase the exact item you are looking for can also be added to the order. Payments can be made using a credit card, debit card.
They also provide a Korean address that you can shop by yourself ("You Buy, We Ship" service), and then they will send the product to your address.
Delivered
Service Charge
(You Buy, We Ship)
Package receiving fee 5 USD
Service Charge
(We Buy and Ship)
Handling fee 5 USD per store order (up to 5 items from the same store)
Payment processing fee: 8% of the item price for credit card/PayPal, 2.5% for the international money transfer
Shipping Method
USPS / UPS / FedEx / EMS / DHL + Others
Others
Free storage for up to 1 month
KoreanBuddy
This Korean buying service, KoreanBuddy, requires you to locate the items on your shopping list. If you want any help finding sites or products, use their shopping recommended sites. Submit your shopping list and once you have paid the receipt, they will order all of your products.  They will make sure you get the right products with the right price. After receiving all the items they will calculate the shipping cost, repack your order, and send it out to you via the shipping method you choose. Payments can be made through Paypal and credit cards.
KoreanBuddy
Service Charge
12% of Total Purchase Cost, minimum 12 USD
Shipping Method
EMS / K-Packet
Others
Extra bubble wrap service fee: 2 USD
Free storage for up to 180 days
Payment
+3% exchange rate for PayPal fee
CollectKorea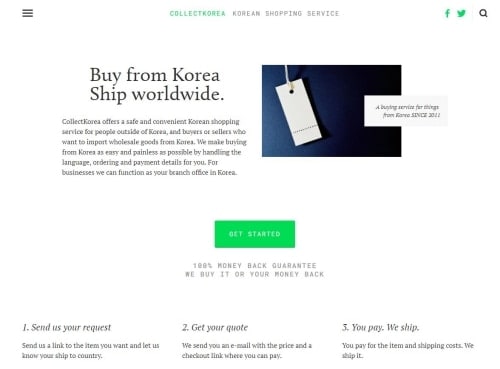 This Korean buying service, CollectKorea, requires the customer to send them a link to the item they want and let them know your country to ship the package. They will then send you an e-mail with the price and a checkout link where you can pay. You pay for the item and shipping costs and they ship it.
Here is CollecKorea's pricing policy.
$1 Per Item Fee
This is charged once for each unique item.
If you purchase 5 of the same item, the per-item fee is charged once.

$4 Per Shop Fee
This is charged once for each unique shop.
9.9% Service Fee
A service fee of 9.9% to the product price is added to your total.
※ If the above fees do not equal $10 you will instead be charged the minimum service fee of $10.
Harumio
This Korean buying service, Harum.io, started as a buying agent but it's more like a shopping store now. But they still provide a Korea forwarding service. When you pay for an item, they purchase it. And they will let you know the shipping fee so that you can pay for it. And like other services, it starts delivery as soon as you pay for the shipping fee. Of course, you will be able to track your order.
Their exchange rate is 1,000 KRW = 1 USD including PayPal Fee. And there is a flat fee of 5 USD for any normal order.
Harumio
Service Charge
$5 fee per 30 items for any normal order
Conversion rate: 1000KRW = $1.00 (inclusive of PayPal Fees)
Shipping Method
DHL, EMS, Fedex
PinkBox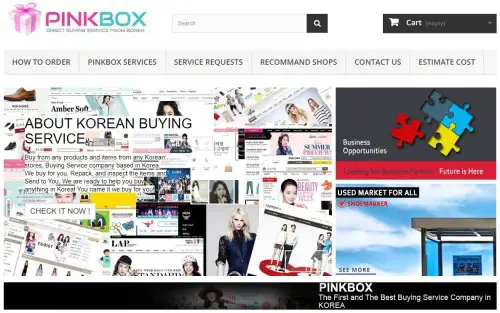 Choose the items you want in Korean online stores and send the buying Quotation request. This Korean buying service, PinkBox, will then check and let you know the total amount with their quotation. If you accept their quotation, then you can pay the amount on Quotation through PayPal or a credit card. They will proceed with your order at the same time with your payment clearance, and let you know the status of your order and inspect, repacking when all your order arrives. They will send you your tracking number along with the shipment.
The handling fee is 13.5% for the total amount of purchase, if your total amount is less than KRW 70,000, the handling fee is KRW 9,500 as a minimum fee.
BuyKorea
To order from this Korean buying service, BuyKorea, first you will have to send them an inquiry form which will list all of the things you want them to buy for you. After that they will send you an invoice of all the charges starting from the prices of your items that you ordered to their own services charges and the shipping charges, you will only have to pay once for the entire order plus shipment.
The payment to BuyKorea will be submitted through either Paypal or bank transfer. After receiving the payment they will buy all of the products on your behalf. The items will then arrive at the BuyKorea warehouse. After careful inspection of the items, they will be delivered to your address by K-Packet, EMS, or FedEx. The tracking number of the package will be given to you along with the shipment.
Buying Service Price = product price+shipping cost+service fee.
Buying service: service fee is 10% of the product price or a minimum of USD 1.00, varying with the product, quantity, and weight.
Product price = the product itself price+ domestic delivery cost to the Buykorea's warehouse
Service Fee = 5~10% to the product price or a minimum of 1 USD.
Korgou
This Korean buying service, KorGou, requires you to make an account and then provide a list of the things you want to purchase, the list should be as detailed as possible along with the links of the very same products that you have mentioned in the list. When your bought things are received, you will be informed by their management team. After that, you can log in to your account, look at the parcel details and present the dispatching requests. You can also opt for their extra services before the shipment like condition checkup, return and exchange, wrapping, delivery protection, etc. Their staff will deal with the parcels according to your wishes.
When the parcels are ready for shipment, you will be informed to pay the shipment charges. After receiving the shipping fee, the packages will be sent out for international shipment. For rapid and reliable delivery, KorGou forwards parcels immediately by EMS or other global delivery methods. Every parcel can be tracked online. KorGou forwards packages using EMS, DHL, FedEx, TNT, AIR&SEA&SMALL PACKET PARCEL by Korea post.
Because they are leaning more like a package forwarding service, their pricing table is quite complicated.
KoreaToU
The customer will have to apply for shopping service by submitting their order form then KoreaToU will send you an invoice and you will then pay for your product, domestic shipping fee & service fee and they will purchase your product. When the items are ready, they will inspect and pack everything carefully. They will then weigh your package and send you a shipping charge invoice. Which after paying, your package will be shipped out within 1-2 business days. The payments are paid through Paypal but through your credit card so the transaction is safe. They provide an offline store buying service, but the service fee is different.
If you order from their online store then the services fee is 10% of the product price or a minimum of 5 USD. If it's an off-line store, the handling fee is 15% with a minimum of 10 USD. Papal Fee is 4.4% + 0.3 USD per international payment.
You may also like,