Men in Korea have set the bar high for great fashion sense. They have it in their pocket about looking put together and classy. They know what is in and what is not. In the Korean style, men are keeping up with the latest trends. K-fashion is known to be the heart of inspiration for people all over the world. It is no secret that the Korean men's fashion game is apparently ahead of many other sensations. It's because of their styling game and also the K-fashion brands we have here in Korea. Here, you will be guided about men's Korean fashion trends, which K-pop idols have worn their clothes, their price ranges, and their shipping rules about where they ship to or not.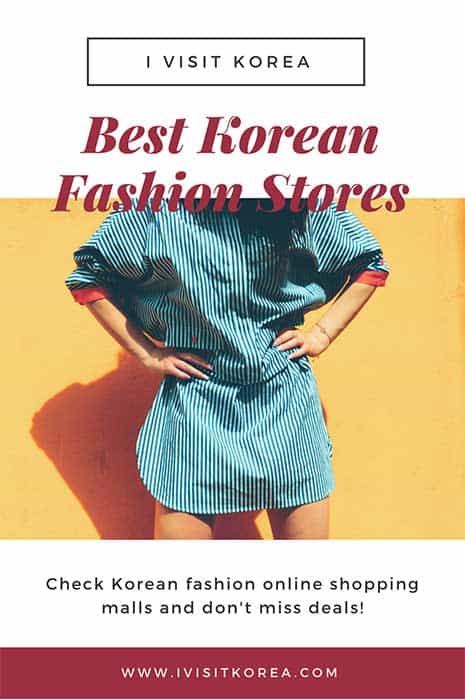 So buckle up, and get ready to dress your best in Korean men's fashion. Now let's dive straight into the brands that Korean men love to wear and the best men's Korean fashion online shopping stores.

The Best Men's Korean Fashion Online Shopping Stores
Musinsa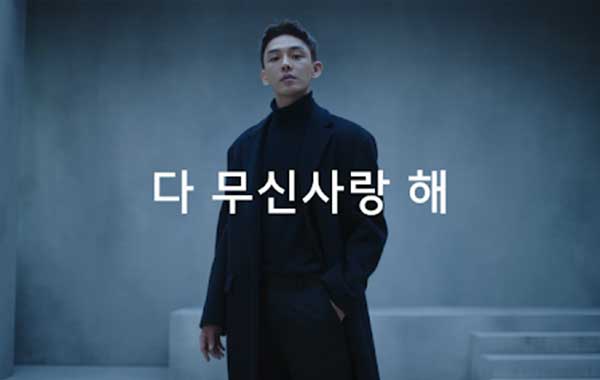 Musinsa is one of the most popular online shopping stores in Korea. A standard brand for men's clothing and fashion items, MUSINSA envisions classy and chic items, it has extremely stylish scarves for men. Korean men love to shop for their wardrobe here because they not only have clothing items but the latest trending accessories especially tons of shoes. They have a wide range of fashionable goods that are affordable under $100 and more as well. They offer nationwide shipping in Korea but unfortunately do not ship internationally. So, you can use Korean buying services. Check more details of proxy shopping service here.
Yesstyle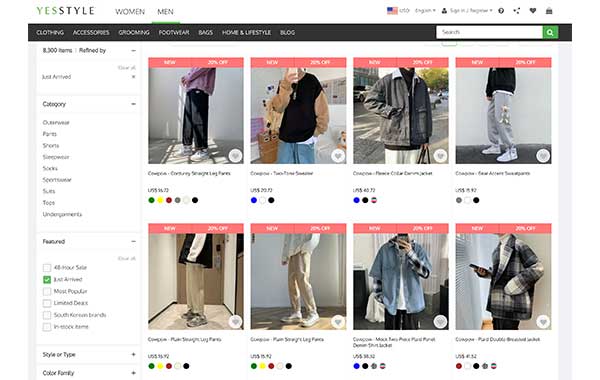 YesStyle offers such a great collection of fashion items for men, it is truly amazing. You can buy affordable shoes even at $20 that will be of outstanding quality. They do offer international shipping to selected countries, so make sure to check whether they deliver to where you live or not on the list below.
Yesstyle Shipping Policy
With any US$ 59 purchase at Yesstyle, free express shipping is available to the United States, and here you can check shipping rates to other countries. Also, they offer refunds for customs-related taxes and fees incurred on all YesStyle orders under US$ 1,000 (or equivalent amount in other currencies).
SHIPPING COUNTRIES
Austria, Austria, Belgium, Brazil, Brunei Darussalam, Bulgaria, Cambodia, Canada, Croatia, Cyprus, Czech Republic, Denmark, Estonia, Finland, France, Germany, Greece, Hong Kong, Hungary, Indonesia, Ireland, Israel, Italy, Japan, Kuwait, Latvia, Lithuania, Luxembourg, Malaysia, Mexico, Morocco, Netherlands, New Zealand, Norway, Philippines, Poland, Portugal, Qatar, Romania, Saudi Arabia, Singapore, Slovakia, Slovenia, South Korea, Spain, Sweden, Taiwan, Thailand, United Arab Emirates, United Kingdom, United States, Vietnam.
Yesstyle Bestsellers
Kooding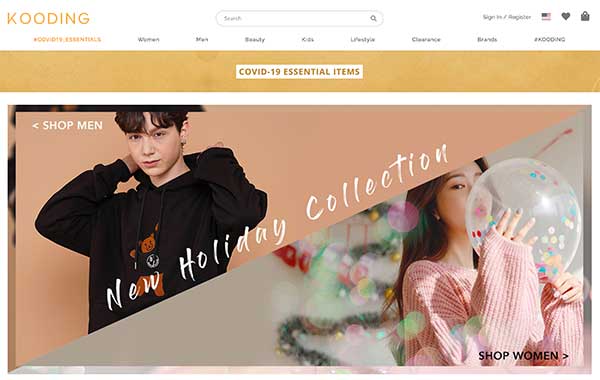 A very well known Korean fashion brand, Kooding, excels in providing great fashion for men under $100 and $50 as well. They have extremely nice clothing that Korean men incorporate into daily wear, easing your task of dressing like them even more. What's more, international shipping is available and they offer discounts and sales often!
Shipping Policy
Kooding offers free delivery for the acquisition of $59 or more, and it's only $8.99 for the acquisition of under $29. They likewise offer free returns, so you don't need to stress over the chosen size being correct or wrong, particularly with worldwide measuring. Here you can check the Korean clothing & shoes size chart before buying.
RETURN POLICY
To request return merchandise, you have 14 days from the delivery date. If your order is partially delivered, the 14-day term will begin when you receive the last item in your order. Returns must be packed and shipped within 7 days of the return authorization date. There is a refund processing fee. Please, take a look at the return policy of Kooding HERE.
SHIPPING COUNTRIES
US, Canada, United Kingdom (Great Britain), France, Germany, Australia, New Zealand, Hong Kong, Singapore, Japan, China, Albania, Algeria, Argentina, Armenia, Aruba, Austria, Azerbaijian, Bahrain, Bangladesh, Belarus, Belgium, Bhutan, Bolivia, Bosnia and Herzegovina, Botswana, Brazil, Brunei Darussalam, Bulgaria, Cambodia, Chile, Colombia, Costa Rica, Croatia, Cyprus, Czech Republic, Denmark, Dominican Republic, Ecuador, Egypt, El Salvador, Estonia, Ethiopia, Fiji, Finland, Gambia, Ghana, Greece, Guatemala, Guyana, Honduras, Hungary, Iceland, Indonesia, Ireland, Islamic Republic of Iran, Israel, Italy, Jamaica, Jordan, Kazakhstan, Kenya, Kuwait, Kyrgyzstan, Laos, Latvia, Lebanon, Lithuania, Luxembourg, Macau, Malaysia, Maldives, Malta, Mauritius, Mexico, Moldova, Mongolia, Morocco, Myanmar, Namibia, Nepal, Netherlands, New Caledonia, Nigeria, Norway, Oman, Pakistan, Papua New Guinea, Paraguay, Peru, Philippines, Poland, Portugal, Puerto Rico, Qatar, Reunion, Romania, Saudi Arabia, Senegal, Slovakia, Slovenia, South Africa, Spain, Sri Lanka, Sweden, Switzerland, Taiwan, Tanzania, Thailand, Trinidad and Tobago, Tunisia, Turkey, Ukraine, United Arab Emirates, Uruguay, Uzbekistan, Venezuela, Vietnam.
Here, you can check shipping rates by selecting your country.
Kooding Men's Clothing Bestseller
Jogunshop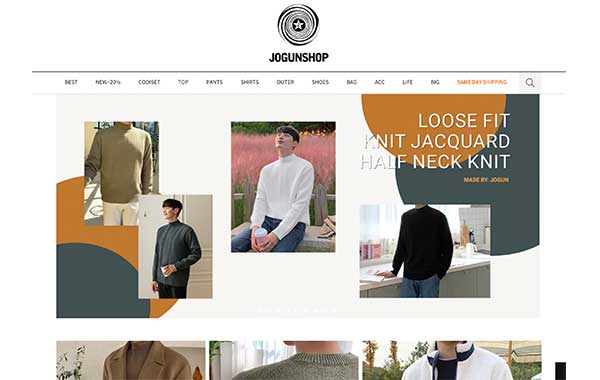 Creating comfortable and timeless clothing pieces for men, Jogunshop is a frequent stop for Korean men. They have an amazing collection of sweaters and pants, a perfect place to shop for dressing just as Korean men do. Moreover, they have extremely affordable items below $60 even, everything is great at Jogunshop. They are providing international shipping for overseas customers.
For shipping fee and delivery date, check this.
The Korean Fashion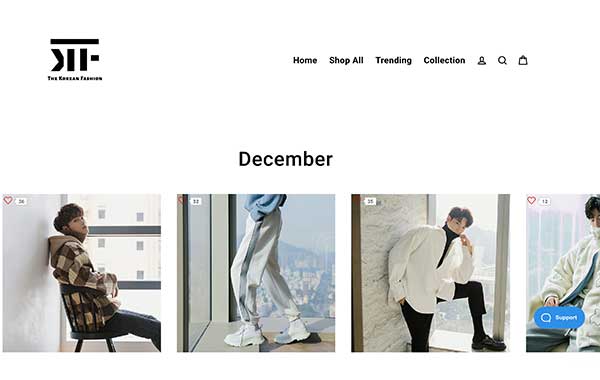 Known for affordable fashion pieces, this platform delivers all the latest trendy items that you may be eyeing after seeing Korean men rocking the items. The Korean Fashion is known to be very affordable and of very good quality all over the Korean fashion scene for men, they provide excellent trends right at your doorstep. They offer international shipping, so get started to dress like Korean men today and place your order!
OKVIT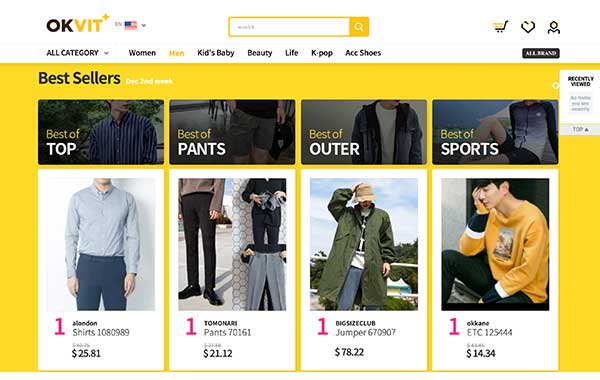 This is a great place to buy the high quality and fashionable items that are inspired by the fashion game of Korean men. In fact, they have a special section on the website for buying items worn by K-pop stars. So if you are looking to purchase anything you liked in particular from your favorite K-pop idols, hop on their website now. What's even greater is that their items are very affordable for being so chic and trendy. Okvit provides international shipping which is great for overseas customers who want to dress like the Korean men and are inspired by them.
SHIPPING COUNTRIES & DELIVERY ESTIMATES
USA : SF express 5~10 business days, Pantos 8~15 business days, DHL 2~3 business days, EMS 5~14 business days
Japan: SF express 3~5 business days, EMS 5~14 business days
China: EMS 5~14 business days
Taiwan: SF express: 1~3 business days, EMS 5~14 business days, Pantos 5~10 business days
Chinese Hongkong&Macau: Qexpress 3~5 business days, SF express: 1~3 business days, EMS 5~14 business days
Singapore: SF express 3~5 business days, EMS 5~14 business days, Pantos 5~10 business days
Malaysia: SF express 4~7 business days, EMS 5~14 business days, Pantos 5~10 business days
Canada: EMS 5~14 business days
Australia: DHL 5~9 business days, EMS 7~15 business days, Pantos 7~14 business days
Europe: DHL 4~7 business days, EMS 7~15 business days
Other countries: DHL 5~7 business days, EMS 7~18 business days, Pantos 7~18 business days
Check more details here.
HISFIT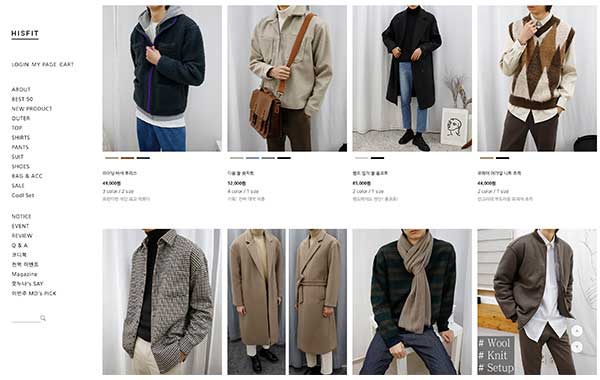 Very popular amongst the Korean men's fashion scene, HISFIT has got some of the most renowned puffer jackets and coats for men. They have amazing padded jackets and outerwear on their site. Furthermore, their items are very affordable ranging from below $50 to above that as well. Personally, I love the style of Hisfit shop and highly recommend it! Look around and consider Korean buying services as they are offering nationwide delivery only yet.
Locker Room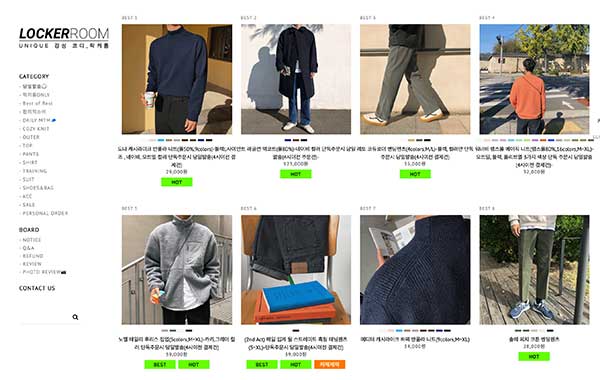 Unique and classy, Locker Room is widely popular for Korean men's fashion. They have the most sophisticated and classic items inspired by the dressing style of Korean men. Locker Room provides extremely affordable pieces.
Mens Castle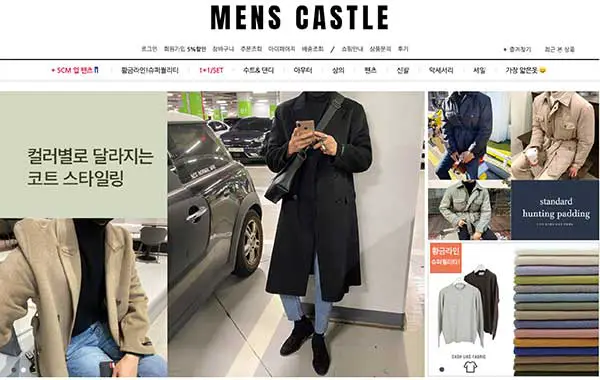 Mens Castle is a Korean Fashion brand that offers a wide range of Korean men's trendy clothing. Not only they are a well-known platform for styling and dressing just like Korean men but they also have items ranging from below $100 and above $100 as well. Mens Castle offers domestic/nationwide delivery for their products.
Moyen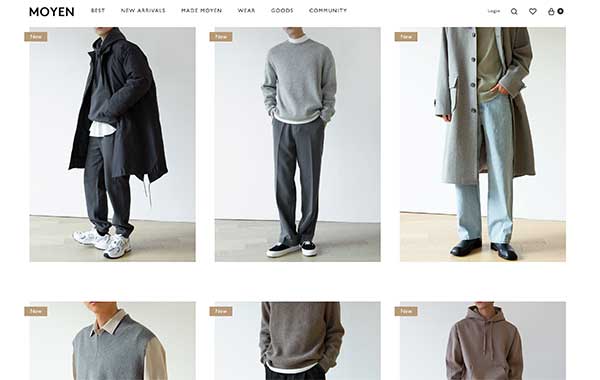 Starting as a small business in the year 2007, Moyen carries a significant vision of carefully choosing to put in their shop the items that they love. It has a total of five stores in Korea. They view clothing as a tool of life, something one needs in great quality to go through life well. Also, Moyen has got a creative approach and delivers comfortable and classic wear for men. You'll see that they have everything you need to dress like Korean men, from trendy clothing items all the way to bags and shoes as well as other accessories.
They have a nationwide delivery in Korea, they don't offer worldwide shipping. Moyen has extremely reasonable prices for the quality they offer such as exceptional wear under $50 and it goes higher for some items but it is all very affordable.
Men's Korean Fashion Trends 2022
Listed below are Korean men's fashion trends that you can follow to up your outfit game. These trends are seen pretty much everywhere where a man in Korea knows how to dress well. These are effective trends, so take notes and try to incorporate these specific items in your wardrobe to get a good start.
Keeping it Monochromatic
When it comes to men's fashion in Korea, this trend catches the eye pretty much instantly. It incorporates the use of just single-colored items, all put into creating one outfit. Dressing up in a single color is known to be a cool men's fashion strategy, as it appears totally effortless, yet looks absolutely ideal. There is no doubt here that it is hence dubbed as the unofficial uniform of Korean men all over the globe. They know how to do this fashion thing right.
Sporty / Athletic
Ever wonder how Korean men can look so effortlessly chic on a day to day basis? It's all thanks to this one trend. It involves wearing sportswear and casual, laid back items with a few luxury and classic items. For example, a classic button-up paired with a pair of laid back basketball shorts or jogger pants is such a perfect look worn well by Korean men. It has benefits to being comfortable to wear and can be worn at any time of the day for going anywhere. Also, It looks well put together while not overdoing anything. It keeps everything in balance. Jin from BTS is known for wearing this trend, he often wears oxford style sweaters with casual pants to achieve the look. A sports hoodie with jeans does the trick for him as well.
Make it POP with Neon
Bring that oomph to your outfit like the Korean men do, by incorporating just one or two neon pieces into your outfit. This brings attention to your outfit and really makes you stand out from the crowd. Experimenting with this trend is always fun and you might just discover amazing neon fashion pieces that Korean men wear.
Oversize it
This one comes as no surprise. Korean men are known to best sport this trend. The oversize trend became a hit in South Korea for men during the '90s runway shows in Seoul. It has never burnt out because it looks perfect. Korean men are a representation of wearing oversized sweatshirts, hoodies, coats, and jeans but they keep it balanced. Well-fitted jeans with an oversized sweatshirt are the way to go. Korean men know how to do this best, and that's why we are to look at them for inspiration. EXO members are frequently seen sporting this trend off duty.
Kpop Male Idols Fashion
Speaking of men's fashion particularly, K-pop male idols know how to dress the best. They have hugely contributed to the fashion scene for men in Korea. They always look perfect, and it's no surprise that their fashion trends and fashion game has inspired millions all over the planet to want to dress just like them. But isn't dressing in Korean men's fashion going to be hard to achieve? This is because they wear Korean fashion brands that are pretty difficult to get around other countries. For that reason, this article helps you to find out Korean male fashion trends and Korean men's clothing brands in depth.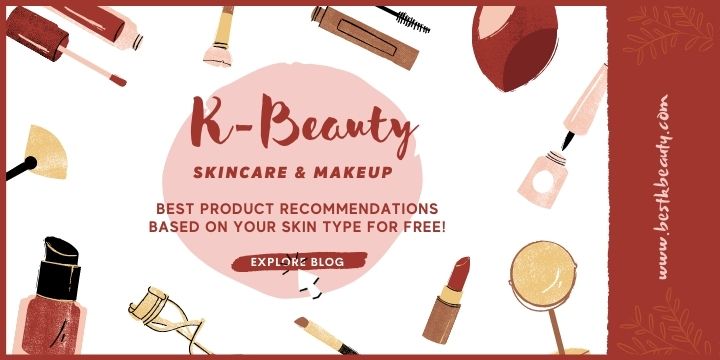 2020 has been a great year for Korean men's fashion, a large inspiration full of trends have come straight from Korea and their runway shows. They feature eclectic and bold energy, which really does take a whole outfit to the next level. They love experimentation and have no rules when it comes to fashion for men, which is a treat and fun way to explore one's own unique style. There's no set of do's and don'ts one must follow, is that not an amazing way of exploring and discovering new trends? This makes Korean men's fashion original and avant-garde.
You may also like