Korean fashion brands are famous all over the world for creating the most gorgeous and trendy fashion items, and one of these is the shoes they have. Korea is known for providing trends to the rest of the world for what is in the particular season and what is not. They have some of the best shoes made all over the world, keeping the customers' comfort and quality desire at the top. One of the must-buy items for tourists while visiting Korea is definitely the shoes. It is known to be drawn in particular to the offline shoe stores or order online. Also, K-fashion brands create a great demand for overseas customers as well. Then where should you shop for the best Korean shoes for women online? Let me guide you in the best way to give you many options available on the online market for Korean women's shoes.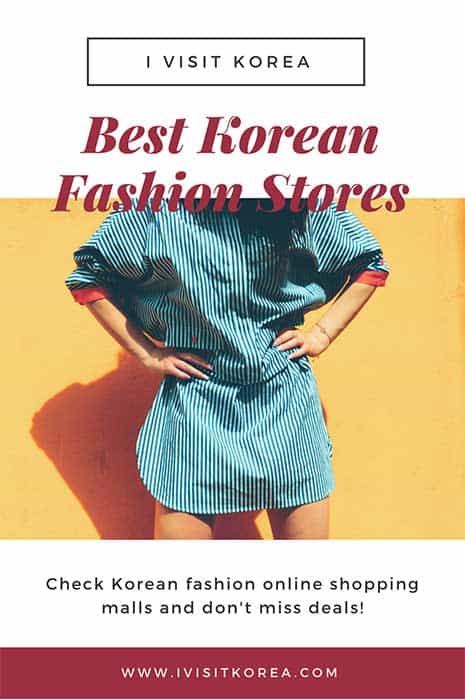 Before you go further to the list of the best Korean women's shoe online shopping stores check the international size chart below!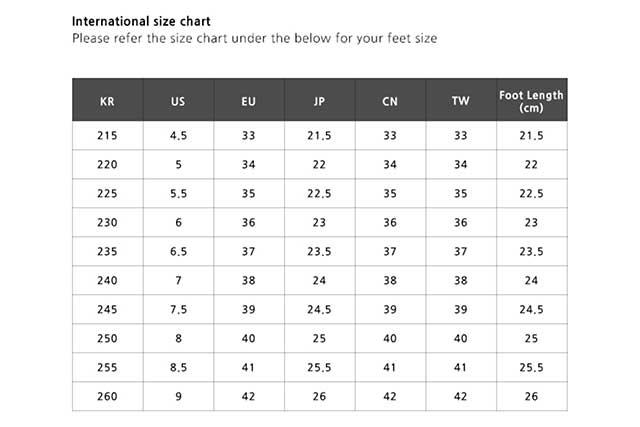 Best Korean Shoe Online Shopping for Women
SAPPUN | Most Popular Korean Shoe Online for Women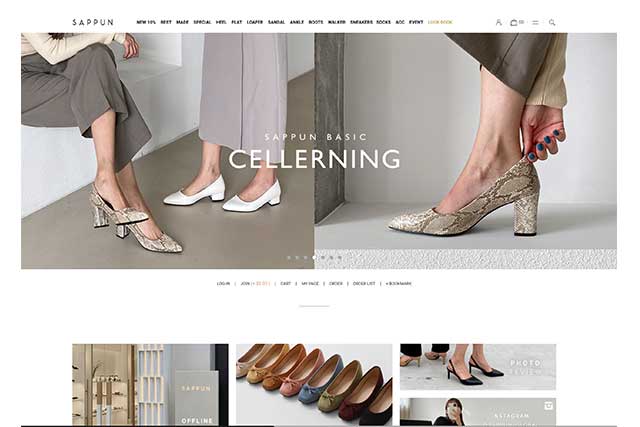 The most popular shoes fashion brand for women in Korea, Sappun, is where you should look first! They are an online store but have opened several stores in Korea in different locations like Gangnam, Hongdae, and Myeongdong as well for people who would rather prefer to shop in person. However, their collection online is just as in-store, just perfect! With online shopping from Sappun, you get the convenience of not having to leave your home for buying chic shoes but also get them delivered to you no matter where you are from! Yes, that's right. They offer worldwide delivery and support 5 languages (Korean, English, Japanese, Chinese, Taiwanese, Cantonese) so hop on to their website and start shopping!
You can find all sorts of styles for women's shoes that you can ever hope for. They have flats, high heel, mid heel, flats, pumps, loafers, sandals, and slingbacks along with many more. Furthermore, they have every kind available in multiple colors to suit your particular likes and dislikes. Sappun has chic and comfortable shoes in a wide range of designs catering to a girl of every age and releases seasonal collections every year with the latest trends. So, you are at the top of your fashion game all the time.
Their flats and loafers are just the best for the autumn season even keeping their winter collection in the summer seasons for offering the best deals. Not only does Sappun have styles for formal and casual occasions, perfect for every time you need a beautiful pair of shoes but the price also is incredibly affordable. With gorgeous shoes under $50 and more! You should definitely shop here for the best pair of Korean-style shoes for women.
Sappun Shipping Policy
Sappun provides free shipping over $70 purchase worldwide. In case of less than $70, the shipping fee will be $5. However, due to COVID19, the delivery is delayed for more than a month. Please check the delayed countries below:
Singapore, Taiwan, Japan, Vietnam, Hong Kong, Malaysia, Philippines, Russia, Germany, Italy, US, UK, Indonesia, Thailand, Qatar
And temporarily undeliverable countries:
China, Macao, New Zealand, UK, Canada, Australia.
For more details about international shipping information, check here.
Sappun Payment System
You can pay via PayPal and credit card(Visa, Master, AMEX, JCB, Discover). Also, Union pay and WeChat pay is available using eXimbay.
YesStyle | Korean Fashion & Beauty Online Store
A great website for purchasing Korean women's shoes online is YesStyle. They have got everything you can need in terms of fashion and beauty from clothes to accessories and even makeup products. But they just excel at the broad shoe range they have for women. You can be anywhere in the world and get the most stylish and dazzling shoes delivered to you from YesStyle, making your wardrobe shine with chic Korean shoes. They offer international shipping, free over $59 purchase, an excellent and exciting feature for women all over the world. Check the available shipping countries below.
Yesstyle has the most enticing collection featuring dancing does, oxford style shoes, all kinds of flats and heels, platform boots and sandals, slippers, lace-up shoes, loafers and moccasins, and many many more to choose from. Fact is, whatever occasion you need a shoe for, they have got you covered for it. Yesstyle win the game of delivering chic and comfortable Korean style shoes.
Moreover, you can find shoe accessories, including foot care products like forefoot insoles and padding, and many more. They feature a number of brands on their website such as Freesia, Shoes Galore, and other shoe brands from South Korea as well. The price is also super affordable and reasonable ranging from below $30 and above. A great platform to extend your shoe wardrobe!
Yesstyle Shipping Countries
Austria, Austria, Belgium, Brazil, Brunei Darussalam, Bulgaria, Cambodia, Canada, Croatia, Cyprus, Czech Republic, Denmark, Estonia, Finland, France, Germany, Greece, Hong Kong, Hungary, Indonesia, Ireland, Israel, Italy, Japan, Kuwait, Latvia, Lithuania, Luxembourg, Malaysia, Mexico, Morocco, Netherlands, New Zealand, Norway, Philippines, Poland, Portugal, Qatar, Romania, Saudi Arabia, Singapore, Slovakia, Slovenia, South Korea, Spain, Sweden, Taiwan, Thailand, United Arab Emirates, United Kingdom, United States, Vietnam
Check shipping rates here.
As well as, If you are interested in best-selling K-beauty items to order here, this POST will help you to choose!
Naning9 | Korean Chic Fashion & Shoe Online for Women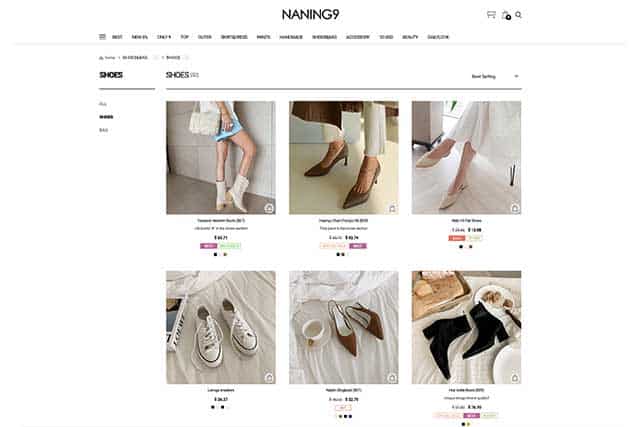 Such an aesthetic and affordable Korean women's shoe brand, Naning9, has many fashion items. But their highly popular products come from their shoe collections. Naning9 offers international shipping, which is amazing as they have a supremely authentic Korean taste to their collection of shoes. They are availing this service to many countries, with a vision for providing women all over the world with beautiful Korean shoes and clothes.
At this time of year, you should check the most gorgeous boots collection where Naning9 has long and ankle-length boots in a broad range of designs and colors, with fur and without, and many more styles. Also, visit a beautiful collection of heels and sneakers, which will attract a customer for sure. Definitely click on their online store for the best aesthetic Korean-style shoes. They are an affordable brand, with their gorgeous items below $60 and more. Head on over to their website to pick the best shoes for this season!
StyleNanda | Trendest Korean Fashion & Shoe Online Store for Women
Launched in 2005, StyleNanda is a renowned platform for women's fashion in Korea, and all over the world as well. In 2006 they were recognized as the best women's fashion brand by Naver which is the most popular search engine like Google in Korea. Later after a few years, they launched a beauty brand, 3 Concept Eyes or 3CE. All that said, their shoe game is at the top. Stylenanda has extremely high fashion shoes at such a good and affordable price available in many different styles ranging from heels, boots, flats, and loafers plus many more. All their shoes are super affordable at below $50 and more than that as well. You will have a great experience shopping for classy shoes from StyleNanda for sure!
What's more, Stylenanda has a large variety of styles supporting 5 languages (Korean, English, Japanese, Chinese, Taiwanese) and offering international shipping, a great service for overseas customers. Check the shipping countries and rates below.
Shipping countries and rates
Asia
– Purchase over $100: Free Shipping
– Purchase below $100: $10 USD

All other countries
– Purchase over $200: Free Shipping
– Purchase below $200: $10 USD
※ This is based on the total amount of your purchase.

Countries included in Asia
– Australia, Brunei Darussalam, Cambodia, Chinese Mainland 中国大陆, Hong Kong SAR 港特别行政区, Indonesia, Japan, Laos, Macau SAR 澳门特别行政区, Malaysia, Myanmar, New Zealand, Philippines, Singapore, Taiwan Region 台湾地区, Thailand, Vietnam, Mongolia, Bangladesh, Bhutan, India, Maldives, Nepal, Sri Lanka.
Check more details here.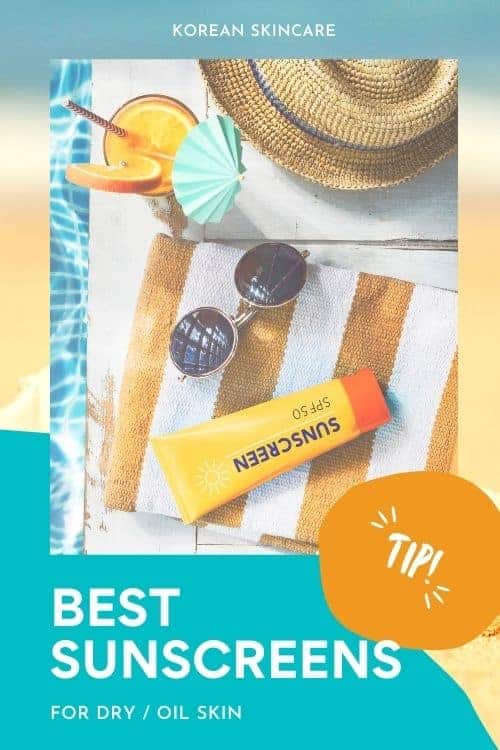 Chuu | Best Korean Fashion & Shoe Online for Teenager
Chuu is filled with all kinds of trendy shoes and clothes which attract the customers right away. They are offering a large range of Korean women's shoes in many different styles and trends from heels and sneakers to all kinds of flats and gorgeous boots for the winter season and many many more! 
Plus, prices are very reasonable ranging all the way from below $20 and above with international shipping which is ideal for overseas customers eyeing beautiful Korean style shoes. You will definitely find cute and comfortable shoes here for sure!
Shipping countries
Chuu's standard flat shipping charge of $8.99 USD on orders below FREE shipping minimum.
Free on orders over $100
Asia Customers
Hong Kong, Singapore, Taiwan, China, Japan, Malaysia, Thailand, Indonesia, Laos, Cambodia, Vietnam, Philippines, Macao, Maldives, Mongolia, Nepal, Brunei Darussalam
Free on orders over $100
Non-Asia Customers
USA, France, Great Britain, Canada, Australia, New Zealand, Russia, Spain, Germany, Poland, Portugal, Brazil, Argentina, Sweden, Switzerland, Turkey, Belgium, Chile, Denmark, Hungary, Greece, Netherlands, Mexico, Italy, Etc.
Check more details here.
MONOBABIE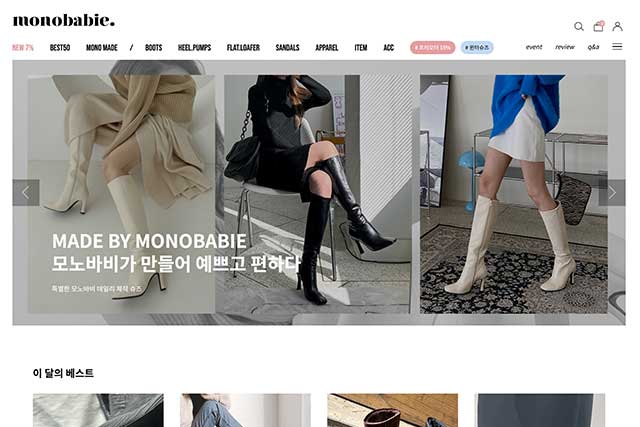 Monobabie is a Korean brand providing classy and exceptionally beautiful shoes for women inspired by Korean women's shoes. Not only they have boots of all sorts of styles, with such a classic look that one just falls in love but it also has a great collection for heels and more as well. Here you can find super affordable shoes ranging below $50 and above! Check a great collection up on their website.
Unfortunately, nationwide shipping in only Korea is available so, If you are in Korea, definitely get yourself a pair from here! Otherwise, you can use buying Korean services for proxy shopping.
AKIII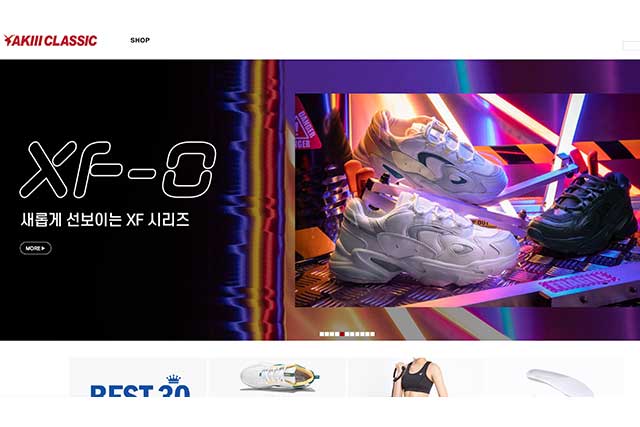 Akiii sells a wide range of top-quality sports shoes and sneakers for women. They also offer international shipping so you can wear sports shoes inspired by Korean fashion for women. 
Their shoes are affordable as well, which means you get to add Korean shoes to your wardrobe at a very reasonable cost of range $50 and above. Such a large collection is very attractive, everyone will definitely find their perfect pair on their website! 
PINKELEPHANT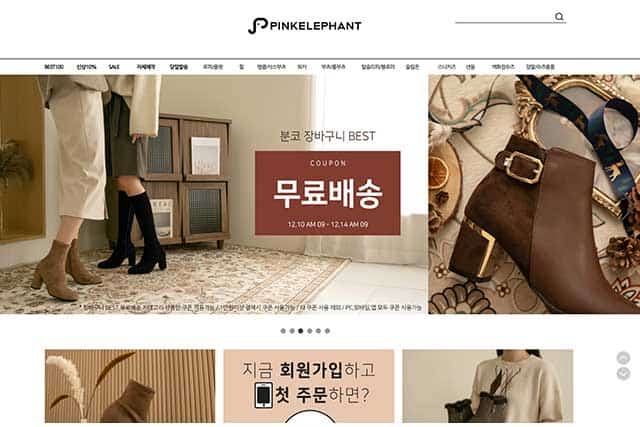 A chic and classy brand offering nationwide delivery for Korea, PinkElephant has such an elegant collection of boots, loafers, moccasins, and more! Their styles are classy at an extremely affordable price range of below $50 and above. Their shoes are just idea, for casual as well as formal occasions, and any occasion at that too. 
Definitely get a pair from their website as they have some of the most beautiful Korean style shoes available. You will be adding a classy pair to your wardrobe, inspired by Korean women's shoes.
SOVOMALL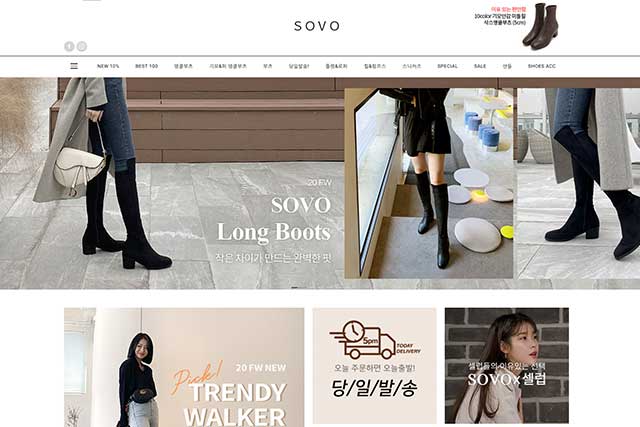 SOVOMALL is renowned for having the most high-quality shoes of all time in Korea. They have been around for over 30 years in fashion and are providing not just shoes but clothes as well. Not only it is a well-known store and respected fashion brand.
Sovomall is very reasonable within the range of under $50 and above and has shoes of all the styles you can ever want including heels, flats, loafers, moccasins, boots, sandals and so many more. Definitely shop from here, you will instantly feel the better and high quality of their high-grade materials as soon as you wear their shoes!
Don't miss out K-fashion deals
Generally speaking, Korea is known to have great shoes for women. But many people are not aware of the best brands for Korean shoe online for women. There are so many brands and we gathered all information including the designs you will want, their shipping policies, and price ranges. You will find what you need in this article for purchasing your favorite pair of Korean style shoes for women.
You may also like