Stylenanda is a popular shopping mall that sells unique, modern, and contemporary women's clothing that occupies the No. 1 fashion shopping mall in Korea. They propose total styling with creative cosmetics, 3CE which is the beauty brand made by Stylenanda. It was established in 2005 and became a major hit with Japanese and Chinese tourists, and it entered domestic department stores, and later expanded the market globally. Founded in 2009, the cosmetic brand 3CE was acquired by L'Oreal for 371 million(USD) in 2018. This is the first time L'Oreal has bought a Korean beauty brand, and it is a part where you can see the power of Stylenanda, and the global popularity of K-beauty. Then, let's see the best sellers of Stylenanda US, and Korea in 2022.
Don't forget to subscribe to our newsletter so you don't miss out on discount coupons they offer from time to time.
Most Popular Items in Stylenanda US & Korea
Sheer Panel Mock Neck T-Shirt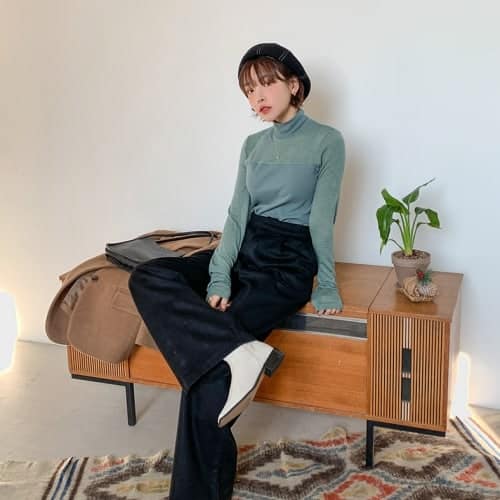 Price: 29 USD
Color: Cream / Green / Black
Size: One Size
This soft turtleneck with a unique texture is made by Stylenanda which is only available here. Its simple and basic design of it will make you wear it every day on any occasion whether at work or on a date. It can be matched with any bottoms like jeans or a skirt and you will complete a stylish look with it. It has three colors and is made of cotton, wool, and polyester.
Check Collar Oversized Knit Top
Price:

43 USD
Color: Gray / Navy / Brown
Size: One Size
It is an oversized fit sweater with a check-patterned collar that opens naturally without buttons is attractive. This unique design creates a comfortable and stylish look with short skirts or pants. Also, the loose silhouette and long sleeves that cover the back of the hand complete the slimming effect fit. With the basic color, you can have it daily. This knitted top is made with 83% polyester and 14% nylon.
Solid Tone Fleece Lined Hoodie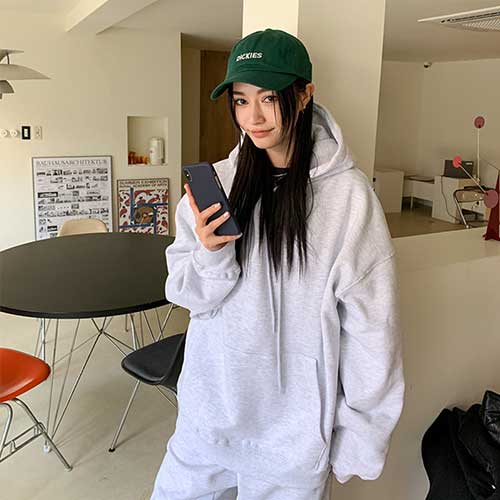 Price:

44 USD
Color: Navy/ Melange Gray/ Black/ Sky Blue/ Light Pink/ Cream/ White/ White Melange
Size: One Size
Get this warm and basic hoodie! It's made of a fabric that has been brushed with fleece inside, so this simple T-shirt is very useful in winter. What's more, a large kangaroo pocket on the front serves as an easy point for real life. You can create a casual look with jogger pants that is in the same design as a set. Pick the one from eight different colors!
Button-Up Denim Shirt Dress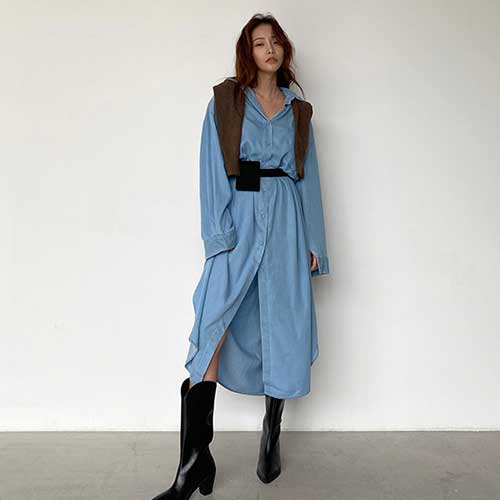 Price:

67 USD
Color: Blue
Size: One Size
This soft dress flutters with the fabric containing Tencel. It has a pleasant touch and subtle light and the shirt-type long dress makes you in a feminine look and casual mood. Also, the sky blue color gives a unique and modern. I could recommend wearing it alone or matching it in the outerwear of a knit and jacket for chic styling!
Fuzzy Cropped Button-Up Cardigan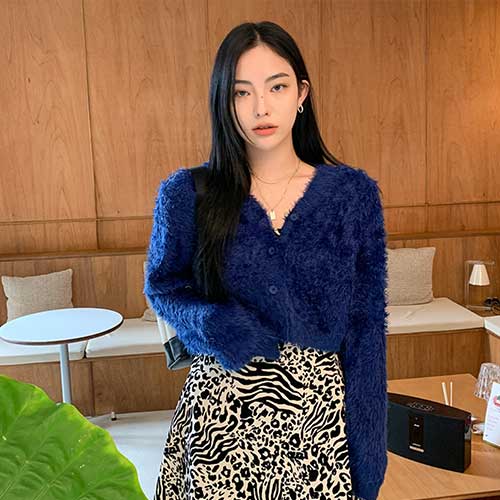 Price:

31 USD
Color: Blue/ Ivory/ Brown
Size: One Size
It is a knitted cardigan with a long fur texture. Due to the nature of the fur material, some static electricity is generated, but the softly stretched feather texture is worn comfortably. For me, the best parts of this cardigan are the natural V-neck shape and exclusive blue color. The cropped length goes well with a mini skirt or long dress for a lovely look.
Solid Tone Slim Fit High Neck T-Shirt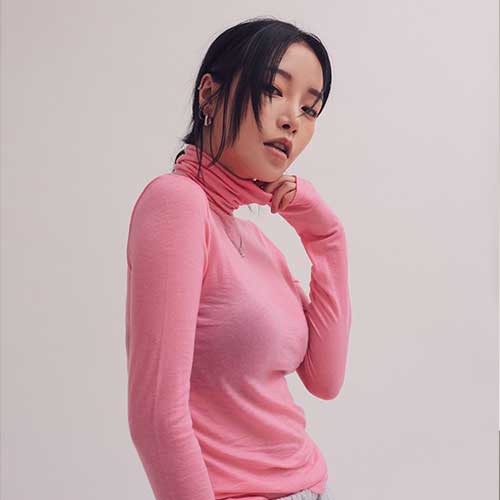 Price:

20 USD
Color: Brown/ Sky Blue/ Yellow/ Green/ Ivory/ Black/ Pink
Size: XS / S / M / L
This is a high-neck top with an attractive soft reflection. It has very soft elasticity, so anyone can wear it easily. Because it is thin and light, it is possible to coordinate daily from spring/autumn, and even in the middle of winter. Have it as a basic item in various styles. You can layer with the knitted vest or cardigans! 95% Tencel and 5% Polyurethane is used in this Stylenanda's bestseller item.
Drawstring Hem Solid Tone Puffer Jacket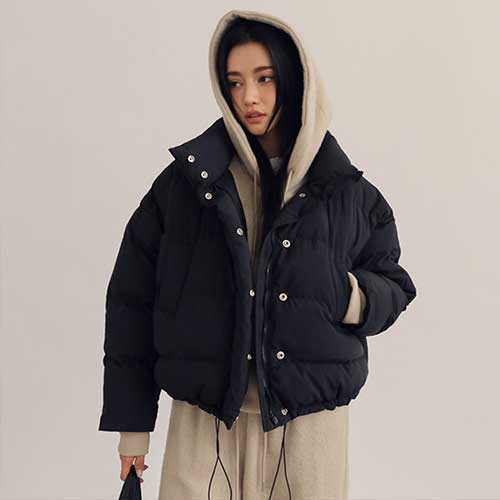 Price:

77 USD
Color: Ivory / Black
Size: One Size
It is very cozy with thick padding. As the overall silhouette is basic this winter outer is especially good for daily wear. The colors are available in two colors, black, and ivory, which can be easily matched anywhere. So, store it according to the mood you want! You will love the mild texture of the padding as well! It's 100% polyester for shell and 100% wellon for fill.
Solid Tone Fleece Lined Sweatpants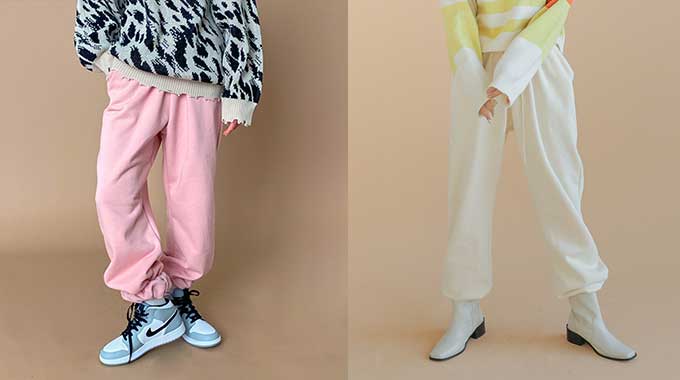 Price:

40 USD
Color: White/ Cream/ Sky Blue/ White Melange/ Melange Gray/ Navy/ Black/ Light Pink
Size: One Size
The top seller of Stylenanda's warm & winter collection! You can make various styles wearing these jogger pants matched with different tops and shoes. And the banding on the waist and ankle increases warmth and comfort. With the fleece inside, you can wear it even in cold winter without losing your style. Furthermore, sweatshirts and hoodies in the same design are available!
Cable Knit Midaxi Skirt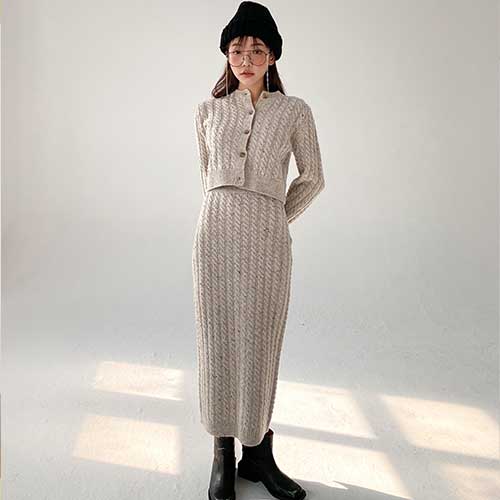 Price: 55 USD
Color: Charcoal/ Beige
Size: One Size
This skirt has a unique design with a tiny twisted rope pattern. Since the back is open, it includes details that consider the activity. Also, it is excellent to wear in cold weather due to its thickness and tight texture. You can choose a warm appealing color among the 'beige' of oatmeal and the multi 'charcoal' mixed with primary colors. First of all, I will recommend you to have it with a top in the same design made of 50% Wool, 30% Nylon and 20% Acrylic.
[Disney] Embroidered Character Patterned Vest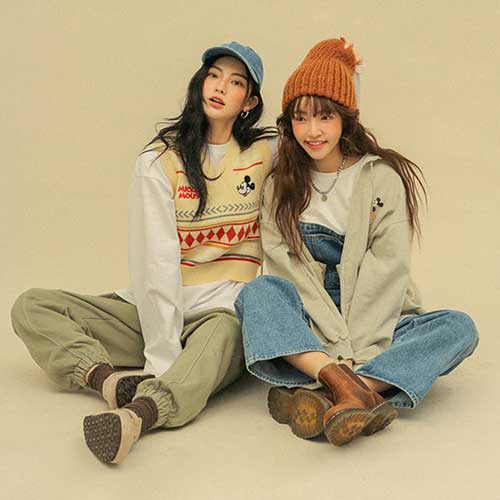 Price: 56 USD
Color: Gray, Cream
Size: One Size
This is the special edition of the collaboration with Stylenanda and Disney! I can say it's a highly collectible knit with a mix of argyle patterns that go well with Mickey Mouse. Not only this V-neck vest is adorable but it also is very warm with a tightly woven fabric. Layer it with a minimal look or wear it over a larger T-shirt! You have an option in color, Gray and Cream.
3CE CLOUD LIP TINT #IMMANENCE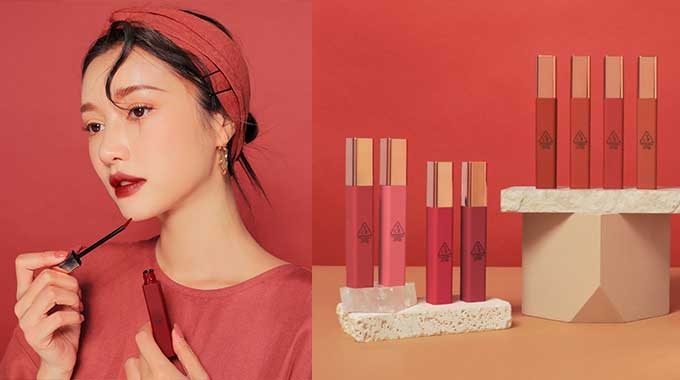 Price: 15 USD
Color: Immanence
Size: 4g
You'll agree that lip color is a big part of makeup. 3CE has a creative and unrivaled makeup line and let me introduce the best-selling product among them. The softly spreading texture of 3CE Cloud Lip Tint adheres to the lips so that there is less smearing and the matte lip is maintained for a long time. You can complete your graceful makeup with this matte lip tint giving a soft and smooth finish. If you are interested in more Korean cosmetic brands, check this post.
Stylenanda Shipping
Stylenanda provides free shipping on orders over $100 for countries in Asia and over $200 for all other countries. Please check the countries included in Asia below:
Australia, Brunei Darussalam, Cambodia, Chinese Mainland 中国大陆, Hong Kong SAR 港特别行政区, Indonesia, Japan, Laos, Macau SAR 澳门特别行政区, Malaysia, Myanmar, New Zealand, Philippines, Singapore, Taiwan Region 台湾地区, Thailand, Vietnam, Mongolia, Bangladesh, Bhutan, India, Maldives, Nepal, Sri Lanka.
Stylenanda Shipping Rate: Below the free shipping minimum, their standard flat shipping charge of $10 USD.
Shipping Duration: It takes about 7-10 business days for the products to be prepared. If you order hot items, there could be a further delay in preparation. Once products are dispatched, they can be delivered to your doorsteps in about one week.
For details, check here.
Payment
Following payment methods are available within Stylenanda US:
1. Paypal
You can either log into your existing PayPal account or pay using a debit or credit card.
2. Eximbay
EXIMBAY is a payment gateway company providing services to online stores that authorize a debit/credit card payment.
Stylenanda Return Policy
Any inquiries regarding the products should be made within 14 days from the day the delivery was completed.
※ Please be noted that you should put your order number in returning parcel to make the process faster.
Exchange or Return due to Change of mind
You should contact Stylenanda's Customer service center within 14 days after receiving your package and send them a return tracking number in 3 business days. In case of any exchange due to a 'change of mind,' round-trip shipping costs will have to be borne by a customer. And note that if those items show any signs of use, they will not be accepted for exchange.
Exchange or Return for Defective and Wrongly Shipped Items
Please contact their customer service center within 14 days after receiving your package and send us a return tracking number in 3 business days. For any exchanges/ returns of defective or wrongly shipped items, the shipping fees will be borne by Stylenanda.
The followings are not eligible for returns/exchanges:
– Any items reported after 14 days from the date of receiving
– Any item from which the tags have been removed, regardless of if they were defective on arrival
– Customized or handmade items
– Cosmetics are being opened.
– Items having a trace of scent, cigarette, perfume, use, wash, or alterations.
– Items that have been damaged intentionally including, but not limited to, lost tags, alterations, washing damages, even if the item was defective upon arrival
– All goods returned without previous notice or in spite of return denial by our CS team will not be accepted
For more information, click here.
You may also like,