Last Updated on November 2, 2022
Do Koreans enjoy Halloween? The answer is yes or no, but close to yes. There are no trick-or-treat things where children visit the house and receive candy, but increasingly, there are many events where young people enjoy Halloween cosplay and partying. Over time, more and more people are learning about Halloween, and festivals and parties are taking place.
Where in Korea can you have a great Halloween? That's why I'm writing this article. Let's dive into the best places to enjoy Halloween in Seoul, Busan, and Daegu, South Korea.
Best Places to Enjoy Halloween in Seoul
Everland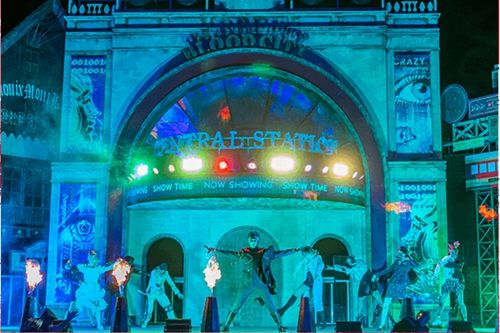 Duration: Sep 2 ~ Nov 20
Place: Everland, 199 Everland-ro Yongin-si, Gyeonggido
Although Everland is located in Gyeonggi-do, we chose Everland Blood City Halloween Festival as the top place to enjoy Halloween in 2022. Because this year's Blood City was designed and directed by an Emmy Award-winning art director for Squid Game, Kyungsun Chae. In Blood City, you will feel like you are the protagonist of a horror movie with your friends. Here is more about the Everland Blood City Festival 2022.
TIP: There are so many performances and photo zones, but we picked the performance Crazy Zombie Hunt as the best one and Clean of the Dead Laundry as the best photo spot.
Compare Everland Tickets & Tours
Lotte World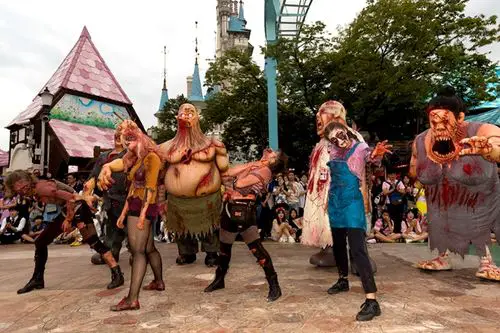 Duration: Sep 2 ~ Nov 13
Place: Lotte World Adventure, Songpa-gu Olympic-ro 240
Lotte World holds the Horror Halloween: The Expansion Festival from September 02 to November 13, 2022. During the day, cutie Halloween wanders the theme park, and after 6 pm, Magic Island turns into a zombie island. And yes, the real horror Halloween zombies that make your heart pounds appear. To learn more about the festival, see this, Lotte World Horror Halloween 2022.
TIP: The best places to take your Instagram photos are;
Escape Station at the Magic Island Main Bridge
On the bridge to Magic Castle
Compare Lotte World Entrance Tickets




Halloween in Hongdae Festival 2022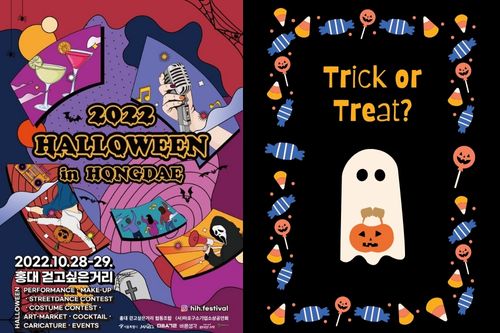 Duration: Oct 28 ~ Oct 29
Place: Hongdae Walkable Street, 107 Eoulmadang-ro Mapo-gu
Hongdae is the most popular and hippest place for young people in Seoul. You can enjoy Halloween busking performances, a costume contest, and a Halloween Art Market at this attractive place.
In addition, a Korean zombie parade, dance performances, and a DJ show will be held on the Hongdae Walkable streets.
If you want to know more about Hongdae, read below articles:
Find & Compare the Best Things To Do in Seoul
Best Places to Enjoy Halloween in Busan
Busan BeFM Halloween Parade Festival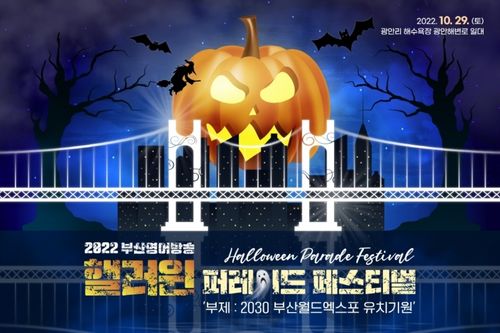 Date: Oct 29
Place: Gwangalli Beach, Gwangan 2-dong, Suyeong-gu
Busan English Broadcasting (BeFM) Halloween Parade Festival is the only Halloween Parade festival in Korea at Gwangalli Beach. The parade will continue for 3 hours. Hosted by the English Broadcasting Foundation, it will be held in Gwangalli Beach, Busan. Check out more information in the Busan BeFM Halloween Parade Festival article.
Programs
16:00 ~ 18:00 – Costume Contest
18:00 ~ 20:00 – Halloween Parade
20:00 ~ 20:10 – Halloween Drone Show
20:10 ~ 21:00 – Halloween Music Concert
If you want to know more about Busan, how to go or what to do, check out the articles below;
Find & Compare Things To Do in Busan
Best Places to Enjoy Halloween in Daegu
E-World Happy Halloween Festival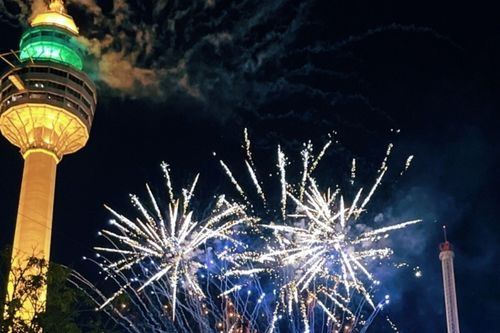 Duration: Sep 17 ~ Nov 13
Place: E-World, 200 Duryugongwon-ro Dalseo-gu, Daegu
You can meet various experiences and performances every Saturday during the festival period. During the day, you can play with the monsters in the BB Friends Garden over snacks, and at night, the naughty monsters perform creepy performances. Check more information about the E-World Happy Halloween Festival.
TIP: On Halloween day, a colorful fireworks show is held from 8 pm.
Compare Daegu E-World Ticket Prices

Find & Compare Things To Do in Daegu
Happy Halloween!
IVK's Top Picks – Day Tours, Tickets, and Travel Activities
Seasonal Picks!😍