It may be tough to adjust to life as an expat in Korea, from the language barrier to the loneliness. However, when you have the help of a group, it makes a world of difference. Online communities for expatriates in Korea are increasing as quickly as the number of new residents.
These groups have grown to become centers for international residents to exchange knowledge and share their experiences via the sharing of advice, recommendations, and information over the Internet. Even simple things like how to order pizza might be a genuine lifesaver if you're having a hard time dealing with things like your profession or your relationship. 
Expats are well aware of how quickly delivery is in Korea, so many Koreans rely on websites rather than in person. As a result, Korean online immigration portals have also had a significant impact on the country's economy. Additionally, these websites provide a wide range of services to meet every consumer's needs. These are the ten best websites for expats in Korea to help your stay be convenient, comfortable, and memorable.
Top 10 Websites For Expats in Korea
Hi Korea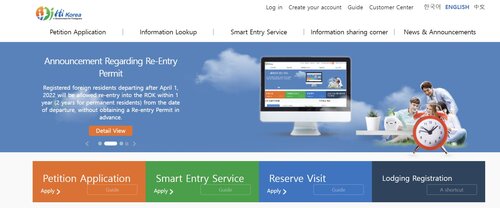 One of the most used websites for foreigners living in Korea is Hi Korea.
The E-Government portal by the Ministry of Justice, Knowledge-Economy, and Labor was made to give foreigners information on investment, employment, and residency. Reservations for visits and usage of the e-Application services are the primary functions of this website.
To minimize waiting in line, applicants may schedule an appointment online with the Korea Immigration Service or one of its embassies or consulates. Only registrants with an appointment may be submitted for processing during restricted visits to embassies and consulates.
Website: https://www.hikorea.go.kr/
Danuri Portal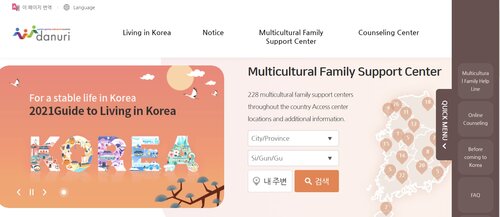 The Danuri Portal is a one-stop-shop for information about Korean living and the most recent news from the multicultural community. Migrants and multicultural families may access Danuri services online via a computer, a cell phone, or a portable device. Access to programs and services for migrants and foreigners is available. The purpose of the Danuri website is to help multicultural families live with support and care in Korea through access to online counseling, online education, and information about living in Korea.
The website is in 17 different languages.
Read more about Top 7 Ways on How To Make Korean Friends.
Website: https://www.liveinkorea.kr/portal/main/intro.do
I Visit Korea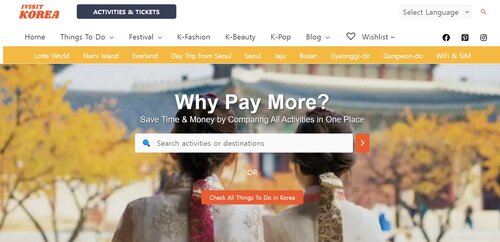 The reason expats return to Korea is for the adventure, memories, and attractiveness of Korea. I Visit Korea is the place to find and compare all there is to do in Korea! Discover all you need to know about traveling to Korea, including the finest itineraries, must-see attractions, and upcoming events.
You can get all you need to know about excursions and activities in one location, compare rates, and choose the best ones. The city's tours can be catered to your interests and you can experiment with local culture and amenities like free Wi-Fi, free walking tours, and free carry-on luggage service while also visiting art galleries and museums.
Enjoy the view and sounds of the city at night from the comfort of a cable car. Water activities include paddling, kayaking, and rafting, to name just a few. Check out their website for more fun!
Website: https://ivisitkorea.com/
KSIF (King Sejong Institute Foundation)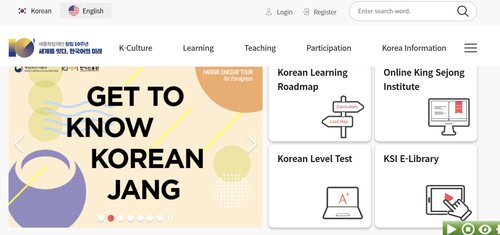 KSIF strongly promotes the Korean language and culture through educational programs and outreach activities. They want to increase awareness of and affection for Korea among non-Koreans worldwide.
One of the best things about this website is the King Sejong Institute e-class. You can find institutes close to your home and learn Korean from skilled teachers. They also have the King Sejong Institute which helps anyone looking for a job, gives advice for those seeking to study overseas, helps develop oneself, and more. They have various online resources to help learn Korean and the culture.
Read more about Korean language apps.
Website: https://nuri.iksi.or.kr/front/main/main.do
Seoul Foreign Portal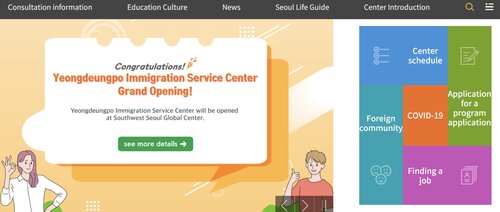 The Seoul Global Center is committed to ensuring the long-term viability of the city of Seoul and making life easier for foreigners who want to live there.
There are a variety of programs available in addition to the multilingual life counseling that they provide. In addition, Seoul Global Center provides counseling and information in 13 languages and 19 translation materials for programs such as consulting, education, culture, and communication. They also give advice on the convenience of daily living in Seoul for foreign residents living in Seoul.
Read more about Best Apps for Korea Travel!.
Website: https://global.seoul.go.kr/web/main.do
Korea.net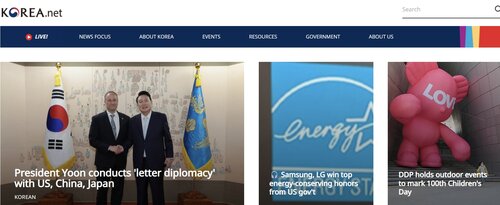 Internet site Korea.net is the official voice of the Korean government and serves as a platform for promoting the country online. Korea.net's roots may be traced back to December 1995, when the government established The Korea Window.
Korean officials jumped on the Internet as soon as it was available, foreseeing its potential as a primary means of communication in the information age. As of now, Korea.net provides updated information about Korea in a wide range of fields such as international cooperation, government policies, cultural developments, the arts, history, social movements as well as scientific and technological advances, business developments, and sports activities. They do so in English, simplified Chinese, Japanese, Arabic, Russian, Spanish, French, German, and Vietnamese.
Website: https://www.korea.net/
Easy law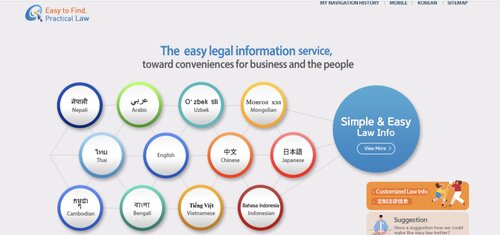 More than 4,200 laws and regulations from each government agency and 9,300 administrative rules have been categorized into several sectors of life, focusing on the people's lives since 2008.
To make it easier for individuals to use, they've organized more than 250 pieces of material into categories, including "subject," "interest," and "life cycle." You can get the legal knowledge you need based on your age, profession, and other factors.
Read about How to Find a Job In Korea.
Website: https://www.easylaw.go.kr/CSM/Main.laf
Topik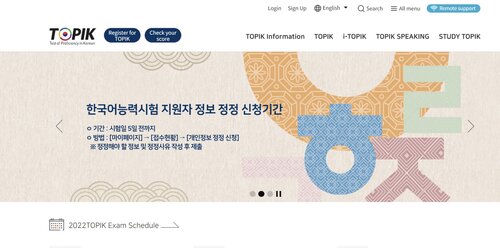 Test of Proficiency Exam in Korean (TOPIK) is a written test developed to assess the ability of non-native speakers to express and understand Korean. The TOPIK exam tests a student's ability to read, write, and comprehend Korean.
There are six times a year for the exam: January, March, April, July, October, and November. TOPIK I (Levels 1 and 2) is for beginners, whereas TOPIK II (Levels 3 and 4) is for more advanced students (Levels 3, 4, 5, and 6). Visit the TOPIK website for additional details about the exam and to register.
Read more about What Is TOPIK (Test of Proficiency in Korean) and How To Study.
Website: https://www.topik.go.kr
Korea Immigration Service
Immigrants are becoming more and more critical as the world's population continues to age and fertility rates fall, and more nations compete to lure the best and brightest. The Korea Immigration Service is one of the best websites for expats in Korea because it offers a simplified immigration process and ensures passenger safety. There is a lot of useful information about visa, immigration, living in Korea, employment, safety, and more. Read more about How to Apply Alien Registration Card (ARC) and Important Things to Know.
Website: https://www.immigration.go.kr/immigration_eng/index.do
Study In Korea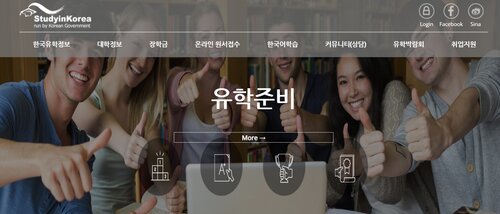 Study in Korea is the place to go to find out about higher education in the Republic of Korea. The site makes it more accessible to overseas students, primarily for undergraduate and graduate degrees.
A green card must be obtained from a Korean Embassy or Consulate in the applicant's home country if they want to study in Korea. To get this, you'll need to gather all the necessary paperwork, including an entrance letter. Visa requirements depend on whether they'll be taking a Korean language course or another form of course.
You can find the most significant websites for expats in Korea for immigration online!
Read about Hangul The Korean Alphabet, History, and Importance.
You may also like:
IVK's Top Picks – Day Tours, Tickets, and Travel Activities
Seasonal Picks!😍