Last Updated on June 2, 2022
So you are flying to Korea but on a long-term visa. Maybe you are a student or a long-term employee. Perhaps you are even married to a Korean citizen. If so, you will be required by the government to apply for an Alien Registration Card or ARC for short. Handling matters in regard to immigration can be a daunting task for any first-timers in a foreign country. This is especially true if you do not speak the language well. In this guide, we hope to help you transition more smoothly in obtaining your brand new ARC.
Alien Registration Card (ARC): Application and other Important Things
What is an Alien Registration Card (ARC)?
But wait, what is an Alien Registration Card (ARC)? The answer is actually in the name! To put it simply, it works as your personal identification card that replaces your passport. Therefore, once you have obtained it, you can simply leave your passport safe at home and carry it around your ARC instead. You will need your ARC for most necessary things, such as banking and obtaining a phone number. Hence, the sooner you get it, the faster your transition into life in Korea will be!
An ARC has your foreign identification number – which is your birth date + 7 unique digits -, name, country, visa type, duration of stay, and address.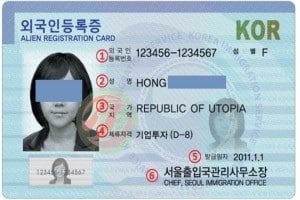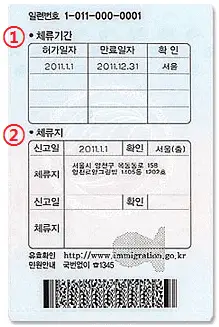 P.S: The Korean government is actually planning to replace the word "alien" with "foreign" in the future as an attempt to address the complaints of the term "alien" having negative connotations. 
How to apply: individual or group
First thing's first: you need to know which method of application you prefer more. Do you plan on personally going to the immigration office yourself? Perhaps your school offers a special service that it applies on your behalf? Depending on your preference, the application process for each method differs slightly. 
Group application 
Typically, if you are in Korea as a student, your university would offer a special visa service. The school would designate a date and a location within the campus to collect the necessary documents and payment. Then, it would apply for your ARC on your behalf, along with other students who applied.
Although it might differ slightly from school to school, the typical required documents and fees are:
Fees: About 40,000 won
Processing time: About four weeks from the time of application
Required documents: Application form, recent photo, copy of your passport's personal information and visa page, proof of residence, and power of attorney.
If you live in a dormitory, you can obtain your certificate of residence from the dormitory office. If you live off-campus in your own place, your proof of residence is your rental lease. Additionally, if you are living with someone else, you would need a copy of your contract holder's ID as well. Places such as goshiwons or goshitels entail you to provide a receipt of a month's payment and the business license.
You would still need to visit the immigration office to register your fingerprint but the process is shorter and hassle-free. However, one notable con to this method is the wait time is slightly longer and the fees are slightly more expensive. Otherwise, it is a convenient method you can definitely benefit from as a student!
Individual application
If you are not a student, or simply feeling adventurous, you can apply for your ARC individually.
Reservation
The first important step is to make a reservation at hikorea.go.kr. The English site is fairly easy to navigate. Under the Petition Application tab, click on the reserve visit. You can read a detailed guide on how to continue from there on the website.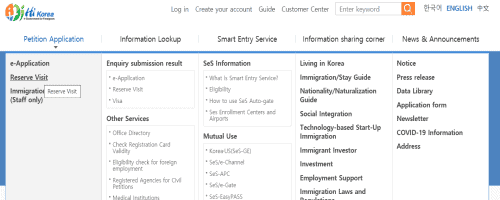 There are two important things to note: your immigration office, and your date of application.
In regards to the first one, Seoul, for instance, has two immigration offices that cover different areas of jurisdictions. One is located near Omokgyo station, while the other one is located in Sejong-no. Hence, you should know which immigration office your area of residence falls under to avoid making multiple unnecessary trips! 
Immigration offices in Seoul:
1) Omokyo Office: Areas of jurisdiction exclude Jongno-gu, Jung-gu, Eunpyeong-gu, Dongdaemun-gu, Jungnang-gu, Dobong-gu, Seongbuk-gu, Gangbuk-gu, Nowon-gu)
Address: 151, Mokdongdong-ro, Yangcheon-gu, Seoul, Korea
Office hours: 9 AM to 6 PM from Monday to Friday
Phone Number: +82-2-2650-6214
2) Sejongno Office: Areas of jurisdiction that are not covered by Omokyo office
Address: SK Hub Bldg. 2F, 89-4, Gyeongundong, Jongno-gu, Seoul
Office hours: 9 AM to 6 PM from Monday to Friday
Contact Number: +82-2-6908-1345
Regarding your date of application, certain months of the year will typically see an influx of applicants, especially from students and teachers. Since visit reservations can be made up to four months in advance, it is good to plan ahead so you can reserve an early visit. Furthermore, the earlier you apply for your ARC, the earlier you will get it. If none of your desired dates are free, you may need to visit the office without a reservation. However, in these instances, you may face a much longer wait time. 
Required documents
Before making that visit to the immigration office, do note the following required documents and fees:
Fees: 30,000 won for pick-up, 33,000 won for mailing (exact amount required)
Processing time: Up to 3 weeks on average
Required documents: Passport, 3.5mm x 4.5mm color passport photo with white background, application form, and a tuberculosis medical test result issued from a local public health center for nationals of the following countries: 
China, Sri Lanka, Russia, Uzbekistan, Thailand, Vietnam, India, Nepal, East Timor, Indonesia, Pakistan, Mongolia, Bangladesh, the Philippines, Myanmar, Cambodia, Kyrgyzstan, and Malaysia.
Depending on your visa type, you may need more documents than the ones listed above, so it would be helpful to contact 1345 for further information. 
At the immigration office
Make sure you arrive on time based on your reservation details. Once you are at the immigration office, take note of the correct floor you should go to depending on the area you live in. Then, at the waiting area, listen attentively to the number being called, or look at the monitor. You may fill in your paperwork in pen and glue your photo while you wait. Once your number is called, go to the designated counter and hand in your required documents. To save time, you can pay your fees in advance at the ATMs located outside the waiting room. Then, merely hand in your receipt once it is your turn. 
Additionally, if you opt for picking up your ARC in person, simply visit the immigration office at the designated date. You do not need a reservation and would only be asked to wait your turn. 
Important things to remember! 
Expiry and renewal
Usually, your ARC lasts for as long as your original visa. For example, students have 2 years of validity on their ARC. If you plan to stay in Korea longer, typically due to long-term employment, you would need to renew your ARC at the immigration office again.
The required documents are online reservation confirmation, visa application form, your current ARC, passport, 1 original and 1 copy of the signed contract as proof of employment, and proof of residence. 
The renewal fees are 60,000 won. 
Lost your ARC?
Oh no! Perhaps one of an expat's worst nightmares! Don't fret; all you need to do is to quickly apply for a replacement at the immigration office. The required documents and fees are the same as your first-time application. Don't forget to make that reservation!
Changed your address?
Korea has strict rules when it comes to changes in addresses. Foreigners are required to report a change in their place of residence within 14 days or be imposed a heavy fine. That being said, the steps are really simple.
All you need to do is to visit either the immigration office or your nearest town district office (or Gu-office). If it is the latter, the process takes place at the Civil and Passport Division. For the former, a reservation is required. Besides that, there are no fees as long as you report the change within 14 days. Similarly, you need to bring your Alien Registration Card, passport, and proof of residence. 
If you still have doubts or questions, you can contact the immigration call center at 1345.
There you have it! A quick and easy guide to getting to know your ARC a little better! As an expat, your ARC is one of the most important things to have so we hope this article helps the process of obtaining one a little easier. 
You may also like:
IVK's Top Picks – Day Tours, Tickets, and Travel Activities
Seasonal Picks!😍