Do you know that Majang Meat Market (마장 축산물시장) is a paradise on Earth for meat lovers? It is a big wholesale market that sells high-quality meat to many restaurants and people in Seoul. So instead of paying a lot of money at marts and supermarket chains for fresh meat, you can get it right here.
And the most famous specialty of this market is Hanwoo beef – the beef that comes from native cattle, and its marbling is as good as the best Wagyu. The best Hanwoo beef can be found at the Majang Meat Market, South Korea's biggest meat market. Hanwoo beef is not exported (except to Hong Kong) because there is so much demand for it in South Korea. It is often served at the best high-end K-BBQ restaurants. So, how can you find and enjoy Hanwoo beef? Let's find out! 
Read Also:
What is Hanwoo?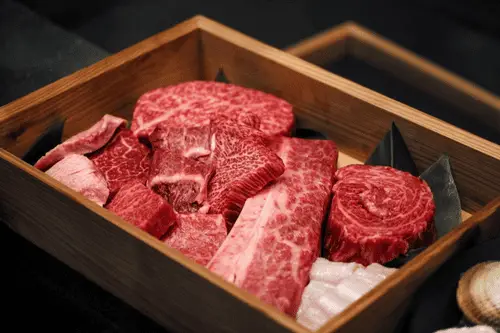 Source: guide.michelin.com
Experts say that the native breed of cattle in South Korea is just as good as the best Wagyu beef from Japan. This beef, called Hanwoo, is one of the most prized things in Korean cuisine. It is served at special dinners or given as gifts during the Lunar New Year or Chuseok (Korean Thanksgiving).
The Hanwoo (Korean: 한우) is a small breed of cattle from Korea. This breed is mainly raised for meat. Hanwoo beef, one of the rarest and most expensive meats in the world, comes from this breed. 
Even though it is expensive, this beef is preferred in Korean cooking because it is usually fresher. It is considered premium beef because it tastes good and has the right chewiness. Korean beef is an excellent choice for red meat lovers because it is soft and juicy. Koreans have been enjoying this tasty meat for many years. It is used in many dishes.
What does Hanwoo taste like?
You've probably heard of Wagyu, Kobe, and Black Angus, all high-quality types of beef that cost a lot for just a few bites. But when did you last sit down in front of a piece of Hanwoo?
Many people who have tried Hanwoo say it tastes just as good as Japanese Wagyu. Since Japanese Wagyu cattle are the offspring of Korean Hanwoo, the taste is similar to that of Wagyu, but it tastes more like beef. The reason for this is that Hanwoo has less fat than Wagyu. For example, think about a ribeye. 
About 70% of a Wagyu ribeye is fat, while 40% to 50% of a Hanwoo ribeye is fat, with the rest being protein. It has a unique taste because its fat and protein are balanced. The fat on Hanwoo is just enough that it doesn't overpower the taste of beef. Hanwoo is an excellent choice for people who want beef that tastes less like beef than U.S. beef but isn't as fatty as Wagyu. Many think Hanwoo is the best for both Wagyu and U.S. beef.
Why Majang Meat Market is the best place to have Hanwoo?
The Majang Meat Market is Korea's biggest meat market. It also has the most up-to-date and cleanest facilities in all of Korea. This place undoubtedly is a traditional market for livestock products. It is in Majang-dong, Seongdong-gu, Seoul. As the name suggests, the big market sells almost nothing but meat. 
Fresh meat from all over the country and other countries come to the market every hour to be sold. The prices for each cut of beef are marked, as are the government and place of origin. The Korean Medical Association has praised the market for its efforts to sell good products (KMA).
People know that the Korean beef sold at Majang-dong is high quality and affordable, which is why over 2 million people visit the market yearly and more tourists come annually.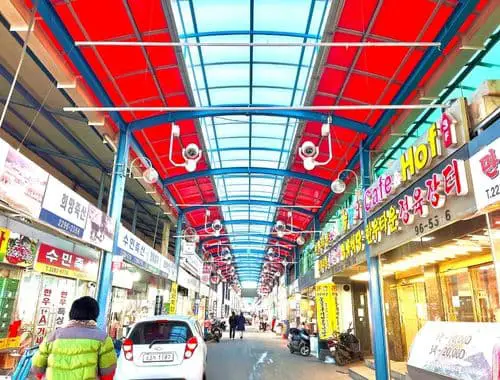 Majang Meat Market sells Korean beef from farms all over the country every hour. Each item's price and place of origin must be listed by law, and the prices are 20–30% lower than those of similar items sold in stores. 
Only natural products can be sold at the market, and they can only be bought in set amounts and for set prices. The market also regularly hosts various events, such as free taste tests and other activities.
3 Best Reasons to Visit Majang Market
The Majang Meat Market is well-known among Seoul's natives as the best spot to purchase and consume fresh meat at affordable prices. In recent years, it has been a popular place for TV personalities and YouTubers, particularly in response to the digital rise in popularity of "mukbang," or eating shows. The market is responsible for more than sixty percent of the meat distribution, particularly beef, in Korea. Are you "hungry" for Hanwoo? Book a trip to Majang Meat Market right now!
Reasonable price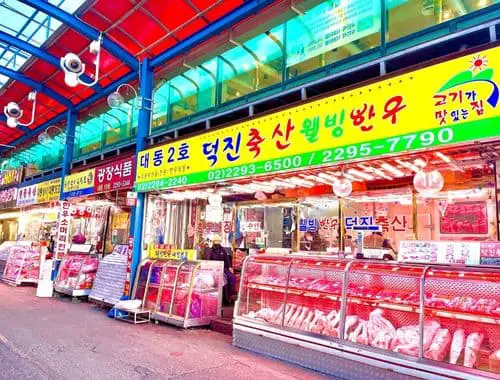 Hanwoo is one of the best and most important reasons to eat at Majang Meat Market. You may already know that Hanwoo isn't always cheap if you eat it at one of Seoul's high-end BBQ places. 
Up to about $40 per 100g, quality Hanwoo can be purchased. Sure, it might be worth it since you're also paying for the service, but let's face it: most of the time, you end up paying a lot for just a few small portions of Hanwoo that aren't even enough to fill you up. I've been there, so trust me.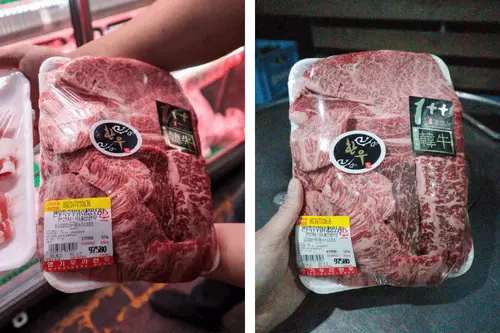 Source: thokohmakan.com
What's so great about this meat market is that you can choose from many different meat sellers and ask for any part of the beef you want. Most of the time, the meat is cut into pieces to feed two or three people. These pieces are made from different cow parts so that you can try other parts. 
There is also a good chance that the meat vendor will throw in some "Service" or free pieces or parts of beef. Top-quality Korean beef with perfect marbling costs only about KRW 12,000 or $10 per 100g. The best part is that you can bargain like any other wholesale market in Korea.
Freshness + Variety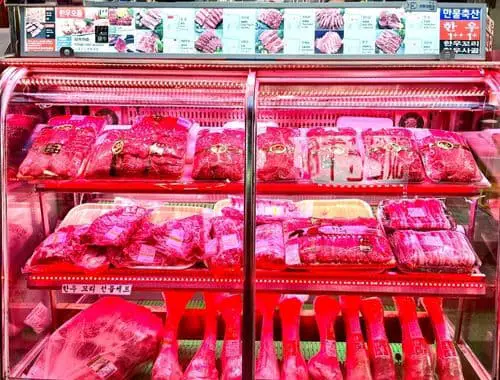 This Majang meat market has a lot of different cuts of Hanwoo. Since it's the biggest meat market in Korea, with about 3,000 meat sellers and animals coming from farms all over Korea every hour, it's not surprising that meat is hanging everywhere. 
Be ready to see things you don't usually see in supermarkets, like intestines, lungs, stomach, heart, and even a full cow head… So, it's no surprise that this place smells like raw meat. Also, if you live nearby, this is a great place to get quality beef or pork if beef isn't your thing.
Restaurants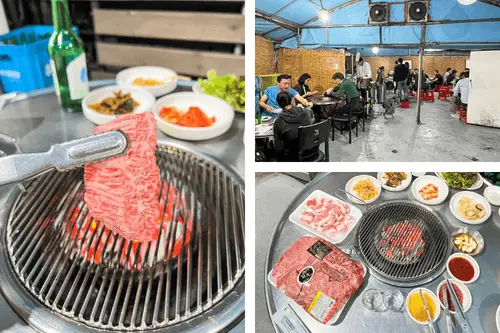 Source: thokohmakan.com
When you have bought good cuts of Hanwoo, and now you are wondering where you can eat them. Perfectly, most restaurants are on the second floor of the meat vendors. For example, if you like to cook meat on charcoal grills, there is a restaurant with just that.
For 5,000 won per person (about 3.95 USD), you can use the grill for cooking your meat, getting side dishes, and a self-serve salad bar, just like at any other Korean BBQ restaurant. You have to pay extra for alcohol and other main dishes like noodles.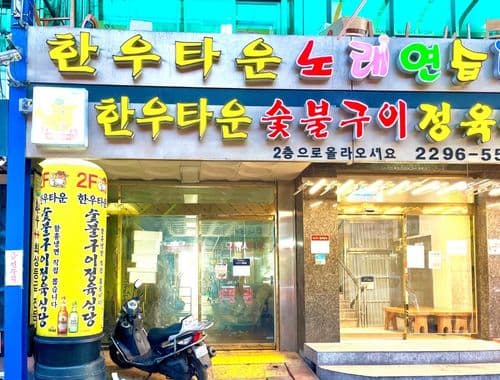 Here's a tip: butchers from the meat vendor would give their customers free meat, usually a fatty cut that's "fit for soup" and a much leaner cut that's perfect for eating raw with sesame oil and chili paste. 
When you go to the restaurant of your choice, feel free to order Korean miso soup, and ask the ajumma (married or middle-aged Korean woman) to add the fatty cuts of beef. The fat makes the soup taste better and warms the body and the heart on a cold winter night.
Read more reviews about customers experiencing Majang Meat Market here. 
How to get to Majang Meat Market?
Majang Meat Market (마장 축산물시장)
Address: 서울특별시 성동구 마장로31길 40.
If you know the Korean alphabet, you can search "마장 축산물시장" on Naver Map, and it will show you the best way to get there from where you are.
There are three ways to get to Majang Meat Market from Myeongdong Station to Majang Station: by subway, taxi, or on foot.
The most cost-effective method to get from Myeongdong Station to Majang Station is to take the metro and the line 5 subway, which will cost you between $2 and $3 and will take about 18 minutes.
Taxis range in price from $8 to $11 and take approximately 6 minutes to travel the distance between Myeongdong Station and Majang Station.
From Myeongdong Station to Majang Station, there is 5 km, so you can consider walking on foot.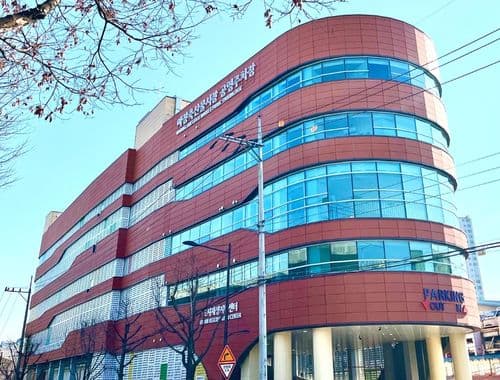 In case you use a car, here is the Majang Meat Market public parking. It opens 24 hours and costs 250KRW per 5 minutes. So it's 3000KRW per hour.
Recommended route
For those of you who are going to Seoul and either don't speak Korean or don't know the language, the following is the way that is highly recommended:
You can either take the subway to 왕십리, Wangsimni Station from Line 2 (the green line), and exit at Exit 8, or you can walk from here; the market is around 15 minutes away if you want to walk there.
Walk for about two minutes to the bus stop that is marked with the ID 04134 왕십리역, Wangsimni Station, and then take bus 2222 heading in the direction of 고대앞, also known as Korean University.
Take the number 3 bus and get off at the stop labeled "Magang Meat Market." (마장 축산물시장)
When is Majang Meat Market open?
Operating Hours
Monday to Friday: 8:30 AM– 9 PM
Saturday: 7 AM – 9 PM
Sunday: 8:30 AM – 9 PM (Hours might differ)
Special Notice
The market closes every 1st & 3rd Sunday of every month. Check your calendar before going.
How to buy meat and go to BBQ restaurants in this market?
Majang Meat Market isn't only for people who want to buy meat or run restaurants. Ajummas from the neighborhood have been coming here for decades to buy groceries. Blue-collar workers have long enjoyed their after-work socials at its hole-in-the-wall BBQ joints, grabbing discounted pieces from the meat shop and heading upstairs to the smokey diner for an evening of grilled meat and soju. 
Majang Meat Market sells Korean beef and deboning and other meat processing services. This lets customers buy rare, unique cuts only made in minimal amounts per cow, which is one of the market's main draws. 
Korean beef comes in almost every cut, such as a thin skirt, beef attached to the spleen, neck chain, rib eye, and different grades of meat (1+, 1++, etc.).
Even though a wholesale meat market might not be the first option that comes to mind when you think of Korean markets, it is worth going to. There will be some blood on the ground where you walk, so don't wear your brand-new white sneakers. 
Once you've bought your meat, you can go to one of the restaurants and pay 4,000 won (about 3 USD) per adult for them to cook it. 
"Hunting" for the best Hanwoo beef in Majang Market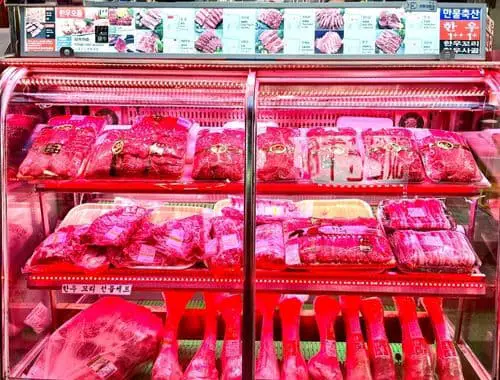 You can walk into any butcher store in Majangdong to eat tasty, high-quality Korean beef. If you'd instead buy meat that isn't already packaged, there is a menu that shows the different cuts of meat you can buy.
Just tell the butcher what cut of meat you want and how much you want, and they will do the rest. The menu can be shown in English, Chinese, Korean, and Japanese.
The butcher shop's menu often suggests two good ways to cook Hanwoo: over a charcoal fire or on a stone-plate grill. Then the butcher cut our meat and put each piece in its package.
Eat-in restaurants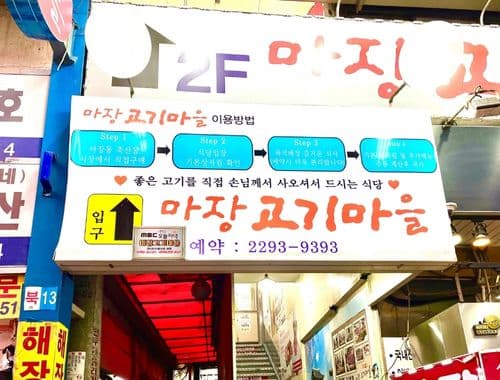 The market also has its own "food street," or "meokja golmok," which comprises about 20 restaurants. Here, customers can eat as much high-quality, reasonably priced Korean beef as they want in a clean, open space. Every restaurant has a " corkage-free " service for people bringing wine or liquor. 
You might be thinking about what you should do next with all the meat you have purchased. Many people come here not just to buy in bulk but also to eat meat. There are places to eat nearby that serve BBQ. Here, you can ask for any part of the cow you want.
There are restaurants and different grills on the second floor of the market. You can cook your meat on the grill for 5,000 won (about 4 USD). So, you go to a butcher shop, choose the type and cut of meat you want, and then bring it to a nearby restaurant where, for a small fee, you can grill as much meat as you like (5,000 won ~ 4 USD per person). Of course, you can also order rice, stews, and drinks there.
Or, if you don't want to deal with the back-and-forth of choosing and haggling over the meat at the market stalls, you can buy it straight from the restaurants. There are also fair prices.
Special recommended restaurant
We'd like to tell you about a butcher shop (and also a restaurant) in Seoul that sells some of the best and most tasty Hanwoo.
Born and Bred (본앤브레드)
If you are in Seoul and you ask a beef connoisseur where you can locate the best cuts of Hanwoo beef, they will most likely tell you to go to Born & Bred.
Born & Bred is a high-end restaurant and a butcher shop. This butcher & restaurant was one of the first places to sell meat in Majang, Seoul's primary meat market. It was a strange way to start a restaurant because Mr. Jung's father worked with cattle farmers all over the country many years ago to centralize the beef supply and ensure that a high-quality product was always available.
Address: 1 Majangno 42(sasibi)-gil, Seongdong-gu, Seoul, South Korea
What is unique about Korean beef?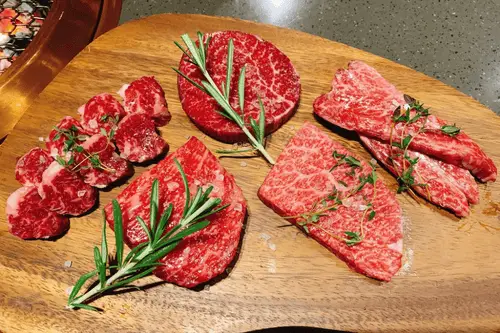 Source 3: ellaspick.com
Korean beef has more oleic acid than other beef, a type of fatty acid that affects how meat tastes. People say it tastes more like natural beef than other beef. Hanwoo is considered the best beef because it tastes good and has the chewiness people like.
A beef's quality is mainly based on how much marbling it has. Marbling is the white line you can see in raw meat. Marbling is the amount of fat found inside the muscle of a particular cut of meat.
Hanwoo might be well-known in South Korea, but it's not as famous worldwide as Wagyu or Kobe. For one thing, South Korea couldn't export after reports of foot-and-mouth disease (FMD) in 2000. Even though it was lifted in 2014, the slow-growing herds had already been used up, and the high demand at home has led to a shortage.
Hanwoo's flavor is appealing because it is neither beefy and lean as most American steaks nor as fatty as Wagyu. It has the same beefy flavor as USDA Prime but doesn't have the oily marbling typical of Kobe and Wagyu. 
How the animals are raised and fed is the key to how well it works together. Hanwoo and Wagyu eat grains, but Hanwoo eats corn and Wagyu oats. Hanwoo is a costly meat usually eaten at a Korean barbecue in South Korea.
Hanwoo cattle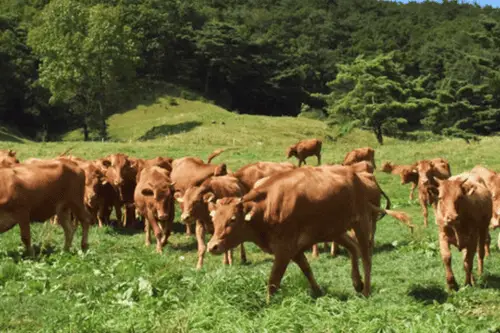 Source: kimcmarket.com
Hanwoo cattle, raised free-range in the countryside of South Korea, are known for their beefy flavor, high marbling, and slightly sweet taste. This is because they eat a mix of organic grains and grass.
Currently, the best Hanwoo cattle are raised in the Korean province of Gangwon-do, in Hoengseong. Here, farmers sometimes devise creative ways to ensure they have the best beef. Some farmers add pine leaf enzymes to their feed (believed to heighten meat quality). Some people listen to the radio in the cattle pens. 
People think that the constant background noise of a human voice makes it easier for the Hanwoo to get used to people. This means that the Hanwoo will stay calm and not tense up when being moved or killed. Each Hanwoo cow has its electronic I.D. containing information about the animal's vaccinations and medical history.
Dating back to 2,000 BC, Hanwoo is the native breed of cattle in Korea. Before the economy started to do well, there were few cattle, and few people ate beef. The cows have a golden brown coat and are pretty fertile, but they grow slowly and produce less milk, which lowers the amount of meat that can be made. 
The Korean cattle industry has tried to increase the number of cattle to meet the growing demand for beef in Korea. As the economy gets better, more people want beef that tastes better.
Grading System Of Korean Beef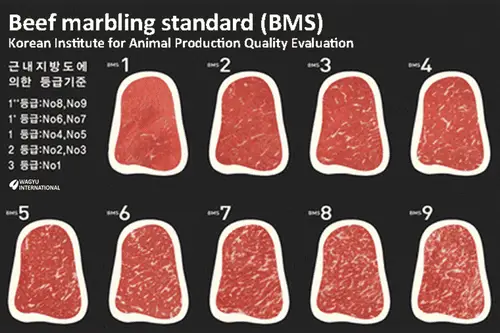 Source 4: wagyuinternational.com/global_Korea
In December 2015, Korean beef was sold for the first time in Hong Kong in a supermarket chain called City Super. This led to a notable rise in the popularity of meat. It's the only place where you can always buy 1++grade Korean beef.
Each country that raises beef has its way of figuring out how good the meat is. South Korea uses the part next to the cow's 13th rib to judge it. Based on how the fat is distributed, what color it is, and the color of the beef, this cow's meat will be given a grade of 1++, 1+, 1, 2, or 3, with 1++ being the best.
Another indicator is the amount of usable meat, which is measured by putting the beef into grades A, B, and C. In other words, 1++ Hanwoo is at the top and is like A5 Wagyu.
The meat of high-quality Hanwoo has a beautiful marble pattern. Like its Japanese counterpart, it is known for being soft and juicy. Fragrant oil and meat juice come out when you bite into them. But Hanwoo is less fatty than Wagyu, which makes it a good balance between fat and flavor.
Is Hanwoo better than Wagyu?
Hanwoo tastes like Japanese Wagyu, but it's beefier. Because it's so popular at home, it's not often exported, but you can try it in a few restaurants in Hong Kong.
However, they are not the same thing. Wagyu has very intense marbling that is very fatty and melts in your mouth. It is oily and doesn't taste like beef very much. Hanwoo is very soft, has a lot of marbling, and tastes more like beef.
The best way to describe the high-quality taste of Hanwoo is as a mix of Wagyu and American Angus. Hanwoo has less fat than Wagyu, which has a lot of marbling but a more robust beef flavor. It is the best of both worlds for many people who like beef.
Hanwoo beef has a chewy "beef" flavor but is much more tender than a typical American steak. It is about halfway between an Angus steak and a Japanese Wagyu steak regarding tenderness and fat/marbling content.
South Korea's favorite meat is Hanwoo, raised there, and its price reflects that. It costs more than Wagyu of similar quality but not as much as Kobe, which is grown in Japan's Hyogo prefecture. It costs twice as much as a similar U.S. or Australian beef cut.
Due to its rareness, where is the best place to experience this high-quality beef?