Who doesn't love a flower festival? Flowers are God's gift to mankind. So they please the eyes as well as the nose. More, Korea has the honor of hosting the largest flower festival in the world. These flower festivals in Korea will be everything you imagined beautiful, all in one place.
Read also:
Goyang International Flower Festival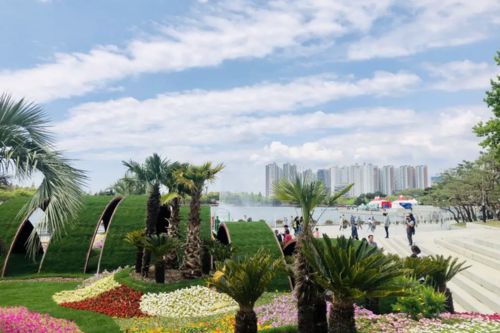 Goyang International Flower Festival
The Goyang International Flower Festival is one of the most anticipated events in South Korea, and the 2023 edition promises to be bigger and better than ever before. Scheduled to take place from April 27 to May 8, the festival will be held at the picturesque Ilsan Lake Park, which boasts an expansive area of 100,000 square meters. The festival will be open to visitors from 10:00 a.m. to 9:00 p.m. daily, allowing ample time to explore the beautiful displays and participate in the various events.
The festival's theme this year is "Flower in the Life," which seeks to highlight the importance of flowers in our daily lives. Visitors can expect to see stunning flower displays and participate in various activities such as the flower industry exhibition, the Goyang International Flower Forum, the Goyang International Flower Awards, and the Goyang Flower Market. Additionally, there will be a diverse range of performances, including indie band concerts, street jazz band performances, magic shows, and more. To attend the festival, visitors can purchase tickets online at Naver from April 1 to 26, with early bird adult tickets priced at 11,000 KRW. General ticket sales will commence from April 27 to May 8, with adult tickets priced at 15,000 KRW.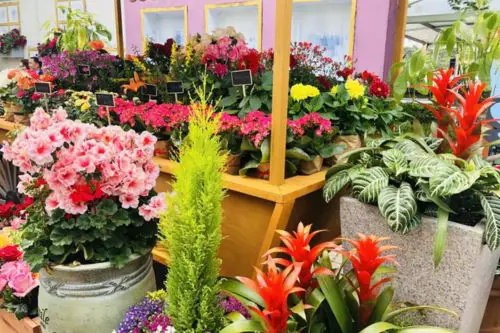 Taean Tulip Festival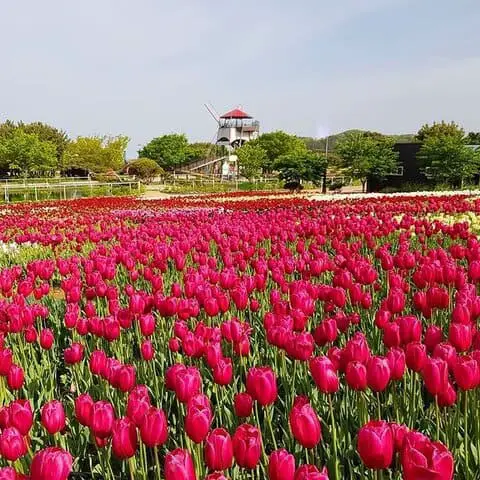 Taean tulip festival is considered one of the five biggest Tulip festivals in the world. Every year the number of visitors grow. This year the Taean tulip festival will be held at Korea Flower Park in Anmyeondo Island for one month. The beautiful array of tulips during the flower festival will be healing to your eyes and body. There is something for everyone of all ages. The festival opens from 9 a.m. to 6 p.m. After the tulip festival, there will be the Hydrangea Festival and Autumn Flower Fair.
Gurye Sansuyu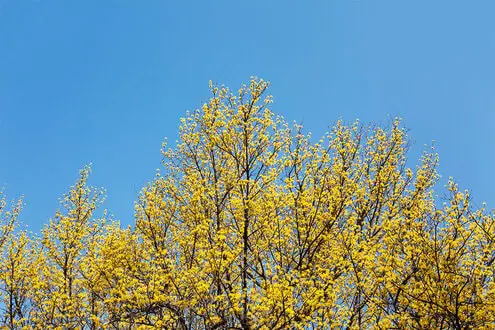 In English, Sansuyu flowers are referred to as Dogwood flowers or Dogwood blossoms. These little yellow blossoms appear in the early spring and may be found all throughout the nation, especially in the Midwest.
In Gurye, there is an abundance of these bright spring flowers, and a festival to commemorate them is celebrated every year in the Jirisan Hot Springs area. With activities such as trekking through the Jirisan Mountainous Region, blossom spotting, and relaxing in hot springs, this is the ideal early spring weekend retreat.
Icheon Baeksa Sansuyu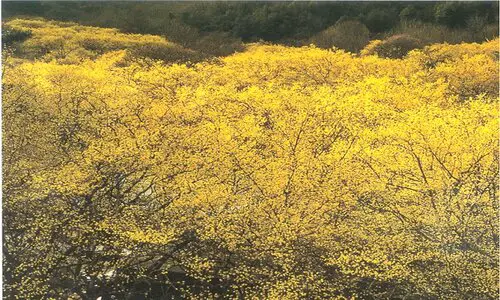 If Gurye is a little too far away or sounds a little too crowded for you, Icheon also has a sansuyu festival that you may like. This little town celebrates in the usual townie style, with local cuisine and traditional activities. The Dogwood trees in Baeksa Village have been growing for greater than a century, according to locals.
View beautiful flowers and play some traditional Korean games while eating some good grub and sipping some makgeolli, Korean rice wine. (Which is a necessity). The area is a terrific site to visit for friends, couples, and the entire family. You can also take a climb up into the neighboring region from here. This is a simple day excursion that everyone can do.
Gwangyang Maehwa Festival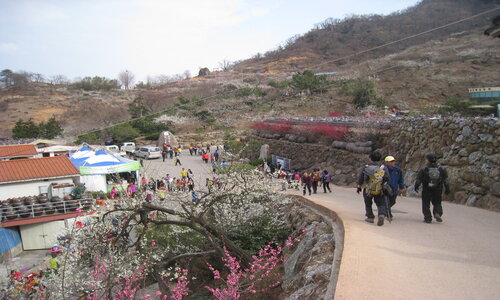 Gwangyang Maehwa Festival is among the best South Korea's most gorgeous spring events. Maehwa is the Korean name for a kind of flower tree. Additionally, the tree produces a variety of plum known as maesil. Maesil plum juice is frequently utilized in traditional medicine across East Asia. In old Korean culture, Maehwa also symbolizes nobility and patience.
Date: March 13- March 24
How to get there: From Nambu Bus Terminal, take an intercity bus to Hadong Bus Terminal. From Hadong Bus Terminal, take Bus No. 35 and get off at Seomjin Bus Stop. Then head to Maehwa village.
Address: 1563-1 Seomjingangmaehwa-ro, Daap-myeon, Gwangyang-si, Jeollanam-do, South Korea
Phone: +82 61-772-9494
Website: http://maehwa.invil.org
Jinhae Cherry Blossom Festival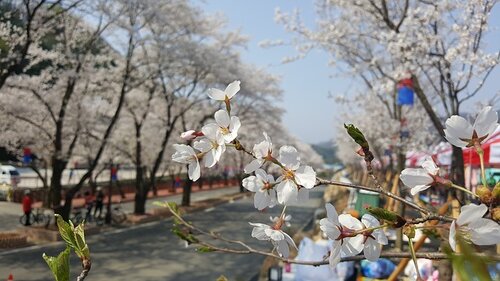 Jinhae is home to the country's biggest cherry blossom festival, which honors not only blossoming spring trees but also Admiral Yi Sun Shin, a Korean naval leader renowned for his triumphs against the Japanese. To the joy of onlookers, the naval base in Jinhae is accessible to the public during this event, and the Jinhae Military Band as well as Honor Guard also plays.
Hwagae Cherry Blossoms Festival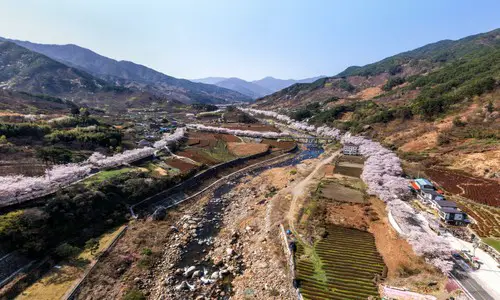 This festival locale is notable for the 4.5-kilometer-long '10-ri Cherry Blossom Road,' a lane lined with blossoming trees. It is supposed that taking a walk down this path with your partner will place you both in a happily ever after fairy tale.
Gyeongpo Cherry Blossom Festival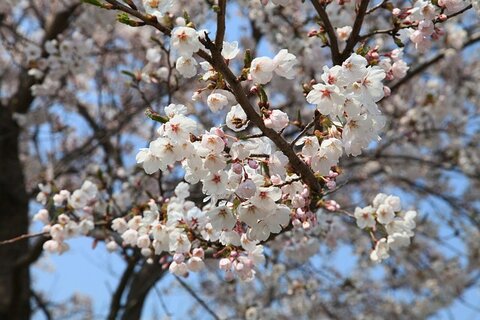 Gangneung is a must-see throughout the summer months due to its beautiful beaches as well as crystal blue seas, although in the spring, the 4.3-kilometer road encircling Gyeongpo Lake is flanked with blooming beauties swaying in the ocean breezes, offering this a lovely spring vacation place.