Last Updated on October 5, 2023
Sitting idle in a terminal for a long time during an airport layover can feel like a waste of time. But if you happen to be at South Korea's Incheon International Airport (ICN), you're in for a treat. With its free transit tours, Incheon Airport provides an extraordinary chance for travelers with lengthy layovers. These tours are a great way to make the most of your airport time by learning about some of South Korea's attractions and culture. Let's delve into this article to discover what ICN has to offer!
Read also:
Things to know before taking a free transit tour at Incheon Airport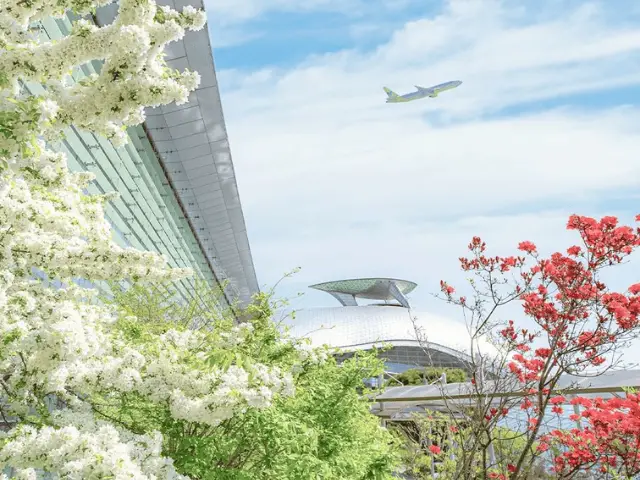 You must have a valid visa or K-ETA (Korea Electronic Travel Authorization) to participate in a transit tour. Even if you don't plan on leaving the airport transit area, you must still have a visa or K-ETA to enter Korea.
It would be best to have a layover of at least 5 hours long and under 24 hours to be eligible for a transit tour.
You will need passports and boarding passes for arrival and departure flights to register for the Transit tour.
This tour itself is free and includes entrance tickets to most attractions. However, there are some attractions where you must pay the admission fee yourself.
They have English-speaking guides leading all tours.
Transportation to and from the airport is included in the tour.
You should wear comfortable shoes and clothing, as you will be doing some walking.
How to join a free Incheon Airport Transit Tour
You can check and book the tours online on their website or register directly at the registration desk at the airport. Tours are offered on a first-come, first-served basis, so it is best to arrive at the registration desk early, at least 30 min before the tour starts. 
After arriving at the concourse, you must use the shuttle train in the basement to get to the registration desks at terminals 1 and 2. The registration desk at Terminal 1 is between Exits 3 and 4, Desk numbers 18 and 19. The registration station at Terminal 2 is located near Exit 3, next to the tourist information desk. Remember to bring your passport and boarding passes for the arrival and departure flights.
Transit Tour Information Desk Location and Contact Information 
Terminal 1
1F Registration desk: Desk numbers 18, 19 which were placed after immigration clearance, between Exit 3 and 4
2F Information desk: Near immigration (East side)
3F Information desk: Near gates 25 and 29
Contact number: +82-32-741-3139
E-mail: [email protected]
Terminal 2
1F Registration desk: The desk next to the Tourist information desk, situated after immigration clearance, near Exit 3
2F Information desk: In the transfer gate, near the security check
3F Information desk: Near gate 231 and gate 268
4F Information desk: At the Free Transfer lounge
Contact number: +82-32-741-0060
E-mail: [email protected]
Free Transit Tours at Incheon Airport
Hanbok experience, Hangeul craft (Airport tour)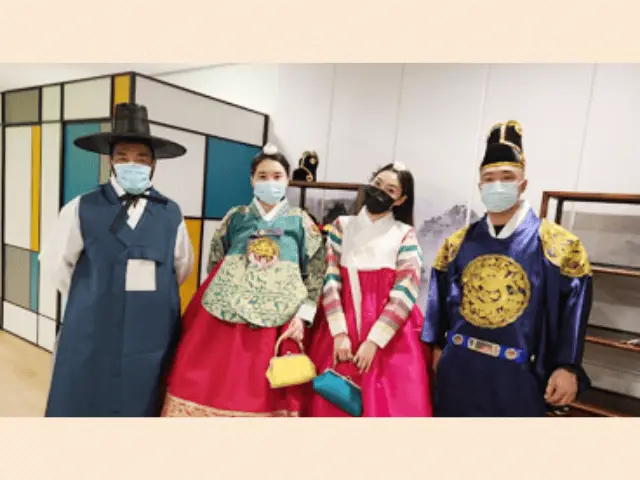 Course: Experience wearing hanbok, Hangeul craft
Schedule: 09:00 – 16:30 at Terminal 1,2 (4F East Transfer Lounge)
Duration: 30 minutes
In this tour, you can experience Korean culture at the K-cultural Zone at the airport without moving elsewhere. You will be able to wear a Hanbok, the traditional Korean attire. There are many different outfits, such as those worn by kings, queens, or scholars of the Joseon dynasty. Once seen only in movies, these costumes can now be worn in South Korea. It's sure to be a beautiful memory. You will also learn and explore Hangeul, Korea's unique writing system. You can even learn to write your name in Korean, making it a memorable souvenir. Moreover, you can craft your souvenirs, such as bracelets and scrolls.
Cheongwadae, Tongin Market Tour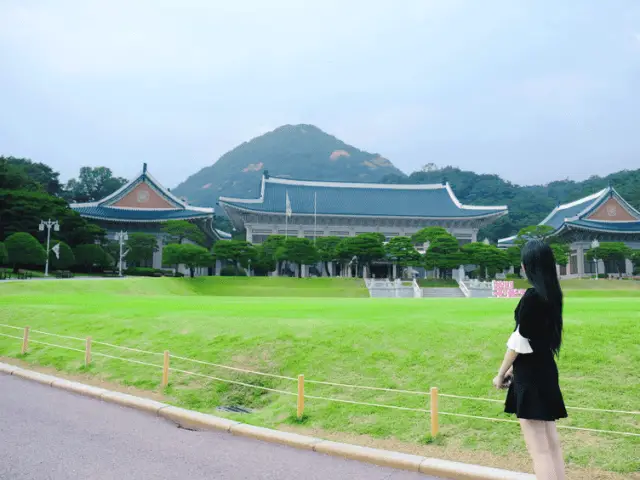 Course: Incheon Airport → Cheongwadae → Tongin Market → Incheon Airport
Schedule: 08:00~13:00 on Monday at Terminal 1,2
Duration: 5 hours
Like the United States White House, South Korea's Cheongwadae, or the Blue House, is the official residence and workplace for the country's Presidents. However, the recent Presidents no longer reside here. On May 10, 2022, Cheongwadae was transformed into a public museum for art and historical exhibitions, open for public viewing. True to its name, Cheongwadae greets visitors with a prominent shade of blue: the blue of its roof bricks. It's also blanketed with the green shadow of lawns, and the distant Bugaksan Mountain creates a tranquil and fresh setting.
Coming here, you can explore the Presidents' former working and living spaces in person. Take a leisurely walk in the beautifully landscaped gardens with a serene pond while admiring the unique architectural features. The main building, characterized by its elegant hipped roof, is considered one of the most graceful examples of Korean architecture.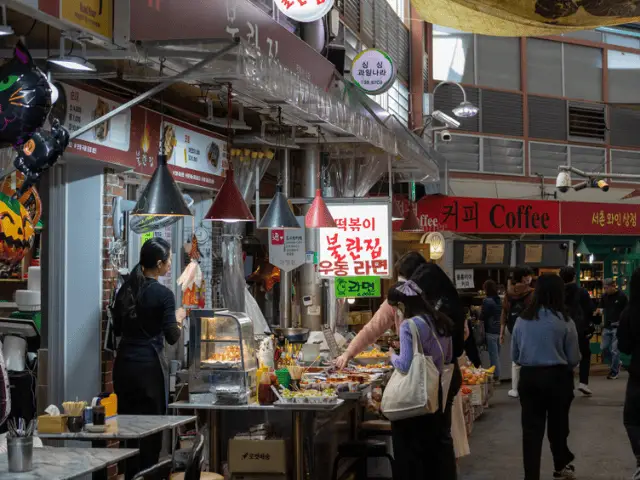 The next stop on this tour is Tongin Market, a historic market established in 1941. Today, Tongin Market boasts 75 stores, most of which are restaurants and grocery shops. You can try many famous Korean dishes and enjoy shopping. This place is unique because when you visit, there's a designated area where you can exchange old currency coins, and you'll use these coins to dine and shop within the market.
Gyeongbokgung Palace, Insa-dong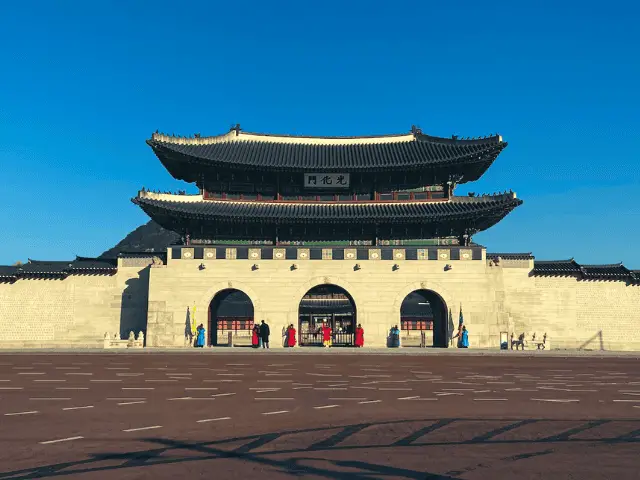 Course: Incheon Airport → Gyeongbokgung Palace ($3) → Insa-dong → Incheon Airport
Schedule: 08:00~13:00 (Tue~Sun) at Terminal 1,2
Duration: 5 hours
Note: Gyeongbokgung Palace is closed every Tuesday and is replaced with Changdeokgung Palace. And you have to cover about 3 USD for entrance tickets at Gyeongbokgung Palace.
Gyeongbokgung Palace, constructed in 1395, is the first palace of the Joseon dynasty. This is undoubtedly the most well-known destination in Korea. When you visit, you can explore the palace and admire its unique architecture. Wearing a Hanbok is a great idea to snap photos for your Instagram. Plenty of Hanbok rental shops are in front of the palace; if you wear Hanbok, you'll receive free admission. Additionally, you can witness the Changing of the Guard ceremony performed by actors. This special ceremony is reenacted at the palace's main gate, Gwanghwamun Gate, at 10 a.m. daily, lasting approximately 15 minutes. The ceremony is performed once every passing hour, and the final Changing of the Guard session takes place at 3 p.m. each day.
After visiting the palace, you will be guided to explore the famous neighborhood of Insa-dong nearby. Insa-dong is renowned for its collection of vintage and priceless items, and its winding alleyways create a maze-like experience around the main road. You'll find numerous galleries, traditional craft shops, antique stores, traditional tea houses, cafes, and more along these alleyways.
Imjingak Pyeonghwa Nuri Park, Dokgae Bridge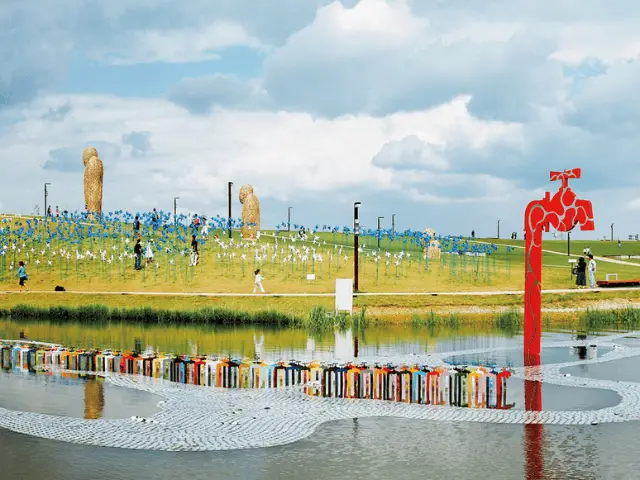 Course: Incheon Airport → Odusan Unification Tower($2) → Imjingak Pyeonghwa Nuri Park → Dokgae Bridge($2) → Incheon Airport
Schedule: 09:00~14:00 (Wed, Fri, Sat, Sun) at Terminal 1,2
Duration: 5 hours
Imjingak holds great historical significance in Korean history. The Park was established in 1972 to offer solace to those unable to return to their homeland due to the division of Korea. This tour will lead you to explore Imjingak Pyeonghwa Nuri Park. This park is adorned with vibrant flags and captivating sculptures, and it features a spacious grass field surrounding an outdoor stage. Inside Imjingak Pyeonghwa-Nuri, you'll discover Café Anyoung, a café uniquely situated at the center of a pond. From this café, you can gaze upon the Hill of Wind, where hundreds of spinning vanes symbolize hopes for reunification, along with other thought-provoking installation artworks.
Next, your guide will take you to Dokgae Bridge. Before the Korean War, the Dokgae Bridge was the only connection between the North and South. Unfortunately, the bridge is now broken due to a bomb drop during the Korean War. The bridge is adorned with ribbons bearing wishes for peace, and on clear days, you can even catch a glimpse of North Korea.
DMZ (The Third Tunnel, Dora Observatory)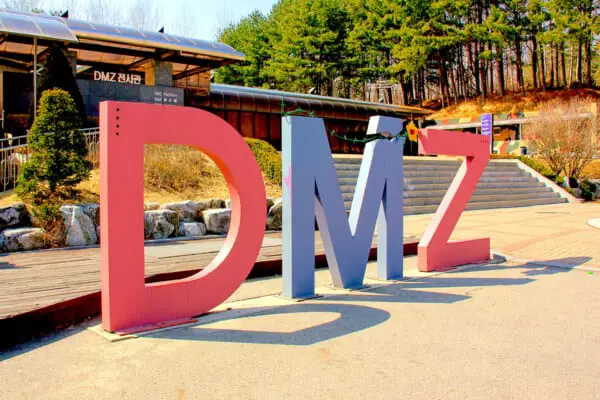 Course: Incheon Airport → The Third Tunnel(4$) → Dora Observatory → Incheon Airport
Schedule: 09:00~14:00 (Tue) at Terminal 1, 2
Duration: 5 hours
DMZ is the Demilitarized Zone, established in 1953 following the Korean War armistice agreement. It represents a 2-kilometer-wide area separating North and South Korea along the Military Demarcation Line. This tour delves into the strategies and realities soldiers face on both sides of the conflict. 
During this tour, you will visit The Third Tunnel, a cave dug by North Korea for potential invasion, measuring 2 meters in width, 2 meters in height, and stretching 1,635 meters long, with the capacity to transport up to 30,000 soldiers per hour. Additionally, you'll explore the Dora Observatory, located within the DMZ, guarding the northernmost post of the western front. Here, you can observe North Koreans' lives, view Kim Il-sung's statue, gaze upon Kijong-dong, and glimpse the outskirts of Gaeseong.
Hyundai Motorstudio Goyang, Yeongjongdaegyo Observatory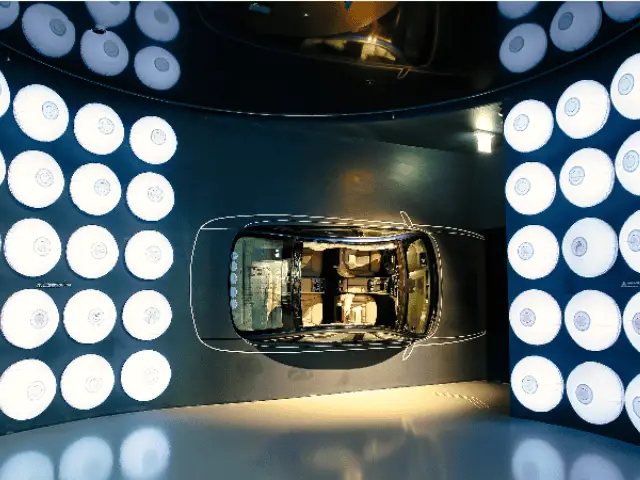 Course: Incheon Airport → Hyundai Motorstudio Goyang ($5) → Yeongjongdaegyo Observatory → Incheon Airport
Schedule: 09:00~14:00 (Thu) at Terminal 1,2
Duration: 5 hours
You will love this tour if you're a car and technology enthusiast. Hyundai Motorstudio Goyang is Korea's most significant automobile theme park, offering an immersive journey into mobility. Here, you can see, hear, and interact to understand the car manufacturing process and witness the future of mobility. When you feel peckish, head to their lovely cafe and kitchen, which is roomy and filled with delicious delights. Then drop by the gift shop, which offers special collections and souvenirs before you leave.
The journey concludes with a visit to the Yeongjongdaegyo Observatory. The observatory offers a panoramic view over the vast tidal flats below. You may spot the planes taking off and landing above, the distant Lucky Windmills (massive wind power generators), and Yeongjong Bridge. A colossal bear statue, Fortune Bear, stands approximately 23 meters tall. Be sure to check in with this iconic landmark when you arrive.
Jeondeungsa Temple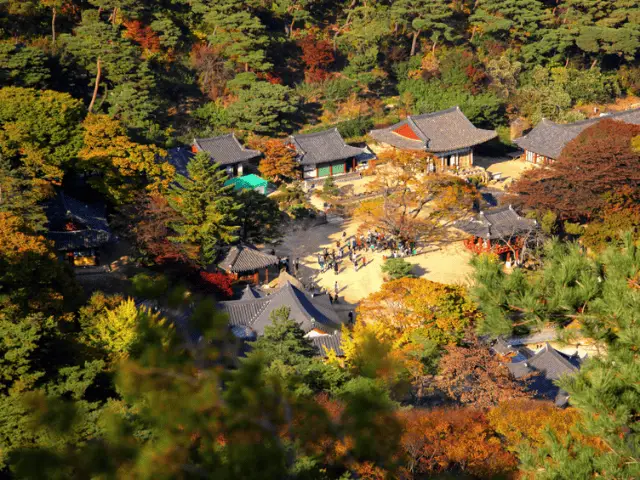 Course: Incheon Airport → Jeondeungsa Temple($2) → Incheon Airport
Schedule: 09:00~14:00 (Mon) at Terminal 1,2
Duration: 5 hours
To experience the serene atmosphere and ancient architecture, book the Jeondeungsa Temple tour. Jeondeungsa Temple is a Buddhist temple with a history spanning over 1,000 years. The temple is enveloped by a fortress known as Samnang Fortress, and the entrance itself is through the former fortress gate. The main building, Daeungbojeon Hall, designated as a Treasure constructed in 1621, is a notable architectural treasure within the temple. 
During your visit, you can leisurely explore the tranquil temple grounds, marvel at its unique and age-old architecture, and delve into its rich history. You'll also find Jukrimdawon Tea House near the temple, where you can enjoy traditional tea and relax. Set amidst the beautiful Jeongjoksan mountain landscape, the scenery will be more captivating if you visit during the spring or autumn.
Hongdae Street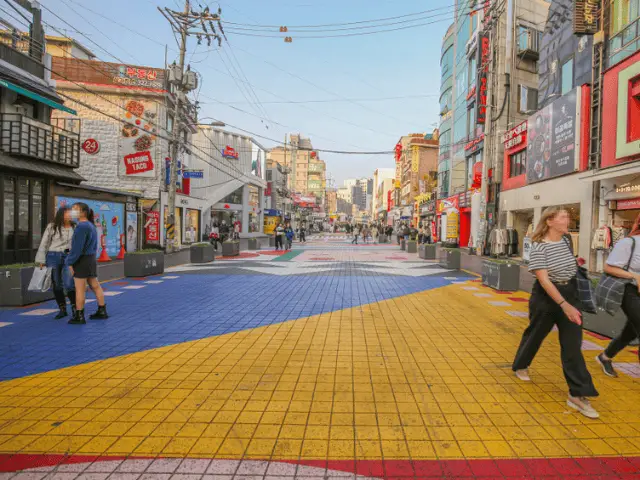 Course: Incheon Airport → Hongdae Street → Incheon Airport
Schedule: 14:00~18:00 at Terminal 1,2
Duration: 4 hours
This tour will take you to Hongdae, Korea's premier youth street. It's a famous hub with numerous cafes, clubs, vibrant graffiti, fashion boutiques, an underground music scene, and art festivals. Those artistic influences come from Hongik University, a renowned art university located directly next to the street. When you first arrive, you'll be in awe of a street art hub with diverse festivals, concerts, and performances by independent and mainstream artists. Furthermore, it's a shopping paradise where you can find multiple affordable clothing, accessories, and souvenirs. After shopping, you can indulge in Korean cuisine at the local eateries and then relax at famous cat cafes.
Hanji Experience Workshop, Sinpo Market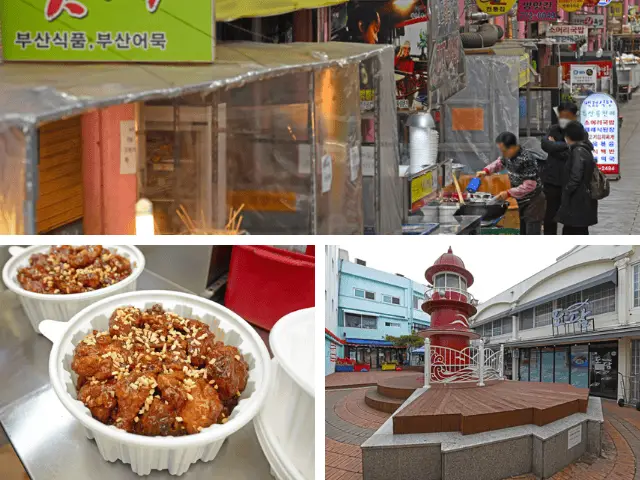 Course: Incheon Airport → Sinpo Market → Hanji Experience Workshop ($5, On-site payment only for those who wish) → Incheon Airport
Schedule: 15:00~18:00 (Tue~Sun) at Terminal 1
Duration: 3 hours
The first destination of this tour is Sinpo Market. Situated in Sinpo-dong, Incheon, Sinpo Market (covering an area of 3,300 square meters) has a history dating back to the late 19th century when vendors began selling fresh vegetables to Japanese, Chinese, and Western settlers. It officially became a registered market in 1970 and now boasts over 140 stores. This market is renowned as a food paradise with various traditional Korean dishes. The most famous dish is dakgangjeong, a Korean dish featuring crispy fried chicken in a sweet and spicy sauce. Other famous foods include yuni jjajang (black bean noodles), egg tarts, freshwater fish jeon, mandu (dumplings), and jjolmyeon (chewy spicy noodles).
After exploring the market, you'll have the opportunity to participate in the Hanji Experience Workshop. This is an optional experience; you must pay about 5 USD to join. Hanji is a traditional Korean paper made from the bark of the mulberry tree. In this workshop, you'll get hands-on experience crafting Hanji paper and using it to decorate souvenirs. At the end of the session, you can take your creations home as a meaningful keepsake.
Hyundai Premium Outlet, Triple Street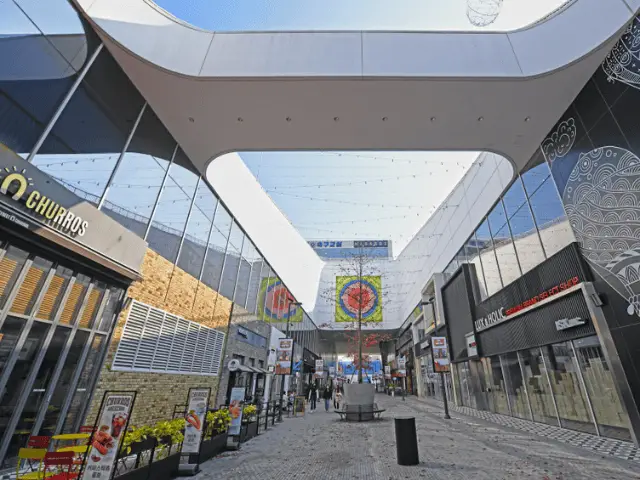 Course: Incheon Airport → Incheondaegyo Bridge → Hyundai Premium Outlet → Triple Street → Incheon Airport
Schedule: 15:00~18:00 (Mon) at Terminal 1
Duration: 3 hours
This tour is a shopaholic's paradise. Hyundai Premium Outlet is a sprawling shopping complex with a diverse selection of international and domestic brands at discounted prices. Meanwhile, Triple Street is a vibrant shopping district that offers a wealth of attractions, from sightseeing and dining to cultural experiences. You can shop to your heart's content with numerous renowned brands while indulging in delectable cuisine. At Triple Street, visit the rooftop of Building D. You can revel in a mesmerizing cityscape view from this elevated vantage point.
Yonggungsa Temple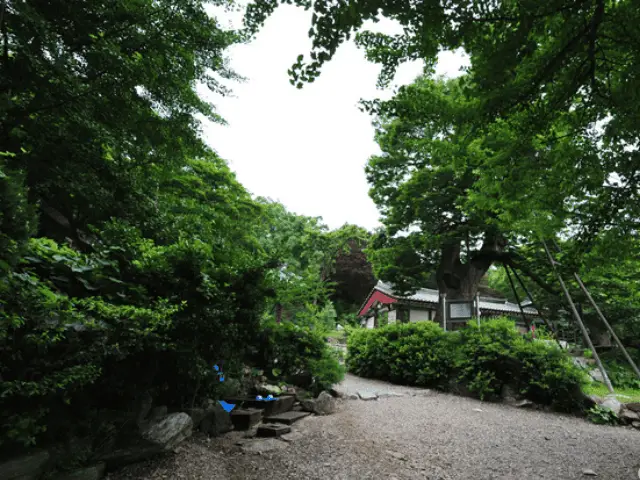 Course: Incheon Airport → Yonggungsa Temple → Incheon Airport
Schedule: 08:00~09:00 at Terminal 2
Duration: 1 hours
Yonggungsa Temple is located near Incheon International Airport, nestled on the northeastern slopes of Baegunsan Mountain. This temple complex encompasses various structures, including Gwaneumjeon, Yosachae (the monks' residence), Chilseonggak, and Yonghwanggak. Surrounded by the tranquility of lush greenery and serene mountains, it is ideal for leisurely walks and relaxation after your long flight. You'll find two ancient zelkova trees at the temple's entrance, each over 1,300 years old, and a prominent giant Buddha statue. Those are beloved and popular check-in spots at this lovely temple, so bring your camera.
Paradise City Art-tainment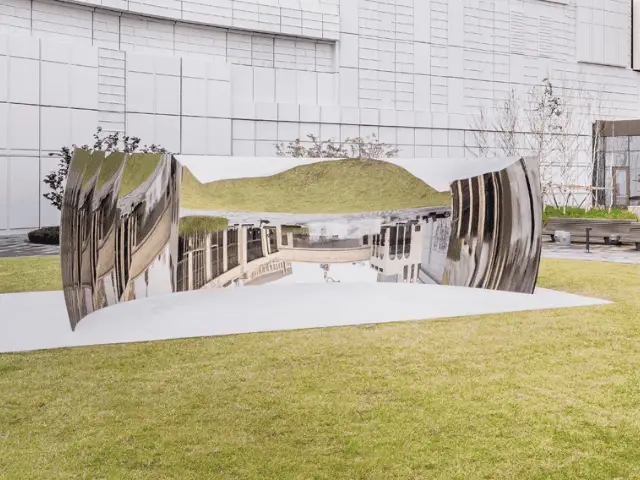 Course: Incheon Airport → Paradise City Art-tainment → Incheon Airport
Schedule: Terminal 1 1F 3C every 05, 35 minute | Terminal 1 1F 14C every 10, 40 minute | Terminal 2 1F 2A every 45 minute
Duration: 1 hour
Calling out for all art and fashion enthusiasts. Paradise City is the inaugural resort complex in northeast Asia that offers a wealth of enjoyment and cultural experiences, including convenient accommodations, casinos, art galleries, clubs, and much more. Among its attractions is an art gallery showcasing over 2,700 works by renowned artists worldwide, including names like Yayoi Kusama and Damien Hirst. Here, you'll be spoiled for choice.
Lastly, Incheon International Airport's transit tours provide a terrific opportunity for passengers to learn about South Korea's rich culture and legacy. So, the next time you have a layover at Incheon Airport, consider going on a tour to make the most of your time there.
IVK's Top Picks – Day Tours, Tickets, and Travel Activities
Seasonal Picks!😍