Last Updated on October 11, 2023
Incheon, located on South Korea's western coast, is a city that skillfully combines the old and the new. Incheon has a rich history, is a thriving metropolis, and has a dynamic culture. There are many things to see and do there. If you're new to Incheon and don't know where to start exploring or want to see as much as you can in one day, an Incheon City Tour Bus is the best option. Thanks to this practical and informative service, you can embark on a journey highlighting the rich history and cutting-edge wonders of Incheon. Now, let's dig into what Incheon City Tour Bus offers! 
Read also:
About Incheon City Tour Bus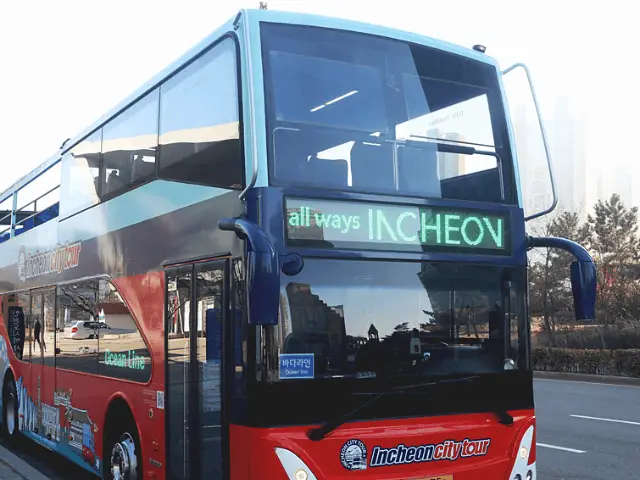 The Incheon City Tour Bus is a hop-on hop-off bus service that allows you to explore the city's top attractions at your own pace. They offer various routes with different attractions and landmarks. It is a great way to see the city without worrying about getting around or finding your way.
The buses are double-decker buses with an open-air top deck, so you can enjoy panoramic city views as you travel. Each bus has a multilingual audio guide in Korean, English, Chinese, and Japanese, so you can learn about Incheon's history and culture as you go. The buses also have free Wi-Fi to stay connected while on the go.
To use the Incheon City Tour Bus, you can purchase a ticket online on their website or at one of the designated stops. The ticket is valid for 24 hours, so you can hop on and off the bus as often as possible.
Contact information:
Phone: 82-(0)-32-772-3509
Operation days: Wednesday to Friday, Closed on Mondays & Tuesdays
Website: citytour.ito.or.kr
Fare information: here
Incheon City Tour Bus Routes details: here
Why choose the Incheon city tour bus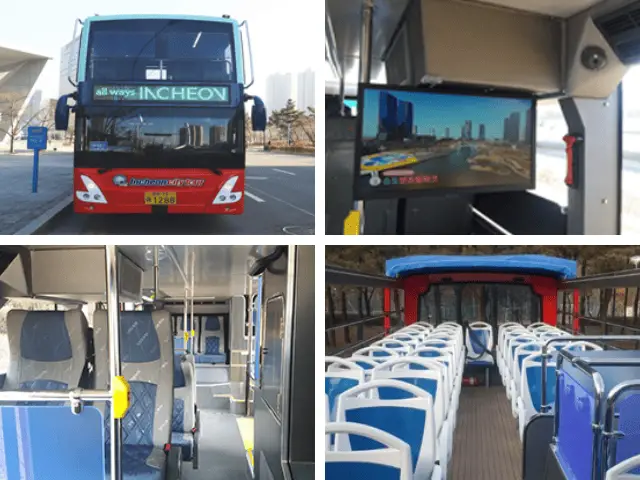 A Variety of Routes for Every Interest: Incheon has many tour bus routes covering different parts of the city. These routes may include stops at popular tourist destinations, cultural sites, shopping areas, and more. So you can explore the features of the city that interest you most.
Hop-On, Hop-Off Flexibility: One of the most significant advantages of the Incheon City Tour Bus is its hop-on, hop-off system. This means you can get off at any designated stops along the route, spend as much time as you like exploring, and then hop back on the next bus when ready to continue your journey. This feature lets you control your speed and personalize your experience to suit your interests.
Multilingual Commentary: The tour buses offer multilingual commentary through audio or live tour guides, so you can learn more about the attractions and landmarks you pass by. That will help you decide which spot you want to get off to have a closer look. There are four languages to choose from: English, Korean, Chinese, and Japanese. 
Affordable and Convenient Tickets: Tour bus tickets are typically available for purchase at designated ticket counters, online, or directly from the bus driver. Prices may vary depending on the type of bus, route, and duration of the tour, but overall, it is affordable. The price range from 2,500 – 15,000 KRW (1.8 – 11 USD)
Comfort and Accessibility: Incheon City tour buses are often equipped with amenities like air conditioning, comfortable seating, wheelchair accessibility, free wifi, and a USB charging port so you can thoroughly enjoy the trip. 
Incheon City Tour Bus Routes
Circular route
Incheon Retro Line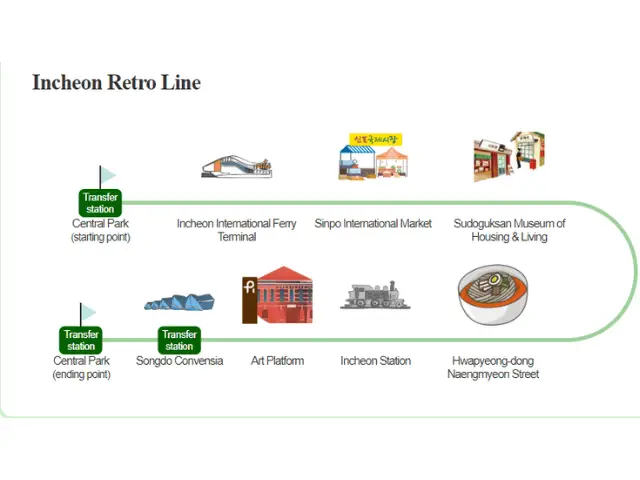 Consider this route if you like exploring Incheon Food and shopping at local markets. You can try some food at Hwapyeong-dong Naengmyeon Street and Sinpo International Market. Then visit some of the city's most popular attractions, like Sudoguksan Museum of Housing & Living, and Songdo Convensia, and immerse in art at Art Platform.
Ocean Line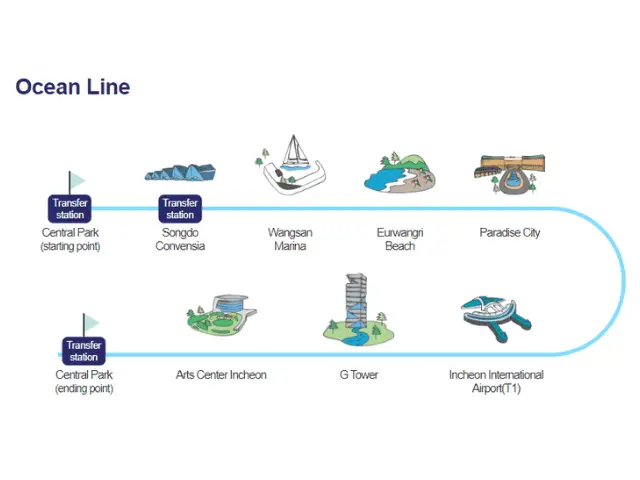 Joining this route, you can visit Songdo Convensia, a convention center and exhibition complex, and Paradise City, a resort complex on Yeongjong Island, with a casino, hotels, and other attractions. Enjoy water sports activities and try some seafood at Wangsan Marina and Eurwangri Beach.
Theme route
Seonjae·Yeongheung Tour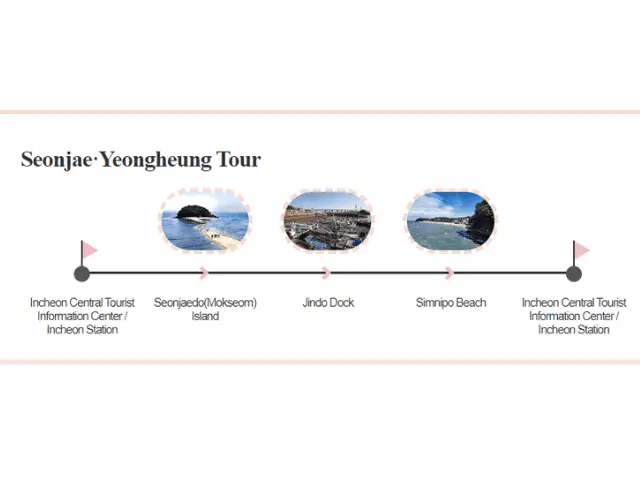 This tour will take you to Seonjaedo (Mokseom) Island, Jindu Dock, and Simnipo Beach. Seonjaedo Island is considered one of the most beautiful islands in South Korea. The unique feature here is the 1km sea path connecting the Seonjaedo and Mokseom islands. The path is made of hard sand, so you can walk on this road or even drive a car through. 
Jindu Dock and Simnipo Beach are both located on Yeongheungdo Island. With the stunning sea view, you can trek or walk around, enjoy water activities, and enjoy local cuisine at surrounding restaurants. 
Muuido Tour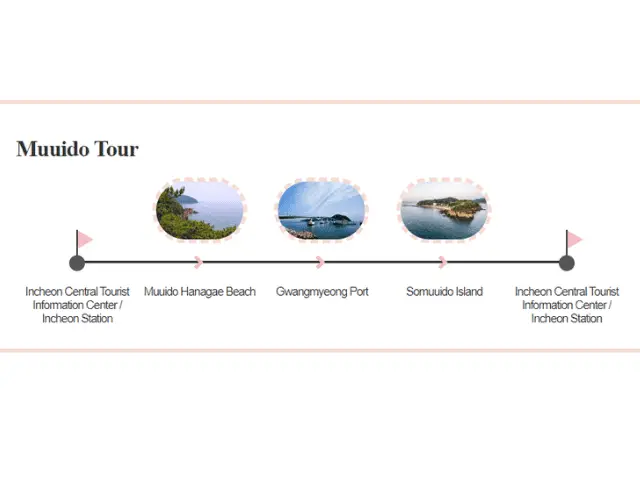 There are two islands on this tour: Muuido Island and Somuuido Island. On these islands, you can trek along the coastal trails and enjoy natural scenery such as strange rocks and coastal cliffs. You can learn about the islands' stories and experience the daily lives of the locals here. Afterward, take a leisure walk on the footbridge at Gwangmyeong Port and stop by Hanagae Beach. This beach is a favorite spot for family vacations. Additionally, it is recognized as the setting where the drama "Stairway to Heaven" was filmed.
Ganghwa Sensuous Tour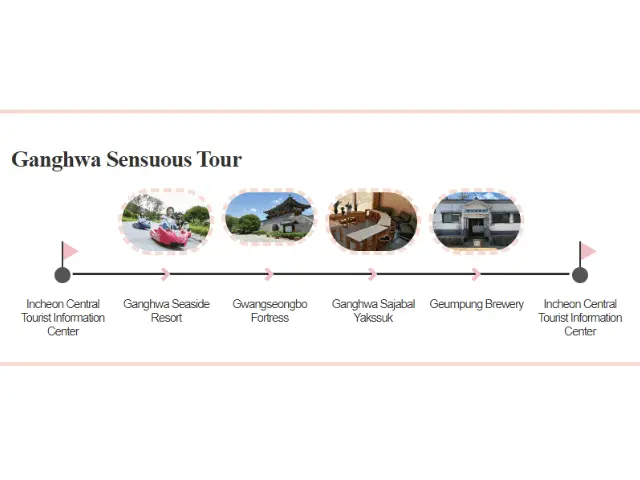 The first stop on this tour is Ganghwa Seaside Resort. Trying the longest luge track in the East is necessary when you are here. Connecting tunnels are placed at various points along the course, and head drop spans provide breathtaking ocean views as you slide down. Following that, you will be taken to Gwangseongbo Fortress to learn more about Korean history, to Ganghwa Sajabal Yakssuk, where the specialty is mugwort, and to Geumpung Brewery to sample traditional Korean wines.
Seongmodo Tour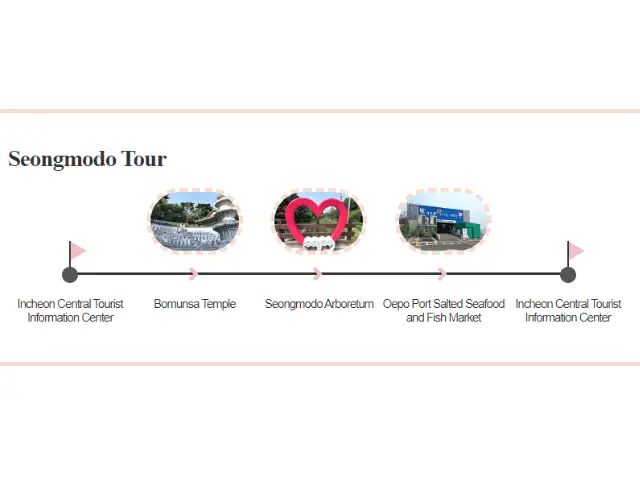 This tour includes three stops: Bomunsa Temple, Seongmodo Arboretum, and Oepo Port Salted Seafood and Fish Market. You can take in the intricate architecture, wander through the serene temple grounds, and discover the rich cultural heritage of Bomunsa Temple. Stroll through themed gardens and exhibits to learn about various plant species from diverse ecosystems at Seongmodo Arboretum. Finally, wrap up the tour by enjoying delicious dishes and buying specialty salted seafood, including pickled shrimp, blue crabs, and clams, at the Oepo Port Salted Seafood and Fish Market. 
Gyodongdo Tour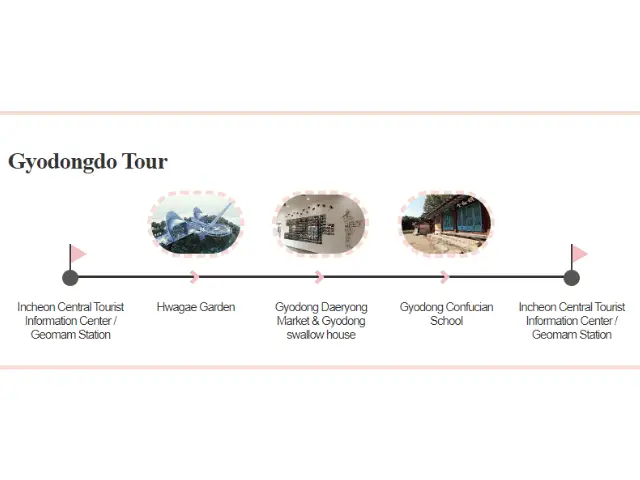 History and cultural buffs will like this tour. You will take four stops, including Hwagae Garden & Observatory, Gyodong Jebijib (Swallow's house), Gyodong Daeryong Market, and Gyodong Confucian School. The first stop is Hwagae Garden & Observatory. You will take a monorail to the top of Hwagaesan Mountain and then reach the Hwagae Garden. The landscape along the road is breathtaking, with views of rice fields, the sea, and mountains. 
The next stop is Gyodong Jebijib, an IT-based Tourist Information Center. You can experience digital programs available here, such as building a virtual bridge of peace or publishing digital Gyodong News. After sampling traditional foods such as Hwanghaedo cold buckwheat noodles, North Korean-style bean-powder-coated rice cakes, and sweet rice puffs at Gyodong Daeryong Market, you are led to the final stop, Gyodong Confucian School. This is Korea's oldest Confucian school, and it places a vital significance on the tradition and history of Korea.
Ganghwa History Tour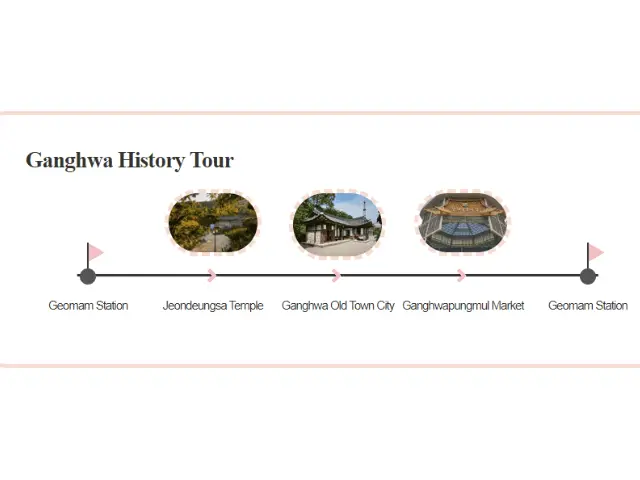 This tour takes you to Jeondeungsa Temple, Ganghwa Old Town, and Ganghwa Pungmul Market. Jeondeungsa Temple is Korea's oldest temple, dating back over 1,000 years. Surrounded by lush green forest, this is an ideal place to walk, enjoy the serene, and admire the unique and ancient architecture. Move to Ganghwa Old Town, you may visit the Goryeo Palace Site, Yongheunggung Palace, etc. These places have a long history dating back to the Joseon Dynasty and are well-known for their well-preserved traditional Korean architecture. 
The last stop is the Ganghwa Pungmul Market. The 1st floor has a Folk Flea Market and a raw fish center. You can buy some fresh seafood and some merchants here. Also, you can move up to the 2nd floor, where many restaurants are full of delicious Korean dishes. 
Ganghwa Healing Tour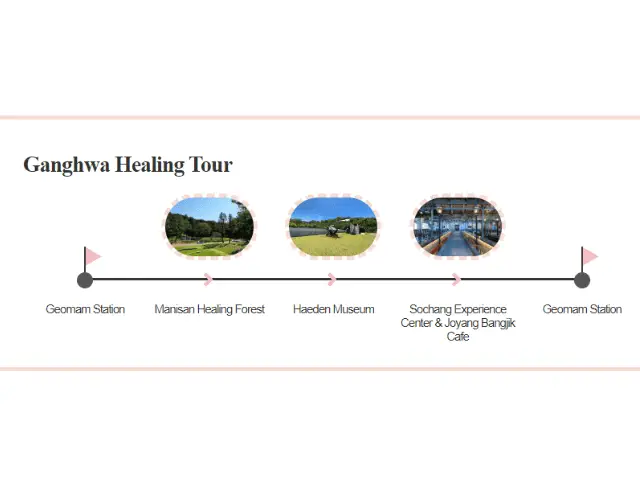 True to its name, this tour takes you to some of the most relaxing and scenic spots on Ganghwa Island. The tour includes stops at the Manisan Healing Forest, Haeden Museum, and Sochang Experience Center. 
Manisan Healing Forest is a beautiful spot to stroll among straight pine trees and streams. The walking path and pavilion built around a vast lake are ideal for recharging. Meanwhile, the Haeden Museum allows you to enjoy works of great artists from the 20th century amidst a lush green forest and beautiful natural scenery. 
The tour ends at Sochang Experience Center and Joyang Bangjik Cafe. This cafe is renovated from an old rayon factory. The long workbench was transformed into a coffee table, and the area where people and machines once operated was furnished with Chinese and European antiques. The wall that had been dismantled now serves as a significant art gallery and movie theater. It's one-of-a-kind design and vintage atmosphere will undoubtedly make you feel at ease.
Sunset Night Tour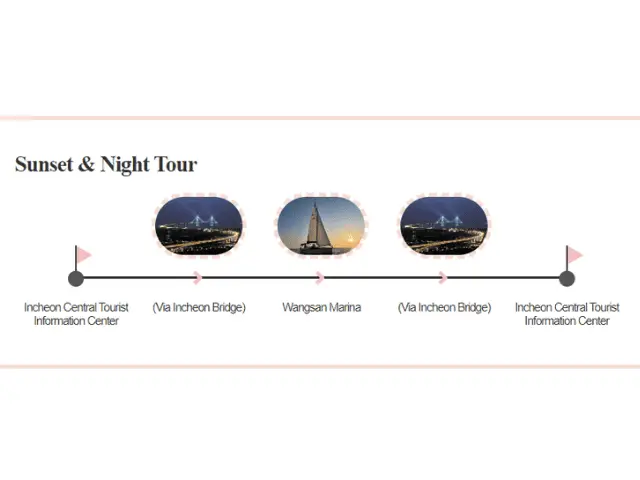 This tour will take you to some of the best places to enjoy the sunset in Incheon. The tour starts at Incheon Tourist Information Center and then heads to Wangsan Marina, a quintessential Incheon waterfront destination. Here, you can bask in the awe-inspiring sunset over the West Sea, take strolls on Wangsan Beach's tranquil shores, and meander along the marina's bustling promenade, brimming with diverse dining and shopping opportunities. On the way back, you can take in the night scenery of Incheon City, illuminated by city lights. 
In conclusion, the Incheon City Tour Bus is more than just a form of transportation; it serves as a portal to the heart of this lively South Korean city. Whether you're a first-time visitor or a seasoned tourist, these trips provide an excellent opportunity to quickly and conveniently discover Incheon's numerous attractions. So, when you plan your visit to South Korea, don't forget to hop on board and discover the wonders of Incheon.
IVK's Top Picks – Day Tours, Tickets, and Travel Activities
Seasonal Picks!😍