The mobile phone can speak a lot about your personality, and it's a lifestyle investment, so why not cover it up with a fantastic mobile case?  Koreans love cute things, and kooding.com, yesstyle.com, amazon.com, and aliexpress.com offer cute, funky, cool, or remarkable mobile cases and mobile accessories that give your phone protection while making it look unique. We want to protect your smartphones from drops and bumps. That's why we made a list of the best Korean Phone Cases and Accessories Online; the list is only for iPhone and Samsung users. Choosing a suitable phone case or accessory will help to keep your phone secure and safe. Keep scrolling to know which phone case and mobile accessory are best for your smartphone.

Top Seven Korean Phone Cases and Accessories Online
Rolarola – Bunny-Printed Phone Case
YLFC Korean Simple Bear Cute Cartoon White Phone Case
SUNQQA Cute Cartoon Boy Letter Korean Phone Case
BABOSARANG – "BT21" Patterned Crossbody Phone Bag
Kpop Blackpink's JISOO JENNIE ROSE LISA Phone Case
Bumper Cell Phone Case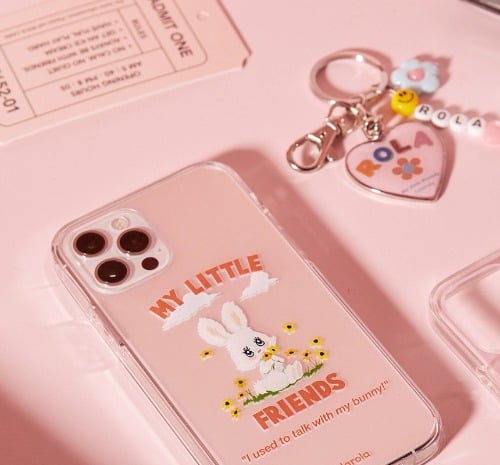 The new Pink Phone Cases for iPhone 12 and pro-Max by rolarola are a combination of convenience and style. This case was designed for the people who love fashion but, at the same time, cannot carry heavy devices. This case is so light that it can be easily carried around without worrying about dropping it. The material used for this case is a hard, durable material that is water and shockproof. The phone is protected from scratches when it is placed inside this protective case.
This phone case for iPhone 12 pro max has been carefully designed beautifully, and it is guaranteed to last for an extended period. The case is also free from defects, scratch resistance, and it features a beautiful bunny on it. The bunny-printed pattern has been very carefully cut out, making sure all the edges have been rounded and every corner has been smoothened. This case is suitable for 12 and 12 pro max as well!
Specifications:
100% PC material
Pink color
Pros:
Cute design.
Perfect gift for girls.
100% satisfaction!
Cons:
Not a suitable choice for boys!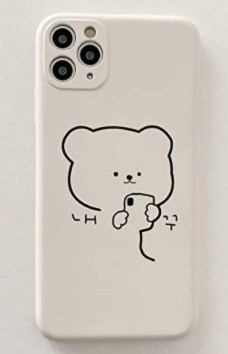 The new YLFC Korean simple bear cuddly silicone case for the iPhone is sure to become a hot seller among consumers. The cute character on this silicone case will make it very easy for consumers to identify their phones with ease, and that's probably why this is such a unique product. This Bear looks just like the cartoon character when he is on his mobile phone. This silicone case looks so real that even children who have never owned a phone before can see what their phones are encasing when they look at the cell phone's face.
This cute silicone case for the iPhone is perfect for an individual who wants a phone case that looks like something out of the cartoon show while also allowing their child to use the phone without fear of damaging or scratching the phone. Besides having the same look and design as the cartoon character, this case has some extra features to make using the iPhone more manageable.
Specifications:
White color.
TPU case.
Shock resistant.
Pros:
Available from 6 to 12 pro max.
Durable.
High quality.
Cons:
Only available in one color.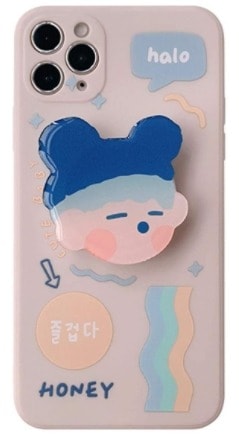 Among all the different kinds of iPhone cases that you can buy, the best ones are those created by SUNQQA. These phone cases, also known as silicone cases, are made using only the best materials. They are not made from any cheap kinds of materials, and neither do they have any thin components in them. The phone cases from SUNQQA have been designed with their customer's safety in mind. That means that they are made from materials that resist the kinds of things that could harm your iPhone and cause it to become damaged.
The same is true with their SUNQQA Cute Cartoon Boy Letter Korean Phone Case for iPhone 12 11 Pro Max X. The screen is protected by the iPhone 12 11 Pro Max X, and the thickness of the silicone makes this a phone case that you want to have. No matter what kind of phone cases you are looking for, from those that come in a jelly-like material to those that are much thicker and made entirely out of silicone, you will find one from SUNQQA. Plus, since these cases are made with the highest quality materials, they also make it very easy for you to clean the cases once used. That is especially important because you don't want the cases to be a breeding ground for germs and bacteria.
Specifications:
Silicone material.
Refined design.
Cartoon pattern.
Pros:
Shock resistant.
Protects your mobile from scratches.
Non-toxic material.
Cons: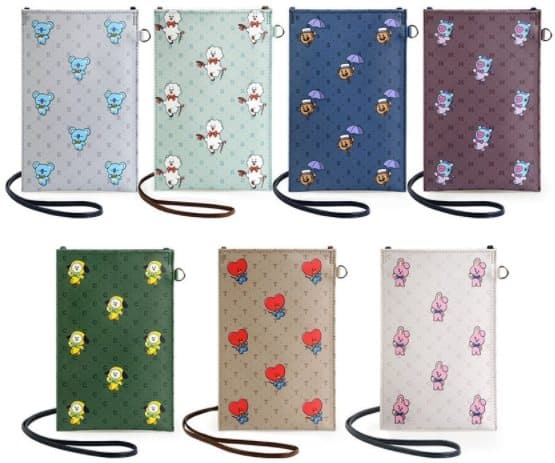 BABOSARANG – "BT21" Patterned Crossbody Phone Bag is a cell phone bag that also has a size suitable for each cell phone model. This BABOSARANG bag is excellent for traveling because it is one of the smallest and lightest cell phone accessories available. It also can be easily folded for ease of storage and travel. The BABOSARANG bag also has a carrying strap that makes it perfect for those short trips around town. It is effortless to take with you because it fits snugly into your pocket or purse.
It is a minimal cell phone accessory, and BABOSARANG is one of the market's best ones. If you have a BABOSARANG bag, you know that you don't have to worry about losing your phone because it has a very durable material along with sturdy construction. If you are looking for a new phone bag to go with your phone, you should check this one out. You will love the way it looks and also how durable it is.
Specifications:
PU, PE material.
Available in green, grey, blue, and brown.
One size.
Pros:
Elegant design.
Portable.
Durable.
Cons:
Only available in one size and design.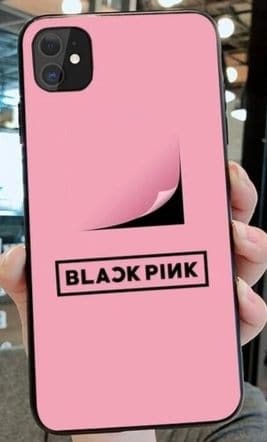 This year's hot new cell phone case is Kpop Blackpink's JISOO JENNIE ROSE LISA Phone Case. The phone is a perfect choice for teenagers or anyone who loves to express their individuality through their cell phones. If you are considering getting a new phone this year, you may want to look into the Kpop Blackpink's JISOO JENNIE ROSE LISA Phone Case for the iPhone.
Its design has an elegant black body with a cute pink design on the bottom, making it a perfect gift for any girl. This high-quality phone case will make your phone look super hip and unique. Even better than that, it will protect your phone from scratches so that you can use it for years to come.
Specifications:
Available for 5s to 12 pro max.
Black color.
Pros:
Stylish design.
Affordable.
Comfortable.
Cons: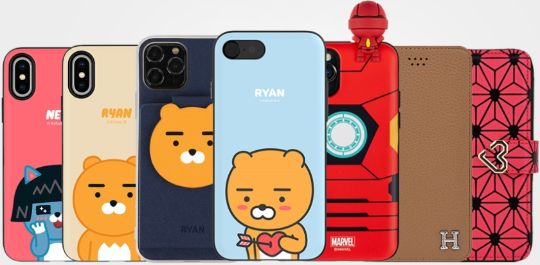 Nowadays, many smartphones have metal or glass builds, so it's hard to keep them safe and free from damage. An excellent mobile case can solve your problem; [Samsung Eletronics]Cellphone/S21/Ultra/NOTE20U/S20/FE/Note10/Iphone1 phone case is delicate if you don't want to waste your investment, you should consider it. The design is anti-slip that offers you to handle your phone securely. Once you start using this unique phone case, you will extend your phone's overall life and maintain it without any hassle.
Features:
Soft Colors
Cartoon Print
Lightweight and thin
Durable and flexible
Pros:
Secure your phone from damage and scratches
Easy to Use
Cons:
Not for businessman and women
In reality, smartphones are our best friends; we carry and use them daily almost everywhere. So, we need a phone to look good and elegant. And if you are a collector, you will definitely like a cute smiley case that converts your phone from a dull to bright look. Cellphone/S21/S20/S10/S8/9/A31/V50/Bumper/Cell Phone Case protects the backs and sides of your smartphone, leaving the screen completely friendly. This simple design is a suitable option for many users due to its lightweight, good safety, and accessibility. The phone appearance is essential for you because it describes your taste. A funky and cute phone case turns the whole look of your smartphone.
Features:
Cute cartoon and smilies prints
Soft silicone
Pros:
Improve comfort and enhance grip
Easy to install and remove
Drop protection
Give your phone a unique look
Cons:
Final Words
So these are our best Korean Phone Cases and Accessories Online. We have mentioned different iPhone and Samsung's mobile case that will keep your phone protected. You can pick sleek-looking cases, heavy-duty, or clear cases to show off your shiny new mobile color. If you select a case from the list of the best Korean Phone Cases and Accessories Online, let us know in the comments section below.
You may also like: