Yesan is a small town with a population of 65,000. However, its beautiful natural scenery and attractions are enough to make people visit this city. Since it takes only 2 hours by car from Seoul, it is very convenient to travel and you can see the beauty of Korea that is different from Seoul. On this relaxing Yesan Hot Spring Spa + Sudeoksa Temple 1-Day Tour sponsored by K Story Tour & Trazy, I had a wonderful healing time. Let me show you the highlights of the day now!
Things to Do in Yesan
Sudeoksa Temple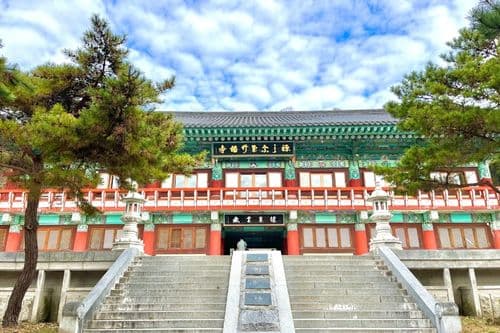 Most temples in Korea are located near mountains, and Deoksungsan, where Sudeoksa Temple is located, is famous for its autumn leaves. So, many people were seen climbing to enjoy the beautiful fall foliage. Not only Sudeoksa temple was designated as a UNESCO World Heritage site in 2018 but also its throne hall is the national treasure.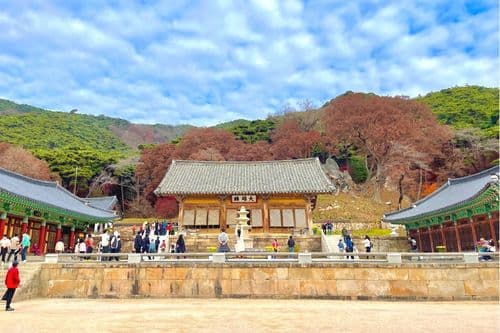 To meet this hall, you have to go through two doors. After passing Iljumun,일주문 , which is the first gate of the temple, and passing through the Gate of the Four Heavenly Kings, where there are four gods who protect Buddhism. Then finally you can see Daeungjeon, 대웅전. There is a slight slope, but it is easy enough even for children to go, and the scenery along the way is very beautiful.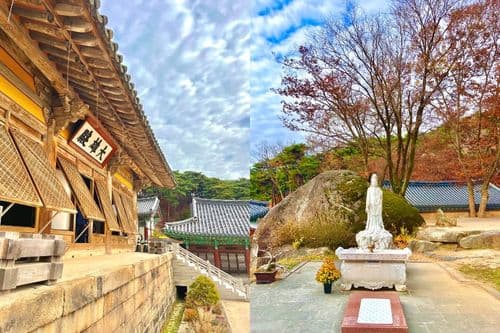 As the oldest wooden building in existence, this Daeungjeon has a dignified history. What's more, Sudeoksa Temple operates a temple stay program, so if you are interested, visit the website.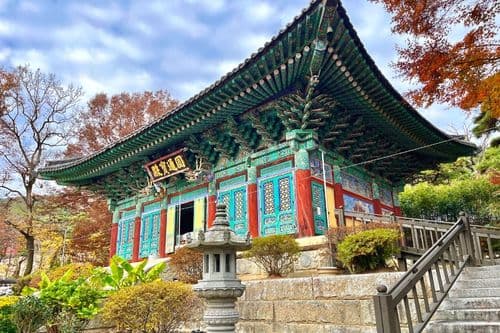 It is definitely a place where you can feel the serenity of Korean mountains and temples, and you can also enjoy a local Korean restaurant together after touring this place. So it's a pair of two with one stone. Now let's go eat lunch!
Traditional Korean Local Foods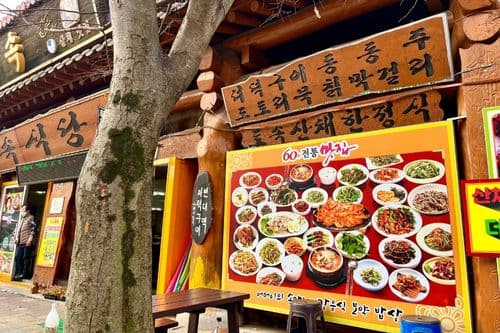 We already saw many restaurants and shops selling local ingredients on the way to Sudeoksa after getting off the bus. Without any hesitation, I and my friend got into a place where they kindly welcomed us. Because we knew that foods would be great no matter where we choose. 😉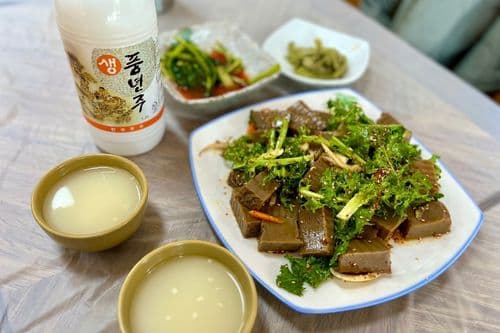 Since Deodeok, kind of herb root, is a famous in Yesan, we ordered the Deodeok bibimbap set menu and also tried the local makgeolli. Makgeolli is a traditional Korean alcoholic beverage with an alcohol content of 6%, which is not very strong. As It is made by fermenting rice, it has a yogurt scent and is sweet. I think even foreigners can try it in ease!
Splas Resom Resort: Hot Spring & Water Park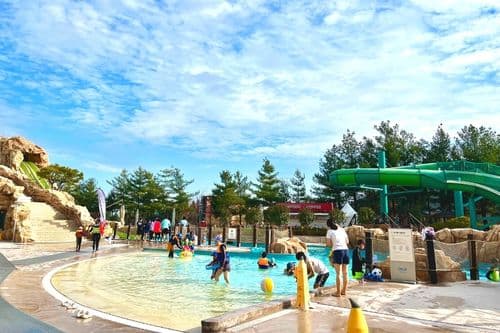 First of all, when I say Korean spa or sauna, you can think of two types. One is a place where men and women are separated and can take off all their clothes and use the large bade pool and sauna rooms. Another is where you can wear swim wear and enjoy natural hot springs indoors and outdoors. Thanksfully, Splas Resom Resort has both!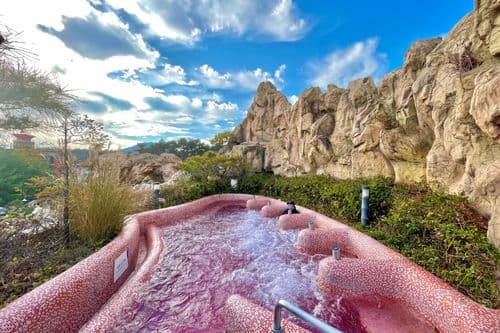 The water here is all natural hot spring water, and the their biggest advantage is that you can be pleased in the warm water in winter and cool in summer. Moreover, there is an indoor pool and an outdoor water park, and many spa spots with various themes. It was so good to relax in the hot spring bath while looking at the natural scenery.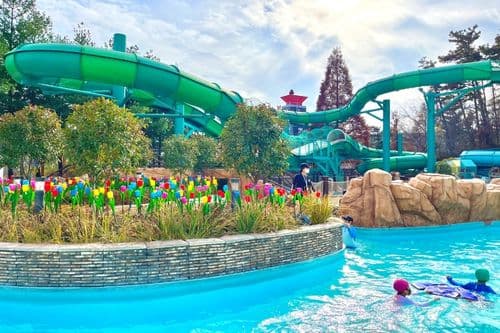 In addition, the water slide is not to be missed. There are two types of rides, one for two people and one for one person. The ride with two people is longer and more thrilling! I highly recommend it to try with your friend, lover, or family member! 😆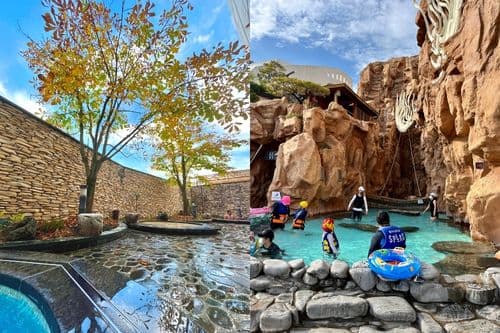 It is natural to get hungry while playing in the water. Isn't it?🤣 But no need to worry as there are snack bars throughout the water park. You can choose a variety of menus, from hot dogs, soup, and churros to Korean fried chicken and beer as well.
After enjoying the outdoor water park and hot spring, it is also recommended to have some time in the indoor sauna to experience the real Korean spa!
Yedangho Bridge
For the last attraction in Yesan, we went to Yedang Lake. It was perfect time to arrive at a little after 5 o'clock and I had an opportunity to see the various colors of the lake from the beginning of sunset to the time when darkness fell.
Also, the beauty of the lake and bridge seen from the monorail will be unique. If you have more time, watching the fountain show with the stunning night view will make your trip memorable.❤️
1Day / 2D1N Yesan Tour from Seoul
Trazy
Here on Trazy, english-frienldy tour booking website, you can find many Korean travel destinations to explore! Taking the comfortable bus or KTX(express train), you can easily travel to other cities in a day from Seoul with K Story's hassle-free tours.
1Day Itinerary
Sudeoksa Temple – Splas Resom Resort – Yedangho Suspension Bridge
2Days Itinerary
Day 1: Nonsan Korea Army Training Center – Watch the enlistment ceremony – Nonsan Sunshine Land & Sunshine Studio – Yedangho Suspension Bridge – Stay at Splas Resom Resort
Day 2: Splas Resom Hot Spring & Water Park – Naepobobu Sangchon Theme Park – Sudeoksa Temple
K Story Tour Recommendations