Last Updated on August 29, 2023
Busan, a bustling coastal city on the southern tip of South Korea, is a destination that seamlessly blends urban excitement with serene natural beauty. Its stunning beaches, vibrant culture, and spectacular ocean vistas make it a sought-after location for travelers seeking a captivating seaside getaway. To complement the city's charm, a selection of luxurious oceanview hotels offer exceptional accommodations and the chance to wake up and fall asleep to the gentle sound of the waves. From serene sunrises to picturesque sunsets, here is a more detailed look at the top 10 oceanview hotels in Busan that promise an unforgettable stay.
Read also:
Signiel Busan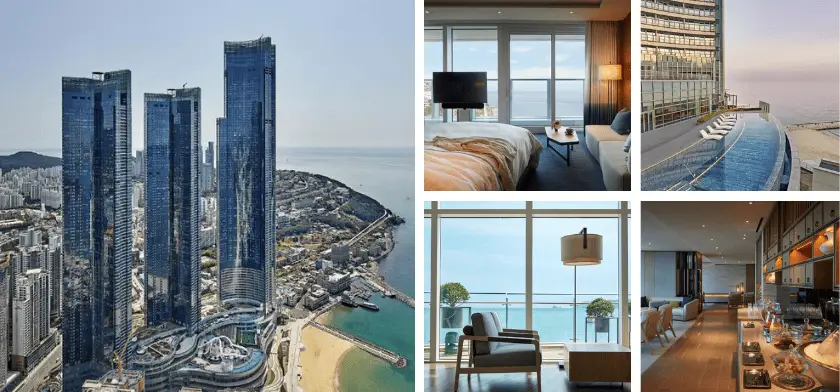 If you're craving elevated luxury paired with sweeping vistas, look no further than Signiel Busan. Perched in Jung-dong on the 3rd to 19th floors of the iconic LCT Tower, this haven offers 260 guest rooms adorned with Italian bedding and modern design, marrying comfort and elegance. With its vantage point high above the city, guests are treated to panoramic views encompassing the expansive Haeundae Beach and the iconic Gwangan Bridge at private balconies.
One of the hallmarks of Signiel Busan is its world-class dining experience. Guided by the expertise of top chefs, the hotel presents a gastronomic journey that transcends traditional boundaries. The hotel features a dedicated Chinese Restaurant, Chao Lan, introducing a touch of Hong Kong's heritage. Here, modern Chinese Tapas and Bar experiences unfold – from daytime dim sum and tea to evening cocktails, offering an enticing fusion of flavors and culture.
Yet, Signiel Busan extends beyond culinary and lodging indulgences. It embraces a holistic approach with new facilities. An inviting infinity pool beckons guests for refreshing dips, while the luxury spa promises a haven for relaxation. For families, a kids' outdoor activity garden ensures that young adventurers find their corner of delight.
Ananti Hilton Busan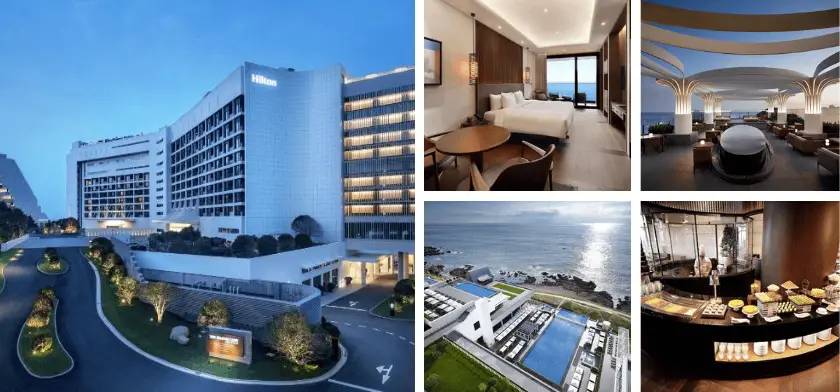 Nestled in the peaceful haven of Gijang-gun, just outside the vibrant city of Busan, you'll discover the enchanting Ananti Hilton Busan. Unlike typical urban attractions, this hidden gem resides along Busan's untouched Northeast coast, offering an exclusive getaway far from the urban rush.
At Ananti Hilton Busan, you'll find a comprehensive array of offerings that cater to your every desire. From invigorating hot springs, serene sauna, refreshing pool, rooftop bar, and upscale restaurant, all are at hand. However, the McQueen's Lounge on the 10th floor truly steals the show with its breathtaking ocean vistas. Here, you can savor a delectable bite, sip on coffee, or relish cocktails, all while captivated by the sea's ever-changing hues.
Ananti Hilton Busan isn't just a secluded retreat; it's a multifaceted destination that caters to every aspect of your desires. Ananti Town, a multipurpose complex, houses 15 lifestyle shops and restaurants open to the public. Even if you're not a guest at the hotel, you can indulge in the extravagance of an infinity outdoor pool, dine at exquisite restaurants and cafes, or shop at lifestyle brand stores.
The Westin Josun Busan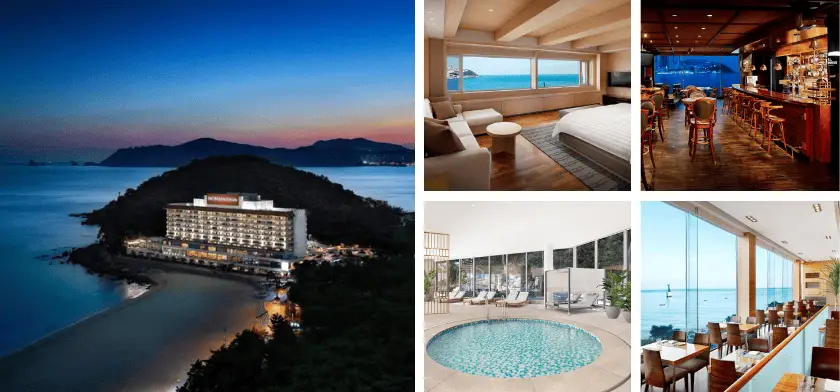 Nestled between the captivating Dongbaek Island and the alluring Haeundae Beach, The Westin Josun Busan is a retreat marring coastal tranquility with refined elegance. The hotel's ocean-facing rooms and suites invite guests to unwind while overlooking the azure waters.
Beyond its amenities, The Westin Josun Busan shines brightly due to its exceptional location. Stroll just 3 minutes to reach the Nurimaru APEC House, or enjoy the tranquil shores of Haeundae Beach with a mere 2-minute walk. For a comprehensive city experience, the vibrant Shinsegae Centum City is a quick 10-minute drive away, offering an art gallery, ice skating rink, and spa all in one place. The BEXCO Center is conveniently just a 5-minute drive, expanding your access to the city's attractions. 
Dining at The Westin Josun Busan is an experience in itself. You can choose from various culinary delights offerings at Camellia, the buffet restaurant, or indulge in authentic Korean flavors at Sheobul. Relax at Panorama Lounge with a cup of freshly brewed coffee, and later unwind with a selection of after-dinner drinks at O'Kims Irish Pub.
Paradise Hotel Busan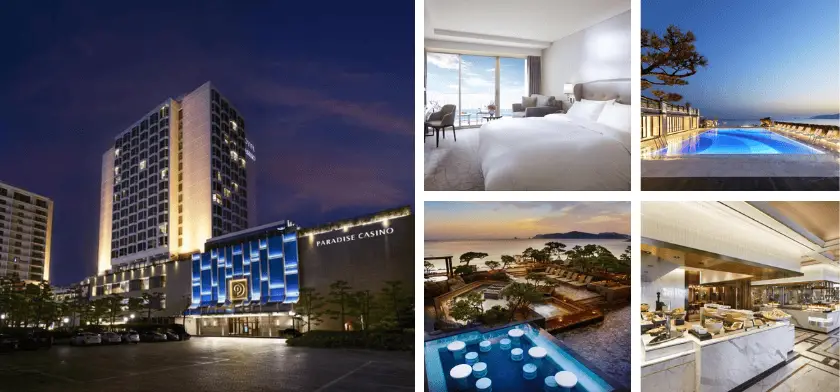 Perched overlooking the stunning vista of Haeundae Beach, Paradise Hotel Busan is a five-star gem boasting 532 elegant guest rooms. Seamlessly fusing luxury with nature's beauty, it offers a unique vantage point for experiencing the city's energy and the tranquil sea.
The hotel's expansive windows and terraces provide unobstructed views of the sandy shoreline and the sparkling sea. For rejuvenation, guests can enjoy an outdoor hot spring and a spacious pool, while the indoor golf practice range and fitness center cater to active pursuits. As night falls, the allure of the casino beckons for entertainment. 
The hotel offers a culinary journey with three restaurants serving various international cuisines. From Chinese and Japanese specialties to Western delights, your palate is in for a treat. Paradise Hotel Busan is a coastal haven where every detail is meticulously crafted, promising a luxurious retreat that captures relaxation and sophistication.
Shilla Stay Haeundae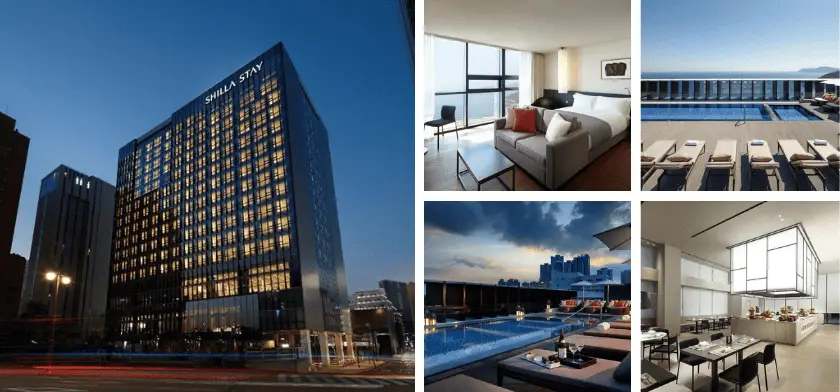 Shilla Stay Haeundae offers chic accommodations with a coastal touch. The hotel's well-designed rooms provide stunning ocean views, allowing guests to wake up to see the sea meeting the sky. The rooftop terrace offers an ideal spot to sip on a refreshing beverage while soaking in the panoramic vistas that stretch beyond the horizon.
The location is a plus. Positioned 230 meters from Haeundae Beach and 200 meters from Busan Aquarium, this heaven is a mere 9-minute walk from Haeundae Subway Station (Busan Line 2, Exit 7). Marine City awaits 1.5 kilometers away, while Gimhae International Airport is under a 45-minute drive, making your exploration seamless.
Grand Josun Busan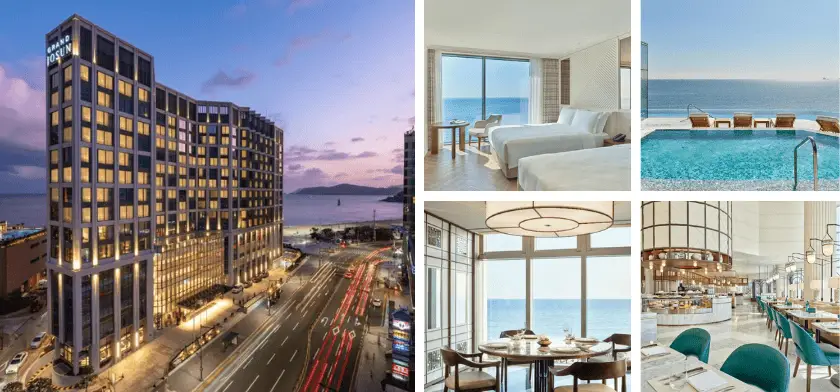 If you're searching for a family-friendly haven, look no further than Grand Josun Busan. Located near the renowned Haeundae Beach, Grand Josun Busan marries contemporary design with the captivating beauty of the ocean. Its spacious rooms with floor-to-ceiling windows offer sweeping views of the sea and create an atmosphere of seamless connection with the natural surroundings. 
Especially catering to families, they offer a dedicated kids-only floor, ensuring every family member feels at home. They also have Josun Junior, a comprehensive kid's service program that brings delight to your family vacation. They've considered every detail, from a warm welcome gift to specialized kids' amenities like water cups, gowns, slippers, and baths. 
Ramada Encore by Wyndham Haeundae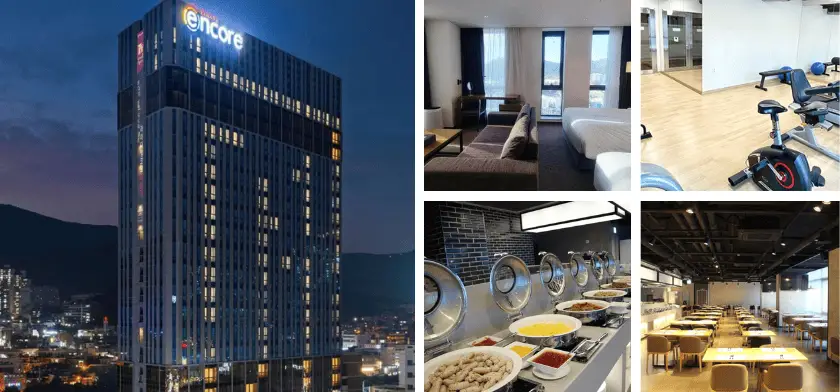 Ramada Encore by Wyndham Haeundae offers modern simplicity along with stunning ocean views. The hotel's well-appointed rooms provide a comfortable base to explore the city, while the proximity to Haeundae Beach ensures that the beauty of the ocean is always within reach. You can start a day with a breathtaking sunrise over the sea and enjoy easy access to the beach's sandy shores.
For those embracing an active lifestyle, you are granted complimentary access to the on-site fitness center. A coin launderette is also at your service, ensuring your practical needs are well met. Regarding dining, Alive, their in-house restaurant, takes the lead with a delightful breakfast buffet. However, your culinary journey doesn't end there. Ramada Encore Haeundae is surrounded by a diverse array of eateries and cafés, all within a convenient 5-minute walk, ready to satisfy your cravings and curiosities.
Park Hyatt Busan
Park Hyatt Busan stands as a symbol of sophistication along Busan's coastline. This distinguished establishment offers an array of 269 guestrooms and 69 suites. These spaces blend sophistication and comfort, boasting a soothing palette of beige-toned wood and expansive floor-to-ceiling windows that reveal mesmerizing ocean views. 
For a revitalizing escape, dip in the inviting indoor pool, spanning an impressive 20 yards, or surrender to the skilled hands of the therapists at Lumi Spa & Fitness, where seven impeccably designed treatment rooms await.
For dining options, ascend to the 32nd floor to savor the offerings at the Dining Room, a Steak and seafood Grill restaurant boasting an open kitchen concept. You can choose from a delectable array of premium steaks, fresh seafood, and enticing Korean delicacies. On the 31st floor, the Living Room beckons with authentic Italian cuisine, masterfully curated from traditional recipes and locally sourced, high-quality ingredients. Meanwhile, the 30th-floor Lounge is a haven for casual conversations and leisurely moments. Offering seasonal afternoon tea sets and an enticing variety of snacks and beverages, all accompanied by breathtaking views, the Lounge is an oasis of relaxation.
Hotel Aqua Palace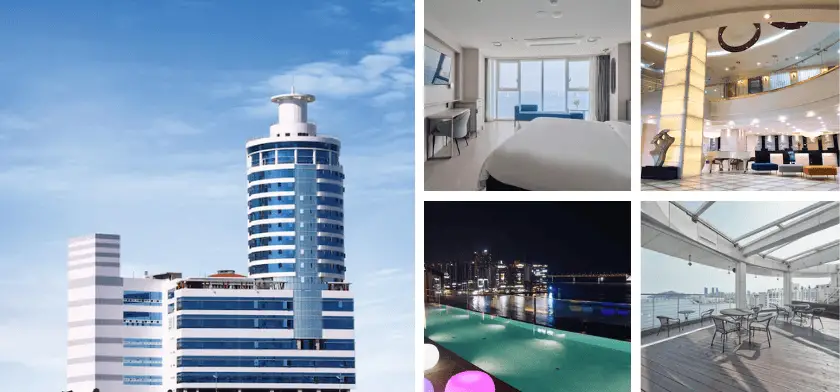 Nestled within a mere 164 feet from the enchanting Gwangalli Beach, Hotel Aqua Palace stands as a beacon of comfort and elegance. With spacious rooms and suites that offer captivating sea views, this hotel creates a haven of relaxation by the sea. 
Strategically located, Hotel Aqua Palace is a 10-minute walk from Gwanan Station (Subway Line 2), offering seamless access to the city's charms. The renowned Minlak Park is conveniently situated just 0.6 miles away. The Busan Exhibition and Convention Center (BEXCO) is only a 10-minute drive away for those seeking to explore further. At the same time, the vibrant district of Seomyeon can be reached within 20 minutes by car. Gimhae International Airport is also easily accessible, just a 40-minute drive from the hotel.
To begin your day on a delightful note, Hotel Aqua Palace offers an American breakfast on weekdays, with an enticing breakfast buffet available on weekends. Both options promise a mouthwatering array of choices to suit your preferences, providing the perfect start to your day's adventures.
LCT the Residence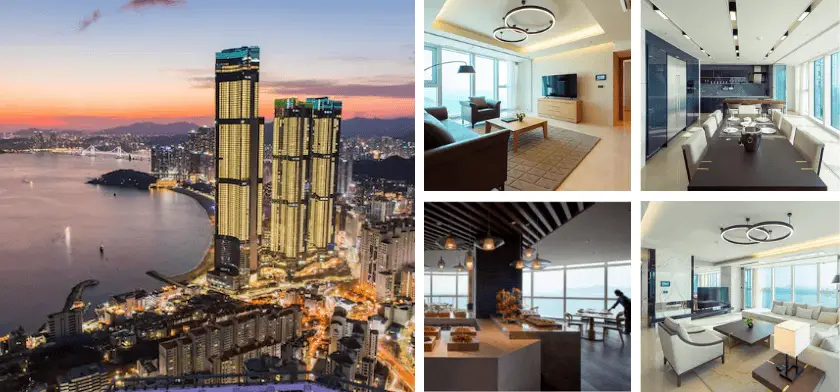 If you're in search of a hotel with a convenient location, LCT The Residence is your answer. Perfectly situated within a kilometer of the famed Haeundae Beach in Busan, this residence offers a seamless blend of luxury and practicality.
Positioned approximately 1.6 km from Haeundae Station, 4 km from BEXCO, and 4.4 km from the Busan Museum of Art, LCT The Residence places you at the epicenter of Busan's vibrancy. Furthermore, it's just 1.1 km from the captivating Dalmaji Hill, ensuring you're enveloped in the city's natural allure.
Upon your arrival, expect air-conditioned rooms meticulously furnished with an array of amenities for your comfort. From ample wardrobe space to a convenient coffee machine, a fridge, and even an oven, every detail is considered. A safety deposit box adds a layer of security, while entertainment is provided through a flat-screen TV. The private bathroom is thoughtfully designed for convenience, complete with a bidet.
In conclusion, Busan's coastline is adorned with remarkable oceanview hotels that cater to every traveler's desire for luxury and natural beauty. Whether you're an avid beach lover or simply seeking a serene escape, these top 10 oceanview hotels in Busan offer an unforgettable blend of comfort, style, and awe-inspiring ocean vistas. Come and experience it yourself.