Last Updated on August 29, 2023
As the beauty and fashion center of the world, South Korea continues to pave the way for innovative and captivating trends. In the year 2023, the realm of nail art is no exception. From whimsical charm nails to futuristic chrome finishes, South Korea is once again setting the stage for what's hot and happening in the world of manicures. Let's look at some of Korea's most intriguing and mesmerizing nail trends in 2023.
Read also:
Korean nail styles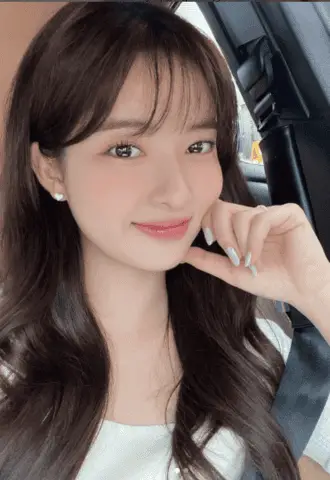 Koreans have embraced two predominant nail styles – "cute" and "feminine," and square and oval shapes, reflecting their wide-ranging preferences and individuality.
Also, guided by the timeless principle of TPO (time, place, occasion), Korean nail artists curate seasonal nail styles that seamlessly align with shifting moods. As the seasons transition, the color palette gracefully adapts – welcoming soft, lighter shades during spring and embracing deep, richer tones as autumn unfolds. Read on to see the top Korean nail trends for 2023.
Jelly Nails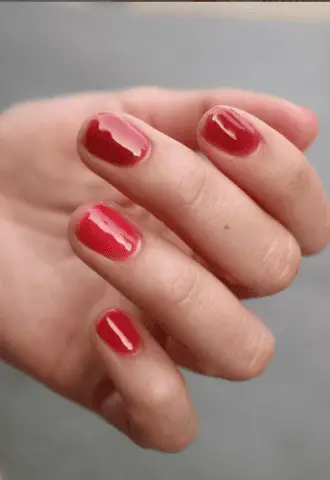 Jelly nails have taken the nail art world by storm in South Korea. These translucent, candy-colored nails resemble the vibrant hues of jellies and are achieved by encapsulating colorful gel within clear acrylic extensions. The result is a fun and eye-catching look perfect for those who want to add a pop of color to their fingertips.
Chrome Nails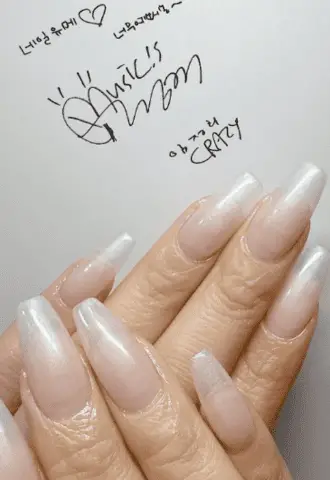 For those who crave metallic allure, chrome nails are the go-to choice. Achieved using a special powder that creates a mirror-like finish, these nails catch and reflect light mesmerizingly. From silver and gold to holographic shades, chrome nails give any outfit an edgy and futuristic vibe.
Micro French Manicure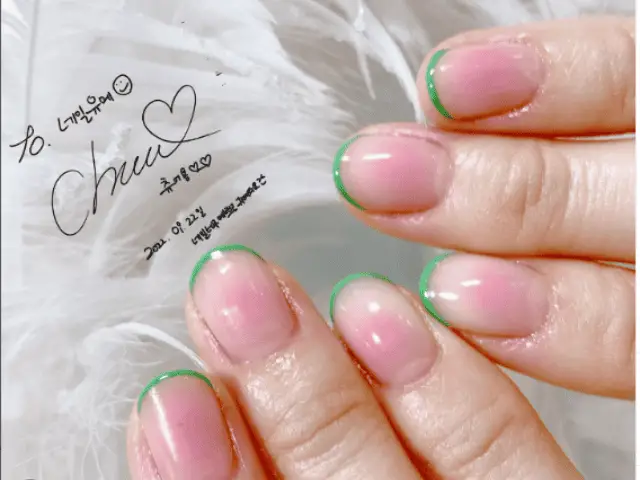 The classic French manicure, a timeless symbol of elegance, has undergone a transformation in the realm of South Korean nail trends for 2023. This approach offers a subtle yet striking update to the classic white-tip design. Instead of the broader white arc, micro French manicures feature delicately thin lines in various colors. This meticulous attention to detail introduces a sense of refinement while retaining the minimalist essence that has made the French manicure an enduring favorite. This subtle update adds a touch of elegance while maintaining a minimalist look.
Gradient Nails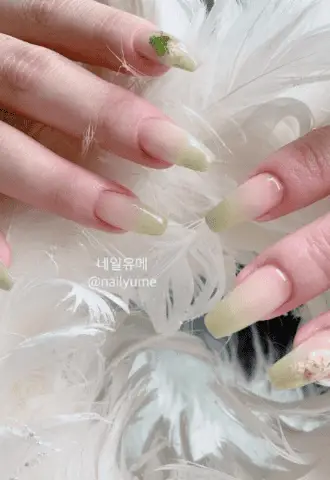 Gradient nails, known as ombre nails, are a steadfast trend captivating nail enthusiasts. This technique seamlessly blends multiple shades of nail polish, creating a smooth transition of color from one nail to the next. The effect is a soft, dreamy, and effortlessly chic appearance that complements various outfits and occasions. Whether opting for soft pastels or bolder shades, gradient nails remain versatile. 
3D Nail Art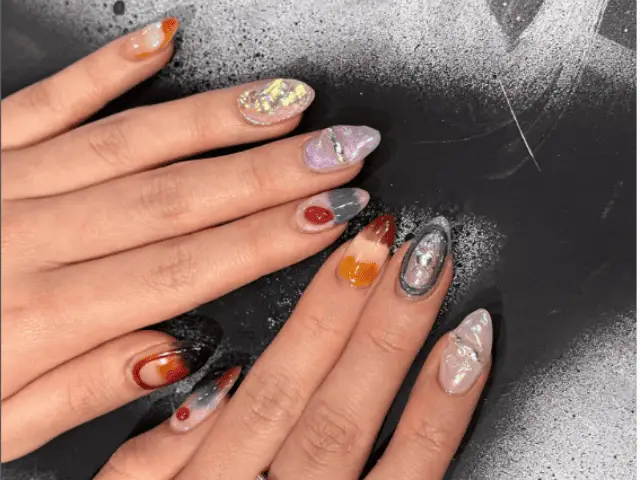 Intricate and visually captivating, 3D nail art is a testament to nail artists' skill and creativity. South Korea's nail artists have pushed the boundaries of conventional design, transforming nails into miniature canvases for intricate sculptures and designs that pop off the nail bed. 
These designs add an extra dimension to nails through tiny sculptures, gems, pearls, and other embellishments. The result is a tactile and eye-catching masterpiece ranging from delicate florals to bold geometric arrangements. 3D nail art celebrates the boundless imagination expressed on the smallest canvases.
Monochrome Nails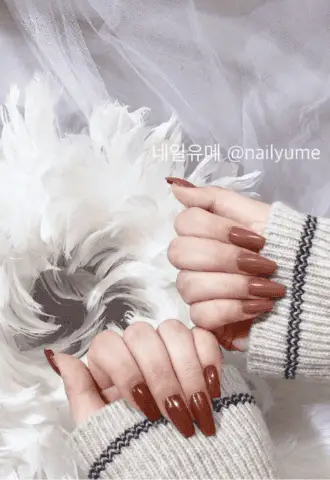 In nail trends, minimalism takes center stage with monochrome nails that embody simplicity and sophistication. However, South Korea's take on monochrome is anything but plain. The monochrome nail trend involves intricate patterns and textures within a single-color family. 
Whether exploring a palette of muted neutrals or experimenting with deep, rich tones, monochrome nails deliver a timeless and versatile appeal. The simplicity of the monochromatic approach demonstrates that sometimes, less truly is more.
Floral Nails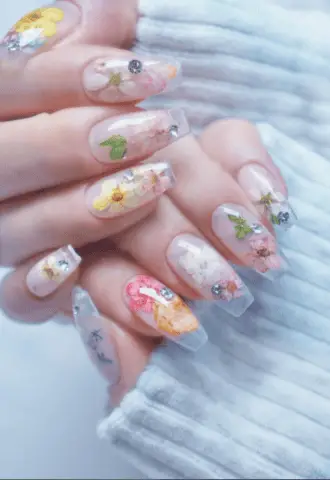 Floral nails capture the beauty of nature with intricate depictions of flowers and leaves. From delicate roses to lush botanicals, these designs bring a touch of whimsy and femininity to the nails. Floral nails are perfect for spring and summer and add fresh air to any look.
Glitter Nails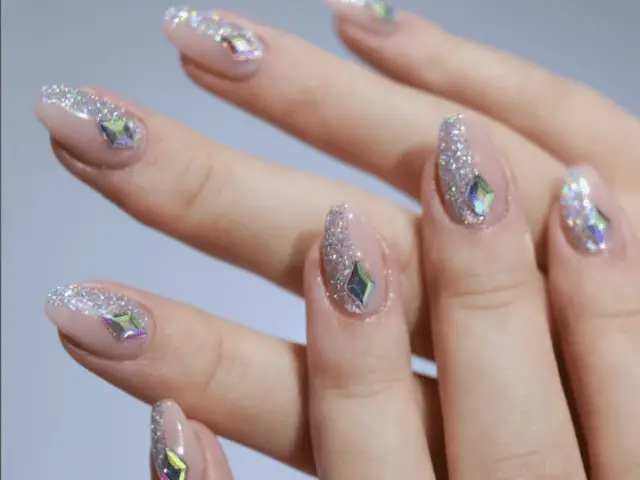 Glitter nails continue to be a timeless trend that adds an element of glamour and playfulness to manicures. South Korea's take on glitter nails encompasses a range of options, from subtle accents that glisten delicately to bold and daring glitter bombs that command attention. 
Whether it's an all-out glitter extravaganza or a subtle sprinkling of sparkle, this trend infuses a touch of festivity and extravagance into everyday life. Glitter nails cater to those who desire to catch the light and create a show-stopping statement, adding a whimsical allure to any occasion.
Transparent Nails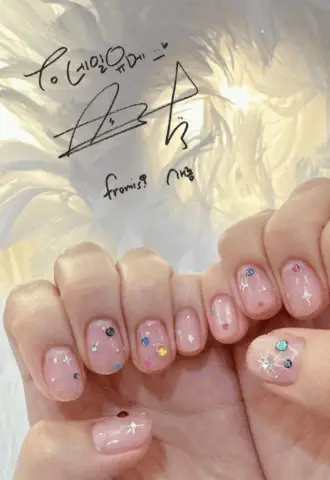 Transparent nails, often called glass nails, epitomize an ethereal and barely-there elegance. These nails typically feature a sheer base adorned with delicate embellishments such as minimalist lines or soft gradients. The outcome is an exquisite and understated aesthetic that allows the natural beauty of one's nails to shine through, making it an ideal choice for those who appreciate the delicate balance between simplicity and sophistication.
Pastel Nails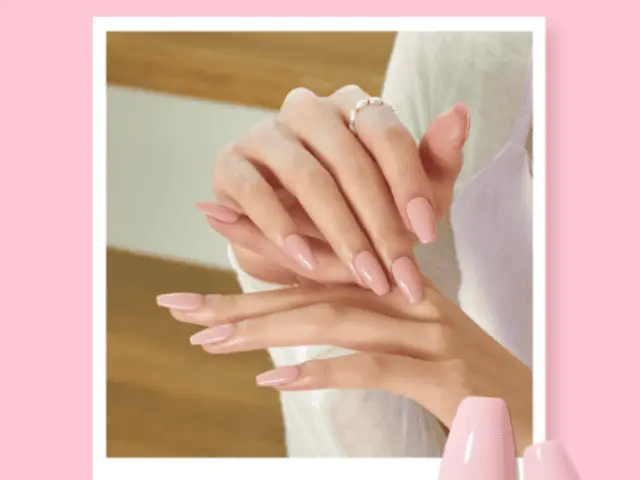 The serene charm of pastel nails has made a triumphant return in South Korea's nail scene for 2023. Pastel nails capture the essence of gentle sweetness. With hues reminiscent of delicate macarons, these soft colors – from baby pink and lavender to mint green and pale yellow – create an atmosphere of tranquility and charm. Pastel nails are a timeless choice that effortlessly transcends seasons, making them a perfect canvas for showcasing individuality and elegance.
Coral Blusher Nails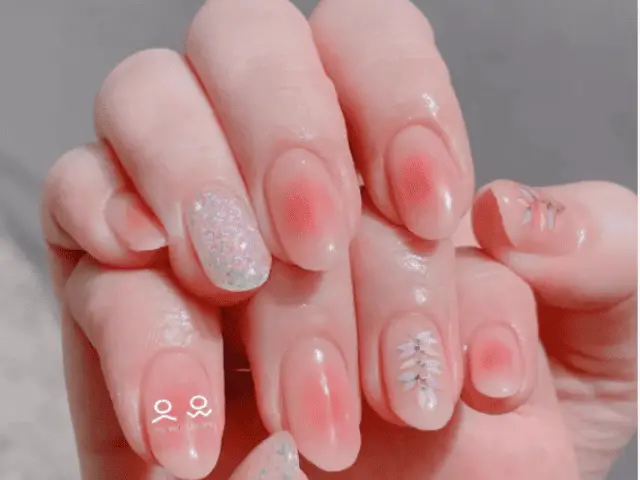 The worlds of makeup and nails converge in the innovative trend of coral-blusher nails. Inspired by the warmth and radiance of coral blush, these nails feature soft coral shades that evoke a youthful and fresh appearance. The fusion of beauty and self-expression is evident in this trend, as nails become an extension of the cosmetic realm. Coral blusher nails celebrate the fluidity between beauty mediums, where nails take on the role of a canvas for makeup-inspired hues that enhance the fingers' natural elegance.
Bunny Inspired Nails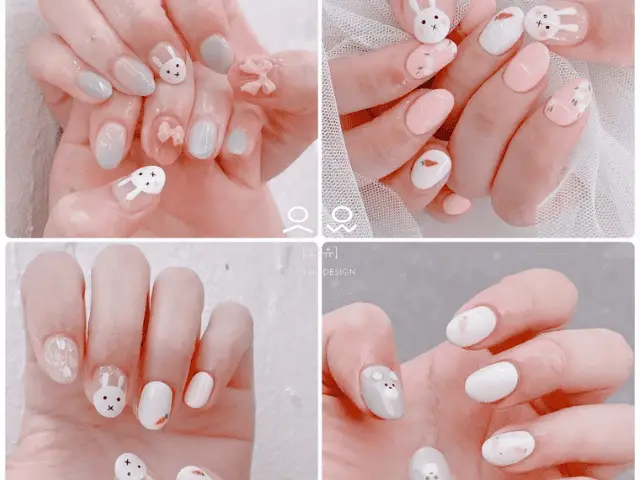 The popularity of the girl group New Jeans, with their charming bunny-themed image, has ignited a nail trend in Korea. Bunny-inspired nails bring innocence and playfulness, transcending cultures. From subtle silhouettes to intricate designs, bunny nails offer versatile styles, inviting creativity. These nails blend light-heartedness into personal expression, showing beauty's depth igniting joy and self-expression.
YK2-inspired nails (Kuromi and Hello Kitty)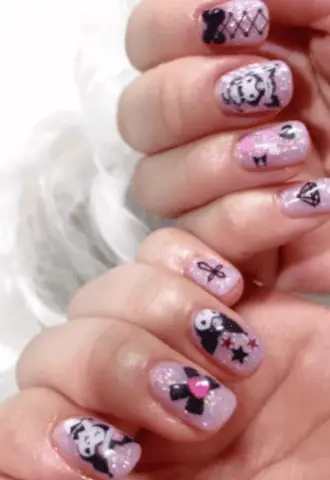 Amid the continued Y2K resurgence since 2022, YK2-inspired nails have ignited a trend in Korea, particularly those drawing from Kuromi and Hello Kitty. The timeless innocence of Hello Kitty seamlessly blends with Y2K's revival, while Kuromi's edgy allure aligns with the trend's bold spirit. 
Embracing the nostalgia of Y2K's return, these nails capture the essence of a retro-modern fusion and evoke a sense of nostalgic charm. These designs tap into fond childhood memories while offering a platform for creative interpretation. Nostalgia meets contemporary flair in these delightful designs that bridge the gap between generations.
Ocean-Inspired Nails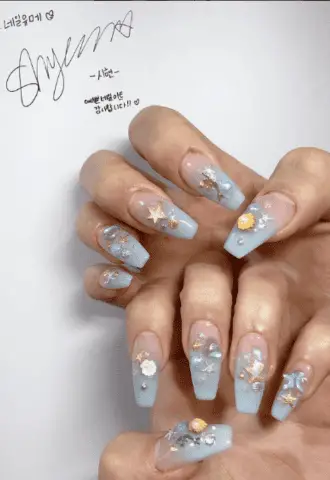 With the return of the Disney Little Mermaid movie, ocean-inspired nails have surged in popularity, captivating nail enthusiasts with their aquatic allure. Enhanced by charming sea stars, pearl, and seashell accents, these nail designs reflect the magic of the deep blue sea. With their dreamy and enchanting aesthetics, the mermaid's nails embody a touch of mysticism and magic, making them a favored choice for those seeking to embrace their inner sea siren.
Barbie-inspired Nails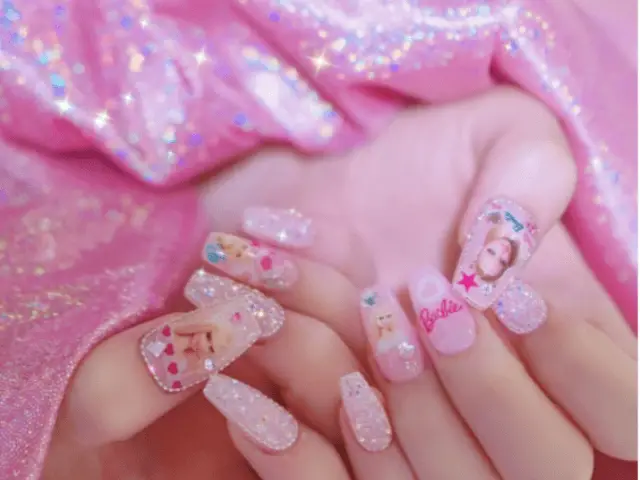 Another popular movie of this year, Barbie 2023, is making waves and igniting a trend: Barbie-Inspired Nails. Barbie nails pay homage to retro glamour with their bold colors, geometric patterns, and iconic Barbie-inspired designs. These nails exude confidence and a hint of vintage flair as a tribute to an enduring cultural icon. Barbie nails celebrate femininity, empowerment, and the timeless appeal of classic beauty.
Tattoo Nails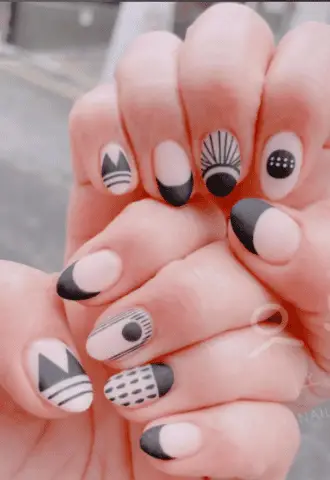 Introducing yet another dimension of innovation, 2023 witnesses the rise of tattoo nails. These micro masterpieces emulate the intricacies of tattoos, ranging from delicate florals to intricate symbols. Employing precise techniques and fine brushes, nail artists create wearable artworks that mirror the allure of tattoos. Tattoo nails serve as a distinct avenue for self-expression, melding two artistic mediums into one captivating form.
Negative Space Nails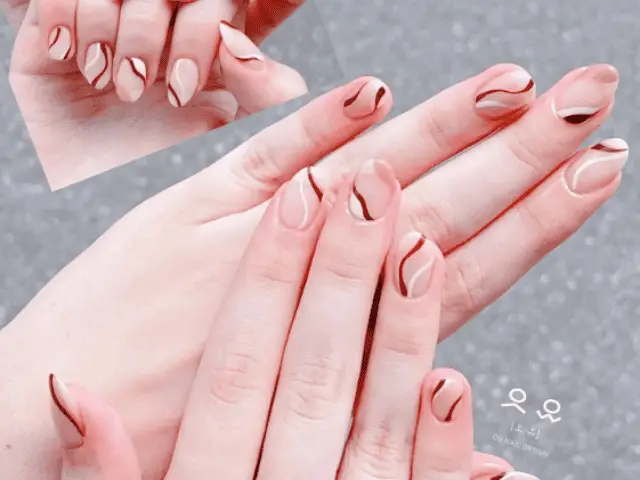 A striking innovation within Korean nail trends is embracing negative space nails. Instead of fully covering the nail with polish or design, negative space nails leave intentional sections bare. This creates an artful interplay between painted and unpainted areas, creating an edgy and elegant design. Geometric cutouts, asymmetrical patterns, and minimalist lines utilize the natural nail as part of the artwork, transforming it into a collaborative canvas.
In the colorful world of South Korea's nail trends for 2023, creativity runs wild, and nails become the canvas for self-expression and style. So, whether you're into the space-age allure of chrome or the delicate charm of bunny nails, South Korea's nail trends invite you to embrace your inner nail artist and dive into a world of endless possibilities. Get ready to rock those nails like the trendsetter you are!