Last Updated on May 25, 2023
Korean culture has many beautiful characteristics that make it unique. The ability to take self-care to the next level is one of them! Koreans are known for caring for their skin and body through exercise, diets, and beauty establishments. But we might not know all of their beauty secrets.
Perhaps less known as a K-Beauty tool, the Jjimjilbang (Korean bath house or Korean spa) is yet another way to pamper oneself in Korea! And it has many benefits beyond what we typically see. Let's explore this popular establishment, what you can find there, and why you should absolutely make it a habit! Here are 6 reasons to visit a Jjimjilbang!
How to Enjoy JJimjilbang
What is a Jjimjilbang?
Korean spas or Jjimjilbang (찜질방) in Korean are known for being spaces where one can enjoy sweating it out in hot rooms, cooling off in ice-cold rooms, and hanging out while eating snacks.  You may have heard of the best Jjimjilbangs you can find in Seoul, and you already know that they are numerous and affordable. But what does one actually do there, and why?
MORE THAN A SIMPLE SHOWER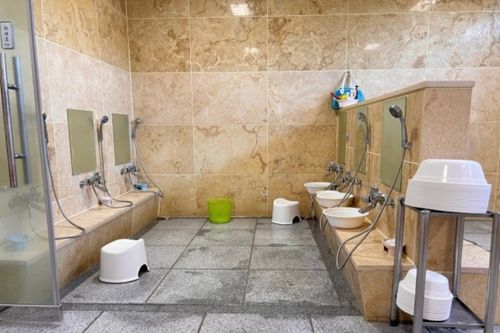 The true Jjimjilbang experience always starts with a shower. However, it isn't as simple as one would think. Of course, people shower to get clean before entering the hot baths, as they have to be naked. But next to the showers, one can often notice buckets and stools where people sit to scrub themselves. It seems simple as well! However, this step means a lot more to locals.
You may have seen it in Korean dramas: father and son scrubbing each other's back while talking. This is a gesture many people do with close family, which helps create a deeper bond. For foreigners who may not have family, it's also okay to do it alone and stick to the cleansing benefits of scrubbing before the hot shower!
BATHS ARE SKIN PREP!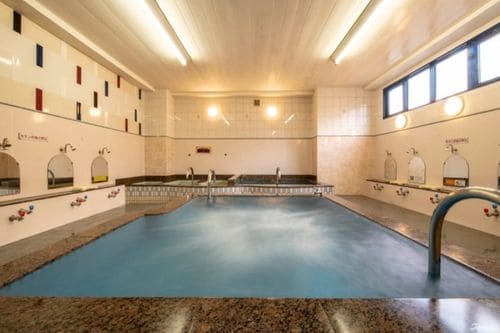 The baths in Korean spas have different temperatures, from cool water to very hot water. These are not mandatory, but they are a great way to relax before moving on to other activities. I absolutely recommend this step as it helps loosen up the pores and prep your skin for any treatment you might receive. As for bath etiquette, it is expected to cover your hair with a towel to avoid hair falling into the water!
BODY SCRUB: 3 IN 1 SPA TREATMENT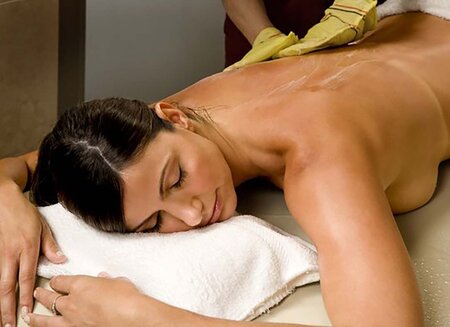 Source: immersionspa
This part is not as popular as the other activities, but I recommend trying it at least once. The body scrubs are typically done by ajummas (older ladies) who will have you lay on a table and, as the name indicates, scrub your entire body with an Italy towel (exfoliating towel) to remove dead skin. This may sound scary and a bit embarrassing (since you are indeed naked), but fear not. It feels extremely refreshing after a few seconds. 
Many people are surprised by the amount of dead skin that will fall off their bodies, and the visuals can be overwhelming. However, you will feel like a newborn baby after it! Korean body scrubs help smooth out places where the skin is dry and improve blood circulation. They act as a lymphatic massage and help reduce water retention and cellulite while removing toxins and waste on the skin! While these treatments can cost a small fortune when added up, you get them all at once for a fraction of the price.
HOT & COLD ROOMS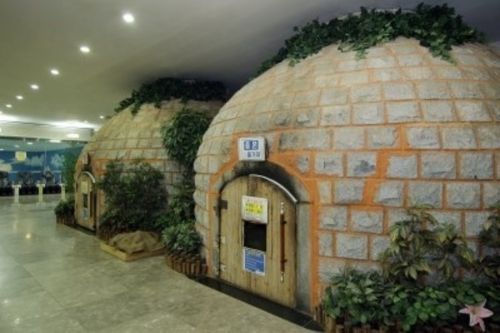 Bulgama (Very hot) Sauna Room
After a good bath and scrub combo, you might feel ready to rest. But wait! There are a couple more things to do to take advantage of that upcoming nap. Jjimjilbang is the actual room where people go to sweat. With temperatures going up to 90° Celsius, these rooms act like Hammam (hot steam baths) and help you eliminate toxins by sweating them out. Of course, it is recommended to go only where your body can support the heat and work your way up gradually. They, too, have a role in improving blood circulation, reducing stress, helping muscles recover after a workout, and even burning calories! Right after the hot room, people tend to move to the cold room to help improve joint and muscle function. They are also said to help reduce stress.
When you come out of the rooms, you are ready for the nap of a lifetime!
COZY RESTING AREAS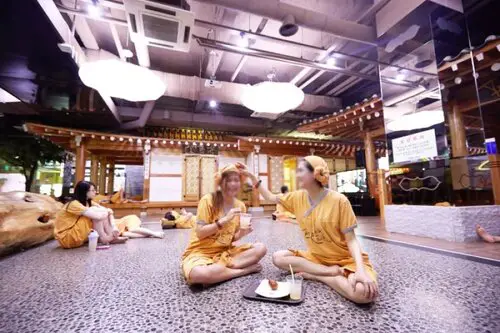 Source: tripzilla
The common area of the Jjimjilbang is where you can rest after finishing your treatments. In most cases, mats are available on a first-come, first-served basis. In fancier spas, small tipi-style spaces are also there for people to rest, eat and sleep in.
You can take a nap, lie down to read a book or listen to music, but depending on the spa, there can be much more!
Some spas have arcades and gaming areas, some have snack stands or full-on restaurants. This is where you are free to do anything you like.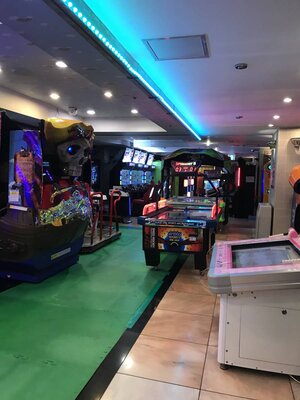 Source: trazy
Common etiquette for the resting area is to be, of course, as quiet as possible. Many people are there to sleep in the different nap rooms, but the general area is relatively quiet.
CONVENIENT POWDER ROOMS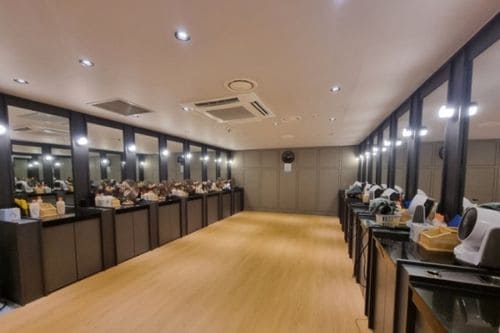 Although most gyms and spas worldwide have this feature, Korean spas are incredibly advanced in powder rooms. With hair brushes, combs, hair dryers, and curling irons, powder rooms are so well made that you need virtually nothing to get ready. All items are sterilized for safe use, and some spas even provide skincare!
After a long day of pampering, you can come out ready for an evening out as easily as if you were home. For our busy lifestyles, this is a feature that helps tremendously!
Korean spas are the epitome of comfort, self-care, and efficiency. With some of them running 24/7, some people even sleep and get ready there with ease. They help customers take care of their skin, bodies, and mind by relaxing and taking a break from the outside world. This is something that I recommend doing once a month as a way to treat yourself without hurting your pockets!
You may also like:
IVK's Top Picks – Day Tours, Tickets, and Travel Activities
Seasonal Picks!😍