Brace yourself for a winter wonderland! South Korea's snowy embrace offers an unforgettable blend of cultural experiences, scenic beauty, and exciting activities. Whether you're a seasoned traveler or a first-timer, our comprehensive guide ensures you're well-prepared for a delightful winter in Korea.
Top Things To Do in Winter Korea!
Korea's Frosty Attractions and Activities
Skiing & Snowboarding
Discover South Korea's winter wonderland across its 14 premier ski destinations! Whether you're strapping on skis for the first time or confidently gliding on a snowboard, there's an adventure waiting for everyone. Don't miss the mesmerizing experience of night skiing under shimmering lights. Plus, no gear? No problem! Most resorts offer convenient equipment rentals, ensuring a hassle-free snowy escapade for all.
Ski resort opening dates in Korea 2023-2024
Exciting news! South Korea's ski resorts have announced their opening dates for the upcoming winter season. Be sure to take a look and make the most of your winter adventures. As soon as the opening dates of Jisan Forest and Konjiam Resort are confirmed, we will update this information.😉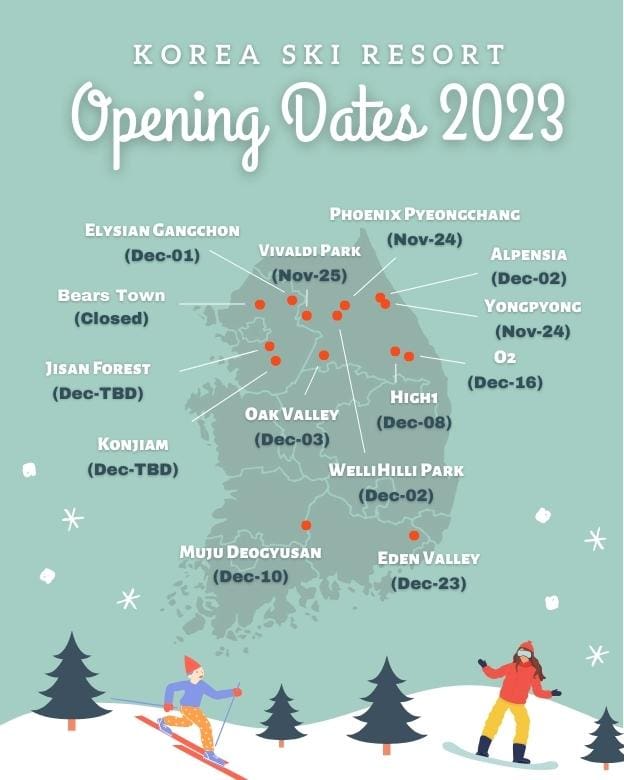 Alpensia Resort
YongPyong Resort
Vivaldi Park
High1 Resort
Elysian Gangchon
WelliHilli Park Resort
Ice Skating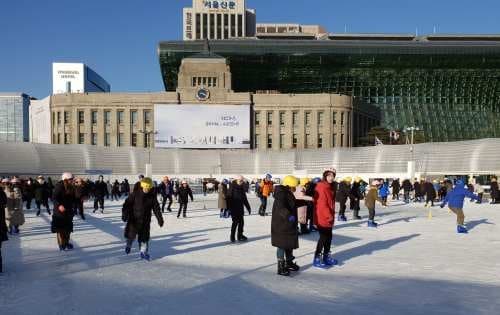 As winter blankets Seoul, the city comes alive with enchanting winter activities that beckon travelers from all corners. Among its icy attractions, the iconic Lotte World Ice Rink stands out. Nestled within the world's largest indoor theme park, it offers skaters a mesmerizing blend of festive lights and captivating tunes. Just a stone's throw away, in the heart of the city, the Seoul Plaza Ice Rink unfolds against the grand backdrop of the City Hall – a juxtaposition of Seoul's rich past and dynamic present.
For those looking for snow-filled adventures, the sledding hills beckon. The Snow Buster at Everland is particularly noteworthy, ensuring heart-racing descents for the brave. In Seoul, winter is not just a season; it's an experience, curated especially for those with a penchant for frosty fun.
Check out the 12 Best Skating and Sledding Hills in Seoul.
Spa & Wellness
To beat the cold, South Koreans indulge in a traditional "jjimjilbang" or Korean spa experience. These multi-story sanctuaries offer a variety of saunas, steam rooms, and mineral pools. Warm up in heated rooms, enjoy therapeutic spa treatments, or simply relax with a warm drink. It's an ideal way to unwind after a day of winter activities.
Can't-Miss Winter Festivals
Winter in Korea is festival season! From ice sculpture exhibitions to snow carnivals, the country is abuzz with events. Highlights include lantern festivals where thousands of illuminated lanterns float against the night sky and traditional performances that showcase Korea's rich cultural heritage.
There are no upcoming events at this time
Featured Articles on Winter in Korea
Dive deeper into Korea's winter offerings with our curated articles. Explore the intricacies of winter cuisine, uncover hidden snowy retreats, or learn about the age-old traditions that make Korean winters unique. Stay tuned for expert insights and tips to make your winter journey truly special.
Winter Weather Guide
Average Temperatures: Seoul often sees temperatures around -2°C to -10°C, while Busan is slightly milder with 0°C to -5°C.
Snowfall Spots: For a white winter, head to Gangwon-do. Its mountainous regions guarantee picturesque snowy landscapes.
Packing Tips: Layer up! Bring thermals, waterproof boots, and insulated outerwear. Don't forget a scarf, gloves, and beanie.