Do you eat to live? Or live to eat?
Everyone has at least three opportunities a day to enjoy their life. Through the means of food. 😀 The busy-ness of life leads to skipping meals, eating instant foods, and eating at late hours. Your health is hard to get back once you lose it. I, for one, did not think about what I ate, how it was made, and the ingredients. But embracing myself showed me that food can bring healing. Eating natural and fresh ingredients, made me feel lighter, more energetic, and more cautious about my body. Moreover, your body is a temple and for it to stay strong, finding the right balance is key. The best place to treat yourself and heal your body and soul is through the vegan restaurant in Seoul called "Soseek."
"Soseek" is a secular temple vegan restaurant in Yongsan, Seoul. It won the hearts of many as their food is not just a quick meal but a beautiful story that communicates strength, health, and simplicity.
Location:
Address: 57 Sinheung-ro, Yongsan 2(i)ga-dong, Yongsan-gu, Seoul
Bus: 143, 403, 406 (3-minute walk from Yongam Elementary School Station)
Subway: Noksapyeong Station (1.1km away)
Hours of business:
Closed on Mondays. Tuesdays to Fridays at 6-10 p.m. Saturday Sundays at 5-10 p.m. Opened in the evenings with candles to create a temple-like atmosphere.
Price:
Single menu 8,000 won- 30,000 won, Course menu: 35,000 won- 79,000 won.
Beliefs:
First, millennial food trends align with centuries old-Korean temple cuisine. Second, enriching a gastronomical experience is about subtracting, not adding. Third, the more aware you are, the better the taste (and healthier). Lastly, time is an active ingredient in temple food. *from Soseek's website.
Menu:
The best part is the menu is in Korean and English. Please see this website for the exact menu. They have single-serving menus. Furthermore, note that the course menu is for 2 or more people.
Here are our top recommendations:
Secular Temptation (19,000 won).
The secular temptation made from charcoal-grilled steak is 100% plant-based. It came with garlic, beech mushrooms, seasonal greens, ssamjang (Korean bean paste) ice cream, and a side of warm rice. You will be surprised by the texture of the grilled steak as it tastes and looks like real meat! How can plants be made into meat?! I thought the same thing. The meat, made from beans grounded, is textured perfectly and seasoned with the right natural herbs. Try it together with the mushrooms and greens for the perfect trio.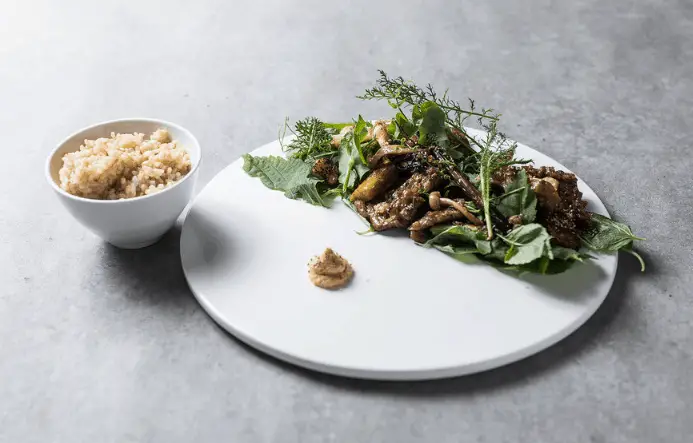 In addition, every dish comes with a name card with the dishes ingredients. It's nice to know what you are eating. 🙂
Bean Complication (17,000 won):
Insider Noodle (15,000 won and featured on TV show Cool Kids):
Moreover, Insider noodle made from Korean wheat noodles or gluten-free brown rice noodles, chewy mushrooms, crispy onion flakes, Korean cabbage, local greens, chili cashew broth, and chili oil. The taste of the deep broth is amazingly rich! And the entire dish 100% plant-based. Also, the fried onion flakes gives it an extra crunch and the chili oil adds a little kick to the dish. You will love it 😀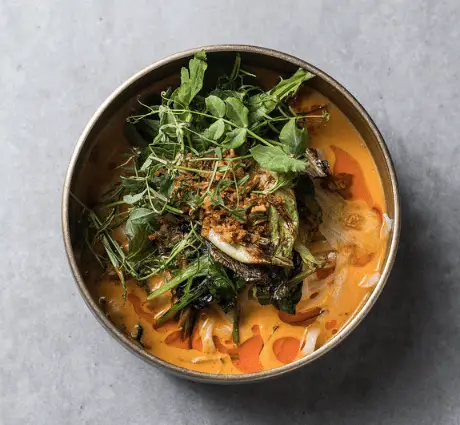 Desserts:
Bittersweet Symphony (9,000won):
Furthermore, who doesn't love chocolate? Bittersweet chocolate made with hangwa, cream (100% plant-based), and ionic herb chocolate. The combination of charcoal cake, marshmallows, and slight alcohol brings a smile to your face. It's that delicious 😀
Sweet Farming (9,000won):
Lastly, sweet farming takes desserts to another level. Made with mugwort terrine, chocolate terrine, cacao gravels, cream (plant-based), herb, and strawberry. It looks like a brownie but the texture is more like creamy chocolate. The combination of mugwort and chocolate is new and the sweet cream on top is the perfect blend. 😀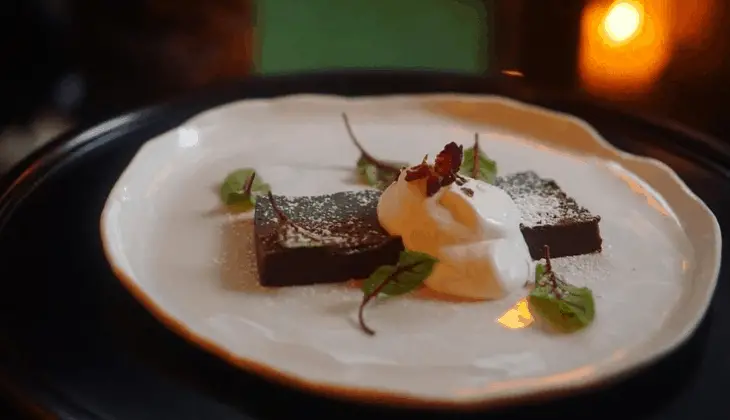 Alcohol:
Two recommendations sold exclusively at Soseek.
Hayoo (15,000 won) is 1,000 ml, 8% sour, and sold exclusively at Soseek.
Jayoo (15,000 won) is 500 ml, 15% sweet, and sold exclusively at Soseek.
Conclusion:
In conclusion, Soseek is not only for Vegans but for everyone who needs healing for their body and soul. The restaurant is small so make sure you reserve your spot before you go. And always remember that your health is worth investing in.
Written by Grace Lee.