Zombie Run Busan 2023
Summary
Date: August 5, 2023
Location: Busan Cinema Center, 120 Suyeonggangbyeon-daero, Haeundae-gu, Busan
Admission Fee: 70,000 KRW
General Information
A day filled with chills and thrills, the Zombie Run Busan 2023 is not for the faint-hearted. Running under the concept of 'Retro-Zombie Town', this adrenaline-fueled festival is as provocative as it is immersive. With over 500 zombies ready to pose for a picture, dance, or sometimes even chase you, the festival offers an uncanny experience you'd be hard-pressed to find elsewhere. Rally your friends to form a team, and strive to survive the onslaught of these relentless zombies. Welcome to the Retro Zombie World, a nod to the 90s American culture, teeming with a myriad of zombies – waitresses, janitors, police, doctors, nurses, and more.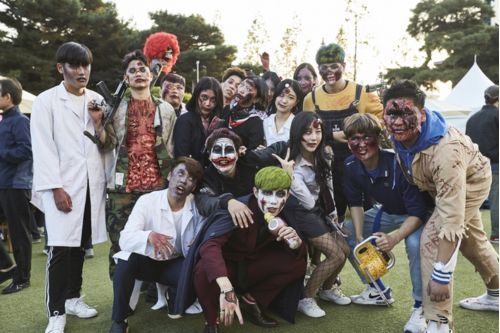 Key Highlights of the Festival
Zombie Chase: Experience the thrill of being pursued by hordes of zombies.
Zombie Party: Let loose and dance the night away in a party like no other, filled with the undead.
Zombie Weapons Pop-up Store: Arm yourself with the coolest and most unusual weapons to fight off the zombies.
Various Types of Zombies: From waitresses to doctors, meet zombies of all trades and backgrounds.
Additional Information
The Zombie Run is more than just a run – it's a festival that inspires vitality, courage, and individuality. Since its inception in 2013, the festival has been hosted in seven cities across the country, attracting over 100,000 participants, making it the first and largest zombie festival in South Korea. The event ensures a fun-filled day for runners and zombie NPC characters alike, fostering an environment where alcohol isn't necessary to have a great time. The festival's motto "Be Alive!" encapsulates this spirit. The Zombie Run invites you to experience a day brimming with life – even in the face of the undead.
Plus! You don't want to miss these articles!
Find & Compare Things To Do in Busan!
[ Data & Image Source: Korea Tourism Organization (KTO) ]
IVK's Top Picks – Day Tours, Tickets, and Travel Activities
Seasonal Picks!😍