Yeonsu Neungheodae Cultural Festival
The 11th Yeonsu Neungheodae Cultural Festival, celebrating the spirit of ancient Baekje scholars, unfolds on October 7th and 8th at Songdo Moonlight Festival Park in Incheon. Join the grand "Baekje Scholar Parade," experience creative musicals, traditional theater, and more. Let's explore history and culture at Hanaru Jejat Street and enjoy eco-friendly cycling, model-making, and a night market. This free festival is a unique blend of tradition and modernity.
Festival Summary:
Date(s): October 7, 2023, to October 8, 2023
Location: Songdo Moonlight Festival Park, 350 Central Road, Songdo-dong, Yeonsu-gu, Incheon
Admission Fees: Free
Official Homepage: yeonsu.go.kr
General Information: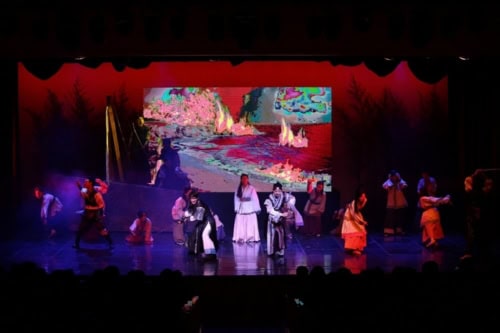 The 11th Yeonsu Neungheodae Cultural Festival celebrates the historical significance of Neungho-dae, where ancient Baekje dynasty scholars embarked on journeys of challenge and progress. This festival is a harmonious cultural celebration carried forward by the residents of Yeonsu-gu, who embody the spirit of those scholars.
The festival features a diverse range of performances, including the renowned "Baekje Scholar Parade," creative musicals based on Neungho-dae, traditional theatrical performances, and a vibrant welcome show. At the recreated Hanaru Jejat Street, reminiscent of ancient Yeonsu-gu, visitors can experience various historical and cultural programs, including the "Baekje Scholar Civil Service Exam."
Additionally, the festival offers an array of exciting events such as an eco-friendly bicycle festival, architectural model-making competition, awards ceremony for Yeonsu-gu residents, celebrity congratulatory performances, and a spectacular fireworks display. Over 100 experience booths provide visitors with unique opportunities to immerse themselves in the spirit of Neungho-dae.
Key Highlights of the Festival:
Baekje Scholar Parade
Cultural and Art Performances: Creative Musicals, Traditional Theatrical Performances, Welcome Show
Yeonsu-gu Residents' Day Award Ceremony
Eco-friendly Bicycle Festival
Architectural Model-Making Competition
Various Experience Booths
Surprise Night Flea Market
Celebrity Congratulatory Performances
Fireworks Display
Additional Information:
For inquiries, please contact the Yeonsu Neungheodae Cultural Festival Organizing Committee at 032-749-7330.
[ Data & Image Source: Korea Tourism Organization (KTO) ]
IVK's Top Picks – Day Tours, Tickets, and Travel Activities
Seasonal Picks!😍