Woodstock Music and Art Fair 2023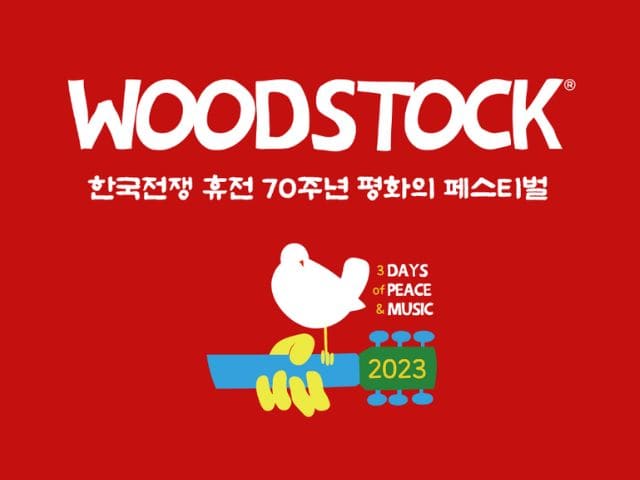 Festival Summary
Date: July 28 (Friday) to 30 (Sunday), 2023, 11:00 AM – 1:00 AM
Location: Multi-purpose Square area, Pocheon-si, Gyeonggi-do (396 Daehoesan-ri, Yeongbuk-myeon, Pocheon-si, Gyeonggi-do)
Homepage: http://www.woodstock.kr/
Price

1 DAY: 200,000 KRW
2 DAYS: 320,000 KRW
3 DAYS: 450,000 KRW
General Information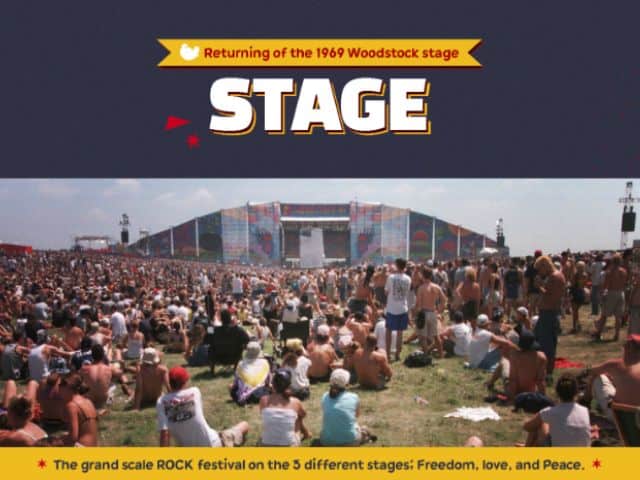 The historic Woodstock Music and Art Fair 2023 is all set to commemorate the 70th anniversary of the cease-fire in the world's only divided country. With a deep desire for peace, the event will be kicked off with a "Peace March" by people worldwide and then followed by three days of unity, love, and passion through music, embodying the enduring spirit of the Woodstock Festival.
The festival will start with a press conference on July 27, followed by a 70km peace campaign from Kwangwoon University to the Hantan River Sky Bridge. From July 28 to July 30, festival-goers will experience "3 Days Of Peace And Music", concluded by an After Party.
Line-Up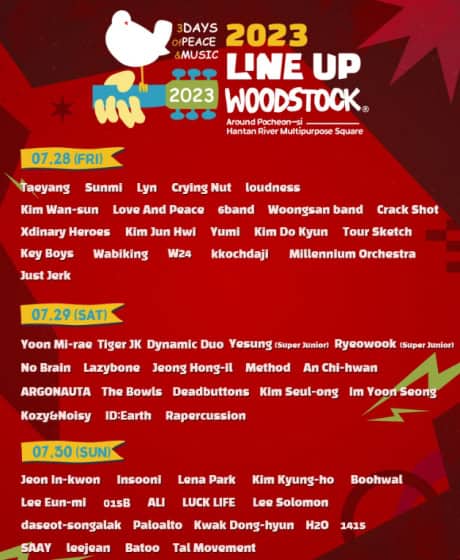 The event will host an array of both legendary and budding artists, creating a mesmerizing stage for three days. The lineup includes renowned performers like Yoon Mirae, Tiger JK, Yesung, Ryeowook, JustJerk, 015B, LeeSolomon, LeeJean, SAAY, 1415, Kozy & Noisy, Batu, Sunmi, Xdinary Heroes, The Bowls, Deadbuttons, ID:Earth, WabiKing, Jeon In Kwon, Crying Nut, Kim Jun Whee, Yumi, Taeyang, Park Jung Hyun, Argonauta, Kim Seulong, Im Yoon Sung, and many more.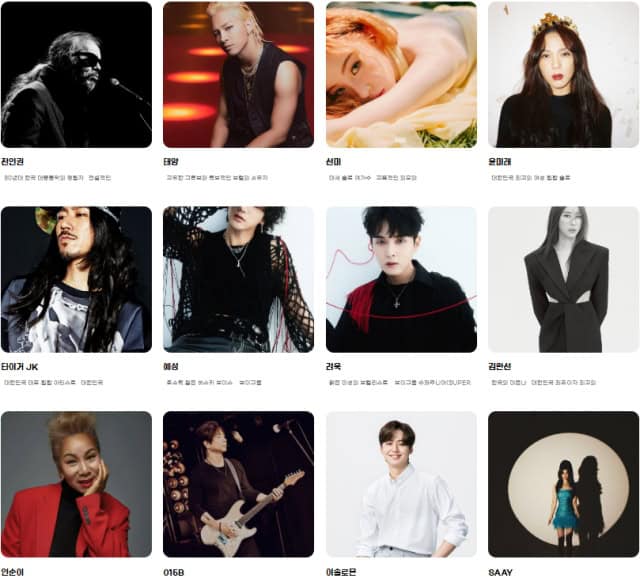 Key Highlights of the Festival
Renowned global artists performing live.
The "Peace March," a worldwide initiative aiming for peace and unity.
An after-party providing the perfect ending to a three-day music and peace-filled event.
Additional Information
Festival-goers can also take time to enjoy the natural landscape of Pocheon City, making their Woodstock experience even more exciting. The Hantan River Geopark Center and its famous landmarks provide an exquisite view of geology, ecology, archaeology, history, and culture. Other attractions include the Dove's Falls Waterfall, Art Valley, and Pocheon Stone.
The Hantan River Pocheon Region Geology Trail, also known as the Jusangjeolli Road, is a trail course that connects Cheorwon-Pocheon-Yeoncheon along the Hantan River. The Hantan River Ecological Landscape Complex, located opposite Dove's Falls Waterfall, is a new attraction that harmonizes the horizontal landscape and the vertical landscape of the Jusangjeolli Cliff. Festivals of seasonal flowers and wildflowers can also be enjoyed here.
₩200000
1 Day, 320,000 for 2 Days, 400,000 for 3 Days
Plus! You don't want to miss these articles!
Find & Compare Things To Do in Seoul!
[ Data & Image Source: Korea Tourism Organization (KTO) ]
IVK's Top Picks – Day Tours, Tickets, and Travel Activities
Seasonal Picks!😍