Tone & Music Festival 2023
June 3
@
1:00 pm
–
June 4
@
10:00 pm
KST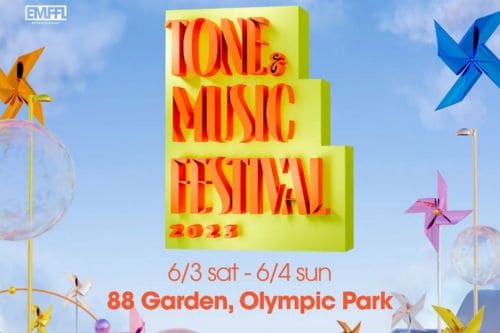 Festival Summary
Dates: June 3 – June 4, 2023
Open Hours: 13:00 each day
Location: Olympic Park, 88 Grass Plaza
Official Instagram: Tone & Music Festival
General Information
From the heart of South Korea, the Tone & Music Festival 2023 promises an electrifying celebration of music and culture. Held at the 88 Grass Plaza of the Olympic Park, this two-day festival is a highly anticipated event, providing a stage for an impressive lineup of renowned artists. The Tone & Music Festival creates a vibrant atmosphere where attendees can appreciate a variety of musical genres and the unique styles of the participating artists.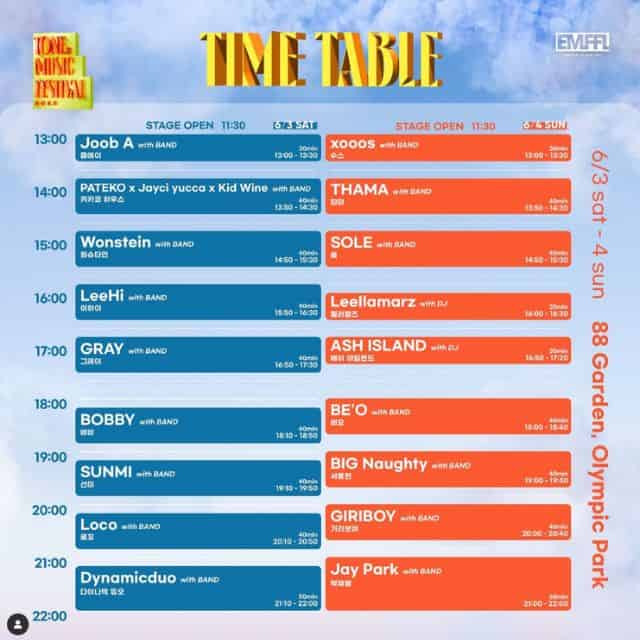 Line-Up
June 3 (Saturday): Dynamic Duo, Loco, Sunmi, Bobby, Gray, Lee Hi, Wonstein, Pateko × Jayci Yucca × Kid Wine, Joob A
June 4 (Sunday): Jay Park, Giriboy, Big Naughty, Be'o, Ash Island, Leellamarz, Sole, Thama, xooos
Key Highlights of the Festival
Powerful performances by renowned artists such as Dynamic Duo, Sunmi, Bobby, and Jay Park. Explore different genres and styles with the Kakao House, Loco, LeeHi, GRAY, and Wonstein on June 3rd, and Giriboy, BIG Naughty, B.O., Ash Island, and XOOOS on June 4th. An immersive music experience in the beautiful setting of Olympic Park's 88 Grass Plaza.
Additional Information
Future announcements regarding additional lineups and event details are to be expected, making the festival an ongoing surprise.
The festival's duration is approximately 540 minutes each day, offering plenty of time to enjoy the musical performances and the festival atmosphere.
Plus! You don't want to miss these articles!
Find & Compare Things To Do in Seoul!