Sunrise Festivals in Seoul 2023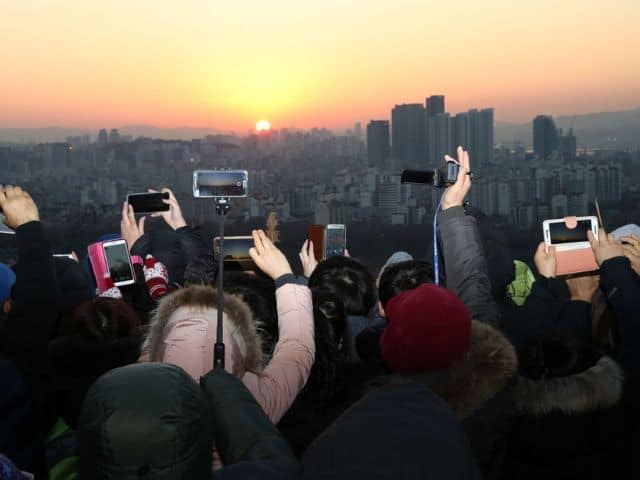 Location: Haneul Park / Eungbongsan / Maebongsan Mountains
The most famous five sunrise view spots in Korea are:
Seongsan Ilchulbong, Jeju
Homigot, Pohang
Jeongdongjin Beach, Gangwon-do
Ganjeolgot, Ulsan
Haeundae Beach, Busan
However, Seoul also has great places to see the first sunrise of 2023.
Seongdong-gu will hold the 'Eungbongsan Sunrise Festival' at the top of Eungbongsan Mountain at 7:00 am on January 1 next year. Before and after sunrise, people can enjoy the performances of Pungmul nori (playing Korean traditional percussion instruments) and food markets.
Mapo-gu also holds the Sunrise Festival at Sangam-dong Haneul Park (Sky Park) from 7:00 am on the same day, writes New Year's wishes, and hangs them on a 'wish tree.
Guro-gu holds a sunrise event at the top of Maebongsan Mountain. Participants welcome the new year by waving handkerchiefs from the gu-office and can participate in wishing events.
Eunpyeong-gu installed the 'New Year's Hope Gate' at the entrance of the hiking trail in Bongsan Sunrise Park. At the time of sunrise, a banner with 'Happy New Year' written on it is launched by drones.
Plus! You don't want to miss these posts to enjoy Winter Wonderland, South Korea!
Find & Compare Busan Tours in Korea!
[ Data & Image Source: Korea Tourism Organization (KTO) ]
IVK's Top Picks – Day Tours, Tickets, and Travel Activities
Seasonal Picks!😍