Jeonju Sandnae Chimac & Gamaek Festival
A healing summer food festival that easily blows away the hot summer with more delicious market chicken, beer, Morae-nae-pyo homemade beer, various snacks and performances.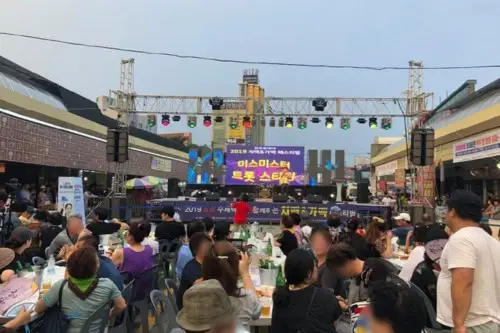 Festival Summary:
Date: August 25, 2023 – August 26, 2023
Location: Morae-nae 4-gil 8-8, Deokjin-gu, Jeonju, Jeollabuk-do, South Korea
Admission: Free
Organizers: Jeonju Morae-nae Market Merchants Association / Festival Organizing Committee
Contact: 063-278-5802
Google Maps: Morae-nae 4-gil 8-8, Deokjin-gu, Jeonju, Jeollabuk-do, South Korea
General Information: Jeonju Morae-nae Chimaek & Gamak Festival returns for its 6th installment, promising a delightful blend of market-style chicken and beer (chimaek) alongside local craft beers and a variety of appetizers. This festival is set to transform the scorching summer into a serene and delectable celebration, uniting the tantalizing flavors of the market with live performances for a rejuvenating summer food extravaganza.
Line-Up: (No line-up information provided)
Key Highlights of the Festival: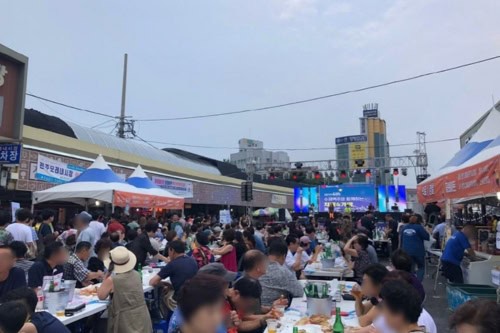 Market Delights: Indulge in an array of street food, including market-style chicken, various fried treats, and homemade craft beers, all served against the backdrop of live performances.
Main Program: The festival kicks off on August 25th and spans two days, featuring opening ceremonies, congratulatory performances, and captivating concerts.
Nostalgic Soundtracks: Experience the lively and nostalgic sound of the "Hanbyeok Band," playing timeless tunes that resonate with the audience's memories.
EDM Extravaganza: Dance the night away at the Club EDM Party, a vibrant fusion of dazzling lights and energetic beats that summons the spirit of youth.
Additional Information:
Beyond the gastronomic wonders, the festival offers a range of engaging programs for participants:
Challenge Singing Contest: Unleash your inner singing talents in an impromptu singing showdown, merging seamlessly with the chimaek and gamak festival spirit.
Booths and More: Explore over 30 booths offering an assortment of dishes, from chicken and pancakes to various fried delicacies, dried appetizers, and, of course, an assortment of beverages, including beers and homemade craft brews.
Amidst the sounds of laughter, the aroma of delectable dishes, and the excitement of live performances, the Jeonju Morae-nae Chimaek & Gamak Festival invites locals and visitors alike to revel in the rich cultural tapestry of the market while savoring the harmony of flavors and melodies. A taste of tradition, a hint of nostalgia, and a splash of modernity come together in this unforgettable summer event.
Jeonju Morae-nae Market Merchants Association / Festival Organizing Committee
063-278-5802
You don't want to miss these articles about Jeonju:
Best Things To Do in JeonJu
[ Data & Image Source: Korea Tourism Organization (KTO) ]
IVK's Top Picks – Day Tours, Tickets, and Travel Activities
Seasonal Picks!😍