Jeju Hueree Canola Flower Festival 2023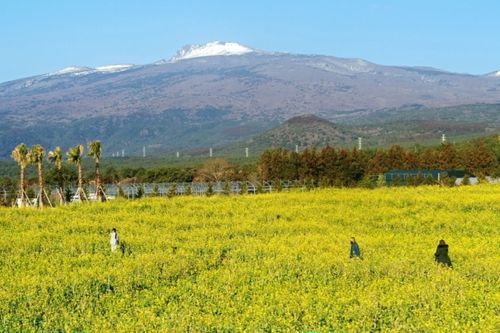 Location: 256 Sillyedong-ro, Namwon-eup, Seogwipo-si, Jeju-do
The Jeju Hueree Park Canola Flower Festival 2023 is a vibrant and colorful event taking place from January 1st to February 28th. Visitors can enjoy breathtaking views of the blooming canola flowers and participate in various cultural and recreational activities. Don't miss out on this once-in-a-year opportunity to experience the beauty and charm of Jeju Island.
Hueree is a beautiful natural park that operates year-round and offers views of Hallasan mountain. Seasonal festivals featuring flowers such as camellias, pink mulhy grasses, and azaleas are held throughout the year. It's also famous for the filming locations of many famous Korean dramas.
Duration: January 1 to February 28
Open hours: 09:00 – 17:30 (16:30 in Oct – Mar)
Address: 256 Sillyedong-ro, Namwon-eup, Seogwipo-si, Jeju-do
Phone: 064-732-2114
Website: https://www.hueree.com
Plus! You don't want to miss these posts to enjoy Winter Wonderland, South Korea!
Find & Compare Winter Tours in Korea!
[ Data & Image Source: Korea Tourism Organization (KTO) ]
IVK's Top Picks – Day Tours, Tickets, and Travel Activities
Seasonal Picks!😍