Hwacheon Sancheoneo Ice Festival 2023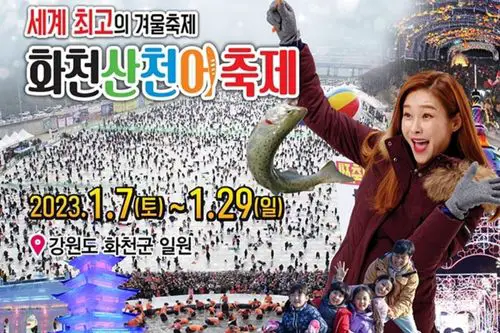 Hwacheon Sancheoneo Ice Festival is held from January 7 to January 29 in Hwacheon. It is one of the four great winter festivals in the world and selected as the best festival in Korea by the ministry of culture, sports, and tourism.
The festival will be filled with many fun activities, such as Sancheoneo fishing, snow sledding, ice bobsleighing, ice sculpture plaza, and various light tunnels.
Sancheoneo is a fish that only lives in clean water. There are three ways of fishing Sancheoneo in the Hwacheo Sancheoneo Festival. The first is ice fishing, the second is lure fishing, and the last is barehand fishing. The best part of this fishing is that you can directly grill and taste your fish in the food center.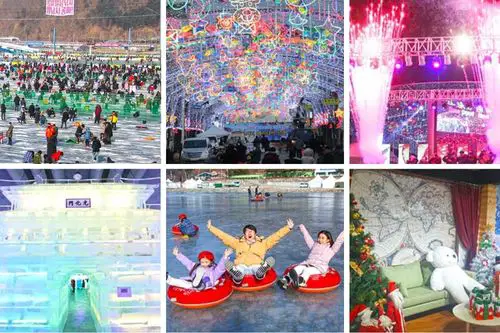 Compare Hwacheon Sancheoneo Ice Festival Tours from Seoul



TIPS
They will operate a separate Sancheoneo fishing spot for foreign tourists.
You will receive fishing tickets if you submit your accommodation receipt after staying in Hwacheon-gun.
Please, bring the warmest clothes and gloves you have. We recommend putting on two socks at least. 🙂
[Festival Information]
Period: January 7 (Sat) – January 29 (Sun) / 23 days, 2023
The Street of Light: 2022. 12. 24 (Sat) ~ 2023. 2. 5 (Sun)
Address: 137 Sancheoneo-gil Hwacheon-eup Hwacheon-gun, Gangwon-do
Phone: 1688-3005
Main Programs

Sancheoneo fishing experience

Sancheoneo ice fishing
Sancheoneo lure fishing
Sancheoneo night fishing
Sancheoneo barehand fishing

Snow sledding, skating, and ice bobsleighing
The world's largest indoor ice sculpture plaza
Ice football and curling
Sashimi and grill center
Traditional food restaurants and souvenir shops
₩15000
Sancheoneo Fishing
₩15000
Ice Sledding or Skating
₩15000
Indoor Ice Sculpture Plaza Admission
Plus! You don't want to miss these posts to enjoy Winter Wonderland, South Korea!
Find & Compare Winter Tours in Korea!
[ Data & Image Source: Korea Tourism Organization (KTO) ]
IVK's Top Picks – Day Tours, Tickets, and Travel Activities
Seasonal Picks!😍