Gyeongju Cherry Blossom Festival 2023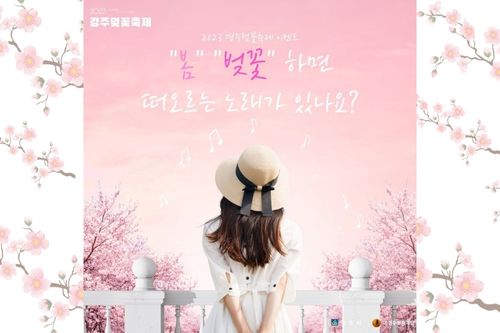 Location: 10 Gyerim-ro Gyeongju-si, Gyeongsangbuk-do
The "2023 Gyeongju Cherry Blossom Festival" will take place from the 31st of March to the 2nd of April for three days at the Daereungwon Stone Wall Road and Bonghwangdae Square.
This year's Gyeongju Cherry Blossom Festival has been eagerly anticipated due to its face-to-face format after four years of being held remotely due to COVID-19. There is a high expectation for an increase in local cherry blossom tourism.
In preparation for the festival, organizers have planned various eco-friendly programs, pet-friendly activities, and healing programs to fully enjoy the spring season.
One of the eco-friendly programs is called "Viewing Cherry Blossoms while Jogging." It aims to encourage an environmentally friendly approach to cherry blossom viewing. First, the "RE.Coffee (Reusable Coffee)" program allows participants to bring their used disposable cups purchased from nearby cafes in Gyeongju, such as the Hwangridan-gil cafe, and exchange them for eco-friendly cups that organizers have produced. The program is limited to 500 cups per day.
The second eco-friendly program is called "Cherry Blossom Plogging," which involves collecting trash while admiring the cherry blossoms. Participants can register in advance or on-site, and they will be provided with volunteer hours and plogging kits. After completing the program, those interested can participate in a recycled plastic injection experience on a first-come, first-served basis.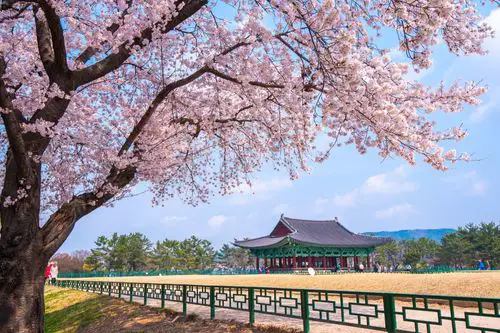 Additionally, the "Cherry Blossom Dog Playground" is a pet-friendly program held separately from the Daereungwon Stone Wall Road at Bonghwangdae Square. Only registered pets under the Animal Registration Act can enter the playground. Only one pet per person is allowed, and large dogs and aggressive breeds are not permitted for safety reasons.
At the Daereungwon Stone Wall Road, various healing programs are available to complement the cherry blossom viewing experience. The road has been selected as one of the "100 Beautiful Roads in Korea," and to ensure visitor safety, cars will not be permitted during the festival. The "Cherry Blossom Rest" program provides a serene space to relax amidst the cherry blossoms, including cherry blossom art, food trucks, flea markets, and art experiences. The program also features young adults' interests with pallet tables made from recycled materials and party lights.
"Cherry Blossom Light & Shower" is a space set up to capture photographs of the cherry blossoms in Gyeongju.
The festival will run until the evening, giving visitors the chance to admire the cherry blossoms both during the day and at night.
Plus! You don't want to miss these posts to enjoy Spring in Korea!
Find & Compare Winter Tours in Korea!
[ Data & Image Source: Korea Tourism Organization (KTO) ]
IVK's Top Picks – Day Tours, Tickets, and Travel Activities
Seasonal Picks!😍