Goesan Kimchi Festival
The this Kimchi festival offers visitors an opportunity to partake in the age-old tradition of kimchi preparation in the serene and pristine environment of Goean, where nature and culture harmonize seamlessly.
Goesan Kimchi Festival Summary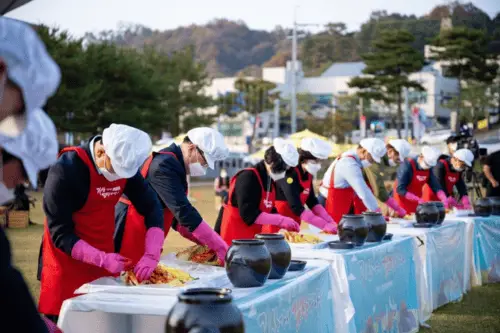 Date: November 3, 2023, to November 5, 2023
Location: Dongjincheon-gil 197, Goean-eup, Goean-gun, Chungcheongbuk-do, South Korea
Admission: Free (Kimchi-making experience available for a fee)
Official Instagram: @goesanfestival
Website: gimjang
General Information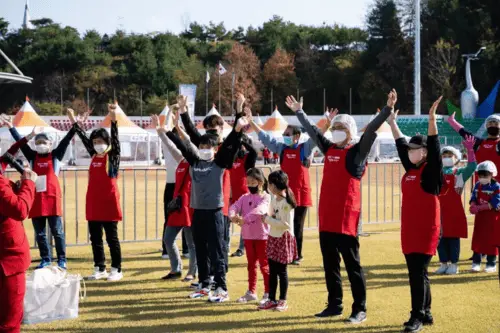 This one is a vibrant celebration that harmoniously blends the rich traditions of organic farming with the art of traditional kimchi-making. Nestled amidst the idyllic and untouched landscapes of Goean, this festival offers a unique opportunity to immerse yourself in the authentic flavors and cultural heritage of South Korea.
Moreover, visitors can explore and shop for various types of kimchi and kimchi ingredients, further immersing themselves in South Korea's rich culinary heritage. With an array of exciting programs and the opportunity to savor the flavors of traditional kimchi, the Goesan Kimchi Festival is a cultural and culinary journey that should not be missed.
So, mark your calendar for this unique celebration of kimchi and organic farming in the heart of Goean. It's a chance to experience South Korea's rich food culture, connect with nature, and create your own delicious memories. Join us at the Goesan Kimchi Festival and embark on an unforgettable journey of taste, tradition, and togetherness.
Key Highlights of the Festival
One-Stop Kimchi Making: Experience the ease and joy of making kimchi from Goean's locally grown, organic cabbages.
Drive-Through Kimchi Making: A unique and convenient way to prepare your kimchi.
Sale of Various Kimchi and Kimchi Ingredients.
Free
(Kimchi-making experience available for a fee)
Goean County and the Goean County Festival Committee (괴산군축제위원회)
[ Data & Image Source: Korea Tourism Organization (KTO) ]
IVK's Top Picks – Day Tours, Tickets, and Travel Activities
Seasonal Picks!😍