Dumopo Festival 2023 in Hangang Park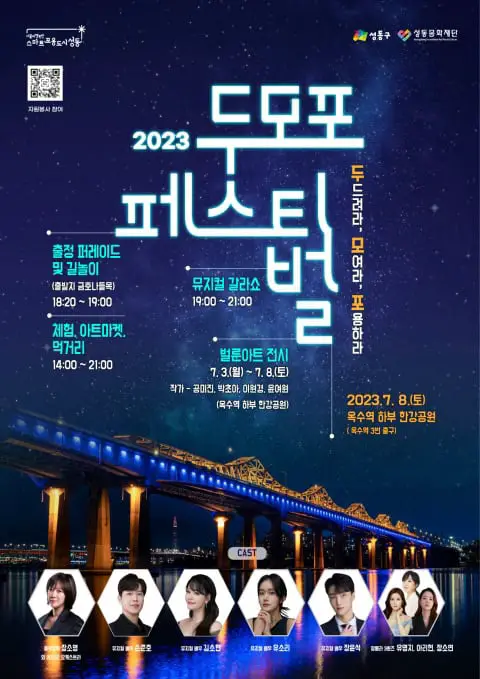 Festival Summary
Date: July 8, 2023
Location: Hangang Park under Oksu Station
Admission fee: Free
Homepage: Official Homepage
General Information
The Dumopo Festival, bearing the slogan "Beat, Gather, Embrace," is ready to unveil its magic in the summer of 2023 at the Hangang Park under Oksu Station. Celebrating the richness of arts and culture, the festival, this year, promises a bigger and better spectacle than the previous year. It beckons the residents to participate and enjoy a diverse array of events organized for all age groups.
The event will kick-start with the grand parade of Cheetah Tae, followed by a gala show featuring performances from top musical artists in the country like Son Jun-ho and Kim So-hyun. The festival also has a line-up of a variety of subsidiary events such as 10 different experience booths, 9 food trucks, and an art market featuring 30 workshops.
Key Highlights of the Festival
Grand parade led by the Cheetah Tae
Musical gala show featuring Son Jun-ho and Kim So-hyun
10 diverse experience booths
A convoy of 9 food trucks
Art market with 30 participating workshops
Additional Information
Alongside the festival, there will also be an art balloon exhibition by artists Gong Mi-jin, Park Cho-ah, Lee Won-kyung, and Yoon Yeo-won, featuring the "Eight Generals." The exhibition is set to start on July 3rd, providing an added artistic charm to the festivities. The festival is free to attend and promises a fun-filled day for everyone. The organizers eagerly await your participation to make this event a grand success.
[ Data & Image Source: Korea Tourism Organization (KTO) ]
IVK's Top Picks – Day Tours, Tickets, and Travel Activities
Seasonal Picks!😍