Dobong Old Road Cultural Festival
The Dobong Old Road Cultural Festival is an event prepared to publicize the historical and cultural values of Dobong Old Road, a representative cultural heritage of Dobong-gu, Seoul.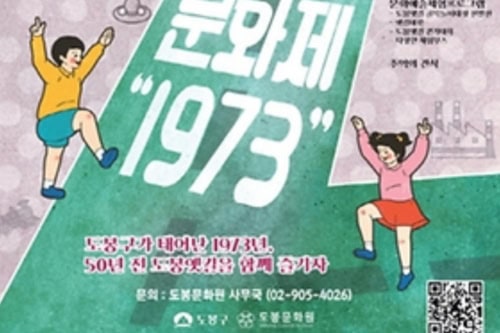 Festival Summary:
Date: August 24, 2023 – September 2, 2023
Location: 710 Banghak-dong, Dobong-gu, Seoul, South Korea
Admission: Free
Organizer: Dobong-gu / Dobong Cultural Center
Contact: 02-905-4026
Website: dobong.or.kr
General Information:
Nestled within the heart of Seoul's Dobong-gu district, this Cultural Festival beckons visitors to journey through time and immerse themselves in the rich historical and cultural tapestry of the region. Celebrating the significance of this Old Road, a thoroughfare that has connected the capital city's hinterlands since the Joseon Dynasty, this festival is an ode to the path that has witnessed the ebb and flow of lives and stories over centuries.
Key Highlights of the Festival:
Cultural Exploration: The festival shines a spotlight on the historical and cultural treasures of the Old Road, offering an opportunity for both locals and visitors to delve into the region's heritage.
Artistic Expressions: A dedicated group of local artists, known as the "Dobong Old Road Art Ensemble," graces the streets with captivating performances that traverse the artistic spectrum.
Diverse Content: From the Old Road parade to curated exhibitions and interactive workshops, the festival presents a kaleidoscope of experiences, ensuring that everyone can revel in the charm of Dobong Old Road.
Community and Heritage: By fostering connections between local residents, cultural heritage, and artistic talent, the festival endeavors to rekindle the dwindling flame of local identity in the modern society.
Additional Information:
Please note that the festival's format and schedule are subject to adjustments based on the evolving guidelines in response to the COVID-19 pandemic.
The Cultural Festival stands as a tribute to the legacy embedded in the cobblestones of the old road, a testament to the resilience and continuity of human stories over generations. As visitors meander through the bustling streets and engage with the multifaceted offerings, they are invited to partake in a journey that not only commemorates the past but also cultivates a renewed appreciation for the local culture and its enduring significance.

Dobong-gu / Dobong Cultural Center
02-905-4026
You don't want to miss these articles as well:
Best Things To Do in Seoul
[ Data & Image Source: Korea Tourism Organization (KTO) ]
IVK's Top Picks – Day Tours, Tickets, and Travel Activities
Seasonal Picks!😍